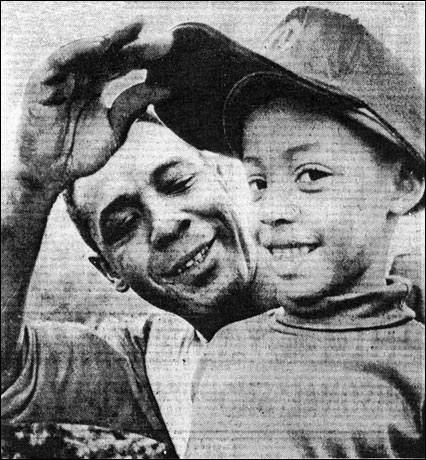 Right - September 9th at Labatt Park in London, Gabby Anderson poses with five-year-old son Jeff during ceremonies honouring Anderson who announced he would retire after the current season.
He had first played with London in 1948 when called up for seven games from the junior team.
Anderson signed a pro contract in 1950 and played for two seasons in the PONY League before a hitch in the US Army.
After his service time he returned to pro ball in 1955-56 and then to London for the 1957 season winning the batting title with a .403 mark and copping MVP honours in the Great Lakes-Niagara League.
He won batting crowns in the Intercounty League in 1957 and 1960. Anderson was a two-time Intercounty MVP and was chosen for the first all-star team eight teams.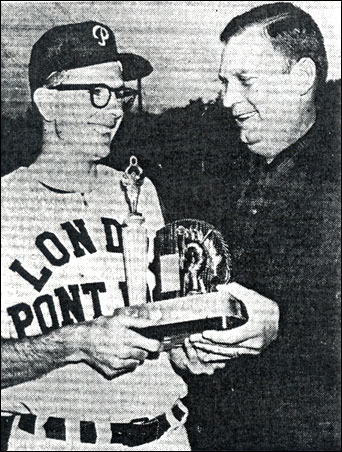 Left - London Pontiacs' outfielder Brian Pearen (left) accepts the 1965 batting title trophy from Tommy White of St. Thomas representing the Intercounty League. The presentation was made prior to London's opening game of the season.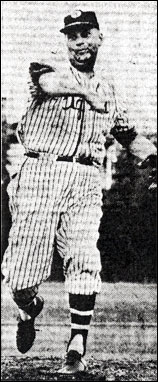 July 29 it was Oldtimers night at Labatt Park as stars from former London teams held an on-field reunion. Left to right - Dunc Galbraith attempts a bunt, Tommy White warms up, Gil Robertson handles infield practice, John Gilles fires what used to be a high, hard one. Below, Bill Wagner waves at a one-hopper, Norm Arldridge looks on.