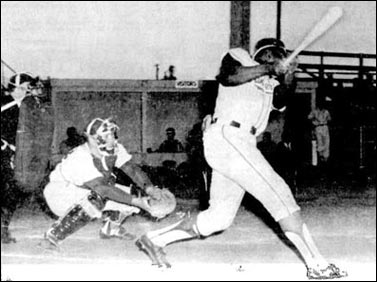 In Northern Saskatchewan action, Kindersley's Don Poindexter singles in two runs against Saskatoon Commodores. The catcher is Vic Dutka, the umpire, Don Taman looks on.
Ned Andreoni came up from California in 1967 to suit up with the Moose Jaw in the Southern League and had a sparkling career in Saskatchewan, winning induction into the Saskatchewan Baseball Hall of Fame in 2010.
Below, Andreoni and catcher Steve Herzog in batting practice at Fresno City College.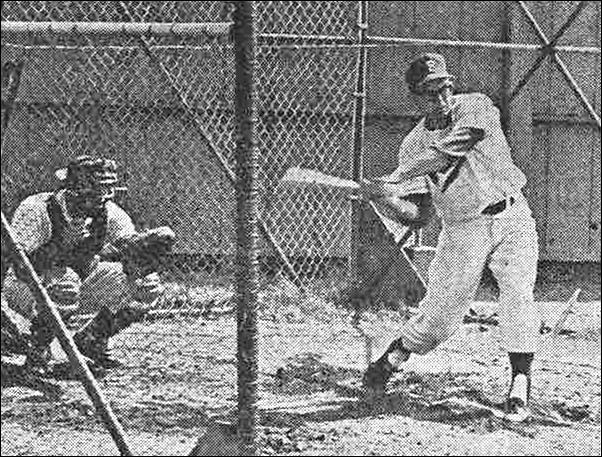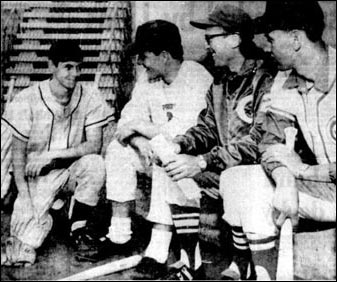 One of the tryout camps for Canada's Pan Am team was held at Cairns Field in Saskatoon. Left to right - Bob Brown of Saskatoon, Dave Anderson of Outlook, coach Gerry McKay of Brandon, Edd Tabashniuk of Cudworth.
Stars of the 1967 Saskatoon Exhbition Tournament. Left - Mike Young of the Unity Cardinals who won the $50 prize for the pitcher with the most strikeouts in an individual game - 15. He also fanned another 8 in a relief appearance. Centre - Ross Stone who took the $50 prize for the first home run of the tournament. Right - Lane Jackson of Kindersley Klippers who had the most total bases and took home a $50 award.

Above - In action at the Lacombe Tournament, Moose Jaw's Ned Andreoni hits the dirt to avoid a pitch from St. John's Roger Gray. Catcher Ken Williams and umpire Joe Arisman look on. Moose Jaw shaded the Americans 3-2 in an exciting contest.
Below left - Umpire Joe Arisman appears to be sticking out a helping mitt to St. John catcher Ken Williams who is hidden in front. The low inside pitch from pitcher Roger Gray caused Moose Jaw batter Ned Andreoni to back off the plate during the afternoon game..
Below right - Moose Jaw catcher Larry Tollefson is about to pound the dust between second and third with his face mask in disgust during a ninth inning rhubard in which a St. John runner was ruled safe on an attempted force at second. St. John runner Max Lindstrand was thrown out at third but the play was ruled null and void, being dead as a result of the argument at second.