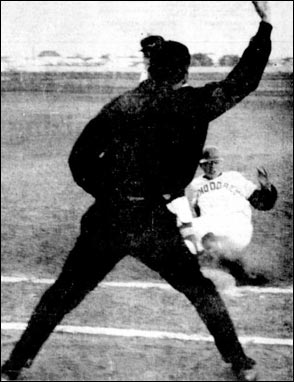 Umpire Ed Weber makes the call as Saskatoon Commodores' Randy Munch tries to get back to first base after Unity pitcher Ross Stone had snared Bob Lewis' bunt in the air and fired to first baseman Irl Flanagan for the double play.
Commodores won the Northern Saskatchewan League game 6-5 in 10 innings.
Below - in Saskatchewan's Mid-West League, Harvey Grummett (7) of the Saskatoon T-Birds rips a triple to drive in a run against Asquith Braves. The catcher is Larry Pavaloff and the umpire is Ed Weber.