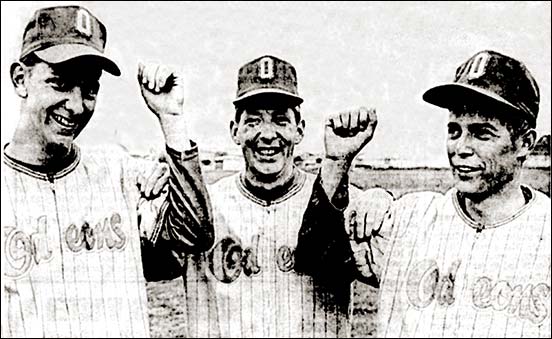 Bob Norton (centre) rookie manager of the Calgary Odeons is expecting big things this summer from a pair of arms - southpaw Ernie Pushkarenko (left) and ace right-hander Alf Sedran (right).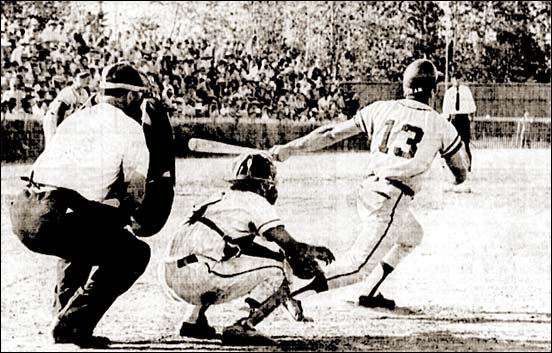 Greg Dvorak
of North Battleford unloads a tremendous shot into the left field seats, his second round tripper of the tournament, as the Beavers romped over Vernon Luckies 11-1 in the final of the 20th Annual Lacombe Tournament. The catcher is
Clark Inglis
of the Luckies. Beavers took the $1,200 first price.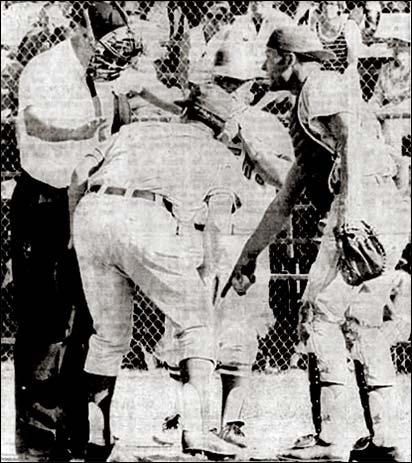 Lots of action at the 20th Annual Lacombe Baseball Tournament.
Kindersley catcher Jim Swick (right) and pitcher Al Paganucci (leaning in) plead their case to umpire Joe Arisman of Edmonton as Drumheller playing manager Jim Berlando (centre) listens in. Drumheller won 4-3.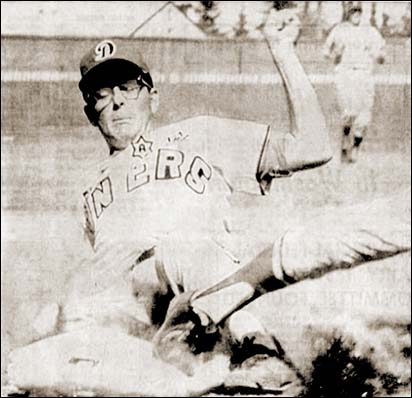 Don Maxwell of Drumheller barrels into third in a 4-3 win over Kindersley.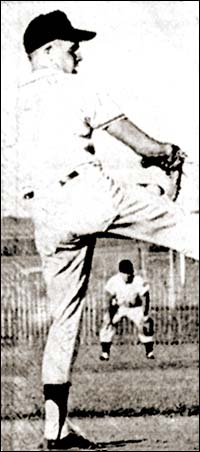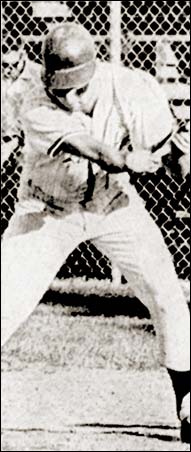 This is the Lacombe Tournament where one of the papers made a big deal of the appearance of pitcher/outfielder Rick Marquardt playing with the Vernon Luckies.
Marquardt played, and played well, with a malformed left arm which the paper said, "looked like a half arm with a small, flexible hand".
Later, Washington State Senator Dick Marquardt wrote the paper to make a few corrections and to thank the tournament organizers for such a good show.
He noted Rick was 23 (not 30 as the paper published) and into his second year of medicine at the University of Washington with a goal of being an orthopedic specialist working with the handicapped and with injured athletes.
He had previously played two summers with the Vernon Luckies of the Okanagan League.
Senator Marquardt said, "usually parents hope to be an inspiration to their children. But, in Rick's case, he is a great inspiration to his parents and we are hopeful that your splendid story on him will prove an inspiration to others." He didn't mention that the paper had spelled Marquardt incorrectly.
Turns out Marquardt had pitched against Vancouver in 1964 blanking them 9-0 in the championship game of the Connie Mack tournament at Tacoma. He fanned 15.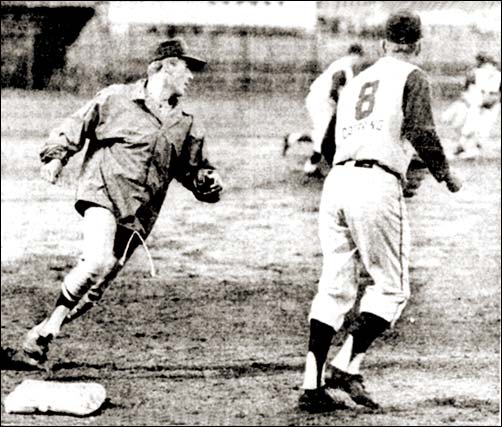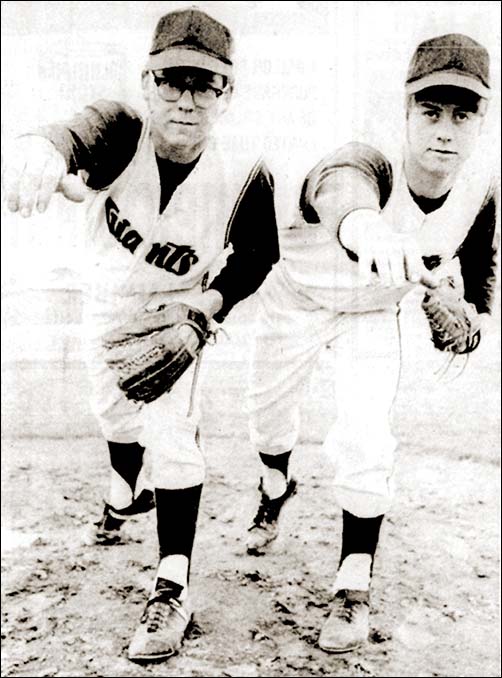 Above left - Drumheller ace Harold Hunchak who led the Alberta Major league with nine wins.
Above right - Calgary Odeons pitcher Alf Sedran steams into third base during the action at Foothills Stadium. Sedran was the winning hurler in a 7-2 victory over the Calgary Giants sparking the Odeons' offense with two hits and driving in a pair. The Giants' third baseman is Harold Iverson (8).
Left - Calgary Giants right-handers prepare for game action. Al Taylor (left) and Dave Twa.
Left - Edmonton Angels' first baseman Al Symington nabs a high throw just in time to catch Edmonton Tigers' runner Jack Gibson
Below left - Calgary Giants' key man - pitcher-infielder Hy Lewis the late-season discovery who has proven to be the spark plug of the Calgary Giants recent successes. Lewis owns a 2.35 ERA and a .483 batting average.
Below right - Drumheller Miners' catcher Lavern Bonham tags runner Phil Headley of the Grande Prairie Eskimos at home plate. Umpire Gordon Blyth makes the call.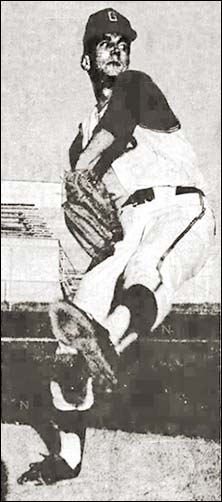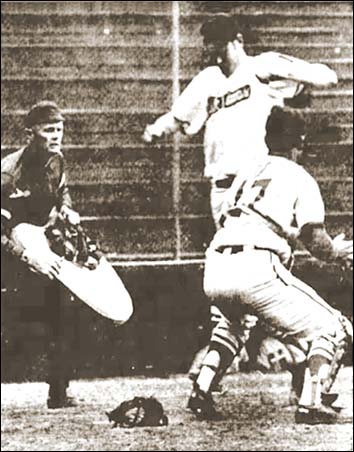 Left below - Veteran Al Twa of the Calgary Giants.. Below right - Rick Horb of the Calgary Giants.