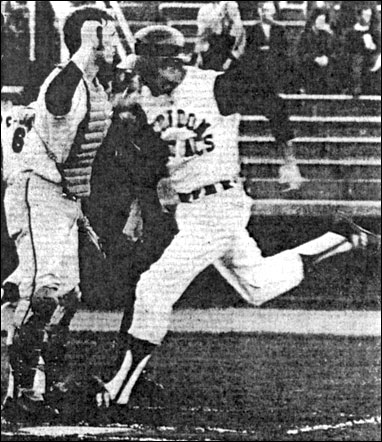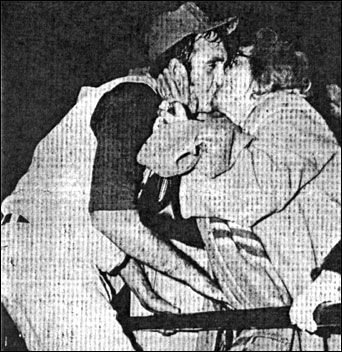 From opening night to the championship.
Above left - Centre fielder Brian Pearen races across home plate to score the first run of the 1969 season for the London Pontiacs at Labatt Park May 23rd as London topped Guelph 5-2.
Above right - And the celebration begins! September 29th, as the London Pontiacs downed Stratford 7-5 in the deciding game of the Intercounty League final, Mrs. Muriel "Ma" Carter was so excited with the victory that she dragged pitcher Rick Birmingham to the stands to plant a victory kiss. Ma, as she is known at the ball park, has not missed a Senior Intercounty game at Labatt Park in 37 years.
Below - Hey Ump, just a minute ! When an argument broke out in the 7th inning of the final game it involved not just the players and managers. All of a sudden a spectator, Harold Wilson (who said he was a former London ballplayer) came onto the field to offer his opinion. That's Wilson approaching umpire George Gowans. It's believed Steve Kyle is the catcher. After allowing Wilson to have his say, Gowans had Wilson ushered from the area.