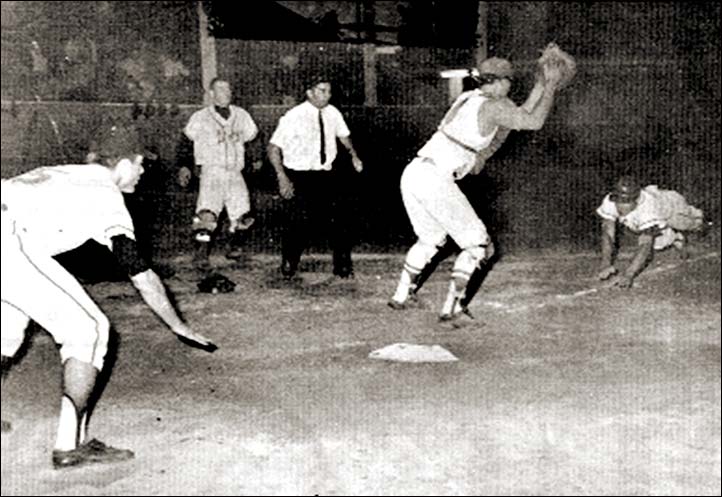 Clark Inglis, Vernon Luckies shortstop, slides toward home in the eighth inning of the final of the Kamloops Labour Day Tournament at Riverside Park. Inglis tried to score from first on a double, but was thrown out at the plate. However, the Luckies went on to defeat the Victoria All-Stars 5-2 to win the event. The Luckies' Don Archer (far left) gives Inglis the "get down" sign. Gordie Nuyens looks on beside Umpire Frank Rota as Mike McAvoy takes the throw to tag Inglis.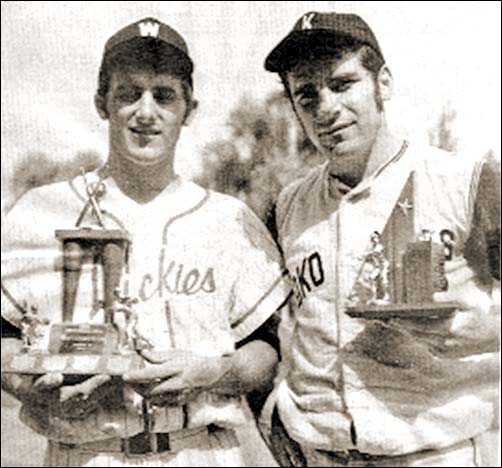 Batting kings !
Clark Inglis (left) displays the Jim Holt Trophy for leading his club, the Vernon Luckies, in hitting in 1970. Inglis, with an even .400 average, finished just behind the league leader, Joe Watson (right) of the Kamloops Okonots. Watson finished at .403.
Watson, from Smithers, BC, is better known as a National Hockey League defenceman, mainly with the Philadelphia Flyers. Watson's brother Jim also played baseball with Kamloops and hockey with the Flyers.
Below - The 1970 Senior baseball season ended on this note Wednesday after Rossland Capilanos dumped Trail Silver Kings 6-2 in the fourth game of the finals. The West Kootenay Senior Baseball League champions received the Mount Baker Hotel Trophy for their victory. Coach Don Holmes (18) is congratulating manager Dennis Ferrey (extreme left) while Rich Miller (3) shakes hands with Bob Profili. Players in the background are mobbing winning pitcher Barry Seal who fired a three-hitter. (Howie Hebig Photo)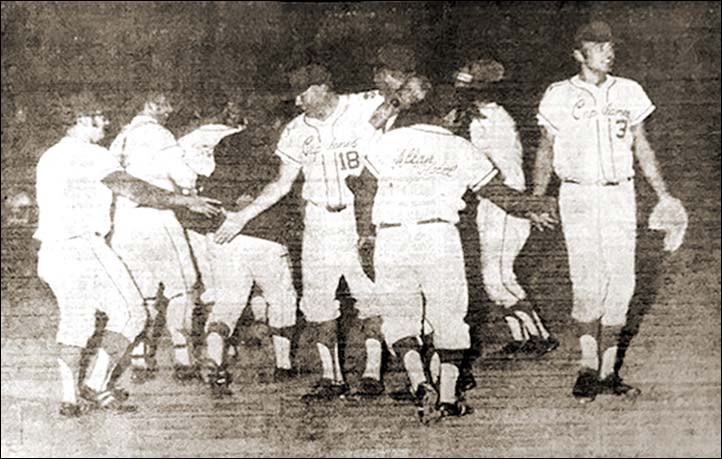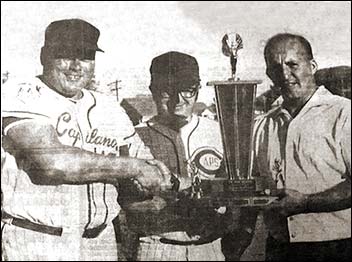 Left - Rossland Capilanos, champions of the West Kootenay Senior Baseball League regular schedule, receive the J.W. "Wish" Milburn Memorial Trophy. Left to right - Coach Don Holmes and Manager Dennis Ferrey take carriage of the trophy presented by Darryl "Tiger" Milburn, son of Wish Milburn after whom the trophy is named.
Below - Trail Silver Kings versus Nelson Merchants in semi-final playoff action in the West Kootenay Senior League. Nelson's first baseman Bob McIvor reaches for the throw from pitcher Bob Jeffs as Ricky Brown of Trail retreats to the bag.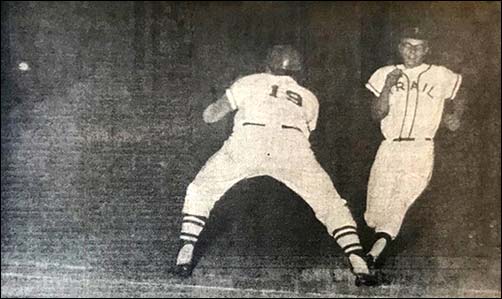 Jubilant members of the Victoria Centennials mob pitcher George Brice following a stunning, ninth inning, comeback for a 3-2 victory over Saskatchewan to win the Canadian baseball championship.
Randy Munch of Saskatoon had broken a scoreless tie and given Saskatchewan the lead with a two-run triple in the top of the ninth. In the bottom of the frame, George Brice, the winning pitcher, was nicked with a pitch to lead off for BC. With one out, Barry Harvey drew a walk and Dave McKay singled to load the bases. Then three straight walks gave BC the game.