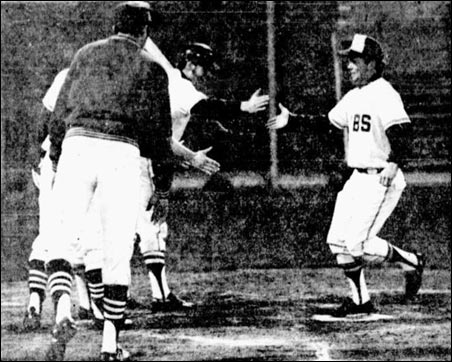 Calgary Cubs' shortstop Al Rycroft is greeted at home plate after his two-run homer at Foothills Stadium. OJ Markowsky is among the first to offer congratulations. Rycroft had four hits in the Cubs' 10-0 win over the league-leading Giants on May 26th.
Below left - Calgary Giants trio talk over strategy - Rick Horb (4-5, 4.82), Al Taylor (10-2, 2.78) and Doug Chilton (3-0, 0.75) [Calgary Herald, August 13, 1970]. Centre - Stu Heron of the Giants. Right - Hy Lewis.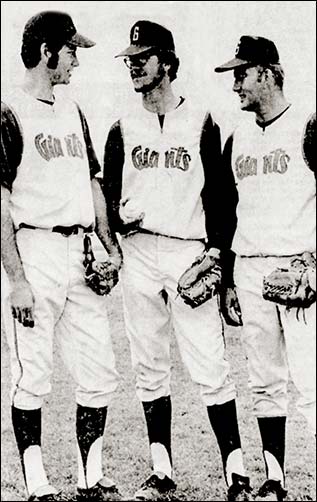 Below - Home plate umpire Joe Arisman watches North Battleford catcher
Lorne Bunyan put the tag on Jamestown runner Jim Wright.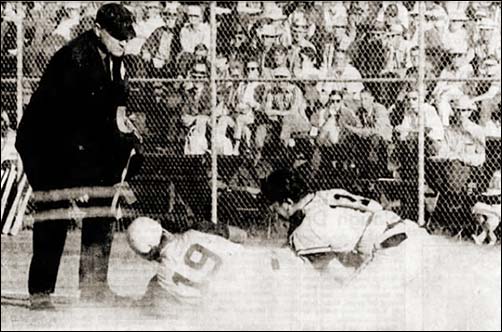 Beavers on the attack - Jim Johnston (10) and Greg Dvorak (13) move out to
join the discussion as fellow North Battleford Beavers argue a call with first base
umpire Bill Mudy of Edmonton. Already engaged in the argument are Lorne
Bunyan (11), Ken Nelson (8) and Maurice Stefaniew (15). Cam Sternig (18)
watches from a distance.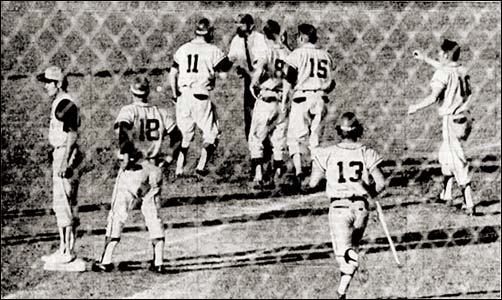 Gene Riebuck of Jamestown begins his slide as Babe Humphreys of Moose
Jaw, behind the bag at second, takes the throw from home.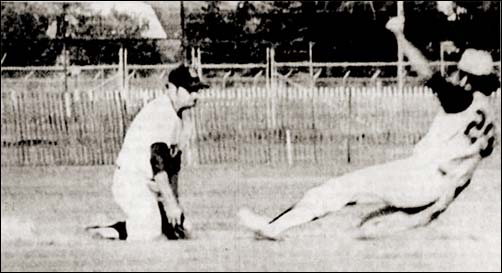 Tom Keeler (16) extends his arms into the air to hold up pitcher Ross Stone
(jacket) at third base as Roger Manuel (left) comes up with the ball.