Guelph C-Joys are the centre of attention as they sit atop a fire truck during a parade to celebrate their victory in the 1970 Intercounty playoffs.
Hugh Heibein of Kitchener strains to make it to first before the throw to Guelph first baseman Reid Heffernan.

The local paper, the Guelph Daily Mercury, marked the C-Joys win with a full page spread, September 23rd.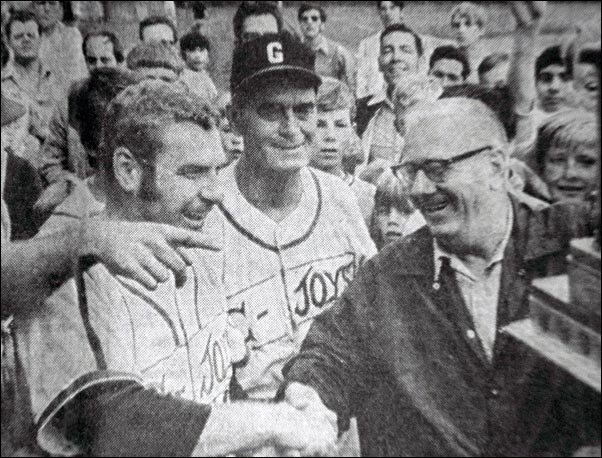 The Intercounty League Vice-President Jim Inglis congratulates the C-Joys on their triumph.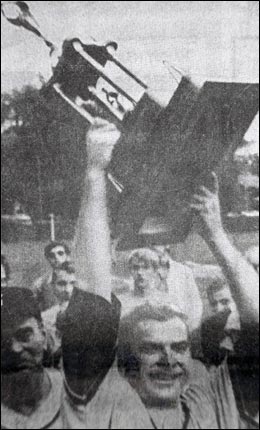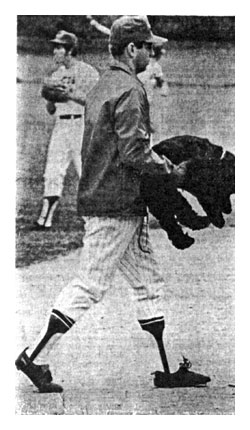 Left - Guelph's Ron Gumbley shows the crowd what it's all about - the Intercounty League trophy.
Right - May, 1970. What would a day at the ballpark be without a stray pet to enliven the activities? London Avcos outfielder Paul Allen moves into a utility role as dog-catcher and escort to retrieve the animal and get play back underway in a game at London.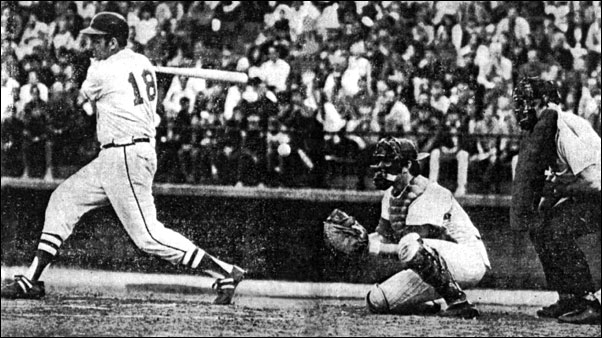 May 22, 1970. London Avcos home opener at Labatt Park. Hamilton's Jack Roberts fouls off a first-inning pitch before a crowd of 1,067. The catcher is London's Wayne Fenlon. In a slugfest, Avcos took the season opener 20-10.
[Thanks to Paul Allen and Neil Srivastava for the photos]