Joe Zanussi of Rossland conects to knock in the first run for the Capilanos in a losing effort against the Nelson Indians..
Nelson scored an easy 14-3 victory in Rossland's home opener in the Kootenay Senior Baseball League.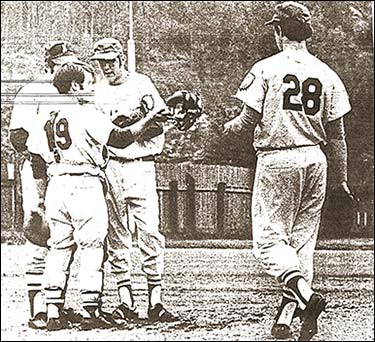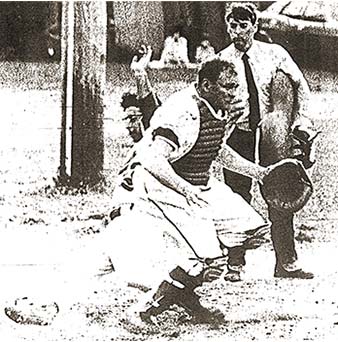 Above left - No celebration here. Pitcher Dick Sommerdeldt of the Nelson Indians gave up four runs in the first inning against Rossland Capilanos and his teammates catcher Ted Allen (19), first baseman Bob McIvor and third sacker Ernie Moisie gather to discuss the situation. Rossland won this one, 9-5.
Right - Nelson outfielder Armando Porco slides across home as Rossland catcher Don Holmes awaits the throw. Bob Jeffs went the route on the hill for the Indians for the win, Barry Seal was charged with the loss. Caps comitted eight errors.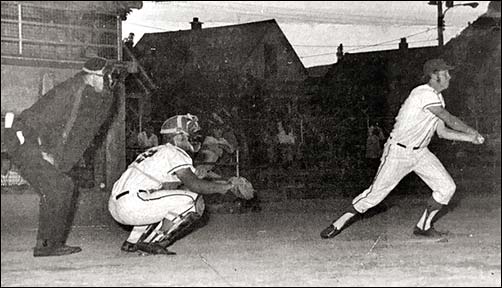 Action from opening game of 1971 West Kootenay Senior Baseball League semi-finals. Batter Ron "Rocky" Cull of Rossland Capilanos swinging at delivery from Trail Silver Kings' pitcher Don Mainland as southpaw catcher Gary Picone of Trail watches play develop.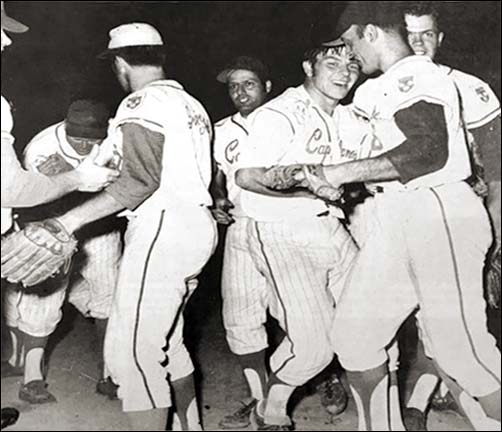 Members of victorious Rossland Capilanos celebrate after winning the rubber match in their best-of-three West Kootenay Senior Baseball League semi final-series over the Trail Silver Kings. L to R – Don Holmes (bent over), unknown, Bob Profili, Joe Zanussi, Lou DeRosa and Barry Seal.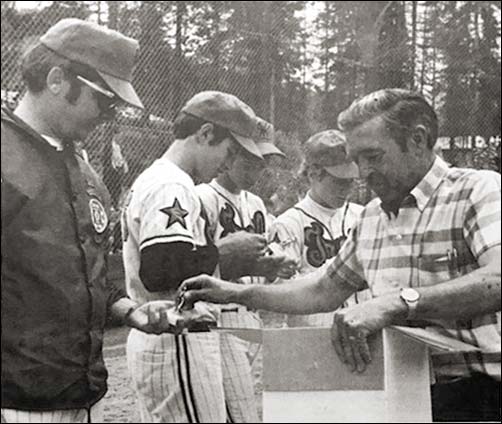 Doug Haines, director of the District 5, Babe Ruth organization, presents Dick Necker, the coach of the West Kootenay All-Stars, with a trophy in recognition of their victory in the tournament. The All-Stars defeated a Kelowna entry 5-3 Sunday afternoon in Fruitbale to earn the right to advance to the BC championships in Coquitlam. (Les McInnis Photo)