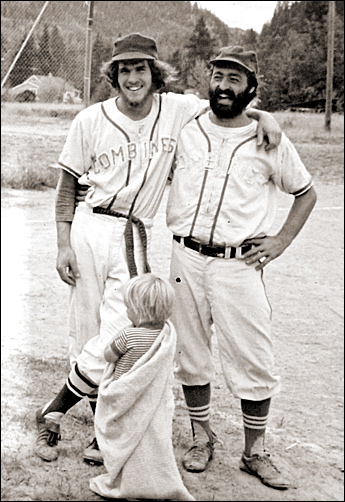 A pair of happy campers from the 1971-72 New Denver-Silverton Combines. The club played in a league with Nakusp, Kaslo and Winlaw as local ball began to wind down in the 1970s.
That's Daniel Hellyer on the left with Ron Ray (wearing his old hand-knitted stirrups). Hellyer is sporting the new nylon ones! The little guy, with his back to the camera and maybe a Linus van Pelt security blanket, is Daniel's son Simon.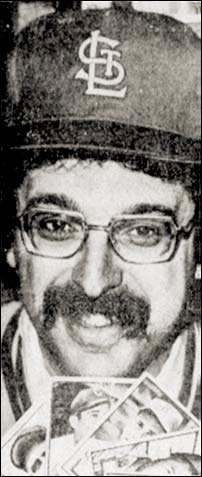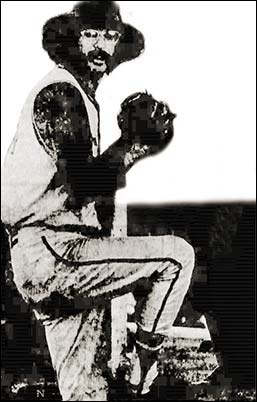 Oh man, the big hair days of the 1970s.
That's lefty Kit Krieger who fired a no-hitter in the Vancouver Industrial League in 1972 as Vancouver CYO nipped North Van 1-0.
The 23-year-old had been 0-4 going into the game.
The lone reasonable photo we could find of Krieger during the era (far left) is from a 1977 newspaper story on his baseball card collection.
A few years earlier, at age 19, Krieger, then a clubhouse boy for the professional Vancouver Mounties of the Triple-A Pacific Coast League had made a mark in professional ball, albeit for a career total of three innings. Writer extraordinaire Tom Hawthorn penned a marvelous piece on Krieger's day in the pros in the Tyee in 2018.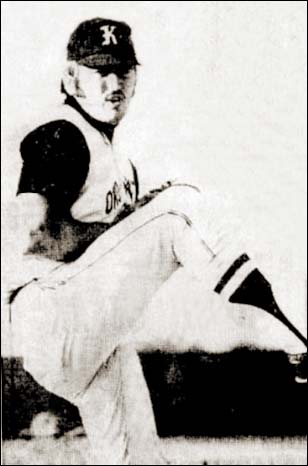 Bob Bridges, lefty hurlder for the Kamloops Okonots of the Okanagan Mainline Baseball League.
Bridges, from Tucson, Arizona, came to the Okonots from the University of Arizona and played over a decade for teams on the prairies and on the Canadian national team, after gaining Canadian citizenship.
He settled in Kamloops and launched a 30+ year career as a teacher and coach. Inducted into the Kamloops Sports Hall of Fame and (below) into the he Westsyde Secondary Wall of Fame.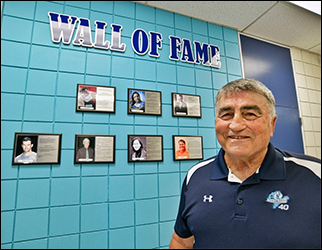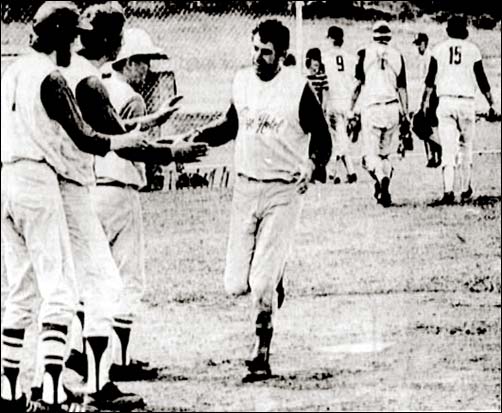 While opposing players trudge toward the showers, Gorge Hotel playing-manager Bob Bowles receives congratulations from teammates as he crosses home plate after crashing a final-inning home run to give the Hotelmen a 2 to 1 walkoff win over Kubicek's Home Service in a Victoria Senior Baseball League game of June 18.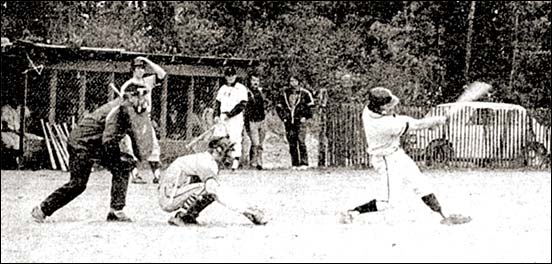 Quesnel Selects infielder Tony DeCillia connects against the Jens Junior Hobos.

A mound conference is called in the game between the Quesnel Selects and Mechants. It's decided to wave in a new hurler to take over for Doug McGowan who ran into some trouble in the late innings. Left to right - third baseman Dale Phoenix, shortstop Jim Alton, catcher Pat Morgan and McGowan.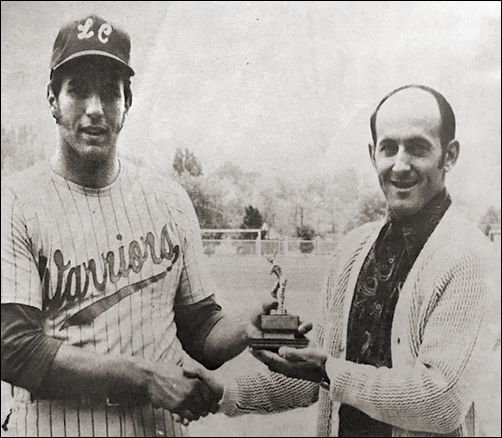 Tournament organizer Lou DeRosa (right) presents Tom Rainville of Lewis & Clark Warriors the trophy as best hitter in the Trail Major League Tournament in September.
Rainville went seven for ten with a pair of home runs and two doubles.
DeRosa also had a trophy for Ramon Hooker of the Warriors for winning the tournmment, going unbeaten in their four games.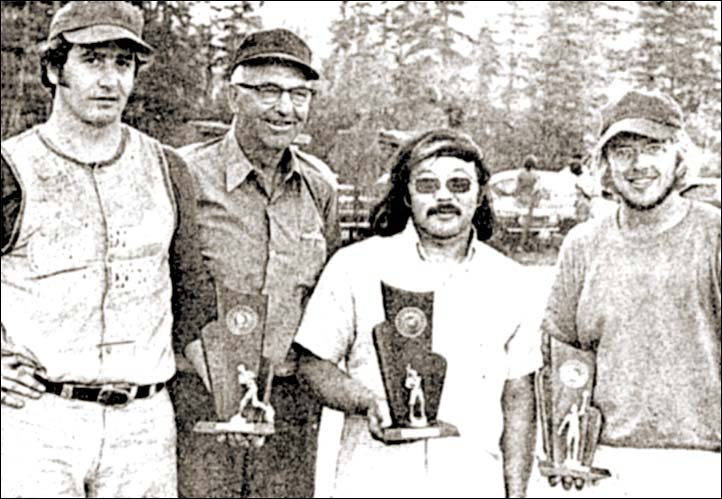 The top individual performers in the Quesnel senior baseball tournament. Left to right - John Hogg of Dawson Creek, the top pitcher, tournament commitee chairman Ira Gardner, Kamloops Colts Mino Goto, the top batter, and Billy Barker's Randy Thompson, the top infielder.
Outfielder Al Roemer of the Nelson Indians swings and connects on a pitch from Spokane St. John's hurler George Dirks, launching the horsehide for a mammoth home run during the first game of an exhibition doubleheader at Nelson. Identity of Spokane catcher not known

Rossland Capilano coach Lloyd McLellan and outfielder Art Field attempt in vain to convince umpire Dave Halme to change his ruling from a ground-rule double to a triple on a ball hit by Joe Zanussi. At left in background are Nelson Indians' pitcher Wayne Plummer and his batterymate, currently unidentified

Action from WKSBL game of May 23/72 at the Nelson Civic Centre diamond. Left-handed hitting Nelson Indians' batter wearing uniform #28, yet to be identified, begins to square around in bunt attempt on an inside pitch from Rossland's Joe Zanussi as Capilano catcher Len Cederholm reaches across his body anticipating the location of the moving ball.