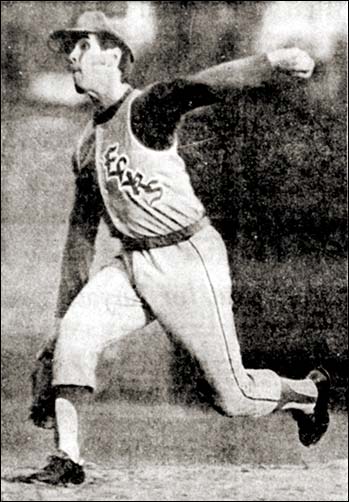 Top left - Hy Lewis of the Calgary Giants, Top right - Southpaw Bill Phillips of the Red Deer Elks.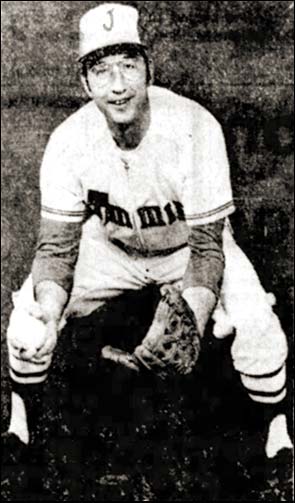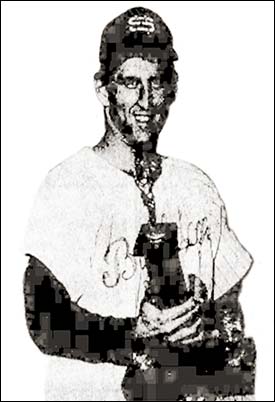 Left - John Elick, Calgary Jimmies,
Right - San Mateo, California, Bulldogs cruised to an 11-4 win over Spokane, Washington, Jets to take the 23rd Annual Lacombe Lions Baseball Tournament. A seven-run 5th inning was the difference for the Bulldogs who had wins over Calgary Giants and Moose Jaw Devons to reach the final. It was the first time in the tournament's history that two American teams had clashed in the final.
Don Benedetti, named the tourney's Most Valuable Player, went four-for-five for San Mateo in the final and seven-for-eleven in the tournament. 

Left - Red Deer Elks' Cliff Ballou delivers pitch to Edmonton Tigers' infielder Fred Seyer.
Right - Wayne McKee of Red Deer Elks in home run trot after delivering a three-run circuit-clout off the slants of Calgary Giants' pitcher Gord Vejprava.
Below - Steve Callahan, first baseman of the tournament champion San Mateo Bulldogs accepts the Most Valuable Player Award from CFRN sportscaster Al McCann following the final game of the Kinsmen Invitational Tournament at Barrhead.
After an opening day 5-2 victory over the Edmonton Sunburst League All-Stars, John Noce's college kids crushed the host Barrhead nine 18-1 and then whipped the Calgary Jimmies 11-2 in the finale.