QUESNEL DOMINION DAY WEEKEND TOURNAMENT
(June 30, July 1-2) Senior-level baseball, tournament style, made a successful return to Quesnel with the hosting of a three-day, six-team tournament over the Dominion Day weekend. The event, won by Quesnel's Billy Barker Inn by virtue of an 8 to 7 win over the Dawson Creek Cardinals, was the first senior tourney in Quesnel in eight years. The Innkeepers had to qualify for the final and $400 first-place money by storming back through the loser's bracket after dropping their opening match. Winners of the $300 allotted for second place, the Cardinals, on the other hand, went undefeated until facing the Barkers in the A-B final. The third and fourth place teams, the Kamloops Colts and Quesnel Merchants, each walked away with $100.

The opening game in this six-team event had a pair of Quesnel teams tangling on June 30. The Merchants upset the highly-touted Billy Barker Inn aggregation 2 to 1 in this tilt.

The Dawson Creek Cardinals began their quest for tourney laurels by blanking the Quesnel Selects 7 to 0 in the July 1 curtain-raiser and the Kamloops Colts of the North Okanagan Baseball League followed in another first-round match by taking down the Jen's Hobos nine of Quesnel 8 to 4. Billy Barker then began the long comeback trail by eliminating the Selects 14 to 4. The fourth game of the day, a winner's bracket match, pitted the Dawson Creek aggregation against Quesnel's Merchants in which the Northerners prevailed 5 to 3. In the last contest of the day, the Retailers from Quesnel knocked Jen's Hobos to the sidelines, whitewashing the Tramps 7 to 0.

The green-and-white clad Billy Barker crew began a demanding final day by disposing of the Merchants 2 to 1. Dawson Creek remained undefeated, knocking the Kamloops Colts into the loser's bracket with a 4 to 2 conquest. The Barkers then sent to Colts packing, grabbing a 5 to 3 decision in the tourney semi-final. That set up the A-B final pitting the Innkeepers against the unbeaten Cardinals. The Quesnel team roared out of the gate and built up a comfortable 7 to 1 margin in the clincher, primarily on the strength of a pair of towering home runs by middle pasture patroller Ed Lang. However, with a never-say-die spirit prevailing, the battling nine from the Peace River area of north-eastern B.C. put up a six-spot on the scoreboard in the top-of-the-seventh panel to deadlock the contest at 7 – 7. In their half of the final frame, keystone sacker Dave Thomas of the Innkeepers led off with a single, moved into scoring position at second base during a throwing error on a fielder's choice attempt, swiped third and scooted home with the winner in an 8 to 7 victory on Pete Swanson's successful bunt along the first-base line. Terry Yalowega and Swanson shared mound duties for the Barkers in the finale.
---
BIRTLE CANADA DAY BASEBALL TOURNAMENT
(July 1) Binscarth Orioles and Brandon Cloverleafs split top money at the annual Birtle Baseball Tournament as rains wiped out the final contest. Orioles had a 4-0 lead after three innings when the rains came. More than 5,000 spectators took in the action.
Binscarth won a finals berth as Garth Neville fired a two-hitter in blanking Dauphin 6-0. Ron Low and Don Gies had two-run homers. Ross Stone suffered the loss. Brandon advanced with a 13-4 romp over Minot Merchants.
Dauphin had reached the semi-final round with a 5-3 win over Souris Cardinals. A four-run second inning made the difference. Minot advanced by downing Virden Oilers 7-4 scoring three times in each of the second and fifth innings.
Ron Falloon provided the most dramatic moment of the opening action smacking a grand slam homer in the final inning to break a 6-6 tie with Riverside. The Canucks had a 6-3 lead going into the seventh and final frame. Orioles battled back to tie as Reg Parton doubled, Dale Gies, Bruce Stephens and Ron Low had singles and Herb Andrews, Dale Gies and Glen Hodgson drew walks. Neville picked up the pitching win in relief of Bob Kutzan. Lorne Lilley took the loss after relieving Ed Beare in the seventh.

In the day's first game, a fifth inning home run by Bob Thompson handed Brandon a 3-2 triumph over Hamiota Red Sox. Ron Funk earned the mound decision over Glennis Scott.
---
ESTON TOURNAMENT
(July 1) North Battleford Beavers won the Eston Tournament with a 4-1 victory over the host club in a rain-shortened final. Tom Sallaway hurled the win for the Beavers.
Dentz (L) and xxx
Sallaway (W) and xxx
In first-round games, Bob McClure struck out 20 batters in pitching Eston to a 4-1 win over Kindersley. The Beavers Gary Barker blanked Unity 9-0.
---
NORTH BATTLEFORD TOURNAMENT
(July 2) Unity Cardinals downed North Battleford 8-5 to take top money at the North Battleford tournament. The Beavers had two on with two out in the 9th inning. Mark Perkins, the potential tying run, had a three-ball, no strike count but Larry Haylor relieved Steve Wright and got Perkins on three called strikes to end the threat. The contest turned into a walk-fest as three Unity and two Beaver hurlers combined for 28 bases on balls. Bob Brown and Jim Shaw each had two singles for Unity. Perkins had a pair of one-baggers for the Beavers. Cam Sternig rapped a three-run triple for North Battleford.
Dan Boitana (W), Steve Wright (7), Haylor (9) and xxx
McIntyre (L), Brian Lampitt (4) and xxx
In first round games, Unity downed Kindersley 6-2 and Beavers defeated Eston 6-4. Mike Aranaydo got the win for Unity tossing a four-hitter. Dave Croft took the loss. Steve Wright produced a pair of doubles for the winners.
Aranaydo (W) and xxx
Croft (L) and xxx
Beavers scored four times on five hits and three errors in the 5th inning to take the win over Eston. Vince Rucobo got the win, Greg Larson was tagged with the loss. Mike Rawlings of Eston was the leading hitter with a triple and double.
Rucobo (W) and xxx
Larson (L) and xxx
---
(July 3) In exhibition action, the San Mateo Bulldogs exploded for seven runs in the 7th inning to down Lethbridge Lakers 9-4. Lakers' starting pitcher Marty Maxwell cruised through five innings with a two-hitter before giving way to Jeff DeRecat in the 6th who proceeded to walked the bases full before getting a double play to get out of the inning. However, in the 7th, DeRecat walked a pair and the Lakers sent Randy Maxwell to the hill and he too coudln't find the plate loading the bases with another walk. A wild pitch scored a run to tie the score. After another walk reloaded the bases, Terry Ruggles tripled to put the visitors in the lead to stay. Ruggles led the attack with two triples and a single. Winning pitcher Joe Bloom added a double.
M. Maxwell, DeRecat (6), R. Maxwell (7) and B. Maxwell
Bloom (L) and Scott
---
BARRHEAD TOURNAMENT
(July 8-9) The San Mateo, California, Bulldogs warmed up for the big Lacombe Lions Tournament over the weekend in impressive fashion taking top money at the second annual Kinsmen Invitational Tournament at Barrhead.
After an opening day 5-2 victory over the Edmonton Sunburst League All-Stars, John Noce's college kids crushed the host Barrhead nine 18-1 and then whipped the Calgary Jimmies 11-2 in the finale. Pat Martin went the route on the hill for the Bulldogs with Don Beneditti slugging his second home run of the day in the victory. Steve Callahan of the Bulldogs was named the Most Valuable Player in the tournament after punching out six hits in sixteen at bats and driving in eight runs.
Jimmies took their opener 4-3 over Red Deer Elks and topped Calgary in a semi-final. Earlier, Barrhead beat Grand Prairie and the Calgary Giants upset Kamloops Okonots.
---
UNITY TOURNAMERNT
(July 9) Pitcher Gary Brandon singled in the winning run in the 10th inning as Saskatoon edged Eston 2-1 for top money at the Unity Tournament. Fred Maxemiuk led off the top of the 10th with a single and was sacrificed to second before Brandon brought him home.
It was tense in the bottom of the 10th as Bob McClure reached on an error and Mike Rawlings drew a walk. Dennis Migliazzo came in to relief Brandon and on his first pitch the runners pulled off a double steal to move McClure to third. However, Migliazzo got Blyth Irvine to ground out to end the game. Brandon allowed five hits and five walks in registering the win. Loser Greg Larson allowed seven hits. Randy Munch and Don McLeod each had two hits for Saskatoon, Rick Morrice had a triple and single for Eston.
Brandon (W), Migliazzo (10) and Williams
Larson (L) and Rawlings
In the semi-finals, Saskatoon scored twice in the first inning then held on to down North Battleford 2-1. Fred Maxemiuk's two-run single in the opening frame proved to be enough for the win. Losing pitcher Vince Rucobo singled in Neil Lampitt in the 5th inning for the only run for the Beavers. Each team had seven hits. Maxemiuk had three for the Commodores. Pat Price got the win with relief help from Larry Lazecki and Dennis Migliazzo in the 7th.
Price (W), Lazecki (7), Migliazzo (7) and Williams
Rucobo (L) and Settle
Down 6-3, Eston rallied for four runs in the 5th inning and went on to top Minot 10-6. Howard Gesy sparked the Ramblers with two-run singles in the 5th and 6th innings. Minot had scored four in the top of the 5th, helped by Tom Kraft's two-run homer. Bob McClure, who relieved in the 5th, was the winner over Donn Feldner.
Barness, Feldner (L) (1), Cory (5) and Seeley
Dentz, McClure (W) (5) and Rawlings
In opening round action Saturday, Saskatoon downed the Fargo Idso Sails 8-3, Beavers beat Fargo Glass and Paint 4-1, Minot blanked the Unity Cardinals 3-0 and Eston shutout Kindersley Klippers 4-0.
Migliazzo was the winning pitcher over Fargo, while Steve Idso took the loss. With the score tied at 3-3, Saskatoon struck for five runs in the 5th inning to put the game on ice. Migliazzo, who led off the frame with a single, score the winning run when he came home when Tim Alcantar was hit by a pitch with the bases loaded. Maxemiuk, who and a double and two singles in the opening game, received the award for the player with the most hits in the tourney. He had seven hits in eleven trips to the plate. Bob McClure received two awards, most valuable player and pitcher with the most strikeouts in one game. In Eston's win over Kindersley, he fanned 18. At the plate, McClure drew four walks and stole four bases.
---
(July 10) Bill Sobkow's two-run single in the bottom of the 7th inning sparked a three-run rally to lift North Battleford to a 10-7 win over the touring San Mateo Bulldogs. Don McIntyre scattered ten hits in going the distance for the win. Greg Mutcheler was tagged with the loss.
Bulldogs struck for three runs in the top of the 7th to even the count at 7-7 before Sobkow delivered his bases-loaded, two out blow. Both Cam Sternig and Jack Rowley hammered three-run doubles for the Beavers. Tito Real had a triple, double and single for the California squad. Steve Calahan had a pair of doubles for San Mateo.
Mutcheler (L) and xxx
McIntyre (W) and xxx
(July 11) The Eston Ramblers and the San Mateo, California, Bulldogs battled to a 4-4 draw in exhibition action at Eston. The game was called because of darkness. Steve Dentz hurled a six-hitter for the Ramblers. Eston had eight hits off three San Mateo pitchers, Joe Bloom, Mark Souza and Mike Williamson.
Bloom, Souza, Williamson and xxx
Dentz and xxx
---
B. C. JUNIOR BASEBALL CHAMPIONSHIP TOURNAMENT
(July 14-16) The Pacific Coast All-Stars romped to their second straight BC Junior baseball championship Sunday demolishing the Kootenay All-Stars, the Creston Juniors, 8-0 at Queen's Park in New Westminster.
The coast club, composed of players from Vancouver, New Westminster and the North Shore, breezed through the three-day double round robin event, unbeated, winning all four games. Sunday, powered by doubles by George Lyle and Al Watson and a single by Jim Schwab the Pacific Stars blew the game open with four runs in the third inning. Lyle added the tourney's only homer, a solo blast in the seventh. Pitcher Dick Hazel hurled a four-hitter over six innings, with 10 strikeouts for the winners. Gord Williams finished up. Len Gamlin of Vancouver, the top hitter in the tournment with a .530 average, had another good game with a triple and two singles. Kootenay had earlier beaten Quesnel 5-1 and 6-1. The Pacific Stars had whipped Quesnel 19-2 and Kootenay 7-3.
---
KINDERSLEY TOURNAMENT
(July 16) With a five-run rally in the bottom of the 8th inning, the Kindersley Klippers edged Eston Ramblers 6-5 to win the Kindersley International Baseball Tournament.
Klippers reached the final by downing Regina Red Sox 11-7 in semi-final action while Eston got by Minot, North Dakota, Merchants 7-6.
Down, 5-1, the five runs came on four walks, an error and a two-out, bases-loaded double by Lorne Niven. Howard Gesy added a triple for the winners while Bob McClure belted two singles for Eston. Larry Sheppard went the distance on the hill for the Klippers to take the win over Steve Dentz.
Dentz (L) and xxx
Sheppard (W) and xxx
In the semi-final, Kindersley also had a big inning, six runs in the 4th, to down Regina. Paul Rissco rang up 12 strikeouts in gaining the mound victory. Bob Currie took the loss. Roy Rowley paced the Klippers with a double and four singles. Ned Andreoni knocked in four runs. Fred Heward had two doubles and a single for Regina.
Rissco (W) and xxx
Currie, Lyle Johnson (6), Sawa (7), Barr (8) and xxx
Eston scored its victory over Minot when Rick Morrice came home on an error after reaching on a base on balls and advancing to third on a single by Bob McClure. McClure was the best hitter for Eston with a double and two singles. Losing pitcher Bill Korering collected a double and two singles for the visitors. Greg Larson got the win.
Larson (W) and xxx
Korering (L) and xxx
In first round action, Regina outsted North Battleford Beavers 5-3, Kindersley whipped the San Mateo Bulldogs 11-4, Eston topped Calgary Jimmies 2-0 and Minot slipped by Unity Cardinals 6-5.
---
LACOMBE TOURNAMENT
(July 20) San Mateo, California, Bulldogs cruised to an 11-4 win over Spokane, Washington, Jets to take the 23rd Annual Lacombe Lions Baseball Tournament. A seven-run 5th inning was the difference for the Bulldogs who had wins over Calgary Giants and Moose Jaw Devons to reach the final. It was the first time in the tournament's history that two American teams had clashed in the final.
Don Benedetti, named the tourney's Most Valuable Player, went four-for-five for San Mateo in the final and seven-for-eleven in the tournament.
Reynolds (L), Davey (5), Sanborn (6) and Cain
Mutcheller, Sousa (1), Martin (W) (5) and Benedetti, Moore (9)
Earlier, San Mateo recovered from a five-run 2nd inning by Moose Jaw to top the Devons 8-5. Joe Bloom came on in relief of Pat Martin to record the victory, his 2nd of the tourney. Randy Sawa, a pickup from Regina, relieved starter Paul Nelson in the 1st inning and took the loss. Ron Scott cracked a three-run homer for San Mateo and Terry Ruggles had a two-run shot.
Nelson, Sawa (L) (1), Risso (7) and Tollefson
Martin, Bloom (W) (2) and Benedetti

San Mateo Bulldogs scored four runs in the first inning and were never headed in taking a 10-6 decision over Calgary Giants. Don Benedetti homered for the winners. Giants out-hit their opponents 9 to 6, but made six costly errors.
Ray Parr (L), Pestorich (6) and Heatley
Bloom (W), Sousa (6) and Scott, Benedetti (7)
Spokane Jets, a team of former Spokana area college players, topped Red Deer Elks 3-2 scoring the winning run in the 8th inning. Mike Hayes singled and made it all the way home when Mike Gordon's single to centre eluded outfielder Doug Simon. Mike Davey scattered five hits to gain the win. Chris McKinnie allowed just five hits in taking the loss.
Davey (W) and Cain
McKinnie (L), Lynn (9) and Van Onum
Pinch-hitter Larry Roseburg broke up one of the best pitching duels in tournament history with a grand slam homer in the bottom of the 10th inning as Kamloops Okonots downed North Battleford 4-0. Lefty Vince Rucobo had shutdown the Okonots on one hit while fanning 14 until Roseburg delivered on a 3-2 pitch with two out. Rucobo had retired the first two batters then watched the next two reach on errors. A walk to Woody Harris loaded the bases.
Bob Bridges, another southpaw, handcuffed the Beavers on one hit over the ten innings. He had 16 strikeouts and walked just one. Rucobo had three bases on balls.
Rucobo (L) and Settle
Bridges (W) and Porter
(July 18) Fred Cardwell fired a two-hit shutout and Rich Gergley belted a pair of homers to account for all the offense as Moose Jaw Regals blanked the Edmonton Tigers 2-0 in the opening game of the 23rd Lacombe Tournament. Both hits off Cardwell came in the 4th inning. He struck out seven and walked one. Tom Sharpe was the hard-luck loser allowing just six hits. He fanned nine.
Sharpe (L) and Chamberlain
Cardwell (W) and Tollefson
---
BRANDON KINSMEN TOURNAMENT OF CHAMPIONS
(July 21-23) Dauphin Redbirds upset the Brandon Cloverleafs 3-2 Sunday to take top money at the $2,200 Kinsmen's Annual Tournament of Champions at Brandon. All eight Manitoba Senior League teams suited up in the three-day affair.
Dauphin jumped into a 2-0 lead in the first inning helped by singles from Ken Buchy, Harry Bell and John Morrison. They got the eventual winner in the fourth on a double by winning pitcher Vern Nickel and a single by Ken Buchy. Nickel had a one-hit shutout until the seventh when Brandon got a single by Doug Fraser and triples by Rick McFadyen and Roy McLachlan. However, Dave Rottman relieved Nickel to put down the rally.
Rottman was outstanding for the champions. Besides saving the finalg ame for Dauphin, he drove in four runs with a double and two singles and limited Binscarth to six hits in the Redbirds' 9-4 semi-final victory.
Riverside won the consolation final with an exciting 8-6 victory over Virden. Canucks had the game well in hand with a 6-1 lead into the eighth inning, but Virden erupted for five runs to tie the count. Riverside rebounded with two in their half of the eighth for the win.
Dauphin started the tourney downing Riverside Canucks 6-2 Saturday morning.
Brandon had charged into the final without having allowed a run in three complete games. They had shutout Riverside in league play last Monday and then whipped Virden 7-0 Friday and topped Souris Cardinals 5-0 on Saturday.
In the opening game of the tournament on Friday evening, Souris rallied for three runs in the eighth inning to edged Hamiota 4-3. Bernie Graner went the distance holding the Cardinals to five hits to best Glennis Scott.
Brian Hodgson followed with a four-hit shutout Friday as Brandon blanked Virden Oilers 7-0. Bob Thompson led the winners with a home run and two singles. Hodgson fanned eight and walked just one.
Friday
Souris 4, Hamiota 3
Graner (W) and Leslie
Scott (L) and Woods
Virden 0, Brandon 7
Bridgett (L) and Mike Labossiere
Hodgson (W) and McFadyen
Saturday
Dauphin 4, Riverside 2
Stone (W) and Bell
Beare (L), Lilley (5) and Cliff Seafoot
Binscarth 3, Minot 0
Lynd (W) and Stephens
Donn Feldner (L) and Muratore
Souris 0, Brandon 5
Read (L), Fitchner (4) and Lesile
Funk (W) and McFadyen
Virden 9, Hamiota 5
Wood (W) and Hemstad
Ramsey (L), McNiven (6) and Bryan Smith
Sunday
Riverside 7, Minot 5
Everard (W) and Cliff Seafoot
Koering (L) and Muratore
Dauphin 9, Binscarth 4
Nickel, Rottman (W) (3) and Bell
Neville (L), Kutzan (8) and Stephens
Virden 6, Riverside 8
Araujo (L) and Hemstad
Fisher (W), Beare (8), Lilley (8) and Cliff Seafoot
Brandon 2, Dauphin 3
Thompson (L) and McFadyen
Nickel (W), Rottman (7) and Bell
---
CANADIAN JUNIOR BASEBALL CHAMPIONSHIP
(July 26 - 30) Pointe-Aux-Trembles Jets led by the pitching of Michel de la Sablonniere, who struck out 18, defeated Newfoundland Barons 7-1 Wednesday in the opening game of the Canadian Junior Baseball championship at Montreal.
The east-end Montreal Island club opened the scoring in the fourth inning when Luc Chiasson smashed a homer over the right field fence. Daniel Guy hit another over the centre field wall as the Jets went ahead 2-1. The game drew a crowd of 5,000. De la Sablonniere also helped at the plate as the 19-year-old brought in two runs in the sixth with a single.
(July 27) In the biggest upset of the tournament so far, Regina Maroons knocked off reigning champion Quebec 7-6 Thursday in a 10-inning thriller. Lefty Bob Currie had blanked Quebec for seven innings taking a 3-0 lead into the eighth on Ken Nelson's three-run homer in the third. But, Quebec narrowed the count to 3-2 in the eighth before Ross Tycoles' two-run double in the bottom of the frame re-established the margin. Then Quebec exploded for four runs in the ninth to go ahead 6-5. Saskatchewan came back to tie in the bottom of the ninth and won it in the 10th when Steve Mazurak squeezed in Jerry Fellner from third.
Spurred on by their opening game heroics, Regina then rocked the Manitoba All-Stars 12-1 with Brian O'Hara leading the attack with two doubles and two singles, he scored twice and stole two bases.
Phil Schmidt was the story for the Ontario Mic Macs in their 5-2 win over Manitoba's Westmen All-Stars as he fanned 11 batters and hit a home run to win his own game. Bill Buchy hit a homer for the losers.
In the afternoon, Schmidt, playing first base, smacked two more home runs, driving in four, as the Windsor Mic Macs swamped New Brunswick 18-1 playing in a steady drizzle. Ontario pounded out 13 hits and took advantage of ten free passes and ten New Brunswick errors. Roger Doe held the Maritimers to four hits and the lone run against him was unearned.
Sydney Steel Kings, representing Nova Scotia, jumped on the Pointe-Aux-Trembles Jets for five runs in the first inning and went on to an 11-4 victory despite a homer from Daniel Boisclair in the first inning.
Nova Scotia got a second win in a 15-0 romp over Prince Edward Island. Joseph Battin led the onslaught driving in six runs and Dave McLean knocked in four more. New Brunswick thumped Alberta 10-4 as Mike Lloyd and Brian Kennedy each drove in three runs and Cleo Godin was the winning pitcher.
In other Thursday action, the Cypress Trojans of Vancouver scored five times in the seventh inning to down Newfoundland Barons 6-3. Len Gamlin's triple highlighted the big inning. Larry Mann went five innings for the win.
Quebec crushed Alberta 13-1 as right-hander Gilles Grondines, hero of the 1971 junior playoff when he hurled three of Quebec's victories, limited Edmonton's Blue Willow Angels to four hits. Catcher Yves Blanchard blasted four hits including a solo homer and drove in six runs.
(July 28) A grand slam homer by John Chodorowicz was just one of the many offensive highlights Friday as the Windsor Mic Macs lambasted the Blue Willow Angels of Edmonton 21-7. Gary Brouillette aided the Ontario cause with a three-run shot.
Dick Hazel held Pointe-Aux-Trembles to three hits and Jim Schwab smacked a homer over the centre field fence as BC crushed the easterners 9-1.
The Regina Maroons topped Chatham Ironmen 9-4 as Ken Nelson led the way knocking in three runs with three singles. Gord Selinger was the winning pitcher.
PEI slipped by Newfoundland 5-3 with Bill Connolly going the route on the mound for the win.

Manitoba Westmen grabbed an early 5-0 lead against the Quebec All-Stars but found themselves in a battle in the late innings. Mike Labossiere singled in Herb Andres with the winning run in a 7-6 decision.
(July 29) Alberta's Edmonton Blue Willow Angels closed out the schedule with a pair of narrow losses, 2-1 to Saskatchewan and 6-4 to Manitoba. They had the bases loaded in the ninth against Saskatchewan but couldn't score. The game featured outstanding pitching between Jack Ursaki of Saskatchewan and Bob Bates of the Angels.
Manitoba broke a scoreless tie with four runs in the sixth and two in the eighth. Mike Labossiere's bases-loaded single in the sixth was the key blow. Allan Price had three hits and three runs batted in for Edmonton. Jerry Falk tossed a five-hitter for the win.
Newfoundland Terra Novas defeated Nova Scotia 6-1, Ontario topped Saskatchewan 7-4 behind Phil Schmidt's 16 strikeout performance, but dropped an 8-6 decision to the Quebec All-Stars. Manitoba Westmen defeated New Brunswick 5-1
The Chatham Ironmen of New Brunswick lost twice, 5-1 to Manitoba and 12-5 to Quebec. BC got by Nova Scotia 6-4.
The bright spot in the lineup for host Pointe-Aux-Trembles was hard-throwing Michel De La Sablonniere. Saturday he recorded his second win, striking out 19 as the Jets downed PEI 5-1. De La Sablonniere had fanned 18 in a win over Newfoundland in the tournament's first game.
(July 30) The Windsor Mic Macs came back from a 2-0 deficit Sunday to defeat the Cypress Trojans of Vancouver 7-2 to win the Canadian Junior Baseball championship. Gary Boismier's two-run homer in the sixth tied the score and Ontario added four more in the seventh and another in the eighth to put the game on ice. Phil Schmidt started for the Mic Macs although he had thrown a complete game with 148 pitches just 14 hours previous but was pulled in the fifth inning and remained in the game playing first base. Reliever Roger Doe registered the win.

In semi-final play, Ontario trounced Nova Scotia 9-2 as Schmidt hit his fourth and fifth homers of the tournament. Neil Henderson fired a six-hitter for the win, while BC beat Saskatchewan 6-2 behind the mound work of Steve Herbert who held the prairie squad to two hits.

British Columbia 2 Ontario 7
Mann, Hazel (L) (7), Williams (7), Herbert (9) and Gamlin
P.Schmidt, Doe (W) (5) and L.Schmidt
British Columbia 6 Saskatchewan 2
Herbert (W) and Watson
Lampitt (L), Curry (7) and McEachern
Nova Scotia 0 Ontario 9
Gillis (L) and McLean
Henderson (W) and Lamantia
Phil Schmidt, the Ontario star, was voted the tournament's Most Valuable Player. He started three games, got the wins in two, fanned 30 in 22 innings of work and went 10 for 28 at the plate with five home runs.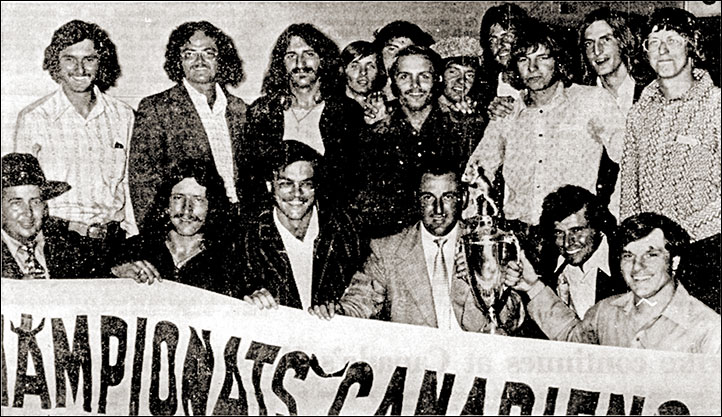 Photo from the Windsor Star, August 1, 1972. The Windsor Mic Macs return from their victory at the Canadian Junior Baseball championship at Pointe aux Trembles, Quebec. Kneeling in front and hold a souvenior signifying their crown are (from the left) coach Floyd Desjarlais, Gary Boismier, Phil Schmidt, manger Bernie Soulliere, Joe LaMantia, Roger Doe. In back (from left) Gary Mallender, Larry Schmidt, Kevin Flynn, Rick Bacon, Brian Plenderleith, Frank Hajdu, Marcel Marchand, Neil Henderson, Gary Brouillette, Mike Carter and John Chodorowicz
---
BC SENIOR AMATEUR BASEBALL CHAMPIONSHIP TOURNAMENT
(July 28-30) Battling for a berth as British Columbia's representative in the 1972 National finals to be held in Brandon MB, five senior amateur clubs from different parts of the province gathered at Queen's Park Stadium in New Westminster to participate in a three-day, double-knockout tournament. Joining the defending champion Victoria All-Stars were the Quesnel Senior League All-Stars, representing north-central B.C., Mid-Island, an all-star squad from Nanaimo, Duncan and Cowichan, the Merchants of Vancouver's Industrial Baseball League and the Pacific International League's Burnaby Villas. The Okanagan and Kootenays did not have entries in the tournament this year.

The lone game played on Friday, July 28 saw the Mid-Island All-Stars blanking Quesnel 8 to 0. Deb Dlay drove in three runs in the first inning and pitcher Jim Jubenville threw a no-hitter, striking out 13 and walking three in the seven-inning game.
Of the four games played on Saturday, July 29, three of the contests were first-round games while the fourth was a loser's bracket clash. It took 12 innings for the Vancouver Merchants to nose out defending champion Victoria 6 to 5 in the opening tussle. The Capital City crew had a 9 to 5 edge in base hits and the lone home run of the game, a blast off the bat of outfielder Gord Strongman.
Terry Dreger, Larry Webster (W) (9) and Mike White
Gerry Lister, Pete Jolly (5), Terry Karpiuk (L) (9) and George Pakos
Burnaby crushed Mid-Island 14 to 2 in the second event, banging out a dozen base hits in the process.
Nick Mitchell (W) and Larry Kissock
Jim Peterson (L), Nick Fransen (5) and Jim Fran, Ken Miller (6)
Victoria outclassed Quesnel 9 to 0 in the first elimination game of the tourney. Les Brice and Gord Strongman combined their mound efforts for a no-hitter while Strongman connected for his second round-tripper of the day.
Pete Swanson (L), Doug McGowan (1), Glen Nordin (2) and Wayne Inglis
Les Brice (W), Gord Strongman (5) and Don Burrows
The final Saturday tilt had the two remaining undefeated squads, the Vancouver Merchants and Burnaby Villas locking horns. Burnaby proved superior in all departments, trimming Vancouver 8 to 0.
Sunday, July 30 began with Victoria ousting Mid-Island from the competition by a decisive 9 to 1 count.
Jim Jubenville (L), Deb Dley (1), Wayne Fransen (2), Tom Nicholson (6) and Ken Miller
Rick Cook (W) and George Pakos
With little time to rest, the Victorians then went head-to-head with the powerful Industrial League Merchants of Vancouver, copping a 2 to 1 walkoff win to capture the loser's bracket of the tournament. Pinch-hitter Les Brice singled home Dave Morgan to win the game for his brother, George Brice, who pitched a three-hitter.
Keith Wilson (L) and Mike White
Georg Brice (W) and Don Burrows
Facing the daunting task of having to defeat Burnaby twice to win the tournament, the Victorians fell behind 3 to 0 in the top-of-the-first inning and simply ran out of gas in their third match of the day, falling by the wayside 6 to 2. The Villas were never headed in the finale that allowed them to annex the 1972 championship. Greg Lindsay, taking over mound duties from starter Ken Myette in the first frame with the bases loaded and only one retired, pitched his way out of the jam and was credited with the hillock triumph. In bowing out of the fray, Gord Strongman of the vanquished nine launched his third circuit-clout in five tournament games.
Ken Myette, Greg Lindsay (W) (1) and Larry Kissock
Bob Mabee (L), Terry Karpiuk (9) and George Pakos.
---
CALGARY MAJOR BASEBALL TOURNAMENT
(July 30) Calgary Jimmies broke open a close game with a six-run 7th inning and held on to down Calgary Giants 11-8 in the final of the Calgary Tournament. With nearly 3,500 in the stands for the final, the event drew just short of 13,000 spectators.
The Jimmies tagged starter Ray Parr and relievers Jeff DeRecat, Hy Lewis and Bob Duncan for 13 hits. Right-hander Malcolm Lynn picked up the win working into the 6th inning before giving way to Don Davis and Thompson. The Giants rallied for six runs in the last two innings but still fell short. Chamberlain had a homer for the Jimmies..
Lynn (W), Davis (6), Thompson (9) and Van Ornum
Parr (L), DeRecat (7), Lewis (7), Duncan (8) and Schiedermayer, McAuley (9)
Jimmies' shortstop Al Herback was named tournament Most Valuable Player. He batted .444 and was a human vacuum cleaner in the field.
Bob Baird was selected as top pitcher for his superb effort in the tourney opener Friday night.
Ron Stephens hammered a three-run homer in the bottom of the 9th inning to give Calgary Jimmies a 5-2 win over Edmonton Tigers in semi-final action. Rich Meily belted a two-run homer for the Jimmies in the 4th. Edmonton catcher Greg Taylor tied it in the 7th with a two-run blast of his own.
Sharpe (L) and Taylor
McKinnies (W) and Chamberlain
Calgary Giants received 6 1/3 innings of shutout relief by Mike Pestorich, a pickup from Edmonton Blue Willow Angels, and came from behind to down Aberdeen, S.D., 6-2 in the other semi-final. Aberdeen made five errors.
Kurth (L), Pahl (5), Vogel (8) and Hayes
West, Pestorich (W) (3) and Schiedermayer
Aberdeen, S.D., upset the highly touted Moose Jaw Devons 11-0 in a game called after seven innnings. The American entry pounded out 11 hits off Southern League aces Fred Cardwell and Paul Nelson. Andrewjeski held the Devons to two hits.
Cardwell (L) Nelson (6) and Tollefson
Andrewjeski (W) and Hayes
Calgary Giants dumped Fargo, N.D., Collegians 7-1 as Dave Day, imported from Salt Lake City for the event, fired a five-hitter.
Day (W) and Schiedemayer
Monson (L), Kapaun (5) and Madsen
Ron Watamaniuk rapped Regina pitching for five hits as the Tigers trounced the Red Sox 12-2. The game was called after seven innings because of the 10-run rule. Bob Bridges tossed a four-hitter for the win.
Sawa (L), Barr (6) and Logan
Bridges (W) and Taylor
Calgary Jimmies kicked off the Calgary Major Baseball Tournament upsetting the San Mateo Bulldogs 3-0 in the tourney opener. Veteran right-hander Bob Baird blanked the visitors on six hits. He fanned nine before a crowd of 2,220. Baird also helped at the plate, knocking in two insurance runs with a bases-loaded single in the 8th inning. Jimmies scored what proved to be the only run they needed in the 6th inning when Dave Morris led off with a single and advanced to third on a sacrifice and fly ball and scored on Rich Meily's single. Meily, Doug Simon and Al Herback each had two hits for the winners.
Baird (W) and Van Ornum
Bloom (L) and Benedetti
---
CANADIAN SENIOR CHAMPIONSHIP
Calgary Jimmies
Camrose Cubs
Kamloops Okonots
Manitoba
Saskatchewan
(August 27) Saskatchewan clobbered Manitoba 20-4 Sunday to win the 1972 Canadian seniior baseball championship. Roy Rowley was a star on the mound and at the dish. He scattered ten hits for the pitching win and had three hits, including a three-run homer and double on offense.
The winners erupted for eight runs in the 6th inning, to take a 15-2 lead, getting two-run homers from Jim Shaw and Ken Nelson and a solo shot from Greg Steele. The club, primarily made up of players from Moose Jaw Devons and Unity Cardinals, scored three straight wins in the double-knockout tournament. They beat the host Camrose squad 6-1 on Friday and shaded Manitoa 8-7 in 11 innings earlier on Sunday. Three of Manitoba's runs came on homers, by Bob Thompson, Rick Cruse and M. Kaletnesky. Thompson was named the most valuable player. Eight players will be selected from the competing teams to supplement the national teams at the world championship in Nicaragua, November 15 to December 5. Manitoba, the defending champions, had earlier downed British Columbia 11-7 to match up with the Saskatchewan squad. Saskatchewan ended up using its top pitcher for just four innings in the tourney. Fred Cardwell, a right-hander for the Devons, threw four relief frames in the A Pool final after Manitoba had rallied with four runs in the 8th inning.
Team B.C., with a roster consisting primarily of players from the Kamloops Okonots of the OMBL and the Pacific International League's Burnaby Villas, placed third in the tourney, having defeated the Calgary Jimmies 7 to 4 and hosting Camrose 11 to 10 before falling to Manitoba in the semi-final showdown.
(August 25) Unity Cardinals, representing Saskatchewan, whipped Camrose Cubs, the flag bearers for Alberta, 6-1 Friday in the first game of the Canadian senior baseball championship. Jerry Brandon, with a no-hitter into the 7th inning, went the distance for the win allowing just two hits. He walked five. Doug Gillies led the offense for the Cards with a homer and double. He drove in two and scored three.
Brandon (W) and xxx
Glen Nelson (L) and xxx
---
2nd ANNUAL TRAIL MAJOR BASEBALL TOURNAMENT
(September 16-17) The Lewis & Clark Warriors, of Lewiston, Idaho, with four straight victories, were the class of the weekend Trail Major League Baseball Tournament. The Warriors topped Washington State University 8-5 Sunday to win the three-team, round-robin affair.
The Washington State Cougars won a pair, both over Kootenay All-Stars, who dropped all four contests.
In Saturday's opening game, back to back home runs by Mark Matheson and Tom Rainville in the sixth inning carried Lewis & Clark to a 3-1 victory over Washington.
Washington got 12 hits, including a circuit blow by Marv Chamerlain, to top the Kootenay nine 10-2.
The Warriors topped the All-Stars 6-3 Saturday evening as Lebotis Branigh betled a three-run homer for the victors in the first inning.

Sunday, Washington's Dave Pyles smacked a three-run homer to pace the Cougars to a 6-1 triumph over the home club.
Rainville's two run shot in the fifth broke up a 2-1 game as Lewis & Clark defeated the All-Stars 6-2.
In the final game, the Cougars jumped into a 5-0 lead but saw the Warriors erupt for eight runs in the seventh inning to win 8-5. Lewis & Clark sent 14 men to the plate and collected nine hits.
First baseman Tom Rainville of the champions received the batting trophy after blitzing opposition pitching for seven hits in ten at bats, including a pair of homes and two doubles. For the local squad, Ricky Brown was tops with five hits in 13 at bats and Gary Picone was four for 14.
The event, organized by Trail's Lou DeRosa, was well attended and enjoyed good weather.
Lewis and Clark Warriors, 1972 Champions of the Trail Tournament (No IDs yet available).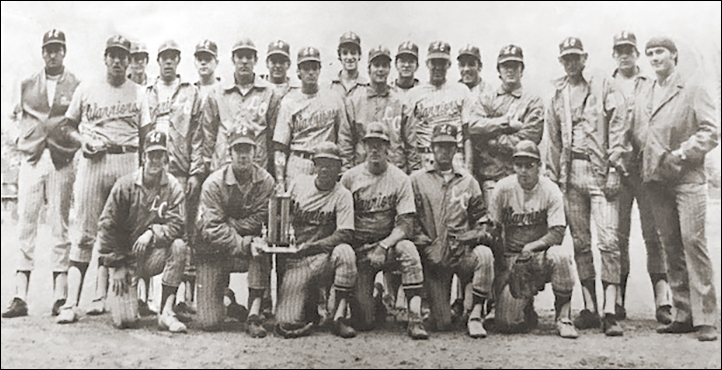 ---
WORLD SERIES OF AMATEUR BASEBALL, MANAGUA, NICARAGUA
Cuba took the gold medal for the sixth straight series going 14-1 in the 16 team tournament losing only to host Nicaragua. The United States finished second with a 13-2 mark and Nicaragua was third. Canada was 9th with eight wins and seven losses. It was the 20th Amateur World Series, held from November 15th through December 5th.
(November 15) Canada out-hit Japan 11-10 but ended up with a 9-0 defeat at the hands of the Japanese. Satoshi Niimi went five innings to capture the win. Fred Cardwell took the loss. Rick Cruise had three hits for Canada.
Niimi (W), Ikeda (6), Ikegaya (9) and xxx
Cardwell (L), Neville (3), Scott (6), Schmidt (8) and xxx
Jay Smith gave up just four hits and fanned 11 over eight innings to lead the United States to a 6-0 win over Guatemala. The Americans had 13 hits, three each by Gene Delyon and Tom McMillan.
Smith (W), Jackson Todd (9) and xxx
Acosta (L), Iriarte (4), Villabobos (9) and xxx
El Salvador 2, Italy 1, Nicaragua 3 Brazil 0, Dominican Republic 14 Costa Rica 0, Puerto Rico 6 China 1.
(November 16) Nicaragua 7, Italy 1, China 9 Costa Rica 3, Dominican 4 Puerto Rico 1, Cuba 10 Germany 0, Panama 8 Honduras 4, El Salvador 8 Brazil 6.
(November 17) Bob Miller and Ruben Garcia combined on a no-hitter as the United States got by Canada 1-0. Miller went 8 1/3 innings before Garcia was summoned to assist in the 9th. John Osborne was the tough luck loser, allowing just three hits. The Americans had just one hit until the 9th when they notched the only maker on a single by Don Ellison and a long double by Kerry Dineen.
Osborne (L) and xxx
Miller (W), Garcia (9) and xxx
Nicaragua 11 Dominican 1, Puerto Rico 11 Costa Rica 0, Guatemala 9 El Salvador 1, Panama 16 Germany 0, Japan 7 Italy 0, China 3 Brazil 1.
(November 18) Canada registered its first win of the Amateur World Series with a 5-4, 12 inning, decision over Guatemala. The Canadians used a 15 hit attack with second baseman Wayne Martin getting five of them. Shortstop Barry Jamieson had three. Canada received outstanding relief hurling - nine innings of shutout ball.
R. Rivera, R. Iriarte (5), M.A. Villalobos (L) and xxx
Randy Sawa, xxx (4), xxx (11) and xxx
Nicaragua 2 El Salvador 0, Japan 9 Honduras 1, Cuba 13 Panama 2, USA 16 German 0, Dominican 6 Italy 3.
(November 19) Canada evened its record at 2-2 taking a 4-1 decistion over Panama as Manitoba's Garth Neville fired a four-hitter for the win and knocked in a pair of runs with two hits. Wayne Martin also had a pair of safeties, one of them a double.
J.Berenguer (L), J.Cedeno (3) and xxx
Neville (W) and xxx
Cuba 19 Costa Rica 0, Brazil 3 Guatemala 0, China 1 Japan 0, Honduras 8 Germany 1, USA 7 Puerto Rico 1.
(November 20) Costa Rica battered three Canadian hurlers for 14 hits en route to a 9-5 victory. Antonio Murrell led the offense with three hits. Wayne Martin again was best for Canada with three hits, one a homer.
Schmidt, xxx (L) (4), Scott (5) and xxx
J. Martinez (W) and xxx
The US blasted Italy 11-1 with a 14-hit attack. Tom McMillan and Jeff Malinoff combined for seven hits. Jack Todd, Dick Smith and Ruben Garcia shared the pitching duties with Smith picking up the victory.
Nicaragua 2 Puerto Rico 1, Panama 3 El Salvador 0, Cuba 13 Brazil 3, Dominican 3 Guatemala 2.
(November 21) Brazil had just four hits but downed Canada 4-2 to send the Canadians to their fourth loss in six games. Wayne Martin belted a pair of homers to account for all the Canadian scoring. Mitsuyoshi Sato hurled a seven-hitter for the win.
Sato (W) and xxx
Sawa (L), xxx (3), xxx (5) and xxx
(November 21) Nicaragua 17 Germany 1, Cuba 2 Japan 0, Brazil 4 Canada 2, Puerto Rico 6 El Salvador 1, Panama 6 Guatemala 2, China-Honduras Rain.
(November 22) Canada topped winless Italy 3-1 Wednesday as Garth Neville registered his second win of the championships.
Neville (W) and xxx
xxx and xxx
Sitoshi Niimi hurled a two-hitter Thursday to hand the United States its first loss of the tournament. Japan won, 3-0. Niimi, tagged for ten hits in six previous innings in the tournament, allowed only two singles - to Kerry Dineen and Tom McMillan.
(November 23) Glennis Scott tossed a six-hitter as Canada defeated Honduras 3-1 for its 4th win in 8 games. Scott fanned six without issuing a base on balls. Canada plated all the runs its needed in the first inning when a fielder's choice with the bases loaded scored one run and catcher Bruce Gullett singled home another.
Galea (L), Andrade (4) and Figueroa
Scott (W) and Gullett, Craig (6)
The US downed the Dominican Republic 7-3 to improve its record to 6-1. Kerry Dineen collected three hits, two of them doubles, for the Americans. He drove in three and scored one. Jay Smith picked up the win with relief help from Ruben Garcia.
Cuba 16 El Salvador 0, Guatemala 6 Italy 2, Brazil 8 Costa Rica 0, Panama 1 Japan 0.
(November 25) Japan blanked Brazil 6-0 Saturday night as Japanese pitchers increased their scoreless streak to 19 innings. Hideo Furuya, an underhand fireballer, teamed with Shinji Takada and Zengo Ikeda to hold Brazil to four hits.
The USA trounced El Salvador 15-3 Sunday to keep alive its hopes in the World Amateur Baseball Championship. The Americans moved to 8-1, behind Cuba, undefeated in eight games. A six run rally in the 6th broke open what had been a tight game. James Nicholson homered with one aboard to climax the outburst. Catcher Jack Rhine had a perfect day at the dish with a double and three singles in four at bats. Joe McIntosh, who pitched hitless ball after he succeeded starter Don Ellison in the third, picked up the win.
Cuba remained unbeaten with a 4-2 decision over Puerto Rico.
Nicaragua scored three runs in the 11th inning to defeat Canada 6-3. An error, sacrifice, two singles, passed ball and a key double by Valeriano Mairena produced the winning margin.
(November 26) The USA defeated Costa Rica 5-1 to move into a tie with Nicaragua for second place, behind Cuba. Brad Brian tied the score 1-1 with a homer in the 7th. In the 8th, four hits and a sacrifice, a fielder's choice and an error produced four more runs.
Canada blanked the ailing Dominican Republic 2-0. Nine of the Dominican players and their coach were suffering from a stomach virus and found it a struggle to take the field. Canada's two runs came in the 6th inning. Dennis Lindstrand doubled and scored when pitcher Geronimo Rodriguez threw wild to third on a scarifice bunt. A bases-loaded walk to Rick Cruise produced the other maker.
xxx and xxx
Rodriguez (L) and xxx
(November 27) The United States took over sole possession of second place with a 4-3, 10 inning, victory over Nicaragua Monday. Jeff Malinoff walked with the bases full and two out scoring Bob Tucker with the deciding run. Jay Smith won his fourth game in the championship in a relief role.
(November 28) The United States unleashed a 15-hit attack to blast Honduras 10-1. Dick Smith and Bob Power combined to limit Honduras to five hits.
(November 29) Puerto Rico won its fourth in a row downing Canada 7-6 in 10 innings. Behind 6-3 in the bottom of the 9th, Canada used a double, two singles and an error to score three to tie. Dennis Lindstrand singled and John Elick was safe on an error with Lindstand going to third. John Osborne scored the first run with a long fly and pinch-hitter Bruce Gullett followed with a single. Hugh McIvor then sent a blast to the left field wall good for a double batting in Elick and Gullett. It was all for naught as Puerto Rico scored in the 10th to win.
(November 30) The United States edged China 3-1 in 11 innings to stay just a step behind Cuba which topped Canada 5-1 for hits 12th straight win. A long double by Bobby Tucker, a wild pitch, a walk to Bob Pollock, a stolen base and a single to right by Jeff Malinoff gave the US the two deciding runs in the 11th.
The Dominican Republic beat Japan 4-2, Guatelmala shutout West Germany 5-0 and Italy shaded Honduras 3-2 in 10 innings. In their loss, the Dominican broke the spell of the Japanese pitching staff which had gone 109 innings without allowing an earned run.
(December 1) Austin Marquetti clubbed a two-run homer in the bottom of the 10th inning to give unbeaten Cuba a 5-3 win over the United States and a perfect 13-0 record. The USA sits at 11-2. Marquetti's 450-foot blast over the right field fence came with one out and scored Felix Isasi who had singled. The US got its runs on a triple by Manny Estrada and home runs by Jeff Malinoff and Tom McMillan. The Americans led 2-0 after six innings behind the two-hit pitching of lefty Ruben Garcia but he was relieved after a Marquetti single in the 7th and Jay Smith was tagged for three runs including an 8th inning homer by Fermin Laffita sending the game into extra innings.
Puerto Rico dropped a 5-1 decision to Japan as Satoshi Miimi won his third straight win. Niimi also provided much of the offense with a three-run double in the 4th inning. In other action Friday, Brazil whipped West Germany 18-0, Canada topped China 5-4, Panama blanked Italy 1-0, Honduras slipped by Costa Rica 2-1 and the Dominican trimmed El Salvador 3-2.
(December 2) Cuba downed Guatemala 7-2 for their 14th straight win. The Americans shutout Brazil 5-0 on the combined five-hit pitching of Joe McIntosh and Bob Power.
(December 3) Lefty Dick Smith shutout Panama 4-0 Sunday as the USA finished second to Cuba with a 13-2 record. Smith fired a four-hitter for the win.
Nicaragua 2 Cuba 0, El Salvador 10 Germany 1, China 6 Guatemala 1, Costa Rica 9 Italy 7, Dominican 4 Honduras 3.
Masaru Oba of Japan won the tournament batting title with a .415 average, just a point ahead of Wilfredo Sanchez of Cuba. Canada had the third, fourth and fifth best hitters, Dennis Lindstrand, at .408, Barry Jamieson, at .405, and Wayne Martin at an even .400. Martin was among the top sluggers with three home runs.