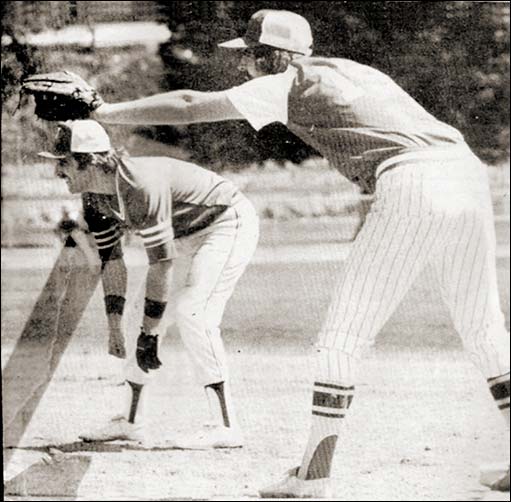 Clark Inglis
of Vernon Coldstream Hotel gets a good lead off first base in a North Okanagan Baseball League contest at Polson Park.
Inglis singled and stole a base in the first game and his single in the final inning of the second contest helped Vernon to a sweep of the double-header.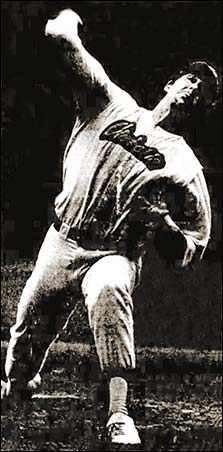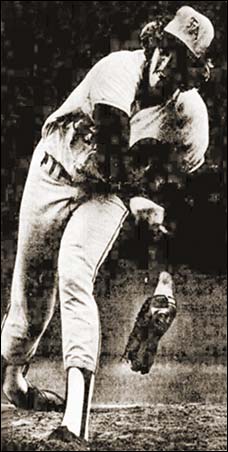 Two of the mound stars of the BC Senior Baseball championship series of 1973.
Left - Victoria's Bob Mabee racked up 20 strikeouts in ten innings of relief hurling as Victoria won in a 14-inning thriller.
Right - Mike Finlayson of Fraser Arms, an 18-year-old right-hander allowed just two hits and fanned 12 as Fraser Arms trounced Victoria 12-0 in the tournament final.
Finlayson is on a baseball scholarship at Green River College in Washington.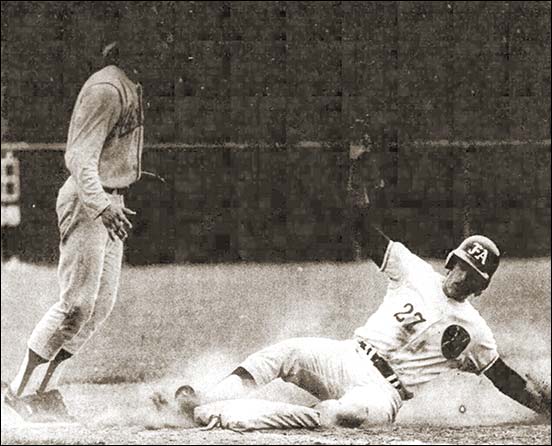 The paper provided little information on this one other than it was a Brian Lee photo of a game at the Senior Amateur Invitational Tournament at Queen's Park Stadium in New Westminster. It's an unidentified (except for #27) Fraser Arms runner sliding safely into second or third during the final between Fraser Arms and Victoria.
(Richmond Review, July 4, 1973)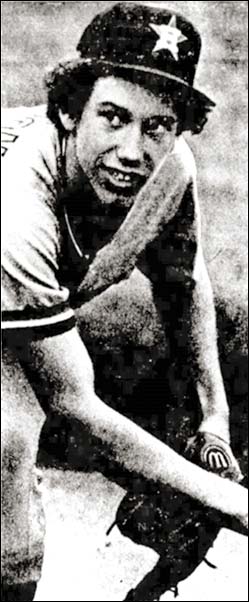 Gord Pladson, Vancouver Junior Trojans signed a pro contract with Houston Astros.
The 16-year-old right-hander signed a bonus contract, reported to be in five figures, with Houston. The Astros, along with Montreal Expos and Cincinnati Reds have been after the 6-2 1/2, 175 pound hurler for the past year.
Pat Gillick, Houston scout, along with Canadian scout Wayne Morgan and Chuck Esplen of the Astros finally won out.
Pladson came up through the minor ranks in North Delta and this season started out in the North Delta-Kennedy Colt League. He has pitched for the Vancouver Trojans of the Junior League for the past month with great success winning three starts including a two-hitter against North Van Capilanos of the Metro League.
He leaves Saturday to join Houston's farm team at Covington, West Virginia of the Applachian League.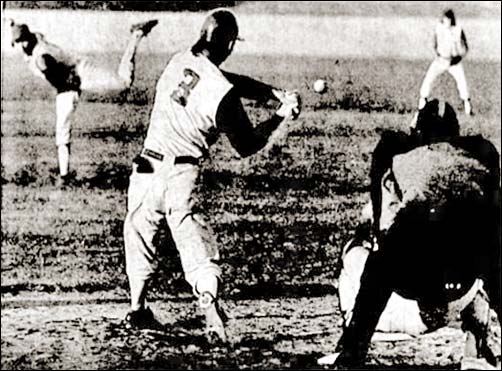 Doug Puritch of Greaves Movers takes a cut at an offering from Glen Campobell of Farmer Construction in game six of the Victoria Senior Baseball League final series. George Pakos is the catcher. Farmers won the game 4-2 and captured the best-of-seven final series four games to two. (John McKay Photo)

Future major leaguers first baseman Ken Phelps and pitcher Floyd Bannister (a first overall draft pick in 1976 out of Arizona State) of Seattle Stoen-Kassuba were among the stars of the 1973 International Tournament at Trail. Stoen-Kassuba took top honours in the four-day event held at Butler Park. Proudly displaying their trophy are manager Frank Papasedero, Ken Olsen, Ken Phelps and Floyd Bannister. Bannister was named the tourney's most valuable player.

18-year old pitchers Keith Van de Keere, a southpaw, and Rick Babcock, a righthander, are shown together as the 1 – 2 punch in Trail's 1973 Senior Babe Ruth pitching stable. They also were regular chuckers with opposing teams in the 1973 West Kootenay Major Baseball League. Portsider Van de Keere sparked the Rossland Capilanos to first place in the circuit and had a 4 – 0 won-loss record in late June when the picture with Babcock was taken. Babcock, hurling for the arch-rival Trail Silver Kings, had accumulated a 2 – 2 record during the same time span. Van de Keere saw limited action in senior-level play after he suffered an ankle injury in early July. (Photo from the Trail Times)