B. C. SENIOR BASEBALL CHAMPIONSHIP TOURNAMENT
(June 29- July 2) Fraser Arms of the Western International Baseball League defeated a tired Victoria Senior League all-star team 12 to 0 on July 2 to win the B. C. Senior Baseball championship tournament at Queen's Park Stadium in New Westminster to advance to the Canadian championships in New Brunswick. This four-day, double-knockout tournament saw six teams from various parts of the province compete for the title.
Lean, 18-year-old Mike Finlayson, who plays on a baseball scholarship at Green River College in Washington state, pitched Fraser Arms to the one-sided triumph over the fatigued Capital City nine who ran out of gas after playing two gruelling matches the day before, one which lasted 14 innings. Finlayson gave up only two fifth-inning singles while punching out a dozen. Norm Caig, patrolling right field for the Vancouver south-west district Frasers, drove in five runs on five hits in the blowout finale. Over the course of the tournament, Caig went nine-for-17 to win the MVP trophy.
In the tournament's key game, played on July 1, Fraser Arms took a 3 to 2 decision from Victoria in the winner's bracket final on an error in the ninth inning and then sat back to watch Victoria and Kamloops battle for a berth in the overall final a few hours later. In a four-hour marathon, Victoria's Bob Mabee whiffed 20 Kamloops batters in ten innings of relief as his squad, coming from behind, finally won in the 14th frame 3 to 2 when Tom Craig singled in Russ Holmes. But the win had taken its toll as the Victorians were flat as they entered the final after the mental drain of two 3 to 2 ball games.
Pete Jolly's strong two-way performance, coupled with seven opposition errors, helped give the Victoria Senior League All-stars an 8 to 0 shutout win over Mid-Island, represented by Lake Cowichan, in one of two opening games played on June 29. Fraser Arms made their debut by subduing the Vancouver Metro League team 8 to 5 in the other first-day tussle. Jolly gave up but one hit, a single to Deb Dley in the sixth frame, struck out seven of the 19 batters he faced and allowed no runners past first base. His solitary walk issued was wiped out on a double play. At the plate, Jolly connected for a bases-loaded single to drive in two runs in the fifth stanza.
Trail bounced the Kamloops Okonots 7 to 4 in a first-round match on June 30 but later fell to Victoria 6 to 2 as Gerry Lister pitched a three-hitter in leading the Capital City Crew to its second win in the event. Other June 30 results had the Frasers knocking off Trail and Kamloops eliminating both the Vancouver Metro League all-stars as well as Trail. The Metros had sent Mid-Island packing to the sidelines in the first tilt of the day.
---
93rd ANNUAL BIRTLE SPORTS DAY
(July 2) At the 93rd Annual Birtle Sports Day, Hamiota Red Sox captured the top prize with a thrilling 1-0 victory over Dauphin Redbirds in the final game. All eight teams in the Manitoba Senior Basebll League participated.
The only run came in the first inning. Mel Smith led off with a walk, advanced on an error and a sacrifice and romped home as Barry Brooking, who had reached on the error, was causing a commotion at second base before finally going out. Glennis Scott fashioned a seven-hitter for the shutout victory besting Ross Stone, who allowed just six hits. Stone had earlier hurled the Redbirds win over McAuley. Scott was on the hill for the Red Sox in their semi-final win over Souris.
Dauphin 0, Hamiota 1
Stone (L) and Gallant, Secord (9)
Scott (W) and Sheardown
In opening round action, Hamiota topped Riverside 10-7, Brandon crushed Virden 21-7, Souris upset Binscarth 3-0, and Dauphin beat McAuley 7-1. With winds reaching 35 to 55 m.p.h. home runs were the order of the day. There were six round trippers in the Brandon-Virden game two each by Bob Wilson and Bill Chapple.
In the semi-finals, the Redbirds blanked Brandon 3-0 with Dave Rottman posting the shutout. Hamiota whipped Souris 10-2.
---
2nd ANNUAL TRAIL INTERNATIONAL TOURNAMENT
(July 5-8) Stoen-Kassuba of Seattle, the 1972 U.S. national senior Babe Ruth champions, captured the second annual Trail International Tournament Sunday defeating arch-rival Wallingford Merchants 4-1 in the final at Butler Park. Wallingford, also of Seattle, had taken a 1-0 lead in the fourth inning but Ken Phelps' solo homer in the sixth deadlocked the count and Kassuba added singletons in the seventh, eighth and ninth for the triumph. Floyd Bannister, named the tournament's most valuable player, scattered five hits for the mound victory. He had earlier saved two of the five wins Kassuba posted in the event and was a terror on the plate with nine hits in sixteen at bats.

Trail's ace left-hander, Keith Van de Keere repeated as the top pitcher in the tournament. The 18-year-old fired a 3-0 shutout over Wallingford Thursday then came back to record a save Saturday as Trail nipped Kelowna 3-2.

Wapato defeated state rival and defending champion Barstone Fuel of Spokane 4-2 to take the consolation final. Jim Baker's grand slam homer in the sixth inning erased a 2-0 Spokane lead. The top hitter was Roger Payne of Dallas, Oregon, who batted .600 hitting safely in six of ten at bats.

Trail finished fifth of eight teams.
Brilliant mound work by Van de Keere highlighted Trail's 3-0 win over Wallingford. Van de Keere allowed just three hits. Russ LaFreniere singled to bring in Pat McLaughlin with what proved to be the winning run in the third inning. They added another on an error and Van De Keere scored the third run reaching on a single and coming home on a hit by Mike Mukanik.
Trail dropped a 2-0 decision to Stoen earlier in the event and were beaten 6-2 by Dallas.
On Saturday, Trail needed an extra inning to shade Kelowna 3-2. Tim Hamilton scored the winner with a single to right, reaching second on an error then romping home on Larry Reid's single and an error at third.
---
SWIFT CURRENT TOURNAMENT
(July 8) The Regina Red Sox took home top prize after winning a weekend tournament in Swift Current, defeating the Melville Millionaires 7 to 0 in the tourney final. Earlier the Sox had eliminated the Moose Jaw Devons with a 7 to 2 win while the Millionaires had upset the home-standing Swift Current Indians 7 to 3.
---
BARRHEAD TOURNAMENT
(July 14-15) Red Deer Generals whipped the host club, Barrhead, 14-1 in the final to take $1,200 first prize money. Blair Hanna highlighted an 11-hit attack with a grandslam homer in the 5th inning. Roger Pozzo fired a two-hitter for the win and helped the offense with a double and single driving in four runs. Greg Polis, who plays with the Pittsburgh Penguins of the NHL, was the losing hurler. Irv Homs of the Generals wa selected as the tournament's most valuable player.
Pozzo (W) and Testa
Polis (L), Olson (4) and Niven
Barrhead had beaten the Peace River All-Stars 18-0 and the Camrose Cubs 11-6 to advance to the final.
Red Deer reached the final with a 9-7 with over Edmonton Tigers. Ken Nelson and Irv Homs belted homers to lead the Generals; attack.
McKee, Pasutto (W) (4), Shoup (9) and Testa
Murphy, Ohrn (L) (7), Billey (9), Hee (9) and Franchuk
Rook Barton scored the winning run on a bases-loaded error in the bottom of the 9th inning as Red Deer shaded Calgary Jimmies 9-7 in the opening round of the Barrhead Tournament. Reliever Juan Eichelberger made a wild throw to third on the pickoff play and Barton, who had four hits and four walks, brought home the deciding marker.
Davis, Eichelberger (L) (8) and Johnson
Cardwell, Shoup (W) (7) and Testa
In other first round games, Camrose shaded the Edmonton Blockers 9-8 and Edmonton Tigers topped the Calgary Giants 6-2.

---
KINDERSLEY ELKS TOURNAMENT
(July 14-15) Garth Neville was a major cog as Binscarth Orioles captured top money in the seventh annual Kindersley Elks' Tournament. Neville, who had fired a two-hitter as the Manitoba club won its semi-final, pitched 3 2/3s innings of hitless relief Sunday to help the Orioles to a 6-3 win in the final over Eston Ramblers. The right-hander entered the game in the 6th inning after three straight walks by starter Bob Kutzan had helped Eston to score a pair to tie the contest at 3-3. Don Gies led the offense with three singles.
Kutzan, Neville (W) (6) and xxx
Sheehan (L) and xxx
Neville allowed just a double and bunt single to North Battleford's Jim Johnston as Binscarth downed the Beavers 3-1 in semi-final action. Orioles scored twice on five hits in the first inning and never looked back. Larry Muratores led the 10-hit attack with a double and two singles.
Neville (W) and xxx
Sallaway (L) and xxx
Eston made the final with a 9-5 victory over Saskatoon as the Commodores made seven errors. Tim Sipe picked up the win. Al Saisi had a double and single for the Ramblers.
Sipe (W), Larson (6) and xxx
Kemp (L), Plummer (5) and xxx
In the tournament opener on Saturday, Commodores shaded Unity 8-7 in 10 innings as Fred Maxemiuk tripled to drive in Don McLeod with the winning run. Unity had scored three in the 9th to send the game into extra innings. Jeff Benedetti picked up the pitching win.
Brandon, Benedetti (W) (8) and xxx
Tom Kendall (L) and xxx
Al Saisi went four-for-four to lead Eston to a 5-4 decision over Regina Red Sox. Lynn Allan was the winning pitcher with relief from Terry Sheehan.
Singer (L) and xxx
Allan (W), Sheehan and xxx
In other first round action, Binscarth topped Kindersley 9-4 as Les Lesowski pitched a seven-hitter. Mike Murphy took the loss.
Lesowski (W) and xxx
Murphy (L), xxx, xxx, xxx and xxx
Vince Rucobo allowed just six hits and fanned 15 in leading North Battleford to a 6-1 victory over Kamloops Okonots Hugh McIvor led a 10 hit Beavers' attack with a homer and single. It was the only home run of the tournament. Bob Bridges took the loss.
Rucobo (W) and xxx
Bridges (L) and xxx
---
BRANDON ANNUAL KINSMEN TOURNAMENT OF CHAMPIONS
(July 20-22) Brandon Cloverleafs rallied from a 2-0 deficit to edge Dauphin Redbirds 3-2 to win the Annual Kinsmen Tournament of Champions at Kinsmen Stadium at Brandon. A walk, an error and John Morrison's single gave Dauphin the lead in the third inning. They added another in the fifth before Brandon got on the scoreboard with a run in their half of the fifth. In the seventh an outfield error on a drive by Bill Chapple allowed Rick McFadyen to score all the way from first and Dave Bender followed with a single to bring in what proved to be the winning marker. Brian Hodgson went the distance holding the Redbirds to seven hits to register the win. Vern Nickel took the loss.
Dauphin 2, Brandon 3
Nickel (L), Wills (7) and Gallant
Hodgson (W) and McFadye
In the consolation final, Riverside Canucks shaded Hamiota Red Sox 3-2 behind the hurling of Lorne Lilley. Lorrie Andrews was handed the mound defeat.
Hamiota 2, Riverside 3
Andrews (L), Brooking (8) and Stephens
Lilley (W), Beare (9) and C.Seafoot
In the semi-finals Saturday, Brandon downed Souris Cardinals 5-1 while Dauphin topped Binscarth Orioles 6-2. Riverside went on to beat Virden Oilers 6-2 and Hamiota nipped McAuley Blazers 6-5.
Brandon 5, Souris 1
Read (W) and McFadyen
Fitchner (L) and Dell
Dauphin 6, Binscarth 2
Rottman (W) and Gallant
Neville (L), Lisowski (9) and Reagh
Virden 2, Riverside 6
Maiser (L) and B.Labossiere, McCartney (5)
Medoff, Kinsley (W) (5) and C.Seafoot, Campbell (6)
McAuley 5, Hamiota 6
B.Jamieson, Araujo (L) (6) and Johnson
Rasmey, Anderson (W) (3) and Stephens
In opening round action, Souris shaded Virden 3 to 2 behind the three-hit pitching of Ray Bruels while Brandon scored a seventh-inning unearned counter to nose out Riverside 1 to 0. Bob Thompson and Rick Read combined on the five-hit shutout.
Virden 2, Souris 3
Bremer (L) and McCartney
Bruels (W) and Dells
Brandon 1, Riverside 0
Thompson (W), Read (8) and McFadyen
Everard (L) and C.Seafoot
Dauphin got by Hamiota 4-2 as Ross Stone fired a seven-hitter and Binscarth whipped McAuley 10-2.
Hamiota 2, Dauphin 4
Scott (L) and Stephens
Stone (W) and Gallant
Binscarth 10, McAuley 2
Feldner (W), Bicknell (8) and Reagh
Lynd (L), Chartrand (4) and R.Jamieson
---
LACOMBE TOURNAMENT
(July 25) Before near-record crowds of close to 10,000, the 24th Annual Lacombe Tournament kicked off Wednesday with Alberta teams winning three of four games.
The Calgary Jimmies erupted for six runs in the 7th inning and held on to down Swift Current Indians 6-4. Down 2-0, Jimmies relied on the long ball as Dave Edson crushed a three-run homer and Steve Powers followed up with a two-run shot. Edson is on loan to the Jimmies from the Giants. Brian Dickie clubbed two homers and Harvey Nybo one for the Indians. Don Rogelstad, imported from Vancouver for the tourney, captured the win, Terry Buck took the loss.
Buck (L), Girazian (7) and Nybo
Rogelstad (W), Lynn (9) and Dave Powers
A four-run 6th inning, in which Lethbridge combined four hits with three Kamloops' errors, propelled the Lakers to a 7-5 win over the Okonots. Paul Sullivan scattered nine hits to register the win. John Harr of the BC squad had the only homer. June Jermany took the loss.
Jermany (L), Bridges (6) and Smoke
Sullivan (W) and B. Maxwell
Former Montreal Expo farm hand Dave Croft pitched Kindersley Klippers to a 3-1 triumph over Red Deer. The right-hander allowed just six hits, three of them in the 9th, and whiffed 11. Croft had blanked the Generals until the final frame. Dave Robb, last year with the tourney champion San Mateo Bulldogs, accounted for most of the offense with a homer and a single and two runs batted in.
Croft (W) and Don Jackson
Cardwell (L) and Testa
Stu Henderson's two-run homer with two out in the top of the 9th inning gave Edmonton a 4-3 victory over Saskatoon Commodores in the final game of the opening day. Ron Watamaniuk was on base with a single before Henderson's thrilling blast. Tim Brady, who relieved starter Pat Murphy in the 5th got the win. Vince Rucobo was the tough-luck loser, allowing just six hits. The Commodores had 11. Lee Van Hagen had a triple and double for the Commodores while Hugh McIvor chipped in with three singles.
Murphy, Brady (W) (5) and Gullett
Rucobo (L) and Van Hagen
(July 26) In an awesome display of power, Wayne Commodore crushed four consecutive home runs and a double as Lethbridge whipped Calgary Jimmies 15-6 in semi-final action at the Lacombe Tournament. Commodore, who had seven runs batted in, tagged Juan Eichelberger for round trippers to left-centre and right field then crushed pitches from reliever Don Davis down the left field line and up the left-centre field alley for two more. Catcher Bryan Maxwell had a homer, two doubles and two singles. Rob Roy added a four-bagger. Rod Taylor was the winnie in relief.
Eichelberger (L), Davis (3), Lynn (6) and D. Powers
Ferchuk, R. Taylor (4) and B. Maxwell
(July 26) Edmonton Tigers won a spot in the Lacombe final with a 6-4 win over Kindersley Klippers. Mickey Hall needed relief help from Les Ohrn to register the win. Bruce Gullett belted a home for the winners, Terry Ruggles had one for the Klippers.
Hall (W), Ohrn (7) and Gullett
Lysgard (L), Murphy (4) and Don Jackson
(July 26) Lethbridge Lakers claimed $1,200 top prize at the Lacombe Tournament doubling up on Edmonton Tigers, 8-4 in the final. Shortstop Marty Maxwell led a 14-hit attack with a double and three singles. Brother Randy Maxwell pitched into the 7th inning to capture the win. Rob Roy clubbed a two-run homer for the winners while Brian Betts belted one for the Tigers. Marty Maxwell was named tournament MVP. Wayne Commodore, a 26-year-old from Valmarie, Saskatchewan, who never played a game of minor ball and was introduced to the game by the Swift Current Indians in 1966, was retired just once in 10 trips to the plate in Thursday's action.
Ohrn (L), Brady (4), Ewasiuk (6) and Gullett, Franchuk (8)
R. Maxwell (W), Taylor (7) and B. Maxwell
---
CALGARY TOURNAMENT
(July 28) Bob Bridges pitched a four-hitter as Kamloops Okonots clipped Calgary Giants 7-1 in the opening game of the 4th Annual Calgary Major Baseball Tournament. Outfielder John Haar socked a two-run homer in the first frame as the Okonots, of the BC Metro Baseball League, jumped out to a 3-0 lead and added single runs in the 3rd and 4th innings. Kamloops added two more in the 9th. Bridges had some control problems, with five walks and a hit batsman, but struck out 11. Harr had three runs batted in with his homer and single. Dick Bass contributed a double and single while John Yanoski and Leo Gauthier each had two singles.
Bridges (W) and Smoke
Clayson (L), J. Peterson (5) and Edwards.
Eston third baseman Terry Ruggles doubled in the winning run in the top of the 10th inning as the Ramblers shaded Lethbridge Lakers 9-8. Eston took advantage of Laker miscues to build a 7-0 lead after 5 1/2 innings. Catcher Larry Muratore and outfielder Al Sasisi each belted two-run homers. The Lakers came storming back with a homer by Rob Roy in the 6th, four runs in the 7th and another three in the 8th to take the lead. Ramblers knotted the count in the 9th as Reg Andrew doubled in Ruggles. Bruce Bremer got the win over Rod Taylor.
Allan, Bremer (W) (7) and Morrice, Muratore (7)
Ferchuk, Purcell (7), Winder (8), Taylor (L) (9) and B. Maxwell
Saskatoon Commodores edged Calgary Jimmies 6-5. Pinch-hitter Zenon Markowsky doubled to drive in the winning run in the 8th inning. Jimmies blew a four-run lead as Saskatoon third sacker Al Mitchell keyed a four-run outburst in the 6th inning with a three-run homer. Commodores took the early lead with an unearned run in the first inning but the Jimmies tied on Dave Croft's homer and charged into the lead with three runs in the 4th. Dave Powers also homered for the Jimmies. Wayne Plummer, the third Commodore hurler, got the victory.
R. Peterson, Eichelberger (L) (6) and D. Powers
Benedetti, Kemp (4), Plummer (W) (8) and Von Hagen, Maxemiuk (5)
Doug Simon ripped a pair of homers and two singles to lead a 17-hit attack as Moose Jaw Devons advanced with a 10-6 triumph over Red Deer. Roy Rowley added two doubles and a single. Roger Pozzo clouted a two-run homer for the Generals and Irv Homs had two doubles. Dave Dupree, the second of three Moose Jaw hurlers picked up the win. Red Deer starter George Bryce was saddled with the loss.
Girazian, Dupree (W) (5), Murphy (8) and Gillies
Bryce (L), Pasutto (7) and Testa
Ned Andreoni's two-run homer in the 8th inning sent Moose Jaw Devons into the final of the Calgary Tournament with a 9-7 decision over Kamloops, Devons, once down 7-1 to the Okonots, chipped away at the margin and scored a pair in the 7th to tie setting the stage for Andreoni's heroics. Lefty Bud Papadakis was the winner with 2 2/3s innings of hitless relief. Doug Simon also had a four-bagger for the winners.
Murphy, Dupree (3), Rowley (3), Papadakis (W) (7) and Gillies
Jermany, Bridges (L) (6) and Smoke
Veteran Vince Rucobo blanked Eston Ramblers on two hits as Saskatoon moved into the final with a 2-0 victory. Rococo fanned six and walked three. Commodores took the lead in the 3rd inning on Gary Brandon's triple and an infield hit by Randy Munch. A single by Munch and two Eston errors resulted in the 2nd run in the 6th inning. Saskatoon had just five hits off loser Tim Sipe and reliever Bruce Bremer.
Sipe (L), Bremer (7) and Morrice
Rucobo (W) and Maxemiuk
Moose Jaw Devons managed just four hits but won top money of $1,250 at the Calgary Tournament with a 3-2 win over Saskatoon Commodores in the tourney's finale. Bud Papadakis, winner in relief in the semi-final, fired a seven-hitter for the victory. Devons scored the winner in the 8th inning as Ned Andreoni reached base when hit by a pitch. He advanced on a wild pitch and infield grounder. Clark Gillies' sacrifice fly plated the deciding marker. Commodores had taken the early lead with a run in the 1st inning. Hugh McIvor, who had walked, scored on Ken Haanen's single. Papadakis drove in two runs for Moose Jaw with a single in the 4th before Saskatoon knotted the count in the 7th on a single by Don McLeod, a sacrifice and a single by Gary Brandon. Jeff Benedetti took the loss.
Moose Jaw dominated the tournament awards as Papadakis was named the tourney's top pitcher and Doug Simon, with his 6 for 13, 3 home run tournament, the top hitter. The Devons' playing manager, Ned Andreoni was selected as Most Valuable Player. He had seven hits in 12 at bats and starred at shortstop.
Benedetti (L) and Maxemiuk
Papadakis (W) and Gillies
---
CANADIAN SENIOR CHAMPIONSHIPS
British Columbia defeated Manitoba 10-7 in the final to repeat as Canadian Senior champions.
(August 23) In Edmundston, New Brunswick, George Brice threw a three-hit shutout to lead Vancouver Villas, representing BC, over Saskatoon Commodores, the Saskatchewan flag bearers, 2-0. Two years ago, Brice beat the Commodores in the deciding game of the Canadian championships in Brandon. Wayne Martin drove in what proved to be the winner with a 5th inning single. Wayne Plummer took the loss.
Brice (W) and Sharp
Plummer (L), Brandon (9) and Logan

Val McClure fired a one-hitter as the host club, Edmundston, shaded Lethbridge, Alberta, 1-0. Dave Rottman (left) allowed just three hits and fanned 10 as the Manitoba All-Stars topped the Lethbridge Lakers 4-0. Rod Taylor took the loss.
Kingston, Ontario beat Prince Edward Island 4-2, Fredericton over Quebec 1-0, Nova Scotia downed PEI 4-2 and Quebec scored a 4-3 decision over Newfoundland.
(August 24) A five-run 2nd inning and a strong relief effort by Roy Rowley helped the Saskatoon Commodores to a 9-5 victory over Quebec. Commodores held a 5-2 lead into the 5th but five walks led to two runs. Rowley took over with the bases loaded and one out and got the first batter to ground to the mound for an inning-ending double play. He worked four and 2/3s innings for the win. Saskatoon, which got a triple by Don McLeod and a double from Andy Logan in the big 5th inning, got help from three Quebec errors. The prairie squad put the game away in the 7th with run-scoring singles by Ken Haanen, Fred Maxemiuk and Logan. Andy Ringuette of Quebec had the only homer.
Schroedler (L), Arsenault (7) and Hardy
Haylor, Brandon (5), Rowley (W) (5) and Logan.
Ontario beat Edmundston 10-7 to remain unbeaten with a 4-0 record. The Halifax Orioles trounced the host Edmundston Republicans 10-1 as losing pitcher Rejean Plouree was pulled after giving up four hits and a walk to the first five batters. Bob Moor registered the win. New Brunswick, represented by the Fredericton Vikings, defeated Corner Brook, Newfoundland, 6-1.
Al Ferchuk tossed a three-hitter as Alberta blanked PEI 5-0. Rob Roy smacked a homer for the Lethbridge team. Bill Sullivan took the loss. Ontario shaded Manitoba 5-4 and BC got by Newfoundland 1-0.
Alberta scored in the bottom of the 9th to shade Nova Scotia 2-1. Brian Maxwell had a homer for the winners. Al McKee was credited with the win over Ed Clements.
(August 25) British Columbia downed Manitoba 10-7 Sunday to retain its Canadian senior baseball title. BC broke it open early with six runs in the 1st inning and two more in the 2nd. Robert Thompson belted a two-run homer for Manitoba in the bottom of the first and Bob Wilson's grand slam in the 4th inning narrowed the margin, but Manitoba had fallen too far back.
Brice (W) and Kissock
Hodgson (L), Neville (1), Ramsey (2), Rottman (7) and C. Seafoot
Manitoba reached the final with a 4-2 win over Saskatchewan's Saskatoon Commodores. A three-run 6th inning proved to be the difference for the Manitoba reps. Dave Rottman tossed a seven-hitter for the win. Larry Haylor allowed just six hits in taking the loss. Saskatoon's Ken Haanen belted the only homer. Cliff Seafoot had a two-run double and a single for the winners.
Rottman (W) and Seafoot
Haylor (L) and Logan
BC got a finals berth with a 4-3 decison over Nova Scotia.
Commodores whipped New Brunswick 7-2 Saturday with a 17-hit attack. Don McLeod was the big gun for the Commodores with four hits, including a double and triple. Ken Haanen went all the way for the win.
Haanen (W) and Von Hagen, Logan (7)
Jeffrey (L) and McGlothlin

In other games Saturday, Saskatoon dumped Newfoundland 14-2 in a five-inning contest, Nova Scotia blanked Ontario 5-0, New Brunswick upended BC 7-3, Manitoba topped Nova Scotia 9-6, Alberta edged Ontario 2-1, BC demolished Quebec 20-3 and Manitoba beat Edmundston 4-1.
---
KAMLOOPS INTERNATIONAL TOURNAMENT
(August 30) The Alaska Goldpanners, fresh from victory at the National Baseball Congress tournament at Wichita, Kansas, captured the inaugural Kamloops International Tournament Monday with a 2-1 win over the host Kamloops Okonots in the tourney final. The Goldpanners, who pocketed $5,000 for the triumph, went through the double elimination event unbeaten.

Homers - by pitcher Gary Wheelock (left) n the 3rd inning and Mark Lucich in the 8th - provided the margin of victory. On the hill, Wheelock held the Okonots to seven hits.
Loser Dwaine Shultz allowed ten hits. For Kamloops it was their fourth game in a little more than 24 hours as they lost their second game in the tourney and were forced to wind their way through the losers' bracket to reach the final.
Wheelock (W) and Redmon
Shultz (L) and White
The Goldpanners kicked off with an 8-3 win over over El Chicanos of Seattle on Friday and took out Cordoba, Mexico 9-2 on Saturday. A 7-3 win over Binscarth, Manitoba, in the semi-final Sunday guaranteed a spot in the championship game.

Against Cordoba, a team of professionals, Alaska scored five runs in the 1st inning and coasted to the victory. Singles by Creighton Tevlin and Kenny King and successive doubles off the bats of Lee Iorg, Mike Umfleet and Tommy Sain (left) helped the northerners get off to the big lead. Sain had two doubles and a single to pace the offense. Stan Meek and Ed Matta combined on a five-hitter.
Deldin (L), Palacz (1), Pelacion (2), Uzcanda (6), A. Gutierrez (8) and V. Gutierrez
Meek (W), Matta (6) and Redmon, Chander (7)
The Goldpanners also used a quick start to set aside the Binscarth nine.
They jumped into a 6-0 lead after five innings, three runs scoring on Umfleet's 5th inning homer. Marty French had a two-hit shutout through six innings but weakened a bit in the latter frames.
French (W), Beem (8), Matta (9) and Redmon, Chandler (7)
Kutzman (L), Lind (5) and Labossiere
Kamloops won $2,500 for its second place finish and Binscarth Orioles took home $1,500 for third.
Kamloops topped Binscarth in a semi-final 4-2. The Orioles had earlier lost a 7-3 decision to Alaska.
Kamloops lost 5-4 to Binscarth in the opening round.
Tommy Sain was selected as the tournament's Most Valuable Player.
---
INTERCONTINENTAL CUP TOURNAMENT, ITALY
1973 marked the debut of the Intercontinental Cup Tournament featuring teams from the International Baseball Federation. The event was scheduled for every second year with the initial tourney held in Italy. Japan finished with a 6-1 record to take the title.
(August 26) Officials announced the roster for the Canadian team at the Intercontinental Cup Tournament in Italy. British Columbia and Alberta each placed six players on the roster. Three apiece come from Saskatchewan and New Brunswick and two from Manitoba.
Catcher - Brian Cox, Andy Logan, First base - Wayne Martin; second base - Ted Darling; shortstop - Ron Watamaniuk, Outfield - Norm Gaig, Len Gemlin, Brian Betts, Rod Taylor, Tommy Reid, Doug Simon, XXX, Pitchers - George Bryce, Nick Mitchell, Mike Findlay, Les Ohrn, Fred Cardwell, Phil LePage, Glennis Scott, Garth Neville. Andre Pratt of Montreal is the field manager.
(August 27) Edmonton City Council approved a motion of "support, encouragement and best wishes" to Canada's national team at the Intercontinental Cup series in Italy. Four of the club's 18 players are from the city - Brian Betts, Les Ohrn, Ron Watamaniuk and Don Darling and two more from the Alberta Major Baseball League - Rod Taylor of Lethbridge and Fred Cardwell of Red Deer.
(September 1) In opening action at the Intercontinental Tournament at Bologna, Italy, the United States whipped Canada 6-1 in a game marred by a 7th inning brawl.
The Americans had just seven hits but took advantage of five stolen bases and four Canadian errors. John Camiera struck out ten over seven innings in helping the U.S. to the win. He allowed just three hits before Mike Ambury took over for the final two frames. The outburst occurred in the bottom of the 7th inning when the U.S. scored once to take a 4-1 lead. Glennis Scott, of Hamiota of the Manitoba Senior League, who had just relieved starter George Bryce, was tossing some warm up pitches. Two of his throws whizzed past the ear of the next batter, Art Fischetti who took offence and charged the mound. Both benches emptied and resulted in a flurry of punches. Fischetti and Richard Cerone, both of the American squad, were ejected.
Camiera (W) and xxx
Bryce (L), Scott (7) and xxx
In other games, Puerto Rico trounced Argentina 12-0, Nicaragua downed Italy 4-1, and Japan 10 whipped Taiwan 1.
(September 2) Canada dropped its second straight at the Intercontinental Baseball Tournament losing to Nicaragua 10-9 on an unearned run in the 10th inning.
Five pitchers combined on a one-hitter as the United States trounced Argentina 10-0. The Americans cracked three homers in the victory, by Bill Almon, Richie Cerone and Kevin Craig.
Japan edged Puerto Rico 1-0 and Italy downed Taiwan 7-5.
(September 3) Canada notched its first win of the Intercontinental Baseball Tournament shading Nationalist China 7-6. Wayne Martin of Vancouver belted a two-run homer in the first inning to get Canada underway. After Taiwan plated a pair in their half of the first, Canada scored four in the second, another in the 5th and held on for the win. Rod Taylor of Lethbridge and Doug Simon of Regina each had three hits to spark the attack. Garth Neville of Brandon came out of the bullpen in the 2nd inning and held the Chinese to just six hits the rest of the way for the pitching win.
Simon singled to lead off for Canada in the 5th, advanced on a single and scored the deciding run on a single by Len Gamblin of Vancouver.
Mike Finlayson, Garth Neville (W) (2) and xxx
xxx and xxx
The United States won it's third straight, 13-0 over Nicaragua. Japan routed Argentina 25-0 for its third straight victory
(September 4) Canada downed Puerto Rico 5-3 to even its record a 2-2 behind the pitching and hitting of reliever Phil LePage of Fredericton. The right-hander took over in the 2nd inning with Canada trailing 3-0. He blanked the Puerto Ricans on two hits the rest of the way while helping the offense with two doubles and a single. Rod Taylor of Lethbridge had two safeties for Canada.
xxx and xxx
Les Ohrn, LePage (W) (2) and xxx
The US won its 5th straight, 5-2 over Taiwan on Kevin Craig's two-run homer. Bob Powers hurled a five-hitter for the win. Japan crushed Italy 11-5. Nicaragua topped Argentina 5-2.
(September 5) Italy upset the USA 6-5 in 10 innings.
Canada had three homers in trouncing Argentina 12-3. A four-run 2nd inning proved to be enough for the victory.
(September 7) Canada had just four hits but seven Italian errors helped the Canadians to a 7-6 victory at the Intercontinental Baseball Tournament.
The United States remained in the hunt for the Intercontinental title with a 1-0 win over Japan as John Caniera won his 3rd game of the tourney. Caniera, a 6'3", 200 pounder from Connecticut struck out nine and walked four in going the distance. He had a scare in the 9th allowing two hits but worked out of the jam. The only run came in the 4th inning when Bill Almon of Rhode Island doubled and scored on a two-bagger by Kevin Craig from Oceanside, New York.
Puerto Rico won its 4th of the tournament, edging Nicaragua 4-2. Taiwan clobbered Argentina 13-0 in a game called after seven innings.
(September 8) Japan captured the Intercontinental Baseball championship Saturday with a 1-0, 10 inning victory over Canada. The only run came on a Canadian error. Canada out hit the Japanese 7-5 who finished with a 6-1 record. The United States and Puerto Rico each won five and lost two. The U.S. lost an opportunity to tie for the top slot in dropping a 9-2 decision to Puerto Rico.
---
WORLD AMATEUR CHAMPIONSHIP
Later, in November, 1973, another international tournament was held in Nicaragua.
The members of the team were selected at a Daytona Beach, Florida, training camp.
Rod Taylor (Edmonton), Mike Findlayson (Victoria), Phil LePage (Fredericton), Fred Cardwell (Innisfail), Greg Lindsay (Vancouver), Brian Cox (Fredericton), Syd Sharp (Surrey), Mike Teahen (Waterloo), Doug Simon (Regina), Wayne Commodore (Sherwood Park) (right), Bill Daley (Chatham), Ted Spingamatic (Surrey), Wayne Martin (New Westminster), John Osborne (London), David Grass (Victoria), Marty Maxwell (Lethbridge), Bob Brown (Saskatoon), Brian Hamagami (Christina Lake), Dick Hazell (Edmonton), Gary Picone (Trail).
(November 22) In the opening game of the Intercontinental Tournament, Canada shutout Mexico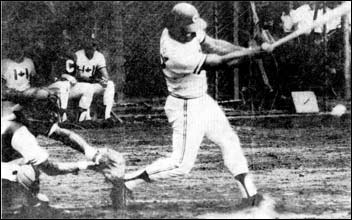 6-0 behind the seven-hit pitching of John Osborne of London, Ontario.
Doug Simon of Regina hit a two-run homer in the sixth inning to pace Canada's hine-hit attack against Luis Gitan of Mexico.
Simon and Mike Teahen each had two hits. Costa Rica downed Honduras 1-0 in the second game as Juan Martinez pitched a seven-hit shutout.
(Photo - Wayne Commodore of the Canadian squad taking a good hack)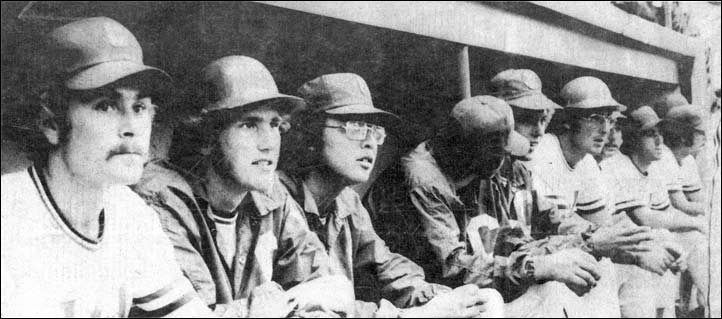 There's tension on the Canadian bench as Team Canada battles with Costa Rica. Eventually, Canada pulled out a 2-0 victory in 11 innings.
(November 23) American Dick Wortham fired a one-hitter over seven innings,compiling 21 strikeouts, as the USA downed Mexico 4-0. Honduras scored in the bottom of the 9th to edge Canada 6-5. Larry Lyon led a 13-hit Honduras attack with four hits and three driven in. Aaron Wood had three hits. Dave Grass and Bill Daley each had three hits for Canada. Hondorus wiped out an early 3-0 Canada lead with a four-run outburst in the third inning. Puerto Rico scored four in the top of the 9th to defeat China 6-2.
(November 24) China scored a pair in the first inning and went on to trounce Canada 10-0. Tan Sain-Ming held the Canadians to three hits in registering the win. Jesus Acosta tossed a four-hitter as Guatemala blanked Mexico 1-0. John Poloni pitched a one-hitter and fanned 11 as the USA shutout Germany 4-0. Puerto Rico pounded out 17 hits in demolishing Honduras 14-5. Rene Acevedo had a homer and double and knocked in four runs for the winners. Juan Basabe had a homer, double and single, good for two runs batted in. Colombia topped Costa Rica 7-0. Rene Morelos tossed the shutout.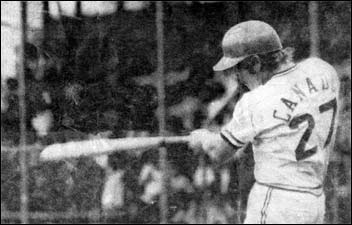 (November 25) Canada broke a scoreless tie with two runs in the top of the 11th inning and hung on to down Costa Rica 2-0. Mike Teahen (left) doubled to drive in Rod Taylor and Gary Picone. Phil Lepage was the winner in relief of starter Fred Cardwell who pitched four-hit ball over eight innings. Nicaragua shutout Honduras 7-0, Puerto Rico edged Germany 1-0, Colombia topped Guatemala 3-0 and the United States got by China 4-2, in 11 innings, behind John Caniera's compete game seven-hitter.
(November 26) Puerto Rico erupted for ten runs in the 8th inning to come from behind to whip Canada 11-4. Starter John Osborne took the loss. Roger Coe had a four-hit shutout as the USA beat Guatemala 4-0. China topped Mexico 7-2 Colombia beat Honduras 8-3 and Costa Rica defeated Germany 3-1.
(November 27) Canada won its third game of the World Amateur Championships Tuesday with a 5-1 victory over Germany. Rod Taylor was the winning pitcher, Helmut Opell took the loss. The United States took the lead in the tournament defeating Colombia 7-1 for its fifth straight win. Pitching sensation Dick Wortham went eight innings allowing just three hits while fanning 16, giving him a total of 37 in his first 15 innings. Puerto Rico, which had a 4-0 record, suffered its first loss, 2-0 to Nicaragua. Honduras sent Mexico to its fifth defeat, 2-0.
(November 28) The United States crushed Canada 8-1 with a 17-hit attack. John Poloni and Dave Schuler combined to hold the Canadians to three hits. Dick Hazell took the loss. Nicaragua 4 Costa Rica 1, Puerto Rico 2 Mexico 1 in 14 innings, Honduras 9 Germany 2, China 2 Guatemala 0.
(November 29) Dennis Martinez hurled a four-hitter in blanking Canada 5-0. Phil Lepage took the loss. Colombia 5 Mexico 0, China 5 Germany 0. John Caniera fired a one-hitter over 8 innings to lead the USA to a 7-0 win over Puerto Rico. He had four strikeouts and no walks. Dan O'Brien worked the final frame.

(December 5) The United States meets Nicaragua tonight in a matchup of the two top clubs in the 11-team tournament. The US has won all nine of its games to date with the host nation losing just one. US team manager Ron Fraser has named lefty Dick Wortham (left), the pitching sensation of the tournament, to face the Nicaraguans Wednesday night. Wortham has fanned 43 batters in 17 innings and had yet to allow an earned run.
Nicaraguan manager Argelio Cordoba named Denis Martinez, a young pitcher with a good curve and strong fastball. If Nicaragua wins, the teams would meet in a best-of-three series to determine the champion.
(December 5) The United States won the World Amateur Baseball title Wednesday beating Nicaragua 1-0 in 10 innings. Southpaw Dick Wortham blanked the host country on just six hits besting right-hander Dennis Martinez.