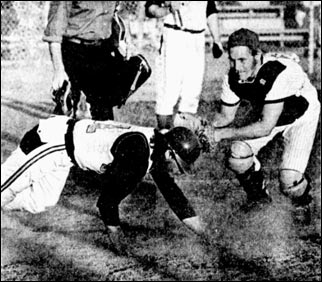 Left - Calgary Giants right-hander Ray Forgie.
Right - In tournament play at Calgary, the Calgary Giants trounced Kindersley Klippers 14-3.
One of the few Giants who failed to score was Jim Lemon (son of major leaguer Bob Lemon) who was tagged out at home by Klippers' catcher Stu Bringhurst.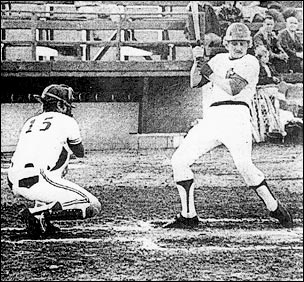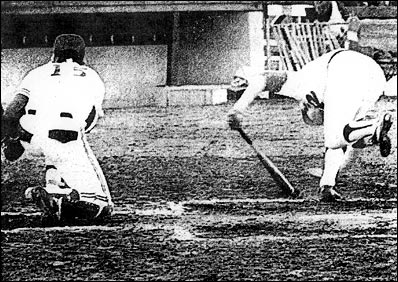 1974 Northern Saskatchewan game action - Al Mitchell of the Saskatoon Boston Royals is brushed back by an inside pitch thrown by Eston Ramblers' hurler Fred Delainey (not seen in photos). Eston catcher Hal Harris pivots to his left to keep the ball from getting past him.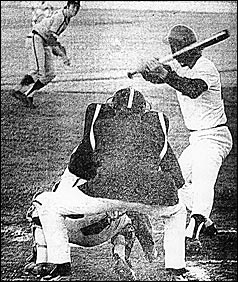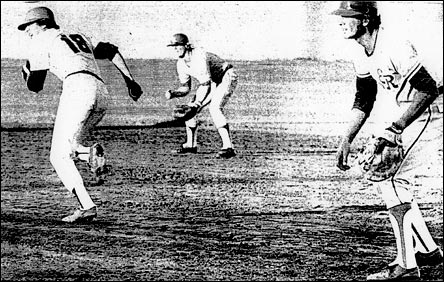 Above left - Outfielder Don McLeod of the Saskatoon Boston Royals watches the flight of a pitch thrown by Bill Lumsden of the North Battleford Beavers. Identity of the home plate umpire is unknown.
Above rght - Shortstop Randy Munch of the Saskatoon Commodores is off and running toward second base in a successful steal attempt against the Eston Ramblers. Identities of Eston first and second basemen not known.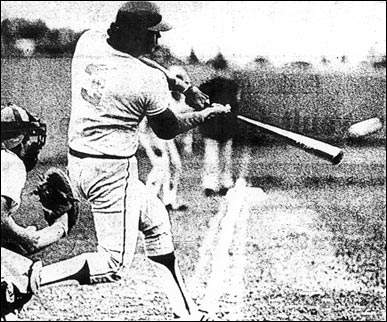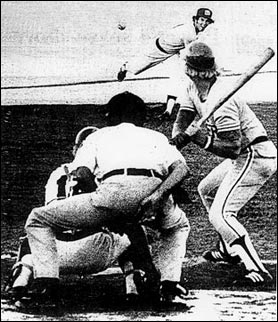 Above left - Eston Ramblers' Gary Nelson connects for a single off the slants of chucker Wayne Plummer of the Saskatoon Boston Royals. Saskatoon catcher Pat Ryan follows the flight of the batted ball.
Above right - Righthander Jeff Benedetti of the Saskatoon Boston Royals delivers a pitch to an unidentified left-handed hitter from the Eston Ramblers. The plate umpire is Mike Small. The Saskatoon catcher (mostly obscured) is Fred Maxemiuk.
Right-hander Larry Kowalishen, seen in action with Chabot College, before touring in Canada with the California Berkeley Bears in the summers of 1974 and 1976. In 1977, he joined the Edmonton Dusters of the Alberta Major League and carried on with the Stony Plain Dusters in 1978.
He was drafted by the Expos in the 27th round of the 1974 MLB June Amateur Draft from Chabot College (Hayward, CA), the San Diego Padres in the 22nd round of the 1976 MLB June Amateur Draft from University of California, Berkeley (Berkeley, CA) and the Detroit Tigers in the 3rd round of the 1977 MLB January Draft-Secondary Phase from University of California, Berkeley (Berkeley, CA). He signed with the Tigers, but did not play minor league baseball.