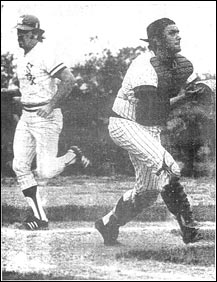 Southern League action in 1974. Left - A swing and a miss for Regina's Bill Bell. Right - Andy Logan (Regina Red Sox) scores while Swift Current Indians' catcher Harvey Nybo looks for a throw that isn't there.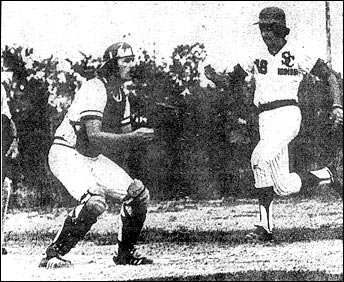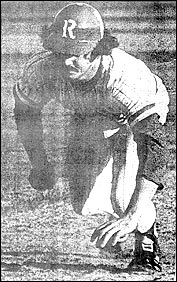 Left - Swift Current Indians' shortstop Dan Ahern scores much to the dismay of Regina Red Sox' catcher Andy Logan who waits in vain for the ball. Right - Regina Red Sox outfielder Stu McLellan begins his dive back to first base on an attempted pick-off.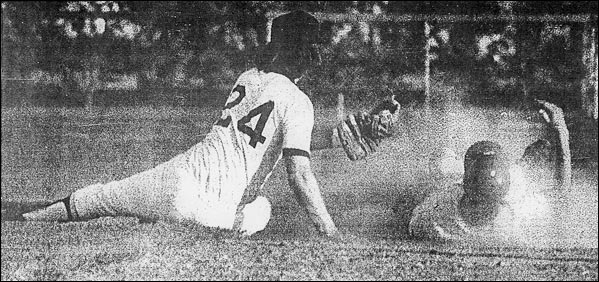 Jack Buch (Regina Red Sox) sliding, Dave Senyk (Melville Millionaires) attempting the tag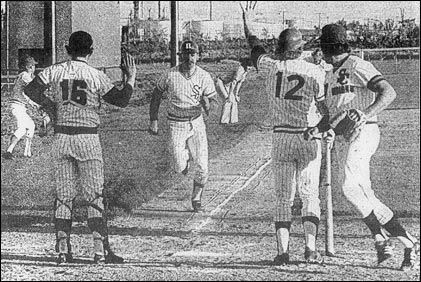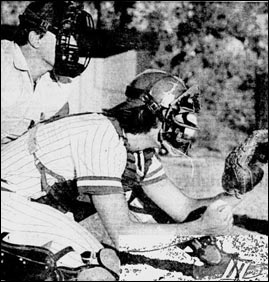 Left - the Red Sox are running! Catcher Harvey Nybo of Swift Current motions for the runner to coming in standing as pitcher Don Szabo moves to back up at home. Right - Regina catcher Andy Logan and umpire Chuck Gregory.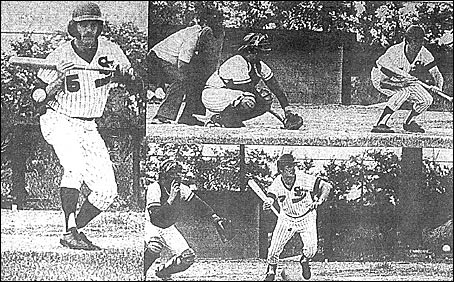 Left - Swift Current pitcher Wayne Pusch yanks the bat back from a bunt attempt.
Right top - Vern Neal of the Indians takes the pitch as Andy Logan corrals the low pitch just at the back of home plate.
Bottom right - Neal is off and running after laying one down the first base line.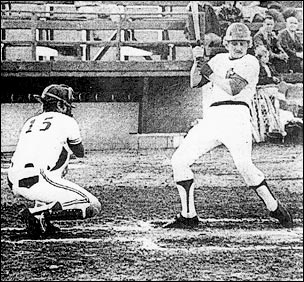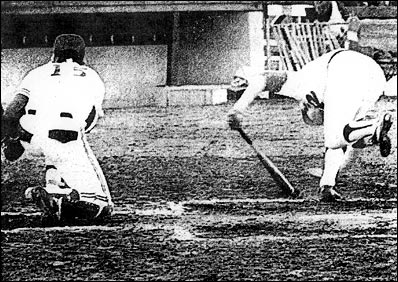 1974 Northern Saskatchewan game action - Al Mitchell of the Saskatoon Boston Royals is brushed back by an inside pitch thrown by Eston Ramblers' hurler Fred Delainey (not seen in photos). Eston catcher Hal Harris pivots to his left to keep the ball from getting past him.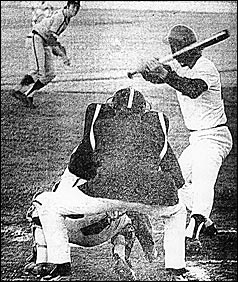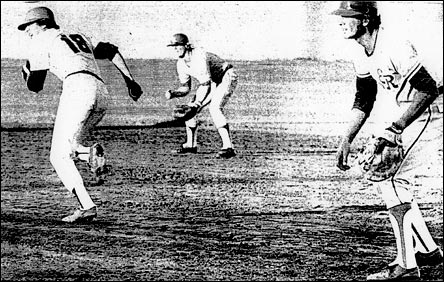 Above left - Outfielder Don McLeod of the Saskatoon Boston Royals watches the flight of a pitch thrown by Bill Lumsden of the North Battleford Beavers. Identity of the home plate umpire is unknown.
Above rght - Shortstop Randy Munch of the Saskatoon Commodores is off and running toward second base in a successful steal attempt against the Eston Ramblers. Identities of Eston first and second basemen not known.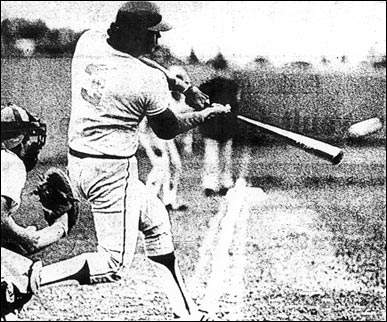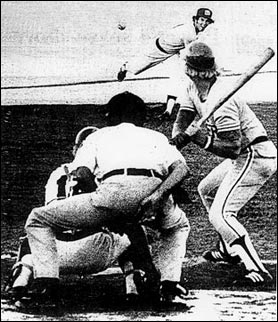 Above left - Eston Ramblers' Gary Nelson connects for a single off the slants of chucker Wayne Plummer of the Saskatoon Boston Royals. Saskatoon catcher Pat Ryan follows the flight of the batted ball.
Above right - Righthander Jeff Benedetti of the Saskatoon Boston Royals delivers a pitch to an unidentified left-handed hitter from the Eston Ramblers. The plate umpire is Mike Small. The Saskatoon catcher (mostly obscured) is Fred Maxemiuk.