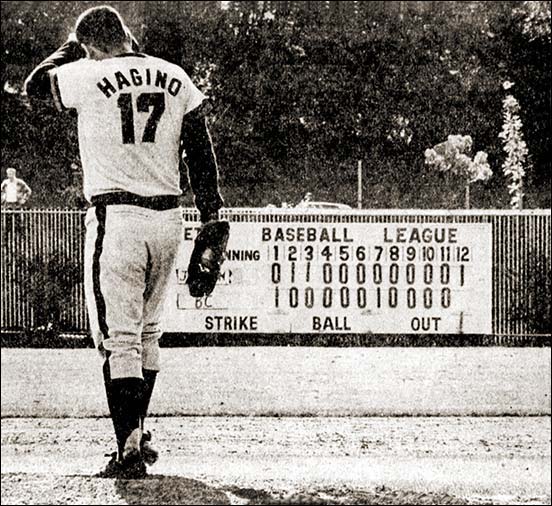 Tomoyasu Hagino takes break in the 12th inning of the exhibition match between the Japanese national amateur team and the Metro League All-Stars at Capilano Stadium.

The Sunday game, a hard-fought 3-2 victory for Japan, was vastly different from Saturday's 14-0 win by the visitors on Saturday.
(Ken Oakes Photo, Vancouver Sun, August 11, 1975)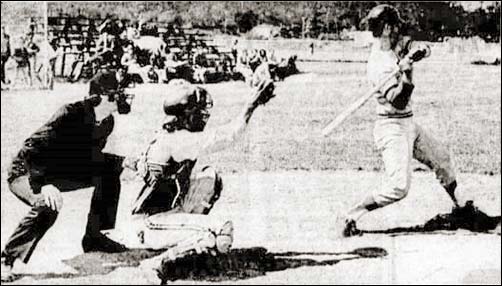 Opening Day action (May 18th) at Victoria's Lambrick Park.

Blair Kubicek of Al's Home Service checks his swing in the Victoria Senior Amateur League game Sunday. Catcher is George Pakos of Farmer Construction. The umpire is Check Blakie. The Al's won 8-7. [Times photo by Irving Strickland]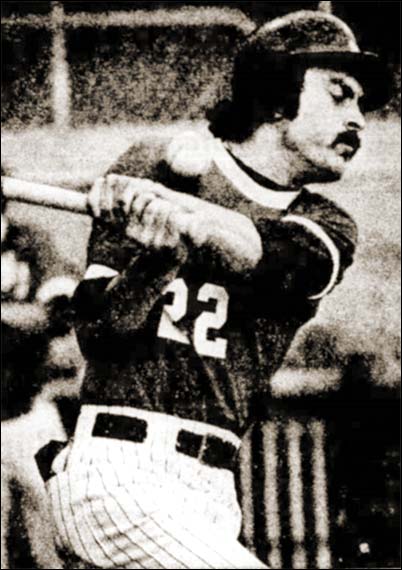 Infielder Russ Lombardo of the Vancouver Budgets takes an unsuccessful cut at a pitch delivered during a Vancouver Metro Baseball League game at Capilano Stadium.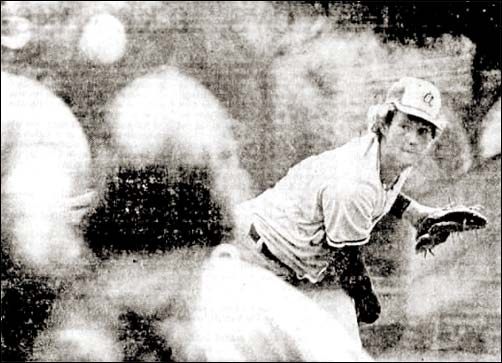 Brad McArthur pitched a three-hitter for Burnaby Auroras Saturday in Western International League baseball at Queens Park Stadium. McArthur, who fired a perfect game for Auroras in his first start this season, had one walk and no strikeouts on his way to a 4-2 victory in the first game against league-leading Seattle Old-Timers. The visitors won the second game 8-6 but lost both ends of the double bill in Seattle Sunday by scores of 3-0 and 10-6. Larry Kissock, Jim Thomas, Dale Ramsey, Paul Watson and Bill Henry were the big hitters.
Action at the Canadian Senior Baseball Championships at Vancouver. BC centrefielder Russ Lombardo is tagged out by BC catcher Orv Franchuk in heated ninth inning play during the first game of the final series. Umpire Peter LePage is right on top of the play, calling Lombardo out. BC went on to score a pair in the inning but fell 6-4 for its first loss in the double-knockout tournament. BC rebounded to win the second game and the tournament as Russ McKee belted a homer to help the coast team to a 4-2 victory. .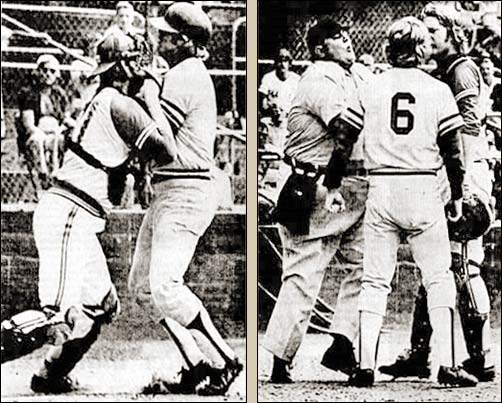 Umpire Pete LePage steps in to prevent fisticuffs as BC catcher Al Watson put a hard tag on Alberta's Ken Grove at the Canadian Senior Amateur Baseball Championship at Capilano Stadium.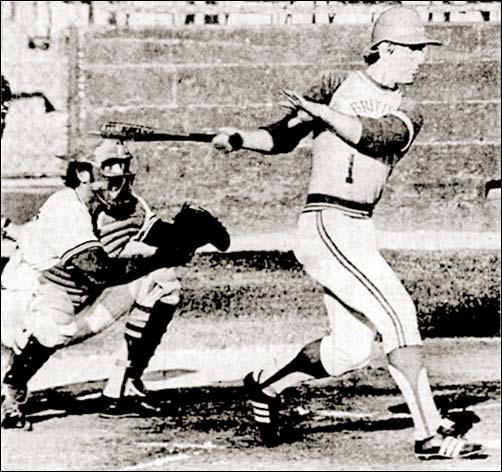 Shortstop Jim Thomas raps a triple in the first inning for BC against Nova Scotia at Capilano Stadium. Thomas led the winners, scoring three times.
A frustrated Keith Collins, centre fielder for Newfoundland, drops to his knees, a strikeout victim to BC hurlder John Mickey at the Canadian Senior Championships at Capilano Stadium. Mickey fired a five=hit shutout as BC won, 10-0.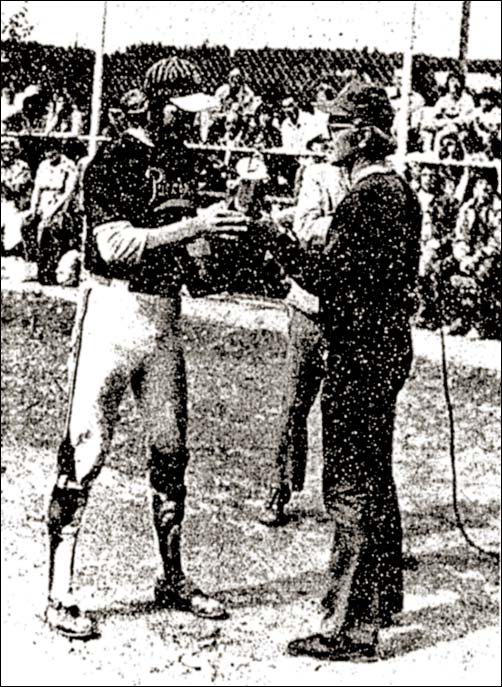 Al Watson, catcher for the Vancouver Metro League All-Stars, is presented with the Most Valuable Player award at the BC Senior Baseball Championships played at the Cariboo Ball Park in Quesnel. Presenting the trophy is Bill Kinder, Quesnel Senior Baseball League vice-president and one of the tournament organizers.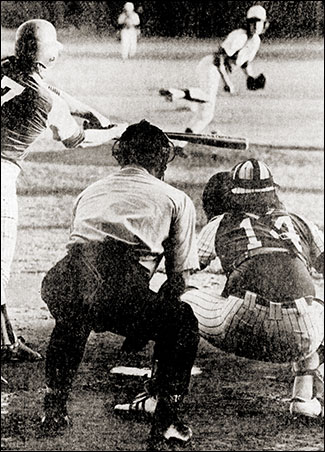 Dave Schwab of Vancouver Belkins
raps one of his two hits off Andy Williamson
of New Westminster in Pacific Coast Junior
action. Belkins won, 6-5