BIRTLE ANNUAL MSBL CANADA DAY BASEBALL TOURNAMENT
(July 1) Binscarth Orioles broke loose for three runs in each of the fourth and fifth innings Tuesday to whip Hamiota Red Sox 10-2 to win top money of $425 in the annual Birtle Senior Baseball Tournament. Ten of the eleven Manitoba Senior League teams were entered.

Garth Neville went eight innings to chalk up the win, giving way to Bruce Bremer to mop up in the ninth. Ron Knight took the loss. Billy Derlago led the winners with a homer and single. Ron Low added three singles.
Binscarth advanced to the final edging Riverside 2-1 as Bryan McCauley tossed a three-hitter to best Ron Seafoot who allowed just four hits. Hamiota won a finals berth trouncing Dauphin Redbirds 10-3 behind the mound work of Dennis Anderson. Dauphin had topped Neepawa Cubs 6-4 as Gerry Falk was the winning hurler and Hamiota blanked McAuley 4-0 behind Ron Ramsey's three-hit shutout.

Earlier, Binscarth erupted for five runs in the second inning to overcome Souris Cardinals 7-3. Bob Kutzan got the mound decision over Ray Bruels. Riverside scored twice in the final inning to shade the Grandview Lakes 2-1 behind Eddie Beare's two-hitter. Jim Deaver yielded three hits in taking the loss. In first round action, Neepawa got a pair of late runs to beat Virden 3-2 and Grandview won over Angusville Cardinals 3-1.
---
ESTON TOURNAMENT
(July 2) Red Deer Generals took a 3-0 lead then held on for a 4-3 triumph over the Berkeley, California, Bears, and top money at the Eston Tournament. Generals got one in the first inning on doubles by Phil Urabe and Gary Ledbetter. They got a pair in the fifth as Urabe tripled in Grant Becker who had singled and Marty Coil singled to drive in Urabe. In the 8th, Becker doubled and scored the winner on an error. Wayne McKee, with relief by Bob Bridges, captured the win. Doug O'Brien took the loss. Ledbetter had three hits for the winners.
W. McKee (W), Bridges (8) and Ledbetter
O'Brien (L), Martin (8) and Thomas
In semi-final action, Red Deer rapped out 17 hits in downing Saskatoon 8-6. Pete Duncan and Marty Coil each had three safeties. Fred Cardwell was the winner with a strong relief effort.
Plummer, Guenther (L) (4), Ortiz (5) and Brown
Baker, Cardwell (W) (5) and Ledbetter
Berkeley reached the final with a 16-9 victory over Eston.
Bob Bridges tossed a four-hitter as Red Deer topped the Edmonton Tigers 6-1 in opening round action. Marty Coil and Pete Duncan led the 12-hit attack each with three hits.
Bridges (W) and Ledbetter
Kirby (L), Brown (6) and Brusegard
In other first round games, Berkeley demolished Swift Current 11-0, Unity got by the host Eston Ramblers 3-2 in 13 innings and Saskatoon topped the Calgary Jimmies 6-4 in 11 innings.
---
TRAIL INTERNATIONAL TOURNAMENT
(July 2-6) The team from Dallas, Oregon went undefeated to capture the fourth annual Trail International baseball tournament. Reversing the script that saw the same two finalists from a year ago, Dallas wiped out the defending champion Selkirk Selects by a convincing 10 to 3 margin in the tourney final. Kris Dunckel was the starter and winner for the Oregonians, pitching a masterful seven-hitter. The Selects used three twirlers with southpaw Ken Umbarger taking the loss.

Dallas had annexed the winners' bracket of the 16-game event by knocking Seattle Olympic Heights from the ranks of the undefeated with a 7 to 5 triumph. The Selects then eliminated the Seattle entry from the tournament by virtue of a 4 to 0 triumph as first-inning reliever Russ Lafreniere copped the hurling verdict over Bob Potts. The Olympic Heights squad had earlier inflicted the Selkirk nine with their first setback of the double-knockout affair with a 10 to 6 conquest.

The Edmonton Dusters were sent to the sidelines after losing 6 to 5 to the Selects as final-stanza fireman Lafreniere bested Perry Lychak for the knoll decision. The Edmontonians had earlier dropped their opener to the West Kootenay-based Selects 10 to 7 before bouncing back to knock off Brewster WA 10 to 2 in a sudden-death tilt. Selkirk followed up their win over the Albertans by defeating the Castlegar Sentinels and, in doing so, qualifying for the losers' bracket final against Seattle. Castlegar had wins over Edam SK and Grand Forks before being stopped by Dallas 8 to 3.
---
BARRHEAD KINSMEN TOURNAMENT
(July 12-13) The hometown Cardinals downed Red Deer for the second straight year to take $1,000 top money in the Barrhead Kinsmen Tournament. Cards topped the Generals 4-2 as Terry Hendley tossed a five-hitter. Shortstop Mike Lester, named the tournament MVP, belted a homer. Lester had five hits in the tourney, scored six runs and sparkled in the field.
Baker (L), Pasutto (4) and Pomicpic
Hendley (W) and McDonald
Generals reached the final thanks to a three-hit shutout from right-hander Pete Duncan who bested his former pro teammate Ray Brown as the Generals topped Edmonton Tigers 3-0. Duncan fanned ten. Grant Becker reached on an error to lead off the game and went to third on a hit by Phil Urabe. Becker scored on a ground out and Urabe came home on another error. Becker singled to start the third inning, advanced on Marty Coil's single, stole third and scored on a throwing error.
Duncan (W) and Pomicpic
Brown (L) and Bringhurst
Barrhead advanced by shading the Berkeley, California, Bears 6-5. Keith Van De Keere put down a 9th inning threat by the Americans to preserve the win for starter Ken Lychak.
Orvick (L) and Thomas
Lychak (W), Van De Keere (9) and McDonald
In first round action, the touring Bears survived a four-run 8th inning by the Edmonton A's to score a 5-4 victory.
Ashlock (L) and Teale
Martin (W), O'Brien (8) and Thomas
Barrhead blasted Camrose 11-0 as Jim McDonald clouted a three-run homer to lead the Cards' attack.
Hamagami (W), Picone (8) and McDonald
Faushaug (L), Kadatz (3) and Andreassen
Red Deer's Grant Becker ran wild as the Generals clobbered St. Paul 11-2. Becker stole six bags and scored four times. Marty Coil led a 13-hit attack with three hits, including a two-run homer. Bob Bridges coasted with a seven-hitter for the win.
Schwar (L), Anglin (4), Wikel (7) and Rasmussen, Dechaine (8)
Bridges (W) and Pomicpic
Wayne Kirby limited the Rapid City Gregs to seven hits and fanned 11 as Edmonton Tigers won, 10-2. Marty Maxwell and Stu Bringhurst had homers in a winning cause.
Kirby (W) and Bringhurst
Schmidt (L), Moen (8) and Stancyk
---
CANADIAN SENIOR BASEBALL CHAMPIONSHIP
(July 13) British Columbia shaded the Calgary Jimmies, Alberta's representative, 4-2 Sunday to capture the Canadian Senior Baseball Championship. Alberta had forced an extra game in the double-knockout tournament when they beat BC 6-4 earlier Sunday. Russ McKee's two-run homer in the third inning proved to be the difference. It was his fourth home run of the tournament. Larry Mann checked Alberta on six hits. Fred Cardwell, pitching his second game in three days, allowed ten hits in taking the loss.
Mann (W) and xxx
Cardwell (L) and xxx
In the first game Sunday, Alberta forced an extra game in the tournament downing BC 6-4. Alberta jumped into an early 3-0 lead after BC starter Nick Mitchell had retired nine of the first ten batters. Orv Franchuk's bases-loaded single was the key blow for the Jimmies. Ray Forgie went the route for the win. Larry Fellerdeau took the loss.
Forgie (W) and Franchuk
Mitchell, Fellerdeau (L) (7), Lindsay (8) and Watson
(July 12) John Self's homer in the 9th off Dennis Anderson gave the Calgary Jimmies a 4-3 win over Manitoba Saturday. Self and Ken Grove led the Alberta hitters each with three safeties. One of Grove's hits was a two-run homer in the second. Ray Forgie hurled a six-hitter for the win.
Forgie (W) and Franchuk
Everard, Anderson (9) and Lowes
BC overcame a five-run deficit to defeat Chatham, NB, 8-5 as shortstop Jim Thomas knocked in three runs with a single and double. Larry Mann got the victory, in relief.
Alberta advanced with a 3-1, 10 inning, win over New Brunswick. Winning pitcher Ron Peterson helped his cause by leading off the 10th with a single. After a sacrifice moved Peterson to second he scored the winner on Rob Roy's double. Peterson gave up eight hits, walked two and fanned five. Neil Palmer for Chatham, NB, allowed just seven hits and struck out 13 but issued ten free passes/
Peterson (W) and Price
Palmer (L) and Allison
(July 11) Blanked for six innings by veteran right-hander Fred Cardwell, BC broke loose for two runs in the 7th and another pair in the 8th for a 4-3 win over the Calgary Jimmies. Russ McKee's homer in the 8th tied the count and Don Gurniak scored the winner on Jim Thomas' sac fly. Alberta had taken a 3-0 lead with Orv Franchuk's homer the key hit.
Lindsay, Mitchell (W) (7) and Watson
Cardwell (L) and Franchuk
Ken Martin's two-run homer in the third inning was enough as Chatham, New Brunswick upended the Manitoba All-Stars 4-1. Ex-pro Val McClure scattered eight hits for the win. Barry Jamieson had another big day at the dish with three hits. Dave Rottman allowed just six hits in taking the defeat.
McClure (W) and Allison
Rottman (L) and McFadyen
The Manitoba All-Stars downed the host club, Vancouver 6-4. Stan Furman had a double and single to drive in a pair for the winners, Dale Lowes added a double and single. Garth Neville had a strong outing until the 9th when Vancouver scored three times.
Mosher (L), Wray (3), Elliott (8) and Kissock
Neville (W), Anderson (9) and Lowes
Alberta rallied with three runs in the 8th inning to top Ontario 6-5. Tim Young's two-run single in the 8th plated the winning marker. Losing pitcher Mel Kennedy was a one-man band as he went the distance on the hill and had a homer and drove in four runs.
Ohrn, Peterson (W) (7) and Price
Kennedy (L) and Sutherland
(July 10) Vancouver All-Stars beat Regina Red Sox 9-4 to knock the Saskatchewan representatives out of the double-knockout tournament. After losing to Ontario in its opening game on Tuesday, Saskatchewan defeated PEI 5-1 on Wednesday. Earlier Thursday, Vancouver blanked St. John's, Newfoundland, 1-0.
Gary Brandon (L), Neil McMillan (3), Russ Barr (5) and xxx
Gord Williams (W), Brent Wagg (7) and xxx
Montreal advanced beating Nova Scotia 7-4. That eliminated the Halifax team which lost 12-2 to BC on Tuesday. Nova Scotia had ripped Quebec pitcher Gaetan Plouffe for 14 hits, but left 13 men stranded. Richard Milo hit a two-run homer for Quebec in the second inning and his single in the third drove in two more runs.

(July 9) Saskatchewan remained in the hunt at the Canadian Senior Championships as Bob Currie fired a four-hitter with 12 strikeouts in a 5-1 victory over Prince Edward Island. Andy Logan led the attack with three hits and Doug Simon (left) added a triple and single. With the loss, PEI was sent packing.
Currie (W) and xxx
Jim Sullivan (L), xxx, xxx and xxx
New Brunswick downed Quebec 3-1 behind Scott Harvey's four-hit performance. Bill Silverman took the loss. Brent Hallett (right) of New Brunswick had the only homer.
Manitoba crushed Ontario 17-2 scoring four in the first inning off Bob Thomerson and coasting the rest of the way. Manitoba unleashed an 18-hit attack, including Bob Thompson's two-run homer. Gerry Falk and Ron Ramsey combined on a five-hitter for the winners.
BC demolished Newfoundland 10-0 as John Mickey tossed a five-hit shutout. BC got homers from Bob Fraaf in the third with a runner aboard and Russ McKee's three-run shot, an inside-the-park homer, in the seventh.
(July 8) Ontario, represented by the Barrie Red Sox, capitalized on five errors to top Saskatchewan 6-4. Mel Kennedy held the prairie squad to four hits in chalking up the win. Lyle Johnson was the loser.
Kennedy (W) and Dix
Johnson (L), Burdon (5), Barr (8) and Logan
Alberta rode John Self's homer and Ron Peterson's five-hitter to a 2-1 victory over PEI.
Weatherbie (L) and Larkin
Peterson (W) and Price

BC scored three runs in the first inning, helped by an error and two wild pitches, and went on to a 12-2 trimming of Nova Scotia.
Moore, Morris (3), Gillis (5), McElleney (8) and Falder
Hodgerson, Mann (7) and Watson, Gurniak (6)
Down 1-0 to Vancouver in the 9th inning, Quebec rallied to tie when Daniel Lacoste scored on a sacrifice and John Elias followed later with a three-run homer to give Quebec a 4-1 victory.
Rosters :
Alberta : Cardwell Fred, Duncan Peter, Elick John MGR, Forgie Ray, Franchuk Orval, Grove Ken, Herback Al, Johnson Richard, Linstrand Dennis, Malbert Garry Coach, Morris David, Nakonechny Larry, Ohrn Les, Papworth Robert, Peterson Ron, Price Allan, Roy Robert, Self John, Young Tim
Saskatchewan : Barr Russ, Bell Bill, Brandon Gary, Brown Bob, Compton Clark, Currie Bob, Gergley Rich, Johnson Gord, Johnson Lyle, Kivell Warren, Leakos Spero MGR, Logan Andy, Maxemiuk Fred, McLeod Don, Munch Randy, Paisley Jim, Plummer Wayne, Simon Doug Coach, Zrymiak Jerry
Prince Edward Island : Brown Donnie, Cain Joey, Campbell Jerry, Connolly Allan MGR, Connolly Bill, Connolly Mike, Ellis Barry, Fisher Don, Fisher Ron, Larkin Danny, Lawler Ted, LeClair Don Coach, Mancuso Gary, McAdam Jim, Praught Fred, Puia Joe, Rossiter Jerry, Smith Gerard, Sullivan Bill, Weatherbie Bill
Ontario : Beaupre Len Coach, Benner Barry, Boynton Doug, Dix Gary, Fraser Ernie, Gryba Mark, Hepburn Bob, Holowchuk Ed, Kennedy Mel, Laycock Mike, Laycock Ted Coach, MacDonald George, Maloney Rick, McDonald Phil, Owen Nick MGR, Pinnock Fred, Ridley Jim, Sutherland Rob, Thomerson Bob, Udell Jerry, Ziegler Arn Coach
Manitoba : Anderson Dennis, Cuthill Roy MGR, Everard Grant, Falk Gerry, Fisher Mark, Furman Stan, Jamieson Barry, Kalechyn Tony, Lowes Dale, McFadyen Rick, Neville Garth, Poole Wayne, Ramsey Ron, Rottman Dave, Scott Glennis Coach, Smith Mel, Sumner Don MGR, Thompson Bob, Williamson Bob
Nova Scotia : Alexander Dave, Elder John, Furlotte Gary, Gill Glen, Gillis Bob, Hamilton Ken MGR, Legare Ralph Coach, MacDougall Robert, Martin Bill, McElhiney Gerald, Melbourne Dave, Moore Bob, Morris Alan, Olsen Bryan, Pelham Jim, Rodgerson Don, Tanner Mike, Turple Larry, Unlah Kevin, Bryne Tim
Quebec : Beaudry Michel, Belair Richard, Bellegarde Daniel, Brodeur Jean-Claude, Brodeur Richard, Daviault Adrien, DeLaSabloniere Michel, Dion Michel, Dube Jacques, Elias John, Fontaine Pierre, Lacoste Daniel, Lemmitti Geno Coach, Milot Richard, Paquette Claude, Plouffe Gaetan, Reeves Tom, Robichaud Gilles, Silverman Bill, St-Onge Gilles MGR
New Brunswick : Allison Don, Allison Ron, Bawn Bev, Cook Joe MGR, Cripps Ken, Daley Bill, Hallett Brent, Harvey Scott, Jimmo Wally, King Brian, Leggett Art, Martin Ken, McCarthy Marv GM, McClure Val, McDermaid Ed, Mochilin Joe, Morris Greg Coach, Oagles Jim, Palmer Neil, Sorel Guy, Wood Mike
Newfoundland : Buckingham Dave, Butt Roger, Byrd Dennis, Cochrane Bill Coach, Collins Keith, Cooper Eric, Cornick Peter, Fitzgerald Bill, Hudson Bill, Hurley Ed, Hurley Jack Coach, Reardon Danny, Rumsey Rudy, Ryan Terry, Short Wayne, Tobin Ron, Wabben Joe, Whalen Bas, Wilson Bob
British Columbia : Fellerdeau Larry, Graas Dave, Gurniak Don, Haar John MGR, Houghton Rick, Kinder Bill Coach, Lindsey Greg, Lombardo Russ, Lowery Gordon Coach, Mann Larry, Martin Wayne, McArthur Brad, McKee Russ, Mickey John, Mitchell Nick, Schwab Dave, Springenatic Ted, Stein Terry, Thomas Jim, Watson Al, Yankoski John
Host, Vancouver : Archer Don, Bazaluk Bill, Burns Dick, Chavarria Ozzie MGR, Dirks Rod, Gamlin Len, Gurvich Bill, Henry Bill, Herbert Steve, Kissock Larry, Mark Rick, McMasters Jim Coach, Mosher Rick, Moysey Bob, Ramsey Dale, Rodgers Wayne, Watson Paul, Weins Randy, White Gordie Coach, Williams Gordie
---
BC INTERIOR SENIOR BABE RUTH TOURNAMENT
(July 13) By eliminating teams from Kamloops and Kelowna in a three-team double-knockout tournament, the Selkirk Selects advanced as the B.C. Interior representative in the upcoming provincial Senior Babe Ruth championship finals.
---
QUESNEL BILLY BARKER DAYS SENIOR TOURNAMENT
(July 19-20) Vernon Legion pounded out 14 hits and romped to a 15-1 victory over Beaverlodge Royals Sunday in the final of the fourth annual Quesnel Senior Baseball Tournament. Eight teams participated in the single knockout event.
A six-run second inning for Vernon put the championship game out of reach early. Leo Gauthier, chosen as the top pitcher in the tournament, fanned nine in posting his second win in the event.
In the opener Saturday morning, Smithers Glaciers whipped the Cariboo Clippers 10-4 behind the strong mound work of Gary McKinnon and a two-run homer by Darryl Ferner in the initial stanza.
In a 10-inning thriller, Vernon came from behind a 4-0 deficit to edge Billy Barker Hotel 5-4 as Gord Nuyens singled in the bottom of the frame to bring in Reg Main with the winner. Vernon earlier got a two-run homer by Charlie Briskham and Billy Barker had taken the early lead thanks to home runs by Joe Weremy and Jim Alton.
Jens Hobos, the third Quesnel entry, was eliminated by the Sexsmith Rainiers as the visitors posted a 10-7 triumph. Rod Dyck started for the winners, giving way to Bud Englesby in the third.
Beaverlodge wrapped up the Saturday action upending the Kopetski A's 11-0 in a game called after five innings. Brian Walker tossed the shutout for the Royals and belted a homer. The A's had been unbeaten in 12 games in the Quesnel Senior League prior to the Beaverlodge contest.
Again, Vernon needed to come from behind to down Smithers 8-7 in the first game on Sunday. Ed Johnstone, the top batter in the tournament with a .600 average, was the hero for the Legions smacking a bases-loaded triple in the top of the ninth to put Vernon in the lead. Leo Gauthier picked up the win in relief of Gord Nuyens. Darryl Ferner had put Smithers on top in the fifth with a two-run homer.
Beaverlodge defeated Sexsmith Rainiers in spite of Kevin Kane's outstanding day for the losers. Kane fanned 15 batters and belted a home run and two singles. Greg Polis, the winning pitcher, rapped a home run and a double.

Charlie Briskham of Vernon was selected as the top infielder. Gordie Fennell of Beaverlodge was the top outfielder.

---
UNITY TOURNAMENT
(July 19/20) It was a heart-breaking loss for the host Unity Cardinals in the final of the Unity Tournament. The California Berkeley Bears scored twice in the bottom of the ninth inning to edge the Cardinals 2-1 before 11-hundred fans at Cardinal Field. Berkeley combined a single, double and suicide squeeze bunt to end Unity's dreams of a second straight tournament victory.
The home club got on the scoreboard first with a run in the top of the first inning and for eight and a half innings it appeared as if that lone marker would stand up for a victory as Don McIntyre held the Bears in check allowing just three hits. But, in the Bears' ninth, catcher John Thomas led off with a bloop single to left and advanced on a bunt single. Then, a double and the squeeze play gave first place money to the Californians. Tim Martin, in relief of starter Steve O'Brien, registered the win. Hugh McIvor and Thomas were the only players with two hits.
McIntyre (L) and xxx
O'Brien, Martin (W) and xxx
Bears unpleased a 16-hit attack against Gorman Heimueller and Randy Arthur of Eston to win the semi-final match 8-3. .Matt Orovic went the distance for the win.
Cardinals won a berth in the final blanking Saskatoon 3-0 Sunday scoring the winning run on Hugh McIvor's double in the first inning. Cards added two in the third on Byron Merkowsky's single. Tom Sharpe pitched the shutout, giving up six hits. He fanned 9.
In Unity's opener, pitcher Al Cuadros made quite the impression in his return to the team. The left-hander fired a no-hitter, with 12 strikeouts, to blank Kindersley 7-0. A tiring Cuadros had a scare in the 9th as he walked the bases full before getting a double play to end the game. Hugh McIvor drove in four runs with a pair of singles and Neil Lampitt helped with three hits.
In the opening round, the California kids downed Moose Jaw Regals on Saturday. Berkeley ran away from the Regals with 11 runs and 9 hits. Steve Rice gave up just three in the five inning contest. Glen Hollands took the loss, It was the only game in which the 10-run mercy rule was applied.
Eston Ramblers rallied with two runs in the top of the 9th to edge Regina Red Sox 2-1 behind the pitching of John Littlefield. Doug Overbo took the loss in spite of a three-hitter.
In the tournament opener Saturday, Shelly Gautschi knocked in a pair with a 4th inning single and Saskatoon held on for a 2-0 win over Swift Current. Lloyd Guenther got the win.
---
LACOMBE TOURNAMENT
(July 23-24) The Norlake All-Stars, comprised mainly of American imports, whipped Unity Cardinals 8-4 Thursday to take top money of $1,800 in the 26th annual Lacombe Tournament. Winning pitcher Dave Dumbeck, who had a 6-2 mark with the Edmonton Tigers but moved on to play with the Edmonton A`s of the Sunburst League, had a four-hitter until Unity rallied for three runs in the 9th inning. Dan Peters had three hits for the winners and Phil Penco belted a homer. Hal Harris had a circuit blow for Unity. Bill Schwar of the All-Stars took home the MVP award with a homer, two doubles and six RBI plus a pitching victory.
Dumbeck (W) and Pellant
Guyon (L), McIntyre (6), N. Lampitt (8) and Harris
All-Stars reached the final with an 8-4 triumph over Edmonton. The Tigers had taken a 4-0 lead in the 4th inning keyed by a Erol Akchurin homer. The `Stars tied it in the 5th on a solo homer by Gary Pellant and a three-run blast by Bill Schwar. Norlake continued its attack with a homer by Phil Pence in the 7th to take the lead and added three insurance runs in the 8th.
Brown (L), Thompson (8), Van De Keere (8) and McDonald
Ashlock, Schwar (W) (4) and Pellant
Unity overcame a 3-0 deficit to down Calgary 4-3. Jimmies had jumped ahead on a homer by John Turriff in the 4th inning and another by Al Price in the 5th to lead 3-0. But the Cardinals roared back with four in the 7th. The highlight was a three-run homer by Don McLeod.
Sharpe, Guyon (W) (7), Cuadros (8), Guyon (8) and Harris
Peterson (L) and Price

(July 23) Jim Bouton (right) the former New York Yankee, pitched six-hit ball as Calgary Jimmies topped the Berkeley, California, Bears 4-3 in the opening round of the Lacombe Tournament. Bouton fanned eight. A two-run homer by John Self was key to the Calgary victory. Bears got a pair of solo homers, from Matt Orvick and Tim Martin. Martin was the losing hurler, relieved by Steve Rice in the 7th. In Bouton's three games with Calgary he allowed just four earned runs in 23 innings of work.
Bouton (W) and Price
Martin (L), Rice (7) and Thomas
Unity Cardinals upset the defending champion Red Deer Generals 7-6. Generals fought back from a 5-0 deficit to tie at 6-6 before bowing. A four-run 4th inning gave Unity a 5-0 margin and Hal Harris belted a homer in the 7th to make it 6-1. Red Deer stormed back with four in the 8th, three on a bases-loaded triple by Phil Urabe who then scored on Marty Coil's single. A lead-off homer by Pete Duncan in the top of the 9th tied the count at 6-6. With one out in the bottom of the 9th and runners on first and second, Bob Brown grounded to second baseman Grant Becker who flipped to Urabe for the second out, but the throw to first was wild and Harris scored the winner. Gord Johnson and Harris each had three hits for Unity.
Bridges, Cardwell (L) (4) and Pomicpic
Cuadros, McIntyre (5), Kelley (W) (8) and Harris
Edmonton Tigers blanked Eston Ramblers 2-0 behind Wayne Kirby's three-hitter, all singles. He had 12 strikeouts. Lorne Niven's homer leading off the 5th proved to be all the Tigers would need. They added an insurance run in the 6th when Gary Picone scored on an error. Littlefield took the loss.
Kirby (W) and McDonald
Littlefield (L) and Morrice
Norlake All-Stars clobbered the Ekeland, Wisconsin, All-Stars 10-0. The Norlake nine, from a six-team league in Northeastern Alberta, scored four in the third, including back-to-back homers by Dan Peters and Gary Pellant, and cruised to the victory. Norlake had 14 hits, four by Peters. Gary Anglin went five innings for the win.
Anglin (W), Foxx (6) and Dechaine
Geishert (L), Mateijka (8) and J. Gerber
---
CALGARY TOURNAMENT
(July 25-27) Fred Cardwell tossed a sparkling four-hitter Sunday as Red Deer topped Barrhead Cardinals 7-1 to take top prize money of $1,500 at the Calgary major baseball tournament. Named most valuable pitcher in the tourney, Cardwell was in complete control. He recorded 12 strikeouts. Grant Becker led a 12-hit attack with a triple and single. Terry Teale homered to account for the only Cardinals`marker. Randy Rasmussen of the Generals was named the tournament MVP for his 5 for 12 performance and outstanding play in the field.
Hamagami (L) and McDonald
Cardwell (W) and Pomicpic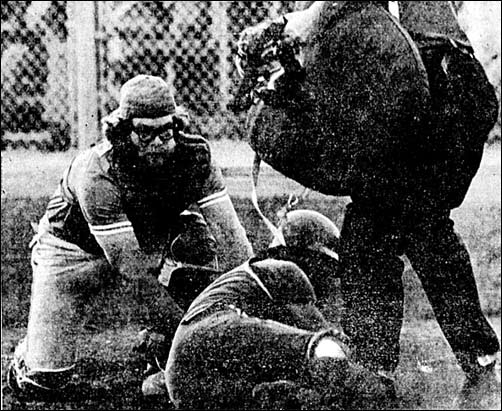 Tournament MVP Randy Rasmussen is out at home as Barrhead catcher Jim
McDonald tags the Red Deer star. (Calgary Herald, July 28, 1975)
The Generals reached the final shading Edmonton Tigers 1-0 as Bob Bridges hurled a five-hit shutout to best Tim Brady who also had a five-hitter. Ken Nelson knocked in Randy Rasmussen with the only run with a fourth inning double. A perfectly executed Nelson to Rasmussen to Pomicpic relay nailed a runner at the plate in the first inning to preserve Bridges' shutout. Tigers pulled off a duplicate in the fifth to get Pomicpic at home.
Brady (L) and Bringhurst
Bridges (W) and Pomicpic
A two-run single by Gary Picone in the 7th inning made the difference as Barrhead advanced with an 8-6 victory over Calgary Jimmies.
Forgie (L), Peterson (7) and Price
Hendley (W), Ashlock (8) and McDonald
(July 25) Former major league star Jim Bouton pitched the Calgary Jimmies to a 6-2 win over the Berkeley, California, Bears in the opening game of the Calgary Tournament. After allowing runs in the first and second innings, Bouton blanked the Bears the rest of the way. He pitched an eight-hitter. Rich Dalton had three hits for Calgary and drove in a pair. Russ McKee had a single and a long homer.
Bouton started four games for the Jimmies while in Calgary. He pitched 32 innings giving up just five earned runs on 19 hits. He issued just one free pass. The 36-year-old right-hander registered three wins and probably would have won another but he was pulled after five innings in his first game against Red Deer. The Jimmies lost in the 8th.
Bouton (W) and Price
Rice (L), O`Brien (9) and Thomas
(July 26) Pete Duncan hurled a four-hit shutout and knocked in five runs as Red Deer won its opener, 10-0 over Crookson, Minnesota, Reds, in a game shortened to seven innings by the ten-run rule. One of Duncan's hits was a three-run homer.
Vandermay (L), R. Olson (5) and Hasz
Duncan (W) and Pomicpic
Barrhead whipped the St. John, Washington, Dodgers 11-0 as Keith Van de Keere had a two-hitter and, like Duncan, bashed a homer.
Van De Keere (W) and McDonald
Barnes (L), Kamp (6), Schrom (7) and Aoki
Wayne Commodore had a circuit clout and drove in all five runs as Edmonton Tigers ousted the Wisconsin All-Stars with a 5-4 victory. Wayne Kirby survived 12 hits to register the win.
Geishert (L) and J. Gerber
Kirby (W) and Bringhurst
---
BC SENIOR BABE RUTH TOURNAMENT
(July 26) The Selkirk Selects won the B.C. Senior Babe Ruth championship by blanking Victoria 6 to 0 in the tourney final. Brawny rookie righthander Bob Elliott fashioned a four-hitter to earn the shutout win.

The Selects had dropped their first game of the double-knockout tournament to North Vancouver 4 to 2 and had to fight their way back through the losers' bracket. They stayed alive with a 7 to 1 conquest of Nanaimo in their second tilt as portsider Ron Bergen spun a strong two-hitter, pounded Vancouver Inter-Community 12 to 4 behind the four-hit heaving of Chris Vlanich in their third contest and gained revenge for their opening-game setback to North Vancouver by bouncing the North Shore aggregation 4 to 1 in their fourth encounter. Rookie southpaw Bergen, with relief help from Russ Lafreniere, earned his second mound triumph in this affair.

Undefeated Victoria needed only one win against the Selects to take the title but were nosed out 5 to 4 by the West Kootenay squad and complete-game winner Lafreniere in their first meeting before being whitewashed in the finale.
---
PACIFIC NORTHWEST SENIOR BABE RUTH TOURNAMENT
(August 1–3) The Selkirk Selects hit the end of the line after losing two of three games in the Pacific Northwest Regional Senior Babe Ruth championship tournament in Tigard Oregon.
On Saturday, the B.C. champions were nipped 4 to 3 by Idaho in ten innings. A bounce-back 12 to 5 win over Montana on Sunday kept them in contention but, on Monday, the host Tigard nine eliminated the Selects with a 4 to 0 whitewashing. The team played poorly afield over the three contests and failed to execute on a number of squeeze plays in critical situations.
---
B. C. SENIOR AMATEUR BASEBALL CHAMPIONSHIP TOURNAMENT
(August 2-4) The Vancouver Metro League All-Stars captured the BC Senior Amateur Baseball Championship Monday as they whipped Victoria 9-0 in the final game of the six-team, double-knockout competition. It was the second straight title for the Metro All-Stars. A seven-run first inning, helped by shoddy defensive play by Victoria, put the game on ice early as losing pitcher Terry Painter lasted just one-third of an inning before being replaced by Bob Mabee. Ray Moretti relieved in the fifth. The Metros, the pre-tournament favourites used two pitchers as Bill Bazaluk replaced Brant Wragg in the fifth after the starter was injured coming into second. John Haar belted the game's lone homer.

Victoria romped to an easy 11-0 win over the Mid-Island squad to advance to the final. A five-run fifth inning sewed up that contest.
Metros won their semi-final match 5-2 over the Nanaimo Villas. After Ray Clarke and Steve Whittam scored for Nanaimo in the top of the seventh to tie the score at 2-2 Vancouver scored three in the bottom of the frame and relief pitcher Bill Bazaluk held the Villas off the board the rest of the way. They had earlier romped over Prince George 12-2.
Victoria had earlier defeated Quesnel 7-1 to knock them out of futher play. Joe Weremy drove in the lone run for the losers.
The Islanders also eliminated the Bulkley Valley All-Stars withn a 15-0 decision outhitting the losers 16 to one.
Quesnel had pulled off one victory downing Prince George 7-1 behind the mound work of Terry Yalowega. Nanaimo trounced Bulkley Balley 10-3. Nanaimo shaded Quesnel 2-1.

---
INTERCONTINENTAL CUP CHAMPIONSHIP
(August 11) Winning pitcher Yushiro Kubota (left) rapped a two-out single in the 8th inning to drive in the deciding run as the Japanese National team edged the Saskatchewan All-Stars 6-5 before an enthusiastic crowd of 2,500 at Cairns Field in Saskatoon. Kubota worked four shutout innings with five strikeouts and no walks. The Japanese had rebounded from a 5-3 deficit to scored a pair in the 6th inning to tie. The All-Stars had taken the lead with a four-run outburst in the 5th.

Japan began with a run in the first inning. Nobuki Tanaka sent a bloop single to right and scored on a fielder's choice. The hosts knotted the count in the bottom of the first as Bob Brown reached on a grounder down the third base line. He scored on an error as Makoto Kudo, the starter for Japan, fielded a routine grounder but made a wild throw over second base. As the relay back to the infield went astray, Brown came all the way around home. Humio Isobe's single in the 2nd scored Syuji Morisada (right) with the second Japanese marker and the visitors added another in the 5th.
Scott Nutzhorn started the Saskatchewan All-Stars rally in the 5th with a triple and Jim Baba followed with a single. After a walk to Rick Morrice and a wild pitch, Gord Johnson rapped a two-run single up the middle to put the Canadian squad into a 4-3 lead. They added one more on Reg Andrew's single to left. The Japanese loaded the bases in the 6th on two singles and a walk and Morisada tied the game with a hot shot just past the outstreched glove of second sacker Jim Paisley. Catcher Tadanori Murakami had three of Japan's 11 hits. It was the third consecutive win for the Japanese team in preparation for the Intercontinental Cup.
Kudo, Kubota (W) (6) and Murakami
McIntyre, Heisler (3), McMillan (5), Brandon (6), Barr (L) (7) and Brown, Morrice (5), Logan (7)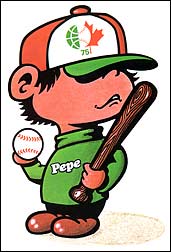 (August 14) Fred Cardwell shook off the pain from a line drive to the knee to go the distance in pitching Canada to a 4-2 victory over South Korea in the opening game of the Intercontinental Cup senior baseball championships at Moncton. The 28-year-old lawyer handcuffed the Koreans on six hits allowing just one earned run. Canada took the lead in the first inning when plate umpire Peter LePage called a balk on pitcher Yong-Soo Kang sending Ted Springenatic home. After the Koreans tied the match in the bottom of the first. Canada went up 2-1 in the second as Al Watson, who had led off with the single, scored on a fielder's choice. In the 6th, Woo-Yeal Kim reached on an error, advanced on a sacrifice and another miscue and scored on Hae-Chang Park's sacrifice bunt. Springentic's two-run double in the 7th provided the margin of victory.
Y.S. Kang, S.H. Lee (L) (2), H.J. Kim (8) and H. Park
Cardwell (W) and Watson
Nicaragua 5 Puerto Rico 4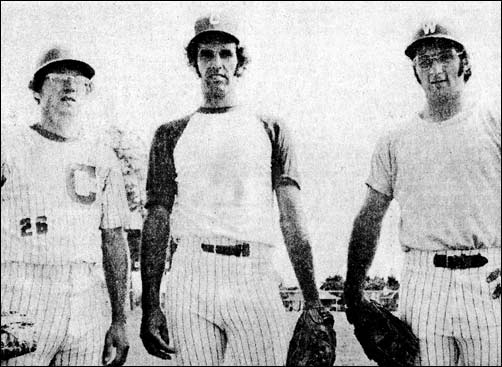 Three veteran members of the Canadian national team (from left to right) Dennis
Lindstrand, Camrose, Alberta, Bobby Thompson, Brandon, Manitoba, and Doug
Simon, Regina, Saskatchewan. Simon was named an All-American in 1974 and
1975 while playing at Washington State University. Moncton Times.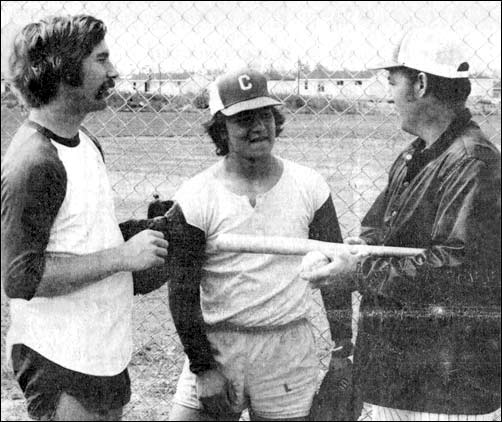 Canadian head coach Wayne Norton (right) talks with two of Canada`s first game
stars, Fred Cardwell (left) and Ted Springenatic (centre). [The Moncton Times,
August 16, 1975]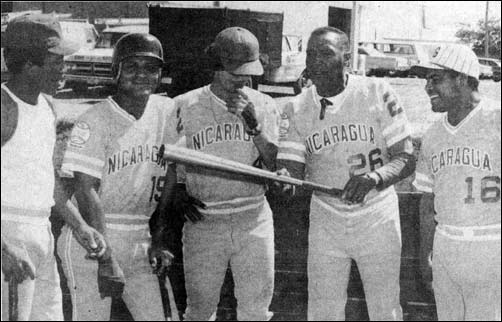 Nicaraguan coach Pedro Selva provides some pointers for his players in
preparation for the Intercontinental Cup. Left to right - Douglas Moody, Vicente
Lopez, Alex Torres, Pedro Selva and Orlando O`Farrill (Trainer). O'Farrill is
no stranger to Canada have played in Saskatchewan in the early 1950s with
Indian Head and North Battleford. [The Moncton Times, August 14, 1975]
(August 15) The United States jumped on three Puerto Rican hurlers for ten hits on the way to a 10-3 victory. Paul Molitor knocked in four runs, two coming on a homer in the 2nd inning. Tim Lewis was the winning pitcher with relief by Scott Sanderson and Bob Ferries. Jose Agostini, the Puerto Rican starter, took the loss.
Japan dumped Italy 9-2 as Kazuhiko Suzuki drove in four runs, two with a homer in the 4th. Seiji Kamioka went the distance for the win yielding six hits. Michele Roman was the loser for Italy.
(August 16) Canada moved to 2-0 with a 9-2 triumph over Nicaragua. Knuckle-ball artist John Osborne stopped Nicaragua on seven hits. He fanned five and walked six. Osborne was aided by three double-plays including one with the bases-loaded and none out in the 6th inning. Kevin Keith and Bob Thompson powered the attack each with a homer in the 7th inning. Keith also had a double while Dennis Lindstrand added a pair of doubles and a single.
Osborne (W) and Springenatic
Cruz (L), Espinoza (1), Zarate (7) and Tellez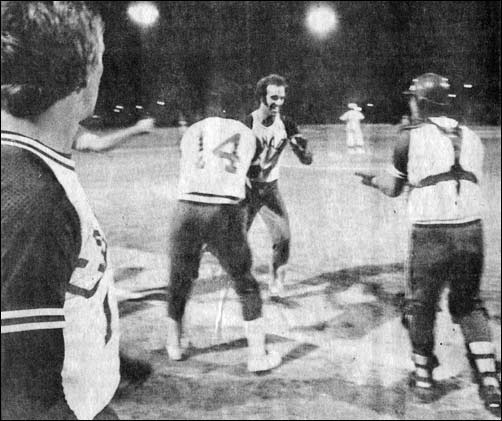 Bob Thompson receives congratulations from teammates Kevin Keith (14) and
Ted Springenatic (7) and he trots toward home after hitting a home run, following
another circuit clout by Keith. Moncton Times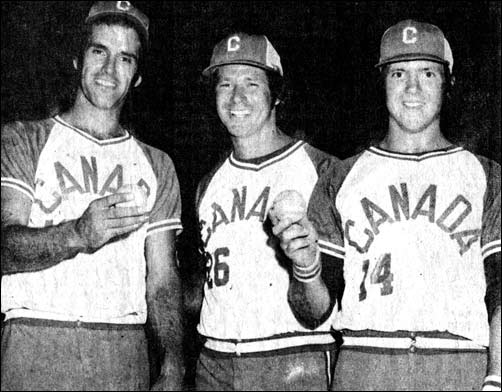 Canada`s first baseman Bob Thompson (left) and centrefielder Kevin Keith
(right), who cracked back-to-back home runs in a 9-2 victory over Nicaragua are
all smiles for Coach Wayne Norton (centre). Moncton Times
South Korea downed Colombia 12-7, running up a 9-0 lead before Colombia managed to get on the scoreboard. Humberto Barjuelo and Wilfredo Tobinson of Colombia had the game's big blows, Barjuelo with a two-run homer and Tobinson with a three-run blast.
HJ Kim (W), Kang (6) and HC Park
Guete (L), Marimon (2), Ruiz (2) and Tobinson
(August 17) The US blanked Italy 12-0 as right-hander Steve Powers (left) held the Italians to four singles. Puerto Rico finally managed a win Sunday tripping Colombia 9-2 as Thomas Garcia and Pedro Martinez belted a pair of homers and Roberto Vasquez had three hits, including a pair of doubles. Degoberto Cavadia accounted for all the Colombian scoring with a two-run homer. Luis Martinez went the distance for the win.
Daniele, Foppiani (8), Peritti (9) and xxx
Powers (W) and Gustavson
Martinez (W) and Cardona
Jaramillio (L), Guetter (3), Contrerer (4) and Tobinson

(August 18) Rain helped wash out Canada`s chances for a 3-0 record at the Intercontinental Cup at Moncton. Italy downed the Canadians 1-0 in a game called in the 6th inning. Italy pushed across a run in the first inning as Giorgio Costelli singled in Michele Romano. Lefty Frederico Martone held Canada to five hits in claiming the mound victory. Fred Cardwell was tagged with the loss giving up seven hits. He struck out six without a base on balls. Canada had a man on second with one out when the game was called.
Martone (W) and Orrizzi
Cardwell (L) and Springenatic
(August 19) Puerto Rico topped South Korea 4-1 as Rodriguez and Quinones combined on a five-hitter. Alejandro Gonzalez, Puerto Rico's speedy centrefielder drew a walk in the first inning, stole second and scored on Hector Ayala's double. With the scored tied 1-1, Gonzalez reached on an infield hit in the 4th, advanced on a single by Jose Lugo and sped home on a fielder's choice as the first sacker juggled the throw from second.
Rodriguez (W), Quinones (5) and Cardona
Kim (L), Lee (6) and HC Park
First baseman Ron Hassey belted a homer and single to lead the United States to a 4-1 triumph over Nicaragua. Scott Sanderson, all 6'5" of him, pitched a gem. He allowed just six hits and fanned 13.
Sanderson (W) and Gustavson
Altamirano, Espinoza (L) (3) and Lopez
(August 20) Pedro Cherubini and Frederico Martone combined on a five-hit shutout as Italy blanked Columbia 2-0. Abel Leal took the loss.
Leal (L) and Tobinson
Cherubini (W), Martone (6) and Ortrizzi


Japan unleashed a 16-hit attack to trounce Nicaragua 11-1. Second baseman Katsuhiko Fukuzaki (left) led the offense with three hits and three driven home. Catcher Masakazu Satake had three hits and scored a pair. Tadayoshi Tamura (right) allowed just three hits in his seven innings of work.
Torrez (L), Zarate (7), Velasquez (7) and V. Lopez
Tamura (W), Hayakawa (8) and Satake
(August 21) Japan scored a second inning run on a bases-loaded walk and that was all the scoring as the Japanese shaded South Korea 1-0. Makoto Kodo and Minoru Hayakawa combined to pitch the shutout. Ho-Joong Kim was the loser.
Kim (L), Lee (5) and HC Park
Kodo (W), Hayakawa (7) and xxx
Nicaragua erupted for six runs in the fourth inning, topped off by Cesar Jarquin's three-run triple, en route to a 9-5 decision over Colombia. Humberto Bayelo had given Colombia a brief lead in the first inning with a four-bagger.
Cruz (W), Espinoza (9) and xxx
Contreras (L), xxx and xxx
Canada got a reprieve when its contest with the USA was called because of rain with the Canadians trailing 4-3 in the second. The game is to be restarted.
(August 22) Canada jumped into an 8-2 lead then hung on for an 8-7 win over Colombia. Starter John Osborne needed 8th inning relief help from Fred Cardwell after surrendering three runs that pulled Colombia back into contention. Cardwell ended the rally and retired the side in the ninth. Marty Maxwell and Dennis Lindstrand each drilled a two-run triple.
Osborne (W), Cardwell (8) and xxx
xxx and xxx
Puerto Rico edged Italy 5-4. Giorgio Catelli slugged a two-run homer for Italy.
Luis Martinez, xxx, xxx, Jose Agostini and xxx
xxx and xxx
(August 23) Home runs by Denny Walling and Ron Hassey sparked the US to a 5-2 win over South Korea.
xxx and xxx
xxx and xxx

An 8th inning grand slam home run by Yoshihiro Maekawa (right) highlighted Japan's 11-1 victory over Puerto Rico.
xxx and xxx
xxx and xxx
(August 24) Southpaw Steve Lane lost a no-hit bid with two outs in the ninth inning as the United States defeated Canada 6-0. Canada had two runners on base after a hit batter and walk when Brent Hallett beat out an infield hit to the left side for the only Canadian hit of the game. Lane then got Jim Thomas to force Hallett to end the game. Lane walked ten and hit a batter. He worked out of a bases-loaded situation in the fifth inning getting Kevin Keith to ground out. The Americans took a 3-0 lead in the first inning highlighted by Jerry Mondalto's two-run double.
Lane (W) and xxx
xxx and xxx
(August 27) Canada's ace, right-hander Fred Cardwell fired a five-hit shutout as the Canadians downed Puerto Rico 8-0 to win a spot in the Intercontinental playoffs. Canada nursed a 2-0 lead into the 8th inning when Dave Grass knocked in a run with a double and Jim Thomas blasted a two-run homer. They added three more in the ninth on three hits and a pair of errors. Miguel Rivera took the loss.
Cardwell (W) and xxx
Rivera (L) and xxx
Pedro Selva sparked Nicaragua to a 10-4 win over Italy with a three-run triple in the first and a bases-loaded walk in a six-run second inning. Alex Torres added a two-run single. Starter Julio Espinoza picked up the win.
Espinoza (W), Zarate (9) and xxx
xxx and xxx

South Korea topped Italy 11-4. Hae-Chang Lee had just one hit but knocked in four runs. Starter and winner Sun-Hee Lee (right) pitched hitless ball until the seventh inning when the Italians scored all their runs.
Lee (W), Kang and xxx
Foppiani (L) and xxx
(August 28) The United States edged Japan 1-0 in a 12-inning thriller Thursday night. Jerry Mondalto was the hero for the Americans with a single to centre to drive in Ron Hassey with the winning run. Hassey reached on an error and advanced on a sacrifice and wild pitch. Scott Sanderson, the third pitcher for the US, hurled three perfect frames to gain credit for the win.
xxx, xxx, Sanderson (W) (10) and xxx
xxx and xxx
Tadanori Murakami (left) had five hits and knocked in three to lead Japan to a 9-2 win over Colombia. Fumio Isobe had two hits and drove in a pair. Yoshihiro Maekawa had three hits. Yoshiro Kubota, the second of three Japanese pitchers was given the win. Abel Ruiz took the loss.
xxx, Kubota (W), xxx and xxx
xxx, Ruiz (L), xxx, xxx and xxx

Right-hander Ho-Joong Kim (right) scattered seven hits and fanned 11 to lead South Korea to a 5-2 victory over Nicaragua. Dong-Kyun Yoon had three hits, scored a pair and drove in two.
Kim (W) and xxx
xxx and xxx

(August 29) Japan crushed Canada 8-1 to nail down first place in Group A with a 6-1 record. Canada finished with a 4-3 mark.
Yoshihiro Maekawa slugged a pair of homers, a triple and single to lead the Japanese attack. Fumio Isobe drove in two runs with a triple and single. A bases-loaded walk to Dave Grass scored Canada's only run in the fifth inning. Starter Seiji Kamioka was handed the win with relief help from Minoru Hayakawa.
xxx
Kamioka (W), Hayakawa (5) and xxx
The USA handed Colombia a 12-2 shellacking to compile a perfect 7-0 record. Jerry Mondalto had a run-scoring double and two-run homer to pace the Americans. Kip Young checked the Colombians on five hits. Abel Ruiz took the loss.
Young (W) and xxx
Ruiz (L), xxx (2) and xxx
(August 30) USA 7 CANADA 5, JAPAN 11 NICARAGUA 0
(August 31) The United States jumped into a 4-0 lead by the second inning and cruised to an 8-0 win over Japan in the championship game of the Intercontinental Cup Tournament. The US, which finished the round-robin with a 7-0 record, advanced to the final with a 7-5 win over Canada on Saturday. Japan topped Nicaragua 11-0 in their semi-final.
Winning pitcher Bob Ferris held the Japanese to just five hits. The Americans struck for the first run off losing pitcher Tomoyasu Hagino in the first inning as Paul Molitor walked, stole second and scored on a double by Ron Hassey. The US chased Hagino in the second as they broke the game wide open with a three-run outburst.
Hagino (L), Hayakawa (2), Kubota (7) and Satake
Ferris (W) and Gustavason

In the consolation final, Pedro Selva crashed a lead-off homer in the bottom of the 9th inning to give Nicaragua a 5-4 win over Canada. Selva`s homer off Fred Cardwell was the only earned run for the Nicaraguans. Canada scored three runs in the first inning and led 4-1 in the 5th. Julio Espinoza picked up the win in relief of starter Portirio Altamirano.
Cardwell (L) and xxx
Altamirano, Espinoza (W) (1) and xxx
---

---
WESTERN CANADA INTERMEDIATE BASEBALL CHAMPIONSHIP TOURNAMENT
Altario AB Mets
South Central League MB All-Stars
Teulon MB Cardinals
Watrous SK Lakers
Wawota SK
Wilkie SK Brewers
(August 30-31 – September 1) Manitoba's Teulon Cardinals defeated Wilkie, Saskatchewan, Brewers 5-1 Monday to capture the Western Canada Intermediate Baseball Championship. Winning pitcher Doug Hooper of Waskada led the offense with a pair of doubles. Catcher Neil Palmer had two singles.

Teulon earlier downed Wilkie in the A Series final with Wilkie dropping to the B side and qualifying for the final by defeating Watrous Lakers 7-5.