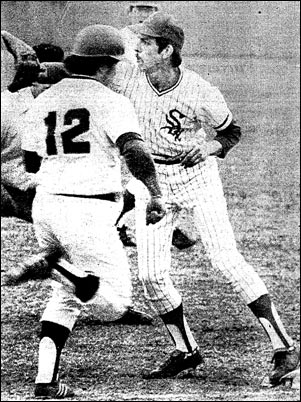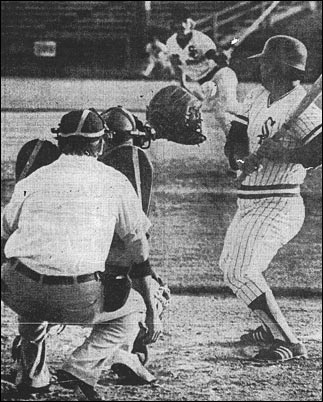 Left - Saskatoon Boston Royals' batter-runner Fred Maxemiuk is retired on an infield groundout at first base as Regina Red Sox' first sacker Rich Gergley takes the throw. Right - Swift Current Indians' pitcher Wayne Pusch brushes back Warren (Smokey) Kivell of the Regina Red Sox with an inside heater.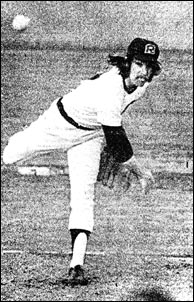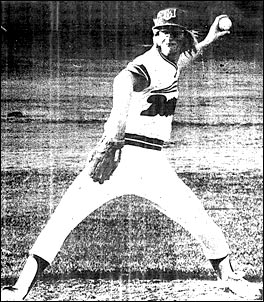 Left - Saskatoon Boston Royals' pitcher Wayne Plummer delivers a pitch to Unity
batter. Right - Moose Jaw Devons' southpaw hurler Rod Heisler during his delivery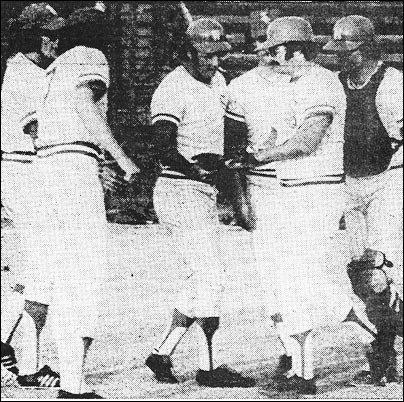 Left - Members of the Regina Red Sox congratulate teammate
Clark Compton at home plate following his home run.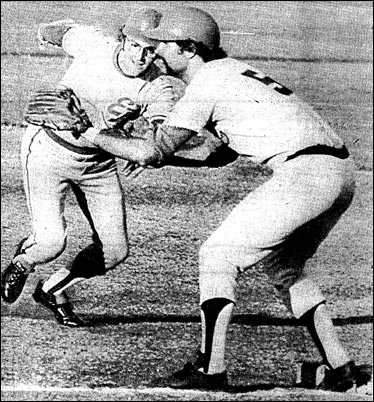 Eston Rambler's Greg Goldade scrambles back to first as
Saskatoon Boston Royals' first baseman Bryan Adams awaits
pickoff throw.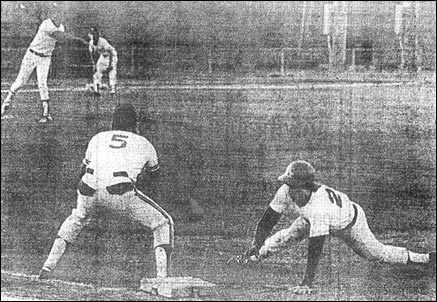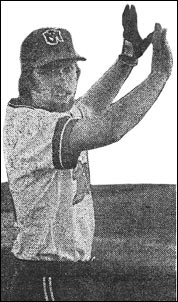 Left - Saskatoon Boston Royals' runner Don McLeod dives back into first base as Unity Cardinals' pitcher Brad Kelley attempts a pickoff. Right - Brad Hennenfent of the Moose Jaw Devons puts on the stop sign.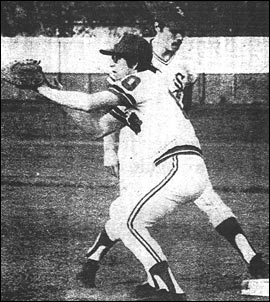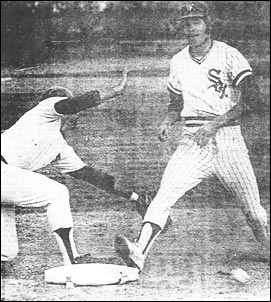 Left - Middle infielder Ned Andreoni of the Moose Jaw Devons covers the keystone sack as
a Regina Red Sox runner scrambles back. Right - Regina Red Sox runner Bob Currie evades
a pickoff tag at the initial sack.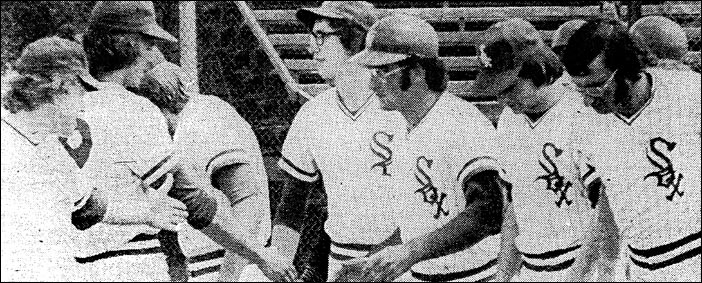 Doug Simon of the Regina Red Sox is greeted at the dish after slamming his first of three homers during a doubleheader against the Unity Cardinals.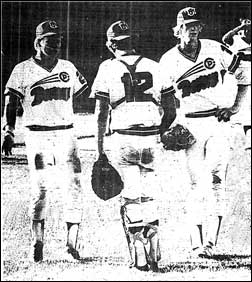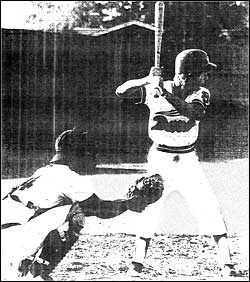 Above left - Moose Jaw coach Randy Vogt provides some encouragement to his battery, catcher Brad Devine and left-hander Rod Heisler. Centre - Glen Hollands of the Devons in his wind up. Right - Ken Neff of the Moose Jaw Devons waits for the pitch. That's Saskatoon's Dan Melendez behind the plate.