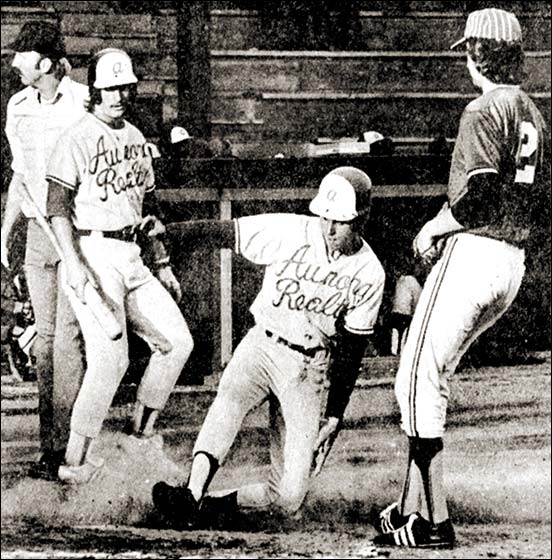 Dale Ramsey of the Auroras scores on a wild pitch as teammate Paul Watson and Piccinis pitcher Larry Mann look on during the second inning of the Pacific Metro League action at Queen's Park. Umpire Bob Henning has his eye on the ball, which is being pursued by catcher John Haar. But, Haar's hitting sparked a four-run fourth inning rally to give Puccinis a 6-4 victory.
(Brian Kent Photo, Vancouver Sun, June 23, 1976)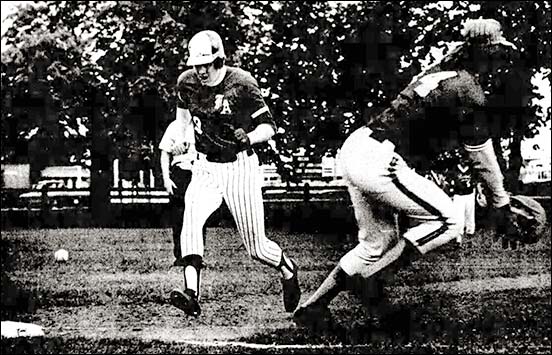 Somebody's obviously going the wrong way, and in this case it would appear to be the Vancouver Puccinis first baseman, right, during the game at Brighouse Park against the Richmond Fraser Arms. The Piccinis did little else wrong though, as the Vancouver club easily defeated Richmond 8-3.

(Brian Lee photo, Richmond Review, June 18, 1976)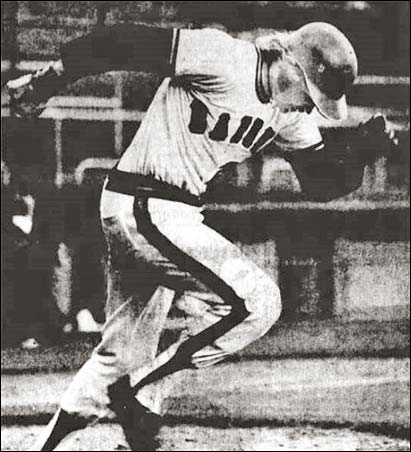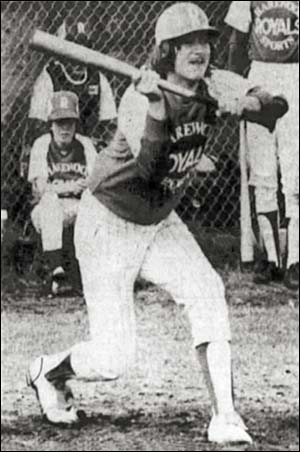 Above left - After rapping a hit, Don Gurniak of Burnaby digs for first. Right - Catcher Bruce Willgress of the Nanaimo Harewood Sports Royals begins to square around to lay down a bunt against Lake Cowichan in Mid-Island Baseball League action.
Below - Stu Winrob of Richmond pokes a two-bagger, the lone extra base hit of the game as Frasers dropped a 3-2 decision to Pharaohs in Pacific Metro baseball action at Capilano Stadium. Mike White is the Pharaohs catcher and Garnie Strahl the umpire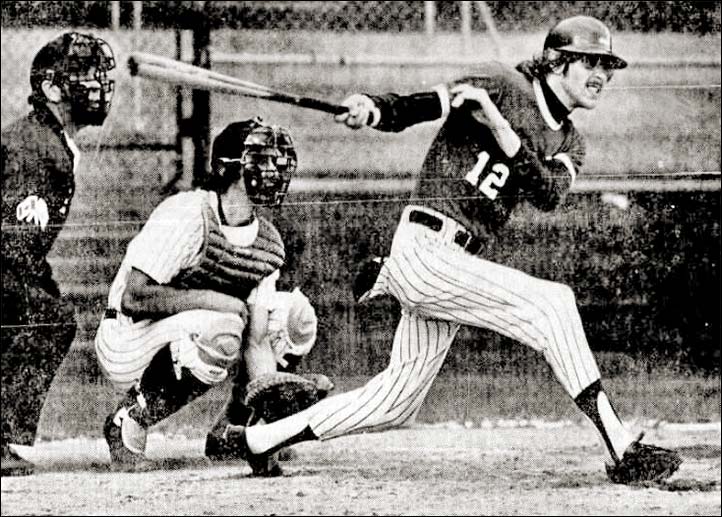 Nose-to-nose discussion is carried on between Surrey manager Norm Caig and umpire Laurie Rowe over a disputed call in Saturday's Pacific Coast Junior Baseball League all-star game at Queens Park Stadium. The teams tied 3-3.