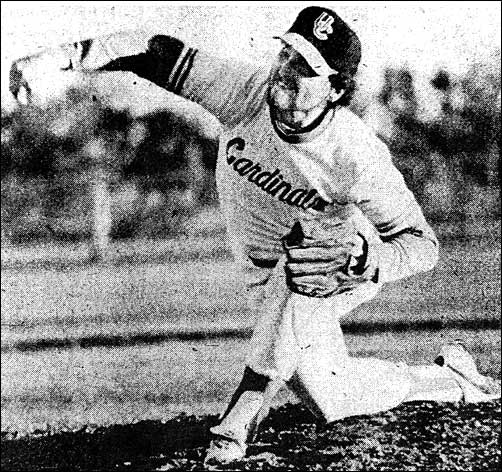 Unity Cardinals' righthander Rod Gehring displays great form in his delivery to home plate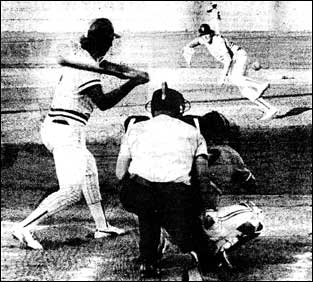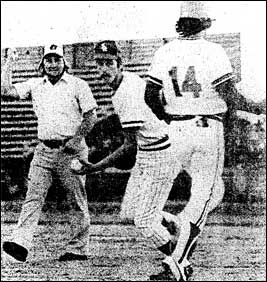 Left - Lefthander Roy Kemp of the Saskatoon Cals delivers a pitch to Bob Currie of the Regina Red Sox.
Right - First baseman Rich Gergley of the Regina Red Sox reacts after out-at-first call by base umpire on unidentified Moose Jaw Devons' runner.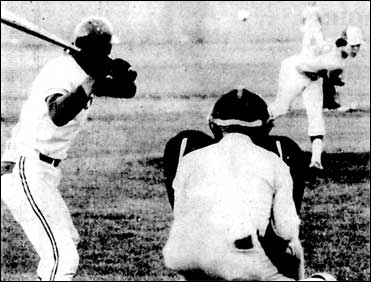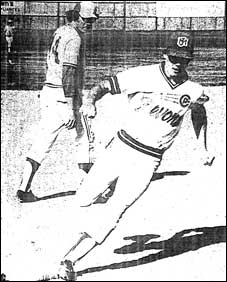 Left - Randy Munch of the Unity Cardinals sizes up an offering from pitcher Lloyd Guenther of the Saskatoon Cals while umpire Ace Corbin prepares to make a call.
Right - Third sacker Bram Wonko of the Saskatoon Cals watches Moose Jaw Devons' baserunner Ken Neff touch the bag on his way to home plate.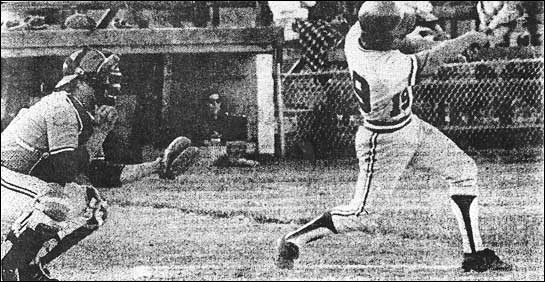 Eston Ramblers' Don Peters connects as Saskatoon catcher Al Sapieha looks on helplessly.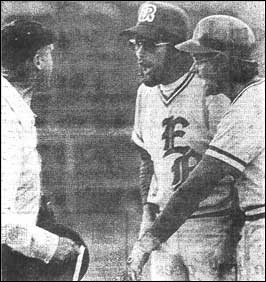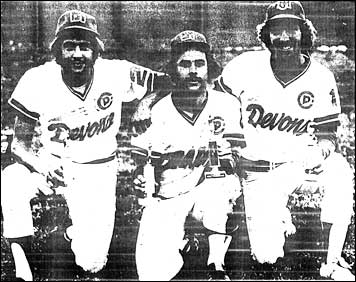 Left - Merle Byrnes and Greg Goldade of the Eston Ramblers express their displeasure with one of umpire Ace Corbin's calls.
Right - 1976 Moose Jaw Devons' award winners - (L to R) Tim Hengen (top pitcher), Tim Schroeder (MVP, top rookie), Brad Hennenfent (hustle award)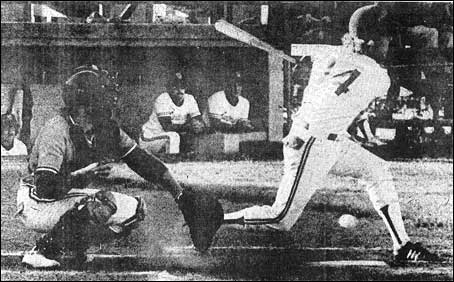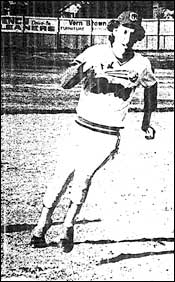 Left - Unity Cardinals' Byron Merkowsky swings and misses as Saskatoon Cals' catcher Scott Woronuik reaches for the ball.
Right - Moose Jaw Devons' Dan Andrie rounding third on his way to scoring a run.