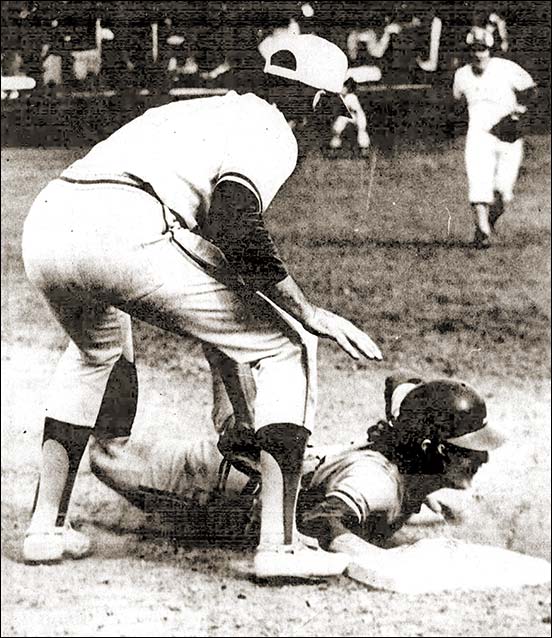 Surrey first baseman Stu Graham puts the tag on Bill Jackson of Richmond Fraser Arms Sunday during the second game of a Pacific Metro League double-header at Brighouse Park.
(Photo by Mike Gasher, Richmond Review, May 18, 1977)
Pick-off !
Richmond Fraser Arms first baseman Rich Miller misses Bellingham Bells runner Pat Locker in action at Brighouse Park.
(Steve Watt photo, Richmond Review, June 29, 1977)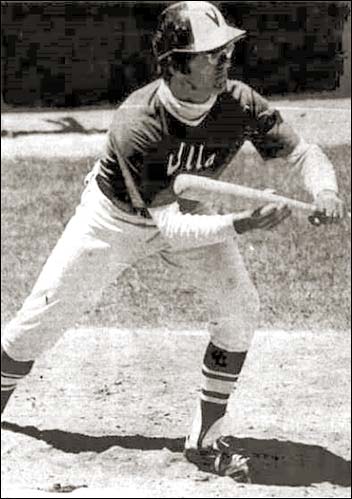 An unidentified player from the Nanaimo Villas gets set to lay down a bunt during the first game of an interlocking Victoria – North Island doubleheader at Nanaimo's Serauxmen Stadium against Greave's Movers of Victoria.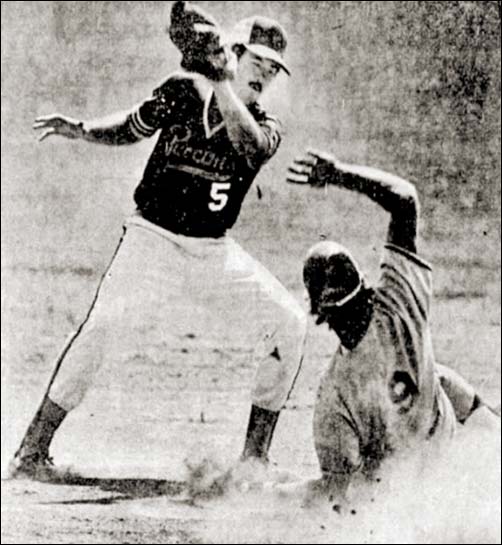 Puccinis Henry Somers swings to put the tag on Auroras Don Archer in a close play at second base in the BC Senior Championships at Capilano Stadium.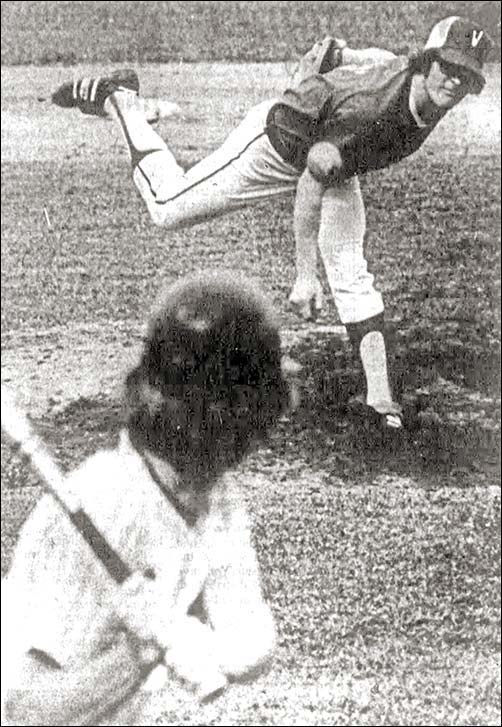 Jack MacDonald of the Nanaimo Villas delivers to a Port Alberni batter during the first game of a Sunday double-header. The Villas opened the season by splitting the pair, 13-12 and then 1-9 in the second game Serauxman's Stadium.
MacDonald combined with A. Gourlay and G. Thompson for the 10-inning 13-12 victory as Nanaimo came up 11 hits and survived 5 errors. In the second contest Jim Seredick of Port Alberni threw a four-hitter at the Villas as Port Alberni rolled to a 9-1 win with a 14-hit attack.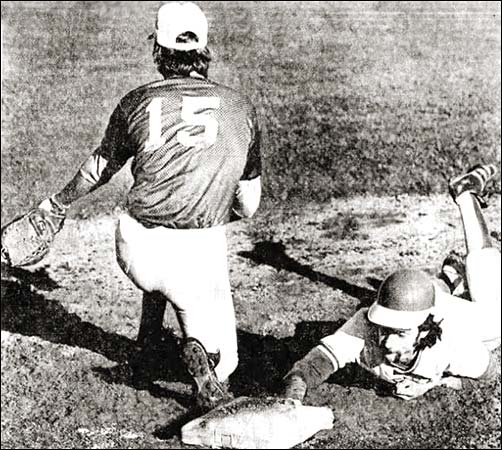 A pickoff move to first baseman Al Watson is too late to get diving Rich Houghton in Pacific Metro baseball action Thursday at Capilano Stadium. Puccini pitcher Rod McKay had more success throwing home, fanning six to lead Vancouver to a 4-2 victory over Surrey.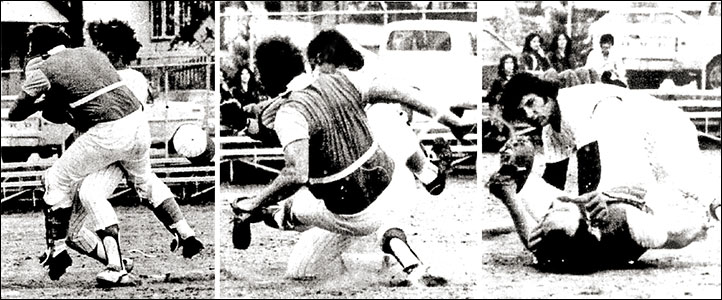 Trail Hotelmen's first baseman
Mike Mukanik
collides with catcher
Jim Munson
of the Colville Valley Lumberjacks in opening action in the Kootenay International Senior Baseball League at Butler Park. Trail took this one 14-4.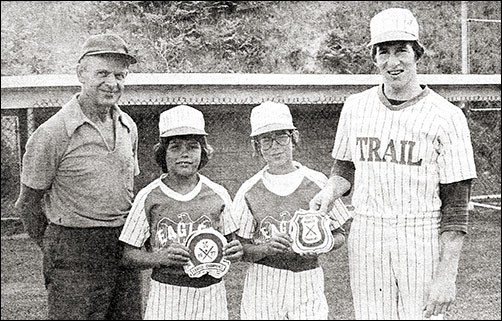 The Trail Hotelmen paid tribute to their alma mater by supplying the Trail Little League Eagles with crests in recognition of their first place finish in the regular schedule and playoff victors. Eagles coach
Andy Bilesky
, left, watches as captain
Raymond Lawley
displays some of the crests, while
Danny Demchuk
accepts the remainder from Hotelmen player-coach
Art Mercer.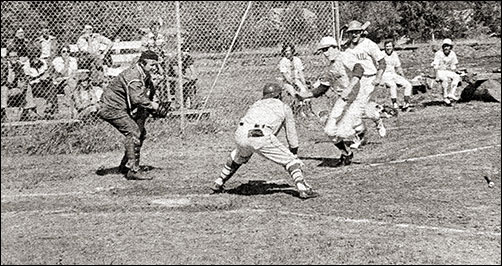 All attention is focused on the action at home plate as Jack Kelly the catcher for New Denver-Silverton Twins waits for the relay. Trail Hotelman Art Mercer was tagged out on this plate as he attempted to score. The Hotelmen went on to win 6-4 to take the league championship. Mike Mukanik is the one-deck batter. The Trail players on the bench are (L-R) John Mota, George Turner and Eddie Ferraro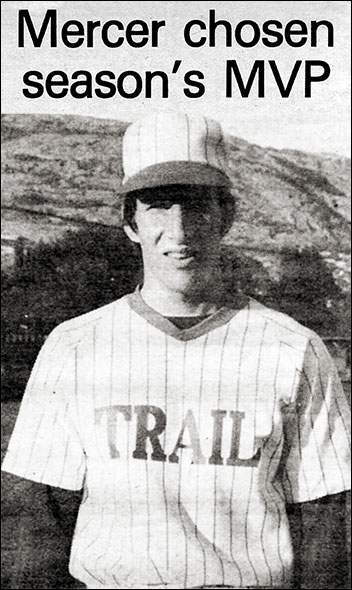 Art Mercer of the Trail Hotelman has been selected as the Most Valuable Player in the Kootenay International Senior Baseball League for 1977.
Mercer received two first-place votes, one second-place vote and one third-place vote from the respective league coaches to claim top individual honours, finishing in front of teammate Kevin Oliver and Brian Dickie of the East Kootenay Angels.
Mercer hit .333 with one home run and 10 RBIs. He had two game-winning hits, stole seven bases and had a fielding average of 1.000. Mercer will receive the Gerry Long Memorial Trophy.