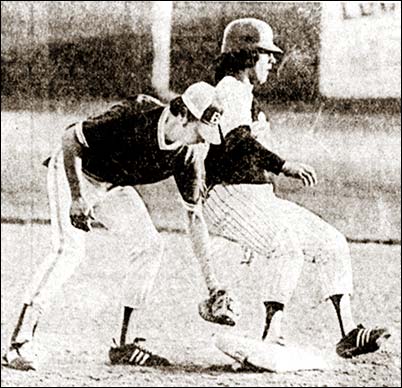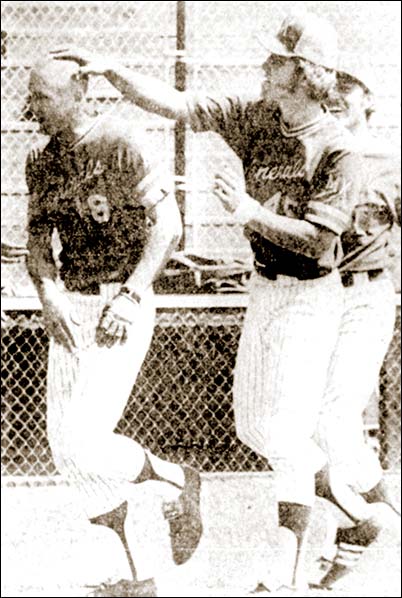 Red Deer's Pete Duncan (left) is late for a tag at first bases. Duncan's Border Players defeated the Edmonton Dusters 8-5.
Edmonton Journal, June 1, 1977
Gary Scott of the Red Deer Generals hoped some of Tom Johnson's home run power would rub off. Edmonton Tigers upset the Generals in a semi-final matvh of the Edmonton International Baseball Tournament at Renfrew Park.
But, the Red Deer Border Players scored three in the 12th inning to down Edmonton Tigers 6-3 for first money in the tourney
Edmonton Journal, July 11, 1977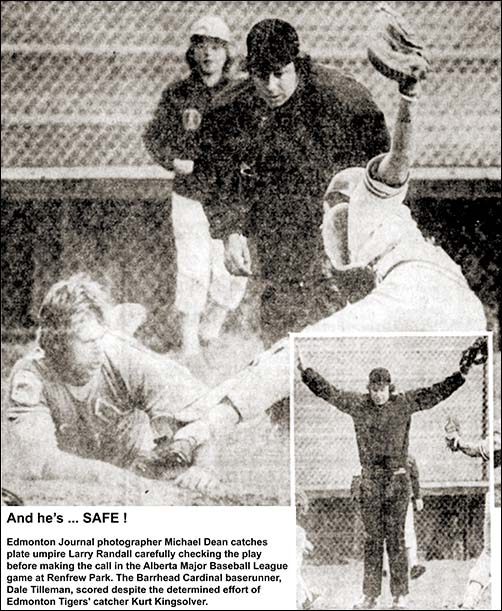 Edmonton Tigers shaded the visiting Barrhead Cardinals 7-6.
Edmonton Journal, June 17, 1977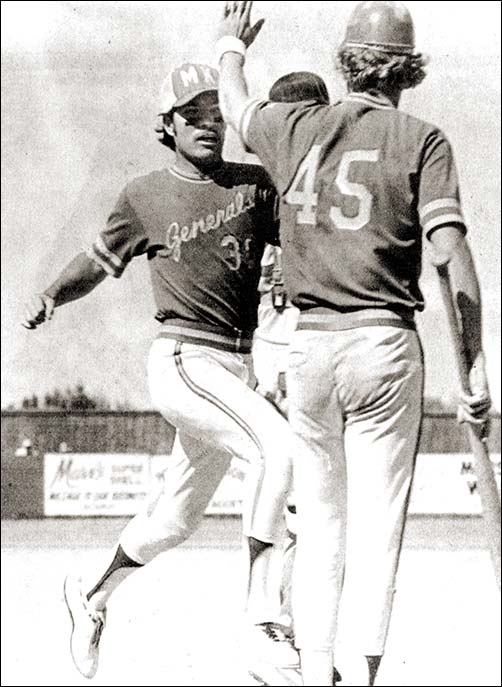 Mike Garcia of the Red Deer Generals crosses the plate with the first run for the Gens Wednesday as Gary Scott offers congrats. But Garcia's biggest slam for the home team was a bases-loaded home run in the bottom of the ninth inning to give the Generals a 12-10 victory over Unity Cardinals at the Lacombe Tournament. Generals would come from behind to top the Alaska Prospectors in the championshiip game.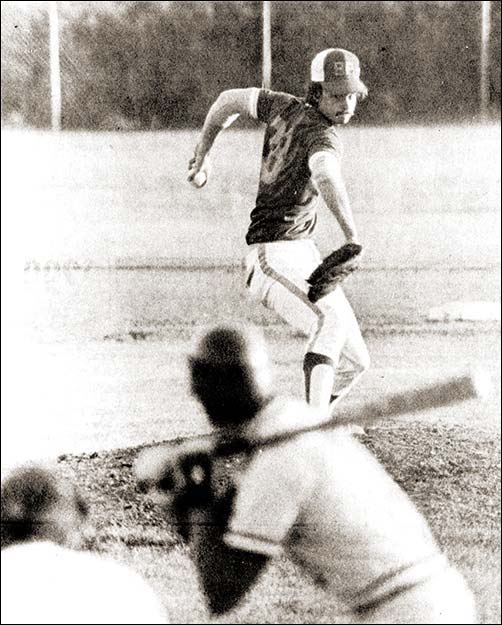 After a shaky first inning, Gorman Heimueller of the Red Deer Border Players was in top form Tuesday, June 14th, although it was a day he didn't have to be as the Players knocked out 19 hits in crushing the Edmonton Tigers 14-2 as Harold Johnson, the birthday boy (20th) rapped four hits, including a pair of homers, and added a walk for good measure.
Heimueller allowed the two runs in the first inning then blanked the Tigers the rest of the way. He allowed just three hits, fanned ten and walked two, throwing just 106 pitches in the complete game victory.
Red Deer Border Players' shortstop Terry Hendley is too late with the tag on Edmonton's Murray Wilson on a steal at second base.