BIRTLE ANNUAL MSBL CANADA DAY $2500 BASEBALL TOURNAMENT
(July 1) Trailing 5-0, McAuley Blazers rallied for ten runs in the middle innings to defeat Binscarth Orioles 10-7 in the final of the Birtle Manitoba Senior League Tournament to take home $600 top money in the ten team event.

Orioles jumped into an early lead with a run in the second and four in the third. The Blazers got on the scoreboard with three in the top of the fourth and exploded for seven runs in the fifth. Singles by Terry Lynd and Barry Jamieson and a walk to Jon Langston set the stage for Dale Lowes who poked a double and Wayne Poole who followed with a single to send Binscarth starter Rod Enerson to the showers. Hank Ashworth greeter reliever Garth Neville with a single and after a walk to Grahame Lee, Langston singled before the Blazers were shut down. The game was called after eight innings due to darkness.

McAuley earned a berth in the final by defeating Riverside Canucks 3-1 while Binscarth edged Dauphin 7-6.
In opening round play, Virden Oilers beat Neepawa Cubs 4-3, Souris Cardinals needed an extra inning to take out Grandview Lakers 6-5, McAuley shaded Hamiota Red Sox 3-2 and Dauphin upset the Brandon Cloverleafs 12-6. Riverside then trounced Souris 9-1 and Binscarth shelled Virden 14-1.
J.Poole, Ashword (W) (3), Langston (7) and Ashworth, Lowes (3)
Enerson (L), Neville (5) and Lang
---
ENDERBY CANADA DAY TOURNAMENT
(July 1-2) Calgary Odeons came away with the top prize at the Enderby Canada Day Tournament, a round-robin affair. The Alberta club Calgary downed Quesnel 4-1 behind the strong mound work of Jim Berlando and whipped Enderby 8-4 although Jeff Collins swatted a four-bagger for the losers. Calgary then they wrapped up the tourney with an 8-4 decision over the Vernon Babe Ruth All-Stars to win all three matches. Stu Swinehart was the winning hurler over Bill Pryor.
Quesnel managed two wins to finish second. Trailing Enderby 11-2 after six innings, Quesnel mounted a huge comeback to shade the Legionnaires 12-11, in spite of Gerry Reimer's three-run homer and a 16-hit attack. Ed Johnston, Brain Gibbons and Stu Sonne each punched out three hits for the Legionnaires. Harry Lumb had four safeties for the winners. Quesnel also topped Vernon, 10-4.
The host club notched a big 12-2 victory over Vernon with Wayne Aalto on the hill in it's first game Gary Zepel and Jeff Collins each had three hits. But then fell to the Odeons and Quesnel.
---
ESTON TOURNAMENT
(July 1-2) The host Eston Ramblers downed Moose Jaw Devons 5-1 in the final of the Eston Tournament. Ramblers had reached the championship game with a win over Saskatoon Patrick Liners while Moose Jaw shaded Regina 4-1.
In opening action, Moose Jaw shaded the Edmonton Cardinals 8-3, Regina topped Unity 7-2, Saskatoon got by Two Hills, Alberta, 3-2 and Eston beat Dickinson, North Dakota, 7-1.
---
SURREY SPORTS / WHALLEY DOMINION DAY TOURNAMENT
(July 1-2) Rain spoiled the first major baseball tournament at Whalley Ball Park Saturday forcing an early end to the semi-final and the tourney. Vancouver Puccini's and New Westminster Auroras were tied for first place each with two wins when the event was called. Seven teams, from Everett, New Westminster, Burnaby, Vancouver and Surrey. competed in the $3,500 event.
---
EDMONTON INTERNATIONAL TOURNAMENT
(July 8-9-10) It took 12 innings but the Red Deer Border Players emerged with a 6-4 victory over Edmonton Tigers to capture the Edmonton International Baseball Tournament. Tigers out-hit the Players 12-8 but made eight errors, including one which brought in the winning run. Ken Nelson singled to open the 12th for Red Deer and Terry Henley was credited with a single when right fielder Terry Ryan lost the ball in the lights. The deciding marker came home when second baseman Rick Peterson allowed Brian McCook's grounder to get away. The Players notched a pair of insurance runs on a two-run double by Harold Johnson. Jim Peterson went all the way for the win. Randy Gregg, who pitched into the 12th, took the loss. Pete Duncan had the only homer, a solo shot which tied the game in the 8th inning.
Peterson (W) and Price
Gregg (L), Brown (12) and Franchuk
Brian McCook's pinch-hit single in the 7th inning plated Grant Becker with what turned out to be the winning run as Red Deer shaded Eston 5-4 in a semi-final match. Fred Cardwell worked three hitless innings in relief to preserve the pitching win for Brian McAusland, who faced just two men in the 6th. Pete Duncan had a homer and single for the winners.
Hendley, McAusland (W) (6), Cardwell (7) and Price
Murphy (L) and Morrice
In a slugfest, the Edmonton Tigers beat the Red Deer Generals 12-11 with a run in the bottom of the 9th to advance to the tourney final. After giving up three runs in the top of the inning, Randy Gregg lined a one-out double to score Kurt Kingsolver. Tigers out-hit the Generals 20 to 9 with Randy Rasmussen, Kingsolver and Gregg each with three. Jim Selvitella, who had three hits, belted a homer in the 9th for the Generals.
Hinrichs, Camp (5), Dansen (6), Henley (L) (6) and Johnson
Rivera, Grey (W) (6) and Kingsolver

Gorman Heimueller (right) fired a four-hitter as Red Deer topped Rapid City, South Dakota, Macy's 6-1 in the opening round of the Edmonton International Tournament.. Pete Duncan provided the firepower for the Players with a three-run homer in the third and a solo shot in the seventh. Val Mayden's 6th inning homer for Rapid City deprived Heimueller of a shutout.
Heimueller (W) and Price
Chamberlain (L), Abeyla (6) and Whitmer

The Red Deer Generals rapped four home runs against Barrhead Cardinals to take a 10-7 decision. Gens trailed 7-6 going into the seventh when Gary Scott, who had doubled, scored on a ground out to tie the count. Marty Coil's (left) 8th inning homer put them in the lead and Tom Johnson clouted a two-run homer in the 9th as insurance. Bruce Chaney and Mike Anicich also homered.
Behlen, Camp (6), Henley (W) (6) and Johnson
Liber, Curtis (L) (4), Osborne (8) and Teahen
Eston Ramblers notched a 3-1 win over a combined Edmonton Duster - Lac La Biche entry in a game played Sunday after a downpour Saturday night. Steve Kaia and Robert Murphy combined on a four-hitter for the win.
Kaia (W), Murphy (9) and Morrice
Kowalishen (L) and Faulkenbury
Edmonton Tigers crushed the Edmonton Cardinals 12-1 Friday to open the Edmonton International Tournament.
xxx and xxx
xxx and xxx
---
BELMONT INTERNATIONAL TOURNAMENT OF CHAMPIONS
(July 10) McAuley Blazers, winners of the Birtle Tournament on July 1st, defeated Crookston Reds of Minnesota 9-5 Sunday in the final of the four-team International Tournament of Champions at Belmont.
Terry Lynd paced McAuley's 18-hit attack with a pair of doubles and two singles. Hank Ashworth kicked in with two doubles and Brian Rose collected three singles. Barry Jamieson, in relief of starter Jamie Poole, got credit for the win.
Blazers, who received $500 first prize money and the Two Nations' Cup, had advanced to the final by sidelining the Hatton Vikings of North Dakota 7-5. Reds defeated Riverside Canucks 11-2. In the consolation final, the Canucks pulled through with a 4-2 victory. Crookston's Bob Baab was named the MVP of the event batting 1.000 for the day with four hits and four walks in his two games. The tourney drew a crowd of about 1,500.
J.Poole, Jamieson (W) (3) and Ashworth
Olson (L), Przybyiski (8) and Bakken
---
BARRHEAD TOURNAMENT
(July 16-17) Rain spoiled a match up between the two Red Deer clubs, the M&K Generals and the Border Players, in the final of the 7th Annual Kinsmen Tournament at Barrhead. Another downpour forced the cancellation after the Generals had reached the final trouncing Two Hills 12-1 and the Players had upended the host club 9-3.
A three-run, first inning set the Players on the way to their semi-final win over Barrhead. Cardinals' starting pitcher Clint Curtis walked the bases full and Pete Duncan delivered a two-run single to start the scoring. Terry Hendley and Duncan each had two hits for the winners. Larry Nakonechny drove in three runs. After a rocky first inning in which the Players gunned down two runners heading for the plate and picked off another, Gorman Heimueller settled down until the seventh when one of his offerings struck Barrhead manager Gary Picone on the elbow. With his next pitch Heimueller hit Lorne Niven. Jim Peterson finished.
Heimueller (W), Peterson (7) and Price
Curtis (L), Osborne (1), Paiement (5) and Sady, Hollett (4)
Steve Behlen held Two Hills to just three hits and the Generals pounded out 11, and were helped by eight errors, in a 12-1 victory called after seven innings. Marty Coil drove in three runs for the winners.
Behlen (W) and Johnson
Compton (L), Vincent (4) and Danielson
Two Hills blew a 9-1 lead but recovered and scored two in the 8th to upset the Edmonton Tigers 11-9. Tigers had taken the lead with a six-run outburst in the top of the 8th.The teams combined for 31 hits.
Erasmus, Brown (L) (5) and Kingsolver
Danielson, Vincent (8), Compton (W) (8) and Gil
Ray Royce tossed a three-hit shutout as the Red Deer Generals blanked the Edmonton Dusters 6-0, taking advantage of four Dusters' errors. All the runs were unearned. Chuck Hensley was the tough-luck loser, allowing just six hits.
Hensley (L) and Faulkenbury
Royce (W) and Johnson
Terry Hendley had a no-hitter as the Players whipped Prince George 14-1 in a seven inning contest. The right-hander fanned 13 in the gem with the only run against him coming in the 7th inning on three consecutive errors. It was the second no-hitter in tournament history. Mike Souza of San Mateo hurled the first against the Cardinals in 1971. Hendley and battery-mate Al Price each had three hits and drove in three runs. Wayne Schneider knocked in three with his two safeties. Players scored ten runs in the second inning to put the game on ice early.
Corness (L), Cameron (2) and Wheele
Hendley (W) and Price
Fritz Brown and and Ray Paiement combined on a four-hitter as Barrhead crunched North Battleford 10-0. Steve McMannon knocked in three runs with a homer and double. Steve Dergance also belted a homer. Jerry Hollett, Gary Picone and Girard Tondreau each had two hits.
Reynolds (L), Laird (6), Becotte (7) and Hanus
Brown (W), Paiement (6) and Sady
---
UNITY TOURNAMENT
(July 16-17) The Lac La Biche Dodgers of the Alberta Major Baseball League exhibited outstanding hurling in taking top money at the Unity Tournament. The Dodgers swamped Moose Jaw Devons 10-0 in their opening game of the tournament. Terry Christman fired the shutout and Jim McDonald accounted for six runs with a pair of homers.
Christman (W) and xxx
xxx and xxx
The Dodgers downed the host Unity Cardinals 7-1 in their second game as Larry Kowalishen tossed a three-hitter. Monte Mello took the loss.
Kowalishen (W) and xxx
Mello (L), Dave Sandoval (8) and xxx
In the championship game, Lac La Biche crushed Eston 12-2 behind a four-hitter by Dennis King. The Dodgers pounded out 13 hits.
Unity shaded Saskatoon 8-7 in opening round action.
---
QUESNEL BILLY BARKER TOURNAMENT
(July 16-17) Surrey Sabres ran off with top money of $600 Sunday for their 5-0 triumph over Enderby in the final of the Billy Barker Days Tournament at Quesnel.
The game was called after five innings because of darkness. Gord Fitzer fired a two-hitter for the shutout victory. It was Enderby's fourth game of the day and third in succession.
In a semi-final against Quesnel, Enderby got off to a quick 5-1 lead. Ed Johnson singled and scored in the first inning to get Enderby on the board then crushed a three-run homer in the second. Quesnel battled back and Ralph "Bud" Engelsby rapped a two-run single to tie the game at 5-5 in the fourth. Brian Gibbons laced a two-run double in the sixth to put Enderby back on top, 7-5.
In the seventh, Ron Carter smashed a two-out, based loaded double. But, the runs were wiped out when it was ruled the runner on first was out for having missed touching second base. The ruling prompted a 20-minute delay as the teams argued about the call. The protest committee then ruled the runs did count, making in 9-5 with half an inning to play.
Quesnel narrowed the margin on a two-run single by Cummins and had the bases loaded with two outs before a grounder to third ended the game.
Quesnel had earlier dropped a 2-1 decision to Surrey. In Quesnel's opening contest Bud Atkins fired a no-hitter in a 3-0 win over Smithers Glaciers.
Smithers had beaten Prince George 7-1. Kamloops committed six errors and was thumped by Surrey 10-1. Enderby beat Sexsmith Rainiers 5-1 behind Ron Carter's hurling.

Sexsmith topped Kamloops 8-0 with Lowell Inoe slugging a two-run homer for the winners.
Surrey slipped by Enderby 3-1 behind Penman's four-hitter to best Wayne Aalto for the Legionnaires. Penman also led the offense with a pair of two-baggers. Sexsmith took Smithers 10-4 and Enderby whipped Prince George 11-4 with Brian Gibbons on the hill.
Enderby overcame an early 2-0 deficit to beat Sexsmith 4-2. Ron Carter copped the pitching win.

---
LACOMBE TOURNAMENT
(July 20-21) In a tournament noted for its offensive displays, Red Deer Generals captured the top money at the Lacombe Tournament with the help of an oustanding relief pitching performance in a come-from-behind 11-10 victory over the Fairbanks, Alaska, Prospectors in the championship game.
Mike Henley, the fourth Red Deer hurler, was hero for the winners taking over mound duties in the third inning and holding the Alaskans at bay for the remainder of the contest. Generals had jumped into a 6-2 lead but the Prospectors erupted for eight runs in the bottom of the third inning to take a 10-6 lead. Henley came aboard with two out and runners on second and third. He gave up a single, but then held the powerful American squad to just three hits in the last 6 1/3 innings. Red Deer won the game inh the 8th without a hit. Losing pitcher Ken Hatfield issued four walks to force in one run and two more came home when Hal Harris hit into a force play and shortstop Gary Irvin made a wild throw on the tail end of a potential double play. The final drew a crowd of 3,000.
It was the second title in four years for the Generals. Tom Johnson, named the MVP of the tournament, had two hits for the Generals. Henley was named the top pitcher. Grant Becker and Gary Scott each smacked homers for Red Deer. Jim French had a four-bagger for the Prospectors.
Henrichs, Dondero (3), Hensley (3), Royce (3), Henley (W) (3) and Johnson
Hatfield (L) , Rajsich (3) and Cey
Tom Johnson powered the Generals into the final with a three-run homer in the sixth and a grand slam in the seventh in a 19-7 win over Eston Ramblers. Hal Harris smacked a three-run homer in the first to put Red Deer in the lead after Eston had plated a pair in the top of the initial frame as starter Steve Behlen walked four and reliever Steve Sproesser issued another. Robert Murphy smashed a homer with one aboard in the second for the Ramblers but Chuck Hensley took over and went the rest of the way for the win. Marty Coil cracked a pair of homers for the Generals and Jim McDonald had a circuit blow for Eston.
Heimueller (L), Murphy, xxx and xxx
Behlen, Sproesser (1), Hensley (W) (2) and xxx
Fairbanks outlasted Macy's Diesel of Rapid City 16-12 in the other semi-final. Trailing 12-11 into the bottom of the ninth, Prospectors got the tie on a bases loaded walk and then with two outs and the bases loaded, Jim Ransom cracked a grand slam homer for the win. A three-run homer by Rick Hatfield highlighted a seven-run fifth inning which helped Macy's wipe out a 7-3 deficit. Alaska went ahead with four in the seventh, two of them coming home on a pinch-hit double by Rob Rajsich but Rapid City tied it on a homer by Dan Whitmer in the eighth. Mike Guerra had a fifth inning homer for Rapid City. Catcher Doug Cey, brother of Dodger infielder Ron Cey, and centrefielder Nick DeGennero also had homers. back-to-back blasts in the third. Cey (4-for-5), DeGennero (4-for-4) and Ranson (4-for-5) accounted for 11 of the Prospectors 17 hits in the contest.
Syers, Graves (3), xxx (3), Teuchert (3), Bull (L) (4) and xxx
Costello, Stewart (5), Hatfield (W) (9) and Renkoski
Red Deer M&K Generals rallied in the bottom of the 9th inning to down Unity 12-10 in first round action. Down 10-7, Mike Garcia's grand slam homer, after an error, walk and base hit, provided the margin of victory. Rod Gehring started for the Cardinals and pitched well until the 7th inning when Dave Sandoval relieved to stem a Red Deer outburst. The Cardinals had 13 hits, three by Glen Miller, including a homer. Bob Brown and Monte Mello also had four-baggers.
Fairbanks downed Edmonton Tigers 6-4.
Rajsich (W), Stewart (9) and Renkoski
Rivera (L), Osborne (9) and Kingslover
Eston Ramblers blanked Dilworth, Minn., 6-0 and Rapid City, South Dakota rapped 14 hits in trouncing the Regina Red Sox 9-1. Dan Hanggie slammed a homer for Rapid City and Manny Abeyla scattered seven hits for the win.
---
KILLAM TOURNAMENT
(July 23-24) Red Deer Players blew a 5-0 lead and had to settle for an 8-8 tie with Barrhead in the final of the Killam Tournament as darkness forced the game to be called after nine innings. Red Deer got three doubles, by Ken Nelson, Larry Nakonechny and Wayne Schneider, two walks and a single in the first frame to score five times. The Cards roared back with three in the second, one in the third and a pair in the fourth while the Players added just one more in the fourth to make it 6-6. Barrhead took the lead in the 6th as Gerry Hollett singled in Steve McMannon and added a singleton in the 8th, Down 8-6, Gorman Heimueller belted a two-run homer in the 8th to again knot the count. The teams shared the championship. Hollett and Heimueller shared the Most Valuable Player award.
Peterson, Hendley (4) and Price
Cunningham, Brown (6) and Hollett
Red Deer scored two runs in the bottom of the 8th and survived a Rapid City rally in the top of the 9th to score a 7-6 victory and a spot in the final of the Killam Tournament. A single by Ken Nelson drove in what proved to be the decisive run. Winning pitcher Gorman Heimueller helped the offense with a long homer.
Abeyla (L), Graves (8) and Whitmer
Heimueller (W) and Price
Barrhead exploded with five runs in the 10th inning to down Edmonton Tigers 8-3 and win a slot in the tourney final. Lefty Mark Liber, who relieved starter Clint Curtis in the 3rd inning, pitched seven shutout innings to claim the mound victory.
Curtis, Liber (W) (3) and Hollett
Rivera (L), Brown (10) and Kennedy
Craig Chamberlain fired a no-hitter as Rapid City Macy's demolished the Medicine Hat Legion Tigers 19-0 in a seven inning match in opening round action. Rapid City pounded out 16 hits and took advantage of seven "Hat errors.
Biko (L) Dyment (4), Grams (4), Bast (6) and Tombach, Bertrem (4)
Chamberlain (W) and Whitmer, Vogelnacker (5)
A three-run 6th inning carried Red Deer to a 3-1 decision over the Edmonton Dusters. Gary Becker opened the frame with a walk, stole second and scored on Larry Nakonechny's double. Al Price reached on an error and Gorman Heimueller and Wayne Schneider followed with singles. Terry Hendley rang up 11 strikeouts in going the distance for the win.
Kowalishen (L) and Faulkenbury
Hendley (W) and Price
Edmonton Tigers rapped 15 hits in crushing Grande Centre Northlanders 10-3. Chet Grey allowed nine hits in gaining the mound victory.
Grey (W) and Kennedy
Danielson (L), Magnum (6) and D. Krook
Barrhead took an early 5-0 lead then had to go 15 innings to edge Lac La Biche 11-6 to advance in the Killam Tournament. The Cardinals used an 18-hit attack in the entertaining affair. Keith Van De Keere clouted a two-run homer to highlight a five-run 15th inning for Barrhead, Len Chaba replied for Lac La BIche. Clint Curtis was the winner, in relief.
King, Malpass (L) (7) and McDonald
Osborne, Paiement (6), Curtis (W) (10) and Hollett
---
KINDERSLEY TOURNAMENT
(July 23-24) Unity Cardinals shutout Moose Jaw Devons 5-0 in the final of the Kindersley Tournament. Monte Mello and Dave Sandoval combined to blank the Devons.
Mello (W), Sandoval and xxx
xxx and xxx
In Sunday's semi-final, the Cardinals upset the highly-touted Alaska Goldpanners 6-4. Monte Mello got the Cardinals off on the right foot with a two-run homer in the first inning. Don McLeod, Bob Brown and Glen Miller each had a pair of safeties. Rod Gehring went the distance for the win.
Gehring (W) and Steele
Rajsich (L), Stewart (3) and Cey
Unity rebounded from an 8-3 deficit to down Fargo, North Dakota, 9-8 in their opening game. Rodger Bills was the winner in relief, taking over in the fourth inning and blanking the Americans the rest of the way. Don McLeod and Bob Brown led the offense each with two hits.
Mello, Bills (W) (4) and xxx
xxx and xxx
Alaska broke open a tight game with six runs in the fifth inning and downed Regina 7-1. Tom Costello tossed a three-hitter for the win.
Costello (W) and Cey
Sawa (L), Wanner (5), Kivela (5) and Bell
---
B.C. SENIOR B / INTERMEDIATE AMATEUR BASEBALL CHAMPIONSHIP TOURNAMENT
(July 29 – August 1) Okanagan captured the British Columbia Senior B/intermediate baseball championship held at Nanaimo when they defeated Bulkley Valley 12 to 5 in the tournament clincher. Okanagan had gone through the tournament undefeated and for Bulkley to have claimed the title, they would have to knocked off the Okanagan entry twice. The Okanagan team was just too strong and ended all conjecture by pouring ten runs across the plate in the final three innings to seal Bulkley's fate. Ron Carter picked up the win while Bill Janzen was tagged with the loss The Mid-Island All-stars, the host entry, had a up-and-down tourney, dropping their opener 10 to 8 to Enderby but bouncing back to nip Quesnel 1 to 0 on Art Fransen's one-hitter. The Mid-Islanders then got past Prince George 9 to 7 as Mike Forrest tossed the win but the hometown favorites were eliminated 5 to 1 by eventual finalist Bulkley Valley.
Ron Carter of Okanagan was chosen best pitcher in the tournament, Bruce Taylor of Prince George was the MVP and Geoff Collins of Okanagan was voted best hitter. Okanagan now advances to the western Canada senior B/intermediate championships to be held later in the month at Czar, Alberta.
The Kootenay International Senior League All-Stars came out second-best in both of their games. In their opener, the All-Stars grabbed an early 2-0 lead but were held scoreless the rest of the way as Enderby of the Okanagan roared back with six runs in the second and four in the fourth to win 10-2. The All-Stars left 16 runners on base. They had the bases loaded in each of the first three innings but could only plate the two runs.
Their second game loss was a one-run heartbreaker to Prince George, 2-1. Again the Stars scored first, taking the lead in the second inning. Prince George tied it in the sixth and got the winner in the final frame with two out. Bruce Taylor rapped a single, his third hit of the game, to bring in the deciding tally. Eric Lepper who went the distance for the Kootenay Stars took the loss.
---
SOURIS CIVIC HOLIDAY BASEBALL TOURNAMENT
(July 30 - August 1) Mark Fisher drove in five runs and was the winning pitcher as the Riverside Canucks defeated the Cardinals 8-7 to capture top money at the Souris Civic Holiday Tournament.

Fisher, who batted .450 in three games and was named the tournament's MVP, slammed a three-run homer in the fifth inning. Cardinals rallied in the late innings but were unable to overcome Riverside's lead. The game ended when Ken Vertz of Souris was tagged out in a rundown between thrid and home in the final inning. Souris got home runs from Stan Furman, Tom Janz and Ted Bridgett, a pickup from Virden Oilers. Canucks advanced to the final with an 8-7 win over Brandon Cloverleafs as Fisher hit a homer and Cardinals ousted Dickinson, North Dakota 4-3.
---
KAMLOOPS TOURNAMENT

(July 30-31 August 01) The Interior Alaska Prospectors captured the rich $5,000 top prize at the Kamloops Tournament Monday downing Washington All-Stars 6-2. It was the fourth win in five years for a Fairbanks team as the Goldpanners had previously won three straight until losing in the final to Washington last year. Jim Ranson slammed a two-run homer in the fifth to snap a 2-2 deadlock and spark Alaska to the victory. Second baseman Jim French had given the Prospectors the early lead with a two-run single. Winning pitcher Tom Costello combined with relievers Ken Hatfield and Rob Rajsich to hold Washington to three hits. Rick Anderson took the loss. French was named the tournament's Most Valuable Player while Rajsich was the top pitcher. Bruce Chaney of Red Deer was the top batter with a .643 average.
R.Anderson (L), P.Sinclair and xxx
T.Costello (W), K.Hatfield, R.Rajsich and xxx
Washington won the final berth by crushing Red Deer Generals 16-4 cracking four homers.
Prospectors captured their opening game, 7-2 over Vancouver as Mike Nedelsinky fired a four-hitter and Jim French cracked a three-run homer and a solo shot. Schwab and Ramsey poked homers for Vancouver.
Bridges (L) and Springenatic
Nedelisky (W) and Cey
John Seefried smacked a bases-loaded homer in the bottom of the ninth inning to lift the Prospectors to an 8-4 win over the Washington All-Stars. Alaska trailed 4-3 going into their final at bats but produced three straight singles by Gary Irvin, Jim French and Bill Hainline to fill the sacks. A walk forced in the tying run and Seefried connected on a 0-2 pitch for the homer after fouling off four straight pitches. Ken Hatfield slugged a homer for the winners in the fourth. Pat Dawson hurled a six-hitter for the win.
Barnhardt (L), Caskey (9) and Larson
Dawson (W) and Cey
Seefried also homered in the Prospectors 8-2 victory over Red Deer to back the route-going performance of Rob Rajsich who scattered 11 hits. Tom Johnson had a four-bagger for Red Deer.
Behlen, Henley (4), Coil (8) and Johnson
Rajsich (W) and Cey
Hillsboro, Oregon, and the Kamloops All-Stars each won $750 of the total $15,000 in prize money.
---
BC SENIOR A AMATEUR CHAMPIONSHIP TOURNAMENT
(August 5-7) Vancouver Puccinis are the BC Senior Amateur Champions following a 4-0 victory over New Westminster Auroras in the final of the three-team, double-knockout tournament at Capilano Stadium. Warren Coughlin, the tourney's MVP, led the winners with a homer, double and single. Rod McKay fired the shutout, allowing just four hits.
Puccinis advanced to the final with a five-run eighth inning to cap a comeback 8-5 win over the Victoria All-Stars. Auroras won a berth by walloping Victoria 10-1 in a game featuring Dale Ramsay's grand slam homer.
Piccinis will represent BC at the Canadian championships in Brandon, Manitoba. BC has won the national title the last two years.

Bob Bridges and Don Rogelstad put on an old-time pitching duel Friday in the opening game of the BC Senior Amateur Baseball Championships at Capilano Stadium. Both went the full 17 innings as Rogelstad's Vancouver Puccinis edged the New Westminster Auroras 2-1. Bridges struck out 21 batters and Rogelstad whiffed 12. An error accounted for the winning run.

---
ALBERTA SENIOR B/INTERMEDIATE AMATEUR BASEBALL CHAMPIONSHIP TOURNAMENT
(August 6-7) The Oilfield Baseball League's Edmonton Cardinals bounced back from a 5 – 4, ten-inning loss to the Calgary Odeons to win the three-team Alberta double round-robin senior B/intermediate baseball championship at Czar. The Cards, after losing to the Odeons, came back to edge the defending western Canadian champions, Czar, 7 to 6, blank Calgary 5 to 0 and whip Czar 6 to 1. Ken Lychak and Wayne Biggs each tossed three-hitters in the final two games. Dale Larson went 8 for 15 while Vic Frey was 7 for 15 with two homers and three doubles for Edmonton. The Cardinals now advance to the double-knockout western Canada championships August 19 to 21 at Czar.
---
CANADIAN SENIOR CHAMPIONSHIP, BRANDON
(August 18) Alberta, represented by the Red Deer Border Players, downed Newfoundland 7-2 at the opening day of the Canadian Senior Baseball Championships at Brandon. Keith Van De Keere went the route for the win, allowing seven hits. The Players got eight hits, one a homer by Randy Rasmussen. Brian Colbourne belted one for Newfoundland.
Hudson (L) and Cornic
Van De Keere (W) and Duncan
The Manitoba host club, crushed PEI 13-3, although the two big blows, both homers, came from the bat of 5'4" shortstop Marty Koughan of the islanders.
R.Lynd (W) and Gullett
D. Shurman (L), Nicholson (2), B. Weatherbie (5), W. Weatherbie (7), Hunter (7) and Mancusso
Ontario rode a six-run fifth inning to a 9-4 win over New Brunswick. Dan Makey went the distance for the win.
Harvey (L), Chambers (5), Wood (8) and Cox
Makey (W), Kobelka (6) and Ward
Nova Scotia, with an eight run explosion in the 7th, took a seemingly safe 14-8 lead going into the 9th but Quebec rallied with three hits, three walks, a passed ball and a Nova Scotia error to score five and pull within a run with nobody out. Reliever Gordie Pittipas, who had taken over from Randy Bleasdale after the first three batters had reached, allowed another three to get on base before getting two strikeouts and a ground out to end the rally and give Nova Scotia a 14-13 victory. Bob Gillis was the winning pitcher, Jack Rox took the loss. Garry McDonald cracked two doubles and a single for Nova Scotia. Mike McIntosh belted a homer. Claude Deland reached base six consecutive times for Quebec on two hits and four walks.
Rox (L), Boisvert (7) and Belanger
Gillis (W), Bleasdale (8), Pittipas (9) and Burns
Dave Rottman stopped Quebec on two-hits as Manitoba won easily, 11-0. He fanned 12 and walked five. The prairie club held just a 4-0 lead after eight innings, but roughed up reliever Claude Gelinas for four hits and seven runs in the final frame. Terry Lynd's two-run homer was a highlight. Garth Jackman led the winners with three hits.
Rottman (W) and Lang
Normandin (L), Gelinas (9) and Bournival, Belanger (6)
Saskatchewan got just five hits, half as much as the losing BC squad, but managed to come out on top, 2-1. Lefty Ron Heisler set down 14 by strike outs in registering the win. The prairie team got its runs in the 3rd inning on a walk, a sacrifice, Andy Logan's run-scoring single and a pair of BC errors. BC got its only run in the 5th as Warren Coughlin knocked in Rick Bultitude who had reached on an error. Don Rogelstad was the tough-luck loser.
Heisler (W) and Logan
Rogelstad (L) and White
(August 18) The Red Deer Players, representing Alberta, crushed New Brunswick 18-0 Thursday behind the brilliant one-hit pitching by veteran Fred Cardwell. The right-hander allowed only a 6th inning single to Bob English in the contest shortened to seven innings by the 10-run rule. Cardwell fanned five, without a base on balls. Outfielder Blair Hanna and third baseman Randy Rasmussen led the assault. Hanna drove in six runs with a double, triple and homer while Rasmussen knocked in three with a single, double and home run. Pete Duncan added two doubles and a single as the Alberta crew rapped out 15 hits. Dale Peterson was handed the loss.
Cardwell (W) and Price
Peterson (L), LePage (1), King (5), Wood (7) and Cox
Down 10 to 8 after six innings, Regina Red Sox, representing Saskatchewan, exploded for ten runs in the last two innings to crush Nova Scotia 18-10. The maritimers out-hit the prairie boys 12-11 but three Nova Scotia pitchers issued 19 free passes, 14 on walks and five hit batsmen. Rich Gergley drove in six runs for the Sox with a double, two singles and a fielder's choice. Roy Kemp knocked in four with three singles and Ross Mahoney had three rbi with a two-run homer and a single. Kevin Omlah belted a grand slam homer and a double for the losers. Jim Pelham added a homer, double and single.
Moore, Pettipas (4), Coll (L) (4) and Rodgerson
Sawa, McMillan (2), Hengen (W) (2), Warner (8) and Logan
Ted Springenatic's two-run single in the 7th inning proved to be the difference as BC downed Team Manitoba 5-2. Bob Bridges scattered eight hits for the win. Rick Bultitude homered for the winners. Gord Leduchowski had a four-bagger for Manitoba.
Bridges (W) and Springenatic
Falk (L), Thompson (7) and Lowes
Errol Flynn pitched six strong innings for his second win of the tournament to help Prince Edward Island to an 8-2 win over Nova Scotia. Bill Sullivan led a 12-hit attack with three safeties.
Flynn (W), B. Weatherbie (7) and Campbell
Harding (L) and Cox

Veteran lefty Brian Hodgson (left) stymied Alberta on four hits as the Manitoba Hosts edged the visitors 2-1 in ten innings. With two out in the 10th, Bruce Gullet doubled and Rusty Shaw followed with a single to drive him home. Alberta had taken the lead in the 5th inning on Blair Hanna's four-bagger. Rick Cruise tied it in the 8th with a homer over the left-field fence.
Hodgson (W) and Gullett
Paiement (L) and Price
Ontario erupted for seven runs in the 5th inning and cruised to a 9-4 victory over Newfoundland. Bob Blasko and Dave Ward stroked two-run doubles for the winners. Dave Buckingham had a homer and single for the losers. Dale Hajbu, who was touched for nine hits, took the pitching victory.
Conahan (L), Kent (5) and Cornick, Andreas (9)
Hajbu (W) and Ward
(August 19)
Gord Leduchoswki had an inside-the-park, grand slam homer and a two-run single to lead a 14-hit Manitoba attack in a 14-3 win over Nova Scotia. Rick Hlady claimed the pitching victory in relief of starter Ken Vertz.
Vertz, Hlady (W) (5) and Land
King (L), Moore (7), Bleasdale (8) and Rogerson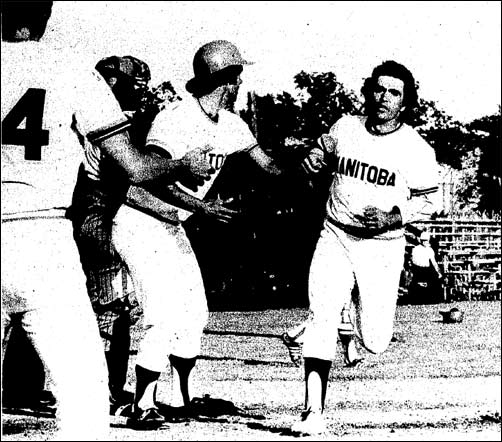 Gord Leduchowski of Team Manitoba awaits the congratulations of his teammates
after his grand slam homer against Nova Scotia.
The Manitoba Hosts scored four runs in the third inning sparked by a three-run homer by Rod Fallis and added three more in the fifth, one on a Mike Laboissiere solo shot and coasted to a 12-3 beating of Newfoundland. Starter Ron Seafoot claimed the pitching win.
R. Seafoot (W), Chuchmuch (8) and Gullett
Humber (L), Kent (5) and Cornick
Down 1-0, the Manitoba Hosts rallied for four runs in the 8th inning to top Ontario 4-1 in a controversial decision. With the bases loaded and none out Bruce Gullett of the hosts tried a squeeze bunt. It was a short pop-up in front of the plate and when it landed it bounced off Gullett's discarded bat in fair territory and rolled foul. A rhubarb ensued, but Gullett was awarded first base and the game was tied. Rod Fallis then singled to drive in what proved to be the winning marker. Garth Neville fired a four-hitter for the win.
Blasko, Kobelka (L) (8) and Ward
Neville (W) and Gullett
Marty Koughan doubled to knock in Mike Puiia with the winning run in the ninth inning as PEI upset Alberta 2-1. Mike Kelly bested Brian McAusland in a pitching duel.
McAusland (L) and Price
Kelly (W) and Campbell
Brian Cox slammed a three-run homer in the third inning and New Brunswick got added home run power from Bill Daley and Ralph Chambers in a 13-8 victory over Newfoundland. Wally Jimmo was credited with the win.
Reardon (L), Byrd (1), Rumsey (6) and O'Leary
Jimmo (W), King (6), Wood (9) and Cox
In a seven inning affair, Saskatchewan received a four-hit shutout from Bob Currie in a 10-0 trouncing of Quebec. The prairie nine broke a scoreless tie with a nine-run explosion in the bottom of the 5th.
Gelinas (L), Balles (5) and Belanger
Currie (W) and Logan, Devine (6)
BC unleashed a 15-hit attack to trounce Nova Scotia 12-2. Gillis pitched a four-hitter for the win.
MacKay (W) and Springenatic
Gillis (L) and McLean
(August 20) Alberta erupted for six runs in the top of the 9th inning to down Ontario 10-4 in their final game of the tournament. Reliever John Osborne picked up the win.
Gregg, Osborne (W) (8) and Price
Kobelka (L), Podio (9) and Rome
Prince Edward Island advanced to the medal round with a 14-12 victory over Newfoundland. Marty Koughan and Jerry Campbell bashed homers for the islanders as Nicholson survived 16 hits to go all the way for the win.
Nicholson (W) and Mancusso
Reardon (L) and Cornick
The Manitoba Hosts won their fifth straight, crushing New Brunswick 13-0.
Chambers (L), Peterson (5) and Cox
Everard, Chuchmuch (W) (4), Anderson (7) and Gullett, C. Seafoot (6)
Saskatchewan topped Team Manitoba 5-3.
Wanner (W), Heisler (9) and Logan
Ramsey (L), Falk (8), Thompson (9) and Lowes
British Columbia demolished Quebec 19-1 with a 19-hit attack, including home runs by Ted Springenatic, Dane Schwab and Mike White.
Normandin (L), Boisvert (3), Germain (5) and Belandger, Bourneval (4)
Morris, Bazaluk (W) (4), Mosher (5) and White
(August 21) BC handed PEI one of the worst ever beatings in the Canadian Senior Championships in taking the 1977 crown with a 27-2 victory. BC clubbed 23 hits, five of them homers and four of them triples. Russ McKee drove in eight runs with a grand slam homer, triple and three singles. Third baseman Rick Bultitude, who had two homers coming into the game, blasted two more, one an inside-the-parker. Shortstop Dave Schwab matched Bultitude's four ribbies with a home run, a triple and two singles. Centrefielder Warren Coughlin also had a four-bagger. Bob Bridges had an easy time on the mound, holding PEI to seven hits. Errol Flynn, the first of five PEI pitchers, took the loss.
Bridges (W) and Springenatic, White (5)
Flynn (L), Sullivan (2), Hunter (4), B., Weatherbie (6), D. Schurman (7) and Campbell
BC advanced to the final edging the Manitoba Hosts 6-5 on a Burt Haas run-scoring single in the bottom of the 10th inning. Dave Ramsay belted a homer in the bottom of the 9th to give BC a 5-5 tie.
Everard, R. Lynd (3), Anderson (L) (9), Neville (10) and Gullett
Rogelstad, Morris (9), Gage-Cole (W) (10) and White
PEI downed Saskatchewan 9-6 to win a spot in the final. A five-run, 8th inning was the margin of victory. They had just one hit in the big inning, Mike Puiia's two-out triple, but took advantage of five bases on balls.
Sawa, Hengen (6), Heisler (L) (8) and Logan
B. Weatherbie (W) and Campbell
---
WESTERN CANADA SENIOR "B"/INTERMEDIATE BASEBALL CHAMPIONSHIP TOURNAMENT
(August 20-21) The Edmonton Cardinals, representing Alberta, bombed the South-Central League All-Stars of Manitoba 9 to 1 to win the Western Canada Intermediate baseball title. Saskatchewan finished third in the tournament held in Czar, a community about 125 miles southeast of Edmonton.
---
GRAND FORKS CREDIT UNION INTERNATIONAL LABOUR DAY TOURNAMENT
Barrhead Cardinals
Grand Forks Mets
Republic Gold'n'Sawdust
Seattle Northwest Screw Products
Spokane Barstone Dry Ice
Surrey Sports
Trail Hotelmen
Vancouver TOS
(September 2-5) A tournament entry from Seattle has copped top prize of $1,000 in the Third Annual Grand Forks Credit Union International Labour Day Tournament. Northwest Screw Products stunned the defending champion Vancouver Tos 10-0 in the final of the event. Seattle was led by the pitching of the tournament's most valuable pitcher, Tim Parker, who allowed just three hits in hurling the shutout.
For their second place finish the Tos received $500 while third place Surrey Sports, winners over Grand Forks Mets 11-4, won $250. The Mets got $150 for their fourth place standing.
Trail Hotelman, one of the pre-tourney favourites, kicked off the tournament with a 3-0 victory over Seattle as Keith Van de Keere, now attending Lewis Clark State College in Idaho, yielded just four hits and had the big blow for the offense with a fifth inning homer.

However, in their next contest Trail fell to Grand Forks 8-2 as the Hotelmen booted the ball four times and gave up three home runs. Winning pitcher Rob Sherstobitoff scattered twelve hits while fanning nine. Twice the Hotelmen had the bases loaded with none out and failed to score. Jack Goddard smacked a pair of home runs, driving in four, for the Mets and Sherstobitoff helped his own cause with a homer. For Trail, Gerry Hollett contributed a homer and single while Dale Tilleman added two hits.
The Hotelmen bounced back with an 18-7 shellacking of Republic as they crushed four circuit blows. Tilleman had two, Mike Mukanik had a homer and single and Art Mercer, who had two hits in each of Trail's games, connected for a home and single.
Trail, Grand Forks and Seattle all ended up the round robin play with two wins and a loss, but on the basis of runs scored and allowed Trail lost out.
Kevin Oliver of the Hotelmen was chosen for the tournament all-star team at shortstop.
---
ENDERBY LABOUR DAY TOURNAMENT
(September 3-5) The 1977 Enderby Labour Day Tournament is being hailed as the most successful in the community for many a year. Players and fans applauded the high calibre of ball played over the three days.
Vancouver Puccinis, the national Senior A champions, walked off with first place money of $600 in an exciting final over the host team. Enderby's Ed Johnstone blasted the first pitch over the centre field fence to give the home side a 1-0 advantage and it stayed that way until the sixth inning when Vancouver tied the count scoring on a passed ball.
The game, scheduled for seven innings, went into the 12th when John Haar slammed one over the left field fence to give the Puccinis a 4-1 triumph. Outstanding pitching highlighted the game with lefty Bob Bridges getting the win with a 3-hit, 13 strikeout performance. Jeff Bloom yielded just five hits in taking the tough luck defeat.
Play got underway Saturday morning as the home town Legionnaires thumped Calgary Cardinals 9-1. Ron Carter now only starred on the mound with a one-hitter but connected for a home run and a single.
Prince George Selects downed the Moricetown Cubs 9-3 with Jardine the winning moundsman.
Vancouver Puccinis whipped Quesnel Billy Barkers 9-2. Steve Pettifer had three hits for the winners and Joe Weremy had a trio for Quesnel.
Calgary Odeons squeaked by Brewster Washington 3-1 with Dave Hielman fanning eight in the victory. Huck Tackaberry and Roger Pozzo each had two safeties for the Odeons.
Enderby topped Prince George 6-3 with Daryl Leier and Jeff Bloom combining to strikeout ten.
On Sunday, the Puccinis zipped by Calgary Odeons 7-1, Carey Johnson the winning pitcher. Len Gamlin had three hits to lead the coast nine.
Calgary Cardinals chased Moricetown from the tourney with a 6-3 victory.
Quesnel got by Brewster Spoilers 8-6, eliminating the American squad in the modified double knockout tourney.
In a battle of unbeaten teams, Enderby shutout the Puccinis 3-0. Ron Carter drove in all three markers with a bases-loaded double in the fifth. Leo Gauthier tossed a five-hitter. The win sent the Legionnaires into the tournament final.
With Alf Sedran firing the shutout, Calgary Odeons blanked Prince George Selects 10-0.
A crowd pleaser kicked off Monday's program as Calgary Cardinals went 12 innings to claim a 3-1 triumph over Quesnel.
Cardinals then dropped a 9-5 decision to the Odeons.
Another tense contest followed in a semi-final matchup as Vancouver Puccinis scored in the final frame to edge Calgary Odeons 2-1. Bob Bridges, with a four-hitter, had eight whiffs in the pitching win besting Roger Pozzo.