The secret to longevity? Baseball
By Pat Ryan, The Montana Standard
August 7, 2010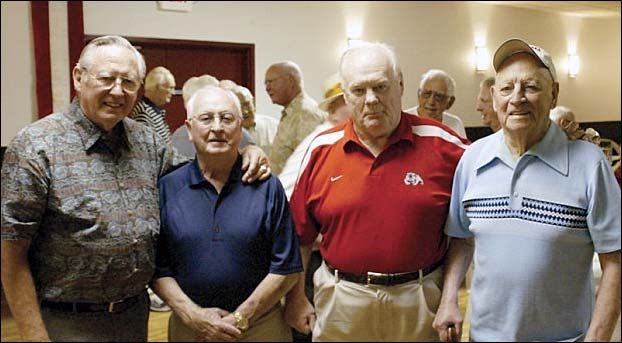 When 97-year-old Joe Rosetti arose and sang a four-verse Italian aria, nearly 50 of his peers from the old Copper League baseball teams listened intently.
When Rosetti belted out the last lines, strong and clear, the oldest surviving member of the Copper League was applauded roundly by the former players, who met Friday at the McQueen Athletic Club to reunite and reminisce.
"This is a great thing," said John Orizzoti, a Copper League player from the early 1950s. "It's nice to see these old guys. Some of the best players ever in Butte are here."
The event, put on by Tom Mulcahy and Bob Pavlovich, brought former Copper League players from as far away as California.
Plenty of good-natured ribbing went along with a lot more handshakes and embraces.
The youngest member of Friday's group, Dan Sullivan was also called upon to sing, which he did well, though he didn't receive the thunderous applause afforded Mr. Rosetti. Bob "Ace" Kovacich also broke out the guitar, leading a few former teammates in song as well.
John Little, now 89, saw plenty of old teammates in attendance, and there were certainly a lot of teammates. Little played a long stint in the Copper League from 1942 through 1951.
Originally a coal miner from Pennsylvania, Little was called into the Army and sent to Butte to help with the mining effort. He pulled into town and played baseball for a decade while toiling in Butte's mines.
Sixty-eight years later, Little still calls Butte home.
"A lot of us came out of the Legion program," Mulcahy said. "John Little came out of World War II and the Mountain Con mine."
Little played third base most of his 10 years in the league, though he said once his coach put Bill Kambich in his place on the hot corner.
"Boy, did he ever hear about that," Little laughed.
Little pointed to former Fresno State football coach Jim Sweeney and recalled sharing the infield with him for a few seasons.
"The first time I saw Jim pitch I had to walk over to the mound and tell him he didn't need to strike out everyone," Little said.
Little was inducted in the Butte Sports Hall of Fame in 2003, but he's there with most of the players who were in attendance Friday.
"There are a lot of great athletes here," said Jim Hanley.
"It's unbelievable there are so many left," said Sly Jim Sullivan.
So is baseball really the key to longevity?
"The coaches all said there was no smoking," Sullivan said. "Not many of us smoked, and I think that might be a big reason there are so many of us left."
Don Hanley added that legendary Butte High coach Swede Dahlberg had a firm rule against skiing.
"Swede said if he saw you on the ski hill and you didn't break your leg on the way down, he'd do it for you when you got there," Hanley said with a chuckle.
Orizzotti, who later went on to fame with his John's Pork Chop sandwich shops, was a meat cutter out of high school.
"I'd work till 6, and then dress there and head out to play at 7," he said. "We never had batting practice or fielding warmups. You'd just show up and hope you catch the ball."
The Copper Leaguers also reminisced about their home field at Clark Park, which had a deep center field at 404 feet.
They also remembered their colleagues who have passed away since the last reunion, including "Copper" Hughes, Maury Mulcahy, Fred "Butch" Girard, Joe "Popeye" Screnar, "Shag" Miller and Ted Richards.
"This is something you really just have to do," Mulcahy said, adding that 18 of the former players in attendance Friday were 80 or older. "There's a real camaraderie here with these guys. We'll do this again, but we probably won't all be here next time."