The Rajah of Renfrew
The Life and Times of John E. Ducey,
"Edmonton's Mr. Baseball"

by Brant E. Ducey

The Rajah of Renfrew is the story of one man's passionate love of baseball. Not just an American game, baseball has deep Canadian roots. The game reached across the country with the railroads, drawing players and fans together in the spirit of fun and the celebration of local pride.

Baseball has been an essential strand in Edmonton's social fabric since its arrival in the 1880's, when Edmonton was just a distant outpost in the Northwest Territories. A training ground for rising young stars and a settling place for long-time heroes, this "bush league" town has been a thriving baseball centre for more than a century. Edmonton's baseball history boasts a long record of thrills and cheers - long-standing rivalries, stunning upsets, joyful comebacks, and legendary triumphs.

John E. Ducey played a central role in bringing professional ball to the prairies. One of a core of devoted sportsmen and promoters, Ducey's career in Edmonton baseball spanned four decades. From his first school-yard teams to the 1959 Edmonton Eskimos, the snappy, sharp-dressed Ducey was a tireless ambassador for the game, truly deserving the fond nickname "Mr. Baseball".

The Rajah of Renfrew is an important document of Edmonton's sports history, featuring dozens of contemporary photos - many never before published - and conversations with the men who played on those long-ago diamonds. It includes appendices detailing the records of Edmonton's many professional teams and listings of local players who made it to the major leagues. Full of light-hearted anecdotes, historical detail, and local colour, this volume is perfect for all baseball enthusiasts.
---
36 Years of Pitching & Catching in
Baseball's Negro Leagues

by Kyle P. McNary
There once was a baseball player who pitched for 36 years and won more games than Dizzy Dean and Bob Feller combined. He was so confident in his abilities that he often informed batters what pitch he would throw and struck them out anyway. He pitched every game as if his life depended on it.
There once was a baseball player who caught for 36 years. He was so certain in his abilities that he dared baserunners to steal, then gunned them down with bullet throws and laughed as they trudged back to the dugout. At bat he dared pitchers to throw something at his letters -- if they were foolish enough to oblige he would hit the ball a country mile. He belted more hits than Stan Musial and more home runs than Joe DiMaggio. He viewed every game as a battle of wits and nerve.
The most remarkable thing about these two players in that they are actually one player -- Ted "Double Duty" Radcliffe. Sportswriter-playwright Damon Runyon gave Radcliffe his unique nickname after watching him perform the double duty of catching Satchel Paige in the first game of a doubleheader and pitching a shutout in the next.
Double Duty was one of the many underappreciated stars of Negro League baseball who helped blaze the trail that Jackie Robinson followed in integrating the major-leagues. A hard-hitting, steel-armed, fast-talking American hero.
---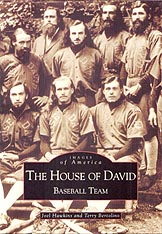 The House of David Baseball Team
by Joel Hawkins and Terry Bertolino
A pictorial history. A complete history of the team, broken down by eras, with chapters on uniform identification, player biographies, and the most comprehensive player listing ever attempted.
Winner of The Sporting News-SABR Baseball Research Award, 2000.
The Israelite House of David was founded in 1903, as a religious colony in Benton Harbor, Michigan. An entrepreneurial group of worshippers, the colony contributed much to the community, including a traveling baseball team that toured the United States, Canada, and Mexico. The almost 200 images collected here by authors Joel Hawkins and Terry Bertolino document the history of this bearded, barnstorming group of baseball players throughout their careers. The colony accomplished much within the community, credited with inventing the automatic pinsetter used in bowling and the first cold storage facility in the county. However, it was the House of David baseball players that caught the nation's attention, with their long hair and beards, which was forbidden to be cut or shaved as a code of their faith. As news of their prowess spread, the team received more and more press throughout the country. Much like the Negro Leagues of the same period, the House of David baseball players would criss-cross the country, playing with such greats as the Kansas City Monarchs, Pittsburg Crawfords, and Satchel Paige and his All Stars.

Order
---

Glory days of summer: the history of baseball in Oklahoma
by Bob Burke, K.A. Franks, and Royse Parr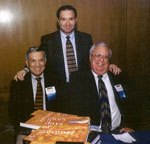 The History of Baseball in Oklahoma -- Oklahoma's influence on baseball in America is phenomenal. One of every ten of the 14,000 men who have played major league baseball since 1876 have come through Oklahoma. Many of the diamond heroes were born or died in Oklahoma while others played sandlot, college, or minor league baseball in the Sooner State. Some of the names are legendary, Mickey Mantle, Warren Spahn, Carl Hubbell, Lloyd and Paul Waner, and Dizzy and Daffy Dean. Others are more obscure such as Cat Clanton of Antlers who struck out in his only major league at bat. Oklahoma and baseball are inseparable. The players and their stories are woven permanently into the fabric of American life. (Left to right: Royse Parr, Bob Burke, Kenny Franks)
---

A revised edition of The Professional Baseball Player Database is now available. If you're looking for pro ball stats (majors and minors) Old Time Data has a nice package available. The Professional Baseball Player Database covers the years 1927 to 1997 and features year-by-year records for every player listed in the official Baseball Guides for those seasons plus many others who were omitted from the Guides because of limited playing time. Records for the Mexican League from its independent seasons (1937-1954) are also included along with statistics from the independent loops from 1993-1997. The records presented are not extensive (BA, HR, RBI for hitters; W-L, ERA for pitchers), but the CD an invaluable resource which I use extensively. The database is such that you can search by player, team, or league and, with this new edition, by major league affiliation.
---

The Monarchs, 1920 - 1938
Featuring Wilber "Bullet" Rogan
By Phil Dixon
Phil, who brought us THE NEGRO BASEBALL LEAGUES A Photographic History, has another gem in The Monarchs. Dixon has spent the last 20 years researching and writing about the Negro Baseball League, and he's just published a new book, The Monarchs 1920-1938: Featuring Wilber "Bullet" Rogan, the Greatest Ballplayer in Cooperstown.
"Bullet" Rogan was a star pitcher and outfielder for the legendary K. C. Monarchs for nearly two decades. Dixon's years of original research documents Rogan's career using over 100 photographs, many unpublished. This book is the definitive work on Rogan and the Monarchs. A must for the "knowledgeable" baseball fan. It's available through Mariah Press
---
Town Ball, The Glory Days of Minnesota Baseball
Armand Peterson and Tom Tomashek
Two former "town ball" players tell the fascinating story of amateur baseball in Minnesota during the glory years, a period of sixteen summers from 1945 to 1960 (the year before the Washington Senators became the Minnesota Twins).
During this time Minnesota experienced a magical era of amateur ball, setting records in town participation and attendance that have not been matched since. Along with the anecdotes, Town Ball offers an in-depth study of the era and examines the social and economic factors that contributed to the postwar boom and subsequent decline. It tells the stories of some of the more successful teams, such as Albert Lea, with five consecutive Class AA championships, and Warroad, a team with ten consecutive appearances—but no trophies—in the state tournament. And it includes profiles of many of the top players in Minnesota, famous locals like Dick Siebert, Paul Giel, and Bud Grant as well as the major-league talents of Bill Skowron, Herb Score, and Hilton Smith. Here nostalgic baseball enthusiasts and history buffs alike will revel in the wide-ranging stories and compelling portraits of the players and fans—the people who made Minnesota town ball truly great. Armand Peterson is a retired engineer and a former town team player. Tom Tomashek is a retired sportswriter for the Wilmington News Journal and a former town team player.
---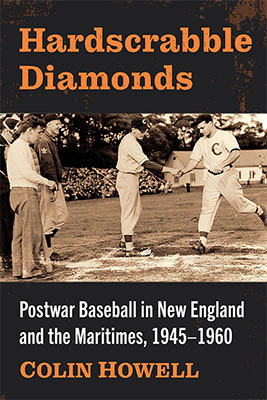 Hardscrabble Diamonds
Postwar Baseball in New England and the Maritimes, 1945–1960
Colin Howell
McFarland
To be published. Date TBD