Minot Mallards Baseball is the web presence of Bill Guenthner's extraordinary work into the history of the Minot (ND) Mallards, particularly the period 1950 to 1957 when the club was a dominant force in the ManDak League. The site features such outstanding players as local shortstop star Zoonie McLean and import right-hander Sugar Cain.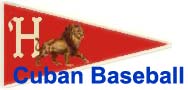 Cesar Lopez has put together a fascinating site on Cuban Baseball, "A Fans Tribute", which includes sections on Cubans who played in the Negro Leagues and the Major Leagues. There are histories on leagues, teams and players with many photos and even a section on baseball cards. [Site off line, 2015]



House of David Research Project Terry Bertolino and Joel Hawkins are the authors of The House of David Baseball Team and continue their research into the history of the legendary House of David barnstorming teams which were regular visitors to the prairies up to the mid 1950s.


Lethbridge Sports Hall of Fame The Lethbridge HOF was established in 1985 to recognize outstanding achievements in sports of individual athletes, builders and teams.
Alberta Sports History Library The project is dedicated to documenting Alberta's vast and complex sporting history with baseball a major part of the effort. Yours truly was privileged to assist the project in handling the baseball/softball section.


Midwest League If only all leagues had sites like this. Joel Dinda's incredible work sets the standard.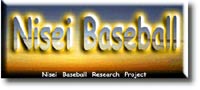 Nisei Baseball The story of Japanese-American baseball. Satoshi "Fibber" Hirayama (Fresno State, 1950-51-52) is among those featured.

PitchBlackBaseball Kyle McNary on Double-Duty Radcliffe and the fabulous Bismarck team of 1935. The book is out and the movie is on the way. History of intergrated teams in North Dakoka in the 30s.


Site of the Negro League Baseball Players Association a non-profit group dedicated to " to honor and celebrate the significant contribution of Negro Leagues players to baseball and American history, to collect and preserve that history, to educate others so that Negro League players may be a source of pride and inspiration for generations to come, and to support and promote the general and financial well being of former Negro Leagues players." The NLBPA features stories on many of the individual Negro League players.

Fascinating site with photos, rosters, statistics on the famed Alaska Goldpanners which, with the collapse of the Canadian prairie leagues, became a favourite destination of college stars hoping to hone their skills before embarking on pro careers.



Home site of the Victoria (BC) & District Baseball Association. The history of baseball in the city goes back to 1896.

Gary Cieradkowski's Infinite Baseball Cards. Marvelous site featuring Gary's unique take on cards covering a fascinating variety of baseball characters from Joe DiMaggio to Joe Jackson to Jack Kerouac to Roy Hobbs to Jim Thorpe to Curly Williams.
Gary is a graphic designer and illustrator, based in Northern Kentucky, whose work ranges from environmental graphics for Oriole Park at Camden Yards to the Folgers Coffee can. The cards feature a hand drawn illustration by Cieradkowski and a description about what makes each player unique.

Tom Hawthorn, nationally-known, award-winning, writer for the Globe and Mail, various publications in British Columbia and CBC Radio, also keeps pumping out material on at least two sites, his BLOG and a new site BENCHED. I'm blown away by his ability to dig out information on people and events and find photographs and documents to spice up the coverage. You'll note his work in dozens of publications of the Society for American Baseball Research and in a wide variety of non-baseball papers and magazines, ranging from Reader's Digest to the Washington Post to Morning Calm (the inflight magazine of Korean Airlines).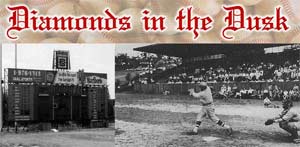 Ah, so nice to see Brian Morrison debut his baseball site. Diamonds in the Dusk is dedicated to the proposition that baseball history should be far more than a chronicle of superstars and championship teams. Diamonds in the Dusk is a celebration of the amazing diversity of America's National Pastime – spotlighting the characters and the oddities (and the odd characters!) that have populated the game at both the major league and minor league level. For every Babe Ruth there is a Bunny Brief. For every Willie Mays, a Bris "The Human Eyeball" Lord. For every Sandy Koufax, a Astyanax Douglass. The 1927 Yankees are justly famous, but the Longview Cannibals, the Raton Swastikas, the Texarkana Casketmakers and the Staunton Lunatics should not be forgotten either.


And a big round of applause for Kevin Glew and his site on Canadian baseball history ! The talented writer out of London, Ontario, has a very interesting site with stories and photos on the Canadian experience in baseball. I first tuned in to find a lovely piece on Dave Pagan the former prairie pitching star who went on to play for the Yankees and came back again and again to find marvelous posts of players from Jackie Robinson to R.A. Dickey to Tip O'Neill to Billy Harris. It's a joy.
This is all about photos and teams from California, but it's a marvelous addition to baseball history on the internet. John Ward has done an incredible job presenting hundreds and hundreds of baseball team photographs of semi-pro and amateur teams mainly from Northern California. It's a treasure trove.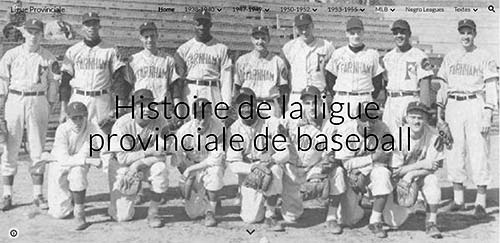 There was a time when baseball was a big thing in Quebec.
Christian Trudeau has the history of the Provincial League of Quecec which featured a host of former Negro Leaguers, many who also spent time on the prairies.
In French & English - Histoire de la ligue provinciale de baseball