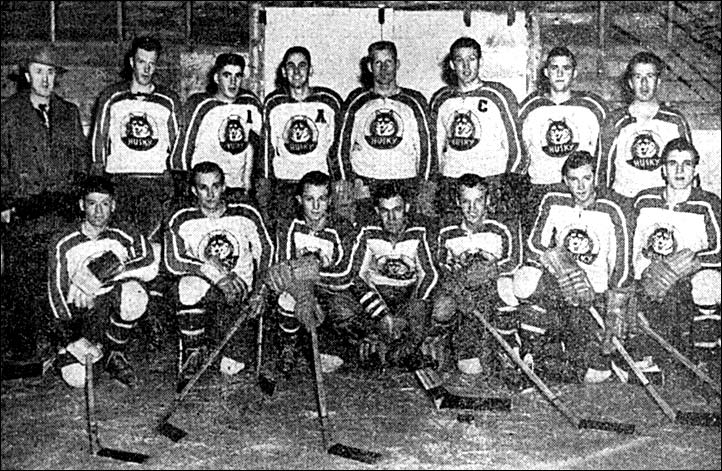 1952-53? Saskatchewan Intermediate A champions, the Lloydminster Huskies. Back row (left to right) - Scotty Fleming (Manager), Jim Hill RW, Stan Dunn D, Andy Abbott LW, Blair Jeffrey D, Jim Raisbeck C, Ray Hamlin D, Jim Stewart D.
Front row (left to right) - Jerry Mills LW, Ed Barrack RW, Ron Phillips C, Wally Laubman G, Ritchie McLean LW, Don Stewart C, Andy Redford LW. Missing from the photo - Andy Baribeau RW, Earl Anshelm G, Wally Walkowski C.
Lloydminster captured the Saskatchewan Intermediate A championship four straight years from the 1952-53 season through the 1955-56 winter.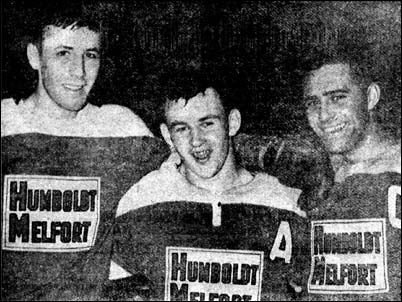 Lloydminster natives Larry Leach (left) and Ray Hamlin (right) flank Pete Panagabko. The trio were key members of the 1955-56 Humboldt-Melfort Indians of the Saskatchewan Junior League. Leach went on to play in the National Hockey League, Panagabko had a long minor league career while Hamlin became a star in college hockey in the United States.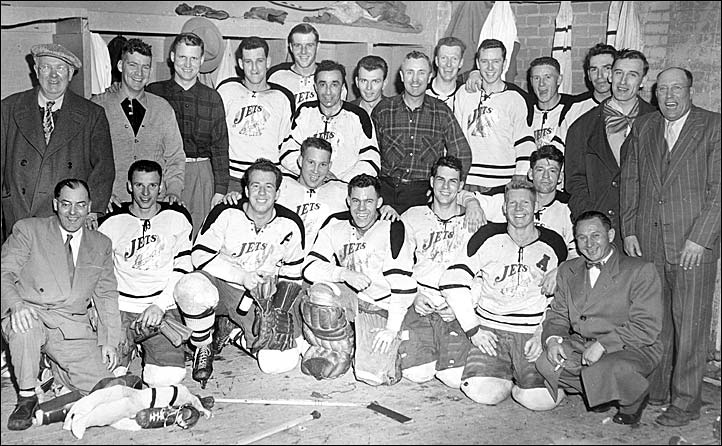 Lloydminster Jets, 1953-54? Back row (left to right) - "Pop" Summers (Brandon trainer), Art Knutson, Moe Price, George Parker, Harvey Cottrell, "Jeep" George, Ernie Behm, Scotty Fleming, Jim Hill, Donnie Stewart, Tommy Gregg, Dan Baunl, Al Dornstauder, Wilf Masterman. Front row (left to right) - Vince Weller, Isadore Strubey, Jimmy Stewart, Rollie Hobbs, Wally Laubman, Grant King, Blair Jeffrey, Jerry Mills, W. Zier.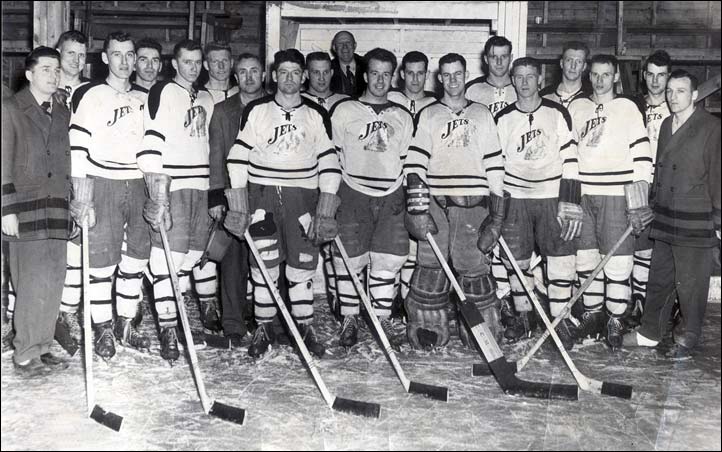 The 1954-55? Lloydminster Jets, Saskatchewan Intermediate A Champions. Left to right - Henry Walkowski, Mo Price, Al Dornstauder, Dan Bauml, Don Stewart, Blair Jeffrey, Al "Scotty" Fleming (Manager), Jerry Mills, Rollie Hobbs, Archie Miller (timekeeper), Jim Stewart, George Parker (Coach), Wally Laubman, Harvey Cottrill, Tom Grieg, Jim Hill, Isidor Strueby, Grant King, Ritchie McLean
The 1956-57 Lloydminster Chevies

















1959-60 High Prairie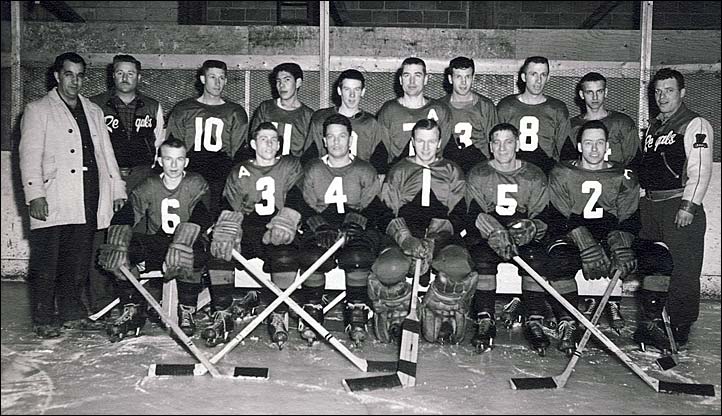 Back row (left to right) - Ernie Fortier, Ike Lawrence, Joe Weremy, Gus Ghostkeeper, Jim McLean, John Czuy, XXX, Lloyd Casebeer, Jim Cozy, Ward Nickolas. Seated (left to right) - Pete Czuy, Gord Hubbard/Tom Watt ??, Wilson, Norm Thorpe, Reg Bentley, Ted Olver.
1967 Dawson Creek Canucks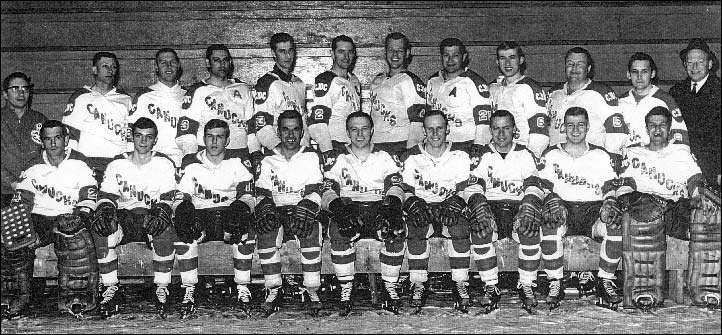 Back row (left to right) - XXX (Equipment Mgr), Joe Weremy, John ?? (RCMP), Donn Shandro, Ron Missap, Dale Jenkins, Lloyd Haddon (Coach), Ed Diachuk, XXX, Kerry Klein, Ray Corkery, Gerry Thompson (Mgr)
Front row (left to right) - Ian Cawthorpe, Oliver Steward, XXX, Paul Roy, Jim Burliew, Budd Rendell, Harold "Flukey" Kjemus, Brian Bond, Dave Leoppky
1959-60 University of Denver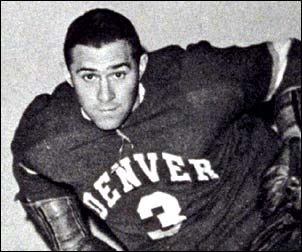 Lloydminster's Ray Hamlin was a star with the celebrated 1959-60 University of Denver
The following from the University of Denver on the induction in 2000 of the 1959-60 team into the university's Athletics Hall of Fame.
1959-60 Hockey Team. As one of the most well-known and accomplished sports teams in the history of the University of Denver, the 1959-60 hockey team won the hearts and praises of the University's students, faculty, administrators and staff as well as the greater Denver community. This team claimed the WCHA playoff championship (17-4-1) after defeating local rival, Colorado College by a score of 3-1. They went on to win Denver's second NCAA National Championship by defeating Boston University 6-4 and then Michigan Tech in the finals by a score of 5-3. Denver won the last 14 games straight to finish the season with an overall record of 27-4-3. The Pioneers also proved their superior skills outside of NCAA competition with victories over the Swedish Olympic Team (5-3) and West German Olympic Team (6-1). That year, Denver also played the Russian Olympic Team to a 2-2 tie in overtime. Probably the most fantastic feat for this team, however, was defeating the first-ever United States Olympic Gold Medal Team (7-5) and then playing them in a second contest to a 5-5 tie in overtime. Denver finished the season registering a total of eight hat tricks and placing five team members on the all-league team. Team members Marty Howe, George Konik and Bill Masterton also received All-America honors for this historic season. Other members of the 1959-60 hockey team are Coach Murray Armstrong, Al Barnhill, Trent Beatty, Con Collie, Paul DiNapoli, Max Geisthardt, Ray Hamlin, Dick Jacob, Paul Josephson, Norb Kemp, George Kirkwood, Terry Lomnes, Murray MacDonald, John MacMillan, Grant Munro, Bruce Walker, Jerry Walker and Ken Williamson.