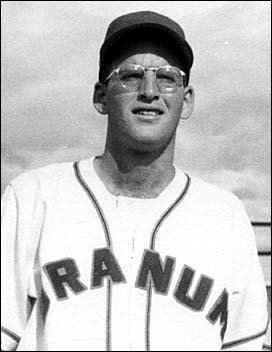 Jack Altman
Bats Left, Throws Left
6'0", 175 lbs.
Born: 1935, Hawaii
Died : 31 July, 2020, Ashland, OR

Vulcan Elks 1954
Vulcan & Granum White Sox 1955
Left - Altman in one of his stints with the Granum White Sox in 1955.
Right - Altman in 2006.
After the attack on Pearl Harbor, the Altman family moved to Berkeley, California where the young Jack was bat boy for the University of California Bears (see below) before returning home to play high school ball at Punahou H.S. in Honolulu (also below see the photo of the 2002 reunion of the Punahou team).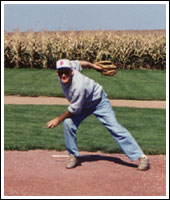 In 1952, after graduation from high school, Jack and lifelong friend Greg Seastrom made a grand tour to see every major league team, every major league park, and every level of minor league baseball.
It was the last season before the major leagues started moving and adding franchises (in 1953 the Boston Braves moved to Milwaukee).
Right - Altman in the cornfields of Iowa.
Nearly fifty years later (in September, 2001) Altman added another ballpark to the list - the Field of Dreams in Dyersville, Iowa, site of the famous baseball diamond in a cornfield celebrated in the movie Field of Dreams (Kevin Costner, Ray Liotta, James Earl Jones). The movie was based on the novel Shoeless Joe by Canadian author W.P. Kinsella.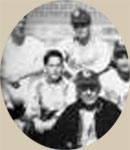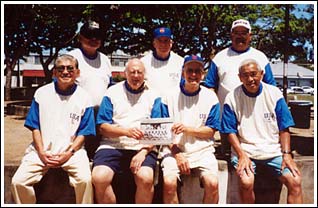 Left - Altman as batboy for the Cal Bears in 1948.
Right - In 2002, Jack and Greg attended a reunion in Hawaii of the old high school team (right). That's Jack in the front row, 2nd from the right, and Greg in the middle in the back row.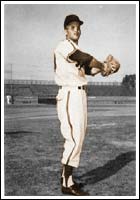 Altman, a slim six-footer, came to the Vulcan, Alberta, Elks of the Foothills - Wheatbelt League (Vulcan crest at the right) from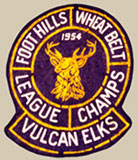 Fresno State University in California (left photo).
The left-hander sparkled in both seasons in Western Canada compiling a combined 27-9 record over the two summers.
He pitched in 42 games, 34 as a starter. Of those starting assignments, he completed all but one. A no-hitter was among his accomplishments. More on the `54 season below.

-------------------------- G GS CG W L Pct.
1954 Altman Vulcan/Granum 21 16 15 12 6 .667
1955 Altman Vulcan/Granum 21 18 18 15 2 .833
1956 was Altman`s best season with Fresno as he went 4-0 with a 1.96 ERA in 50 innings. He won a pro contract, suiting up with Yakima in the Northwest League. In this lone season in pro ball he finished with a 4-1 record, and a 3.00 ERA in 81 innings, mainly in relief.
Army duties interrupted his playing career and he turned to the business side of the game after his hitch in the Army taking on duties as Business Manager of the Stockton Ports of the California League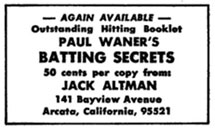 He moved on to an administrative position at Humboldt State University where he stayed for 36 years before retiring to Ashland, Oregon with wife Beverley (nee Kane). They were married in the fall of 1962 (left - wedding day)..
During his time at Humboldt, Altman - the pitcher - was active in selling a book on hitting - Paul Waner's Batting Secrets. Jack says he used to advertise in The Sporting News and Baseball Digest at a cost of about $25. He says the ads (a 1966 one above right) usually resulted in purchases of about $26 dollars worth of books!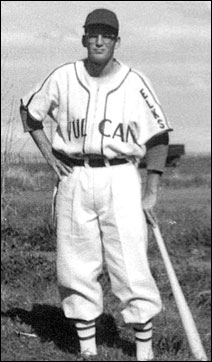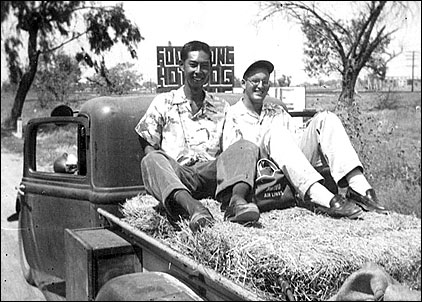 Left - Jack, with Vulcan Elks in 1954, looking dangerous with bat at hand. Above - hitchin`a ride, Willie Yahiro and Altman in 1955
Altman never really retired from the game. With his boundless enthusiasm for the game, he was a fixture at the Fresno tilt (until the university called off the alumni event) and, in the last few years, the Humboldt Crabs alumni contest..
2006 - One more shutout inning in the books ! It may not have been pretty, but Jack Altman made it through his annual appearance at the Fresno State Alumni Game (one inning, infield hit, double play, ground out).

Possible captions for the last photo (as wife Bev provides some assistance) :
"Jack ... maybe it would go faster underhand."
"Do you really think you should stick with the change-up?"
"You know Jack, I think you used to throw right-handed."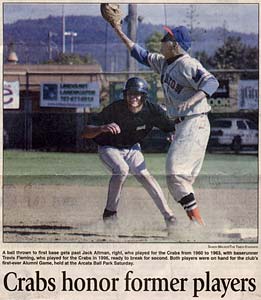 In 2004, the Humboldt, California, Crabs began an annual alumni game to salute their former players. It turned out to be a big item in the local press.
That's Jack Altman trying to make the catch at first.
The caption actually reads "A ball thrown to first base gets past Jack Altman right who played with the Crabs from 1960 to 1963 with baserunner Travis Fleming who played for the Crabs in 1996 ready to break for second. Both players were on hand for the club's first-ever Alumni Game held at the Arcata Ball Park Saturday."
After the 2010 alumni game, when he pitched for the Crabs against the alumni, Altman vowed to hang 'em up. Maybe.
He'd go out with success - one inning, seven pitches, three outs (fly to right, grounder to 3rd, foul pop to first).
In an era where teenage pitchers are coddled like never before -- limited game-by-game by pitch counts and rarely approaching the 150-200 inning mark -- it's been fascinating research to track one year in the life of a young arm back in the heyday of semi-pro ball on the prairies.
(Right : Altman pitching at the 2004 Fresno State Old Timers game.)
In February, 1954, the young lefty from Fresno, just a month past his 19th birthday, began a season which would bring out the heart medication for pitching coaches today.
Jack Altman pitched for seven teams that year (including the Vulcan Elks of the Foothills-Wheatbelt League) over a ten month period compiling a 32-11 record in 59 games (with complete games in 34 of 37 starts.
Altman worked a total of 365 1/3 innings. He fanned 431 batters and compiled an earned run average of 1.60. All this at age 19 !
He'd take a brief break for Christmas and New Years, then begin again.
Baseball legend Hub Kittle (more on Kittle below) was Altman's manager during Jack's pro season with Yakima in 1956.
"When he first started he was pretty funny but boy when he learned what to do he was something. He was a good one."

"He wore glasses, was square-built and he took every sign from the catcher from behind the rubber and then would walk up to the rubber, moving his arms back and forth, and then pitch. I never saw anybody pitch like that. But, I finally got him straightened out and boy he was a guy who just loved to pitch. Anytime I had trouble, anybody got on base, he wanted to go in and get 'em out."
Kittle was particularly impressed with Altman's "intestinal fortitude".
"I had Dick Renner playing second base and Chuck Essegian put a football block on Renner, dislocated his knee and was was gone for life. Didn't play anymore." "The next game, Altman wanted me to let him go in and he knocked Essegian down twice with balls right under his chin. Essegian was a big, tough football player. Jack wasn't very big, but he was tough, man was he tough."
Kittle began his pro career in 1937 tossing 279 innings and followed up with 271 the following season. Surely, a manager who could understand and appreciate Altman's love of the game.
The portrait of a young arm, 1954.
---
Fresno State Junior Varsity
Cumulative Stats
Altman began his long journey on the 17th of February as he picked up a win in relief in his first game action of the season -- a 7-5 win over the Fresno Junior College Rams.


G GS CG IP W L
1 0 0 2.0 1 0
The following day, February 18th, he'd work three innings in relief against Fresno JC.

G GS CG IP W L
2 0 0 5.0 1 0


February 23rd, still from the pen, Altman went another four scoreless innings against Reedley College.


G GS CG IP W L
3 0 0 9.0 1 0
March 5th, in his first start he tossed a six-hitter allowing just an unearned run against Los Angeles Valley College to pick up his 2nd win. Fresno won, 9-1.


G GS CG IP W L
4 1 1 18.0 2 0
March 12th, the Hawaii product notched his third win in a three inning relief effort against Fresno JC.


G GS CG IP W L
5 1 1 21.0 3 0
March 22nd, the smooth lefty tossed a complete-game six-hitter to beat the Modesto Junior College Pirates, 5-1, and run his record to 4-0.


G GS CG IP W L
6 2 2 30.0 4 0
Back on the hill the day after a complete game? Not these days, but not surprising in 1954. March 23rd, Altman gave up his first earned run in a relief appearance against the Coalinga College Falcons.


G GS CG IP W L
7 2 2 33.0 4 0
His 5th consecutive win came March 25th in a five inning relief effort against Fresno JC.
G GS CG IP W L
8 2 2 38.0 5 0


The following week, March 31st, Altman went the distance for his sixth win as Fresno dumped Coalinga JC 15-5.


G GS CG IP W L
9 3 3 47.0 6 0
April 3rd, Altman beat the Reedley College Tigers, 8-2, on a two-hitter for his 7th victory.
G GS CG IP W L
10 4 4 54.0 7 0
With just one days rest, he ran up another complete game win, April 5th, to top Fresno Junior College.


G GS CG IP W L
11 5 5 63.0 8 0
April 7th, 1/3 of an inning in relief against the Fresno State Freshmen.
G GS CG IP W L
12 5 5 63.3 8 0


His 13th game of the season proved to be the best so far, a one-hitter with 17 strikeouts as Fresno shutout Coalinga JC 1-0, April 9th. Coach Pete Beiden's comment to his young lefty, "Gol darn, Altman -- there must have been a power failure at the Coalinga ballpark last night.


G GS CG IP W L
13 6 6 72.3 9 0
Promoted to the Varsity, Altman picked up a win in his debut with the Bulldogs, April 15th, tossing a complete game to down Chico State.


G GS CG IP W L
14 7 7 81.3 10 0
April 20th, back with the JV squad, Altman tossed his second straight league whitewash, a three-hit. 4-0, shutout against Reedley JC.


G GS CG IP W L
15 8 8 90.3 11 0
April 28th, he made it three consecutive shutouts and 11 straight wins for the JVs in downing the College of Sequoias Giants, 8-0.


G GS CG IP W L
16 9 9 99.3 12 0
May Day marked the young lefty's worst game, as he gave up four runs (one earned) in 6 2/3s innings in his first loss, to the Sacramento Junior College Panthers, defending state junior college champs.


G GS CG IP W L
17 10 9 106.0 12 1
Altman wrapped up his JV season on May 6th with, a five-hitter over Reedley College, 6-2.


G GS CG IP W L
18 11 10 115.0 13 1
Fresno Junior Varsity totals :
G W L IP H ER BB SO ERA
17 12 1 106 58 7 28 126 0.59
Fresno State Bulldogs
April 15th, Altman went the distance in his first varsity start to beat Chico State.
(Above)


May 8th, an inning in relief against the Cal Aggies.
G GS CG IP W L
19 11 10 116.0 13 1


May 13th, in his 20th game of the season, Altman took the 5-4 loss in a relief inning against Cal Poly.


G GS CG IP W L
20 11 10 117.0 13 2
May 15th, a four inning stint with the Wasco Dons against Delano (to qualify for duty with the semi-pro club later in the season)


G GS CG IP W L
21 11 10 121.0 13 2
May 21st, an inning in relief vs Tulare Aztecs.
G GS CG IP W L
22 11 10 122.0 13 2


In a highlight of his college career, Altman was in the lineup for 4 2/3s innings against the University of Oregon in the NCAA playoffs at Eugene, May 29th.


G GS CG IP W L
23 11 10 126.7 13 2
" ... It was a highlight for me. I wouldn't have made the trip, except that three of our top pitchers, including Bob Doig, were freshmen and not eligible for the playoffs. We defeated USC twice, behind Jack Hannah and Ted Wills, but lost twice to the U of O. After the last loss, 1-0 in a rain-shortened 5 inning game, three other ballplayers from Fresno picked me up and we drove on to Vulcan."
Fresno State Bulldogs total :
G W L IP H ER BB SO ERA
5 1 1 16 2/3 20 8 7 9 4.32


Vulcan Elks, Foothills - Wheatbelt League
On June 2nd, Altman made his debut with the Vulcan Elks of the Foothills - Wheatbelt League. In what would be an unfamiliar role, the left hander came in in relief as the Elks whipped the RCAF entry 14-4.


G GS CG IP W L
24 11 10 128.7 13 2
In his first start, two days later, he tossed a four-hit shutout with nine strikeouts in an 8-0 win over Stavely.
G GS CG IP W L
25 12 11 136.7 14 2
There were some bumps along the road. June 6th the Hawaiian-born lefty dropped a 7-5 decision to Lethbridge


G GS CG IP W L
26 13 12 143.7 14 3
At the Carmangay Tournament, June 11th, Altman tossed 3 2/3s innings in relief getting the win as Vulcan won its semi-final match, 20-10 over Champion.


G GS CG IP W L
27 13 12 147.3 15 3
Altman put on an iron-man show June 13th going 13 innings as Vulcan topped the powerful Granum White Sox 4-3. He fanned 17 and helped out at the plate with a pair of hits. With he effort he moved over 160 innings for the season and brought his overall record to 16-3.


G GS CG IP W L
28 14 13 160.3 16 3
June 18th, A brilliant pitching duel highlighted first round play In the first annual Granum Baseball Tournament. Rookie Mel Wilson, a high school product of Sceptre, Saskatchewan, held Vulcan to four singles as Lethbridge upset the Elks 2-0. Southpaw Jack Altman fired a three-hitter for Vulcan while fanning 13 in the six-inning contest.


G GS CG IP W L
29 15 14 166.3 16 4
In his next start, June 23rd, his offense would garner the headlines. Altman rapped out a triple, double and two singles as he went the distance on the hill as Vulcan trampled the Champion Red Sox 19-4. It was his 30th game of the season.


G GS CG IP W L
30 16 15 175.3 17 4
Altman added to his laurels June 27th with a no-hitter as Vulcan whipped Stavely 15-0 to take a two-game lead atop the standings. He fanned 15 without allowing a base on balls.


G GS CG IP W L
31 17 16 184.3 18 4
Next up, July 4th, was a loss in relief as Vulcan dropped a 12-10 decision to Lethbridge.
G GS CG IP W L
32 17 16 186.3 18 5


In an 18-1 thrashing of Claresholm, July 7th, Altman had a four-hitter with 14 strikeouts.
G GS CG IP W L
33 18 17 195.3 19 5


A three-hit shutout would follow on July 11th in a 5-0 win over Carmangay. He fanned 13 and walked 2 in registering his 20th win of 1954 and topped the 200 inning mark.


G GS CG IP W L
34 19 18 204.3 20 5
The Elks downed Granum 7-6 July 14th to take top prize money in the Vulcan tournament. Altman scattered ten hits to get the win.


G GS CG IP W L
35 20 19 213.3 21 5
July 18th, the pennant-winning Vulcan Elks wound up the regular season with a 6-3, 10-inning win over Lethbridge Cubs. Altman held the Cubs to just four hits in going the distance.


G GS CG IP W L
36 21 20 223.3 22 5
Altman led Vulcan into the final of the Champion Tournament holding Carmangay to seven hits as the Elks won 5-2, July 22nd. He fanned 14.


G GS CG IP W L
37 22 21 232.3 23 5
The following day, in the Champion Tournament ,Altman took over in the 9th with none out and a runner on second. Altman proceeded to strikeout the side to preserve a 6-5 win over Champion.


G GS CG IP W L
38 22 21 233.3 23 5
Elks opened the playoffs July 25th as Altman continued his sparkling season with a seven-hit, 12 strikeout performance as the Elks beat Lethbridge 8-3.


G GS CG IP W L
39 23 22 242.3 24 5
July 28th, Vulcan took its semi-final in two straight with a 5-1 victory over Lethbridge. Altman was again the story on the hill as he held the Cubs to six hits, fanned eight and issued just one base on balls. It was his 25th victory against 5 losses on the season and pushed his work load to more than 250 innings.


G GS CG IP W L
40 24 23 251.3 25 5
At the Lethbridge Rotary Tournament, July 30th, the Foothills - Wheatbelt All-Stars scored an upset in opening round action with a 5-3 win over Nampa, Idaho Clippers. Altman was the key for the All-Stars holding the American club to eight hits in his third complete game of the week. In his 40th game and 25th start.


G GS CG IP W L
41 25 24 260.3 26 5
August 4th, Granum White Sox shaded Vulcan 5-2 in the opener of the best-of-five final series for the Foothills - Wheatbelt championship. Altman gave up 12 hits, including a pair of homers. He had 12 strike outs issuing a free pass.


G GS CG IP W L
42 26 25 269.3 26 6
August 8th, Granum downed the Elks 4-2. Altman allowed eight hits in a losing cause.
G GS CG IP W L
43 27 26 277.3 26 7


Granum bounced back from a 4-2 deficit to shade Vulcan 7-6 August 11th to win the final in three straight games. Workhorse Altman went all the way for Vulcan allowing 10 hits in his third complete game in 8 days.


G GS CG IP W L
44 28 27 284.3 26 8

Vulcan Elks totals :
G W L IP H ER BB SO ERA
20 12 6 148 2/3 107 21 17 190 1.27

Foothills-Wheatbelt All-Stars totals :
G W L IP H ER BB SO ERA
1 1 0 9 8 2 3 7 2.00



Wasco Dons
May 15th, a four inning stint with Wasco against Delano (to qualify for duty with the club later in the season)


(Above)
August 19th, back in California after an Alberta summer, Altman suited up with Wasco and tossed an eight-hitter in a 9-4 exhibition victory over the famed barnstorming club, the House of David.


G GS CG IP W L
45 29 28 293.3 27 8
August 22nd, in playoff action, Altman went the route in a 13-3 win over San Bernardino. In his 30th start, he moved over 300 innings for the season.


G GS CG IP W L
46 30 29 300.3 28 8

August 25th, an uncharacteristic effort, 3 runs in 4 innings.


G GS CG IP W L
47 30 29 304.3 28 8



August 29th, a two-inning relief stint.


G GS CG IP W L
48 30 29 306.3 28 8

Wasco Dons total :
G W L IP H ER BB SO ERA
5 2 0 26 26 8 15 40 2.77


Fresno City League, Beiden Red Sox


A relief stint, September 6th, with the Red Sox in a 6-2 win over Fresno Indians in the final of the American Baseball Congress district championship. This ended the summer season for the Beiden Red Sox. The club won a trip to Dallas, Texas, but declined the invitation.


G GS CG IP W L
49 30 29 310.3 28 8
Fresno Red Sox totals:
G W L IP H ER BB SO ERA
1 0 0 4 4 0 1 5 0.00
Fresno Winter Ball, Blue Sox
September 26th, a win as the Blue Sox beat the Red Sox 5-3.
G GS CG IP W L
50 31 29 314.3 29 8


October 3rd, a three inning relief stint (Ted Ellis was the starter) as the Blue Sox topped the Giants 12-7.


G GS CG IP W L
51 31 29 317.3 29 8
October 10th, Altman picked up his 30th win in a 4-inning start, Blue Sox over Telco 10-3
G GS CG IP W L
52 32 29 321.3 30 8


October 17th, a complete game (his 30th route-going performance) in a 2-1 loss to the Red Sox and Bobby Doig.


G GS CG IP W L
53 33 30 329.3 30 9
October 24th, 6-inning relief stint, 1-0 loss to the Giants and Jerry Burcher.
G GS CG IP W L
54 33 30 335.3 30 10


October 31st, another complete game in a 6-6 tie, Blue Sox and Telco. (Len Tucker belted a grand slam in the 8th off Altman for the tie.)


G GS CG IP W L
55 34 31 344.3 30 10
November 7th, CG, 11-2 loss to Red Sox as the inning total for the season climbed over 350 innings.


G GS CG IP W L
56 35 32 351.3 30 11
November 11th, Altman threw a one-hitter in a 2-1 complete game win over the Giants. The lone safety was a double by Altman's childhood friend, Greg Seastrom.


G GS CG IP W L
57 36 33 358.3 31 11
Altman's final 1954 regular season mound work came November 21st and it was typical -- a complete game victory, 3-2 over Telco.


G GS CG IP W L
58 37 34 365.3 32 11

Fresno Blue Sox total :
G W L IP H ER BB SO ERA
9 4 3 55 56 19 28 54 3.11


Altman also put in a couple of innings with the All-Stars in a 8-2 loss to the Red Sox.
G GS CG IP W L
59 37 34 365.3 32 11
Specific stats are not available for this lone game as Altman shared the pitching duties with Jerry Burcher and Frank Avinellis. Among the all-stars, many who played in Canada -- Jake Abbot, Skip Winn, Dick Hayes, Tom Higa, Roy Lattimore, Jim McMahon, Greg Seastrom, Art Shahzade, Bobby Doig, Bob Bennett, JD Peterson, Tony Levaggi.

1954 total :
G W L IP H ER BB SO ERA
59 32 11 365 1/3 279 65 99 431 1.60

---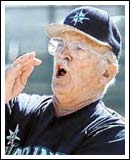 Hub Kittle was a legend in the game. When he passed away February 10th, 2004, at 86, he had been a pro player, coach or manager for 65 years, including stints as a pitching coach in the majors with Houston and St. Louis. Even in failing health the last few years, Kittle had worked with young pitchers in the Seattle system.
In 1980, Kittle took the hill for Springfield of the American Association to become the oldest player in organized baseball. At age 63 he retired the side in the first inning and got an out on one pitch in the second before calling it quits. In 1969 he had become the oldest player in Southern League history when he pitched an inning and two-thirds to help out his short-handed staff.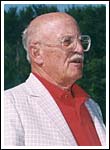 There is a Canadian connection as well. In 1939, Kittle played in Vancouver. "In that park you ran uphill to get to first!" He also pitched in Victoria ("Shut them out five times. The papers called me The Bandit.")
Kittle (left) as the New Jersey Cardinals of the NYP retired his uniform (#34).
On salaries. "In 1939 I made $125 a month in Yakima. I won 20 games and I got my new contract -- for $125. I wanted a $50 raise and held out. On opening day they gave me $135. After the season they sold my contract to San Francisco for $3,000."
---
Charlie Beene, former WCBLer on Hub Kittle :
" ... What a guy!! I've told a thousand people if I'd had a pitching coach like him when I first started, who knows. He was just fantastic at the little things of pitching. Example: 0 and 2 on batter, don't brush (knock down) him down automatically . . . just as you wind up and kick to start to pitch . . . look at center field fence. It will drive a batter nuts, cause he won't know where the hell you're going to throw it. It sure worked. Hub could talk baseball for hours. If you spoke of something else . . . "time to go to bed." ... If there was ever a "book to be written about a baseball player," that's the guy to write about."
Jack Altman (who made several hours of audio recordings with his old manager before Kittle passed away in 2004) ::
In 2000, on our way back from the Lethbridge reunion, Greg (Seastrom) and I took Hub to dinner in Yakima. He regaled us with baseball stories for several hours. On his way back to my car in the parking lot he said something like: "You know, Jack, I think God must have invented the world so there could be baseball." Hub was one of a kind.
---
Sports Illustrated, 1989 :
Kittle's salty language and gruff voice camouflage the man inside; he's the happiest man on the field. "He's the Santa Claus of pitching coaches,: says an admiring Kissell. "Only he can't come down the chimney anymore, his bag is so full of tricks. Nobody teaches pitching like he does."
Kittle's own pitching career was notable less for its brilliance than its length. He first pitched as a pro in 1936 -- he was 17 -- making $50 a month with the Cubs' Catalina Island (Calif.) team, for whom he went 15-3, with two no-hitters. He later made a name for himself as a forkballer in the Pacific Coast League but never reached the majors. He retired as a player in 1955, but in 1969, while managing at Savannah at age 52, he ran out of pitchers and inserted himself for two innings. That got some attention, so four years later, when Kittle was Houston Astros' pitching coach, manager Leo Durocher let the old fellow pitch an inning in an exhibition game against the Detroit Tigers at the Astrodome. Kittle, rising to the occasion, retired three straight batters and earned a save. Kittle says, "That gave me the idea of pitching in six decades."
He got his chance in Springfield, Ill., on Aug. 27, 1980, courtesy of the Cardinals, who had rehired him as minor league pitching coach. It was Senior Citizens Night, and the old folks rose and gave 63-year-old Hubert Milton Kittle a sustained ovation when he took the mound against Iowa of the American Association.
"The place was packed with people as old as me," he recalls fondly. "I signed a contract for one dollar just before the game, and when I walked out there, the national anthem was playing and the moon was shining, and I tell you, it felt great to be alive."
The first batter Kittle faced was no sentimentalist; he tried to bunt on the old man on the first pitch but fouled it off. A mistake. "He went down on his ass the next pitch, I tell you," Kittle roars, his eyes flashing. "I put one under his whiskers." Kittle needed just nine more pitches to retire the side. In so doing, he became the only man to have pitched in organized ball in six different decades.
That may serve as Kittle's claim to fame but his legacy is that of the man who cussed and roared and squeezed more joy out of baseball that anybody before or since. (August 14, 1989, Sports Illustrated, The College of Cardinals, by John Garrity)
---
Posted May 10, 2002
Baseball legend Kittle has long loved Mid-Columbia (By Jeff Morrow, Yakima Herald)
Herald sports editor Hub Kittle has more baseball stories than he knows what to do with. That's what happens when someone has played, coached or managed in baseball for 63 years. Kittle is the closest thing to a living legend there is, and that's why he'll be inducted into the Central Washington Sports Hall of Fame on Saturday.
Kittle began his pro career at Catalina Island in 1936. He pitched in Ponca City, Okla., in 1937 and 1938 before being sold to the Yakima Pippens of the Western International League in 1939 for $400. He went 20-10 with a 3.44 ERA that season.
"Hub always told me that when he came over Satus Pass and looked down into the Yakima Valley, he felt like Brigham Young looking into the Salt Lake Valley and saying 'This is the place,' " said Jim Scoggins, a long-time friend and former sports editor of the Yakima Herald-Republic. "And you know, he's never left here. He had baseball jobs all over the country, but he made his home in Yakima in 1939 and stayed here the whole time."
Kittle's love affair with Yakima baseball would produce managing stints with the Yakima Bears in the Northwest League. He led the Bears to NWL titles in 1956, 1958 and 1959. And as the team's general manager he was voted the minor league executive of the year by The Sporting News in 1960. He coached 17 years of winter ball in the Dominican Republic, Venezuela and Mexico. Those were wonderful times for Kittle. But he had numerous thrills in a long baseball career.
"One of the biggest has to be a guy who stays in the minors 38 years and at 54 years old finally gets to the major leagues (as a coach for the Houston Astros)," Kittle said. "Then to get to the World Series (in 1982 with St. Louis). You can't imagine what it feels like." Kittle had five seasons (1971-75) with the Astros, and three more with the Cardinals (1981-83).
He was also the only man to pitch in a professional game in six different decades. He went three up, three down for his only inning. Even today, Kittle is employed as a special assignment pitching coach for the Seattle Mariners. This is his fourth season with the M's, but health problems have slowed him down at the age of 85. "I've been under the weather for quite awhile," said Kittle, who has vasculitis, a deterioration of the arteries that affects the kidneys and the lungs. "I'm on oxygen. I tried to get the Mariners to fire me. I went down to spring training for a week but could only stay four days. When Everett comes to Yakima, I'll go out to the park. And when Everett goes to the Tri-Cities, I'll get a hotel room down there and work with the pitchers." And that's fine with Benny Looper, the Mariners' director of player development. "Even at his age, Hub's brought a lot of energy to the game," Looper said. "He's one of the characters of the game. He's a great coach. I think it's his knowledge of the game, his passion, his sincere desire to help young pitchers. And they know he has a sincere heart."
And he's touched by being selected into the Hall of Fame. Even though he's ill, he plans on attending Saturday's event. "I'll be there even if I gotta crawl there on my belly," he said.
---
Associated Press, February 11, 2004
YAKIMA, Wash. -- Hubert "Hub" Kittle, pitching coach of the 1982 World Series champion St. Louis Cardinals, has died at the age of 86.

His death Tuesday was confirmed by Keith & Keith Funeral Home.

Kittle was a major league pitching coach for eight years, five with the Houston Astros (1971-75) and three with the Cardinals (1981-83).

His baseball career began in the Los Angeles Angels' system in 1936 as a pitcher. In 1939, the Yakima Pippins of the Northwest League bought his contract for $400.

He bounced around several minor league systems until World War II, where he served in the South Pacific while also playing on Army baseball teams. Competing Army teams managed by Yankee greats Joe DiMaggio and Red Ruffing simultaneously recruited him, but Kittle chose to play for another pitcher in Ruffing.

Upon his return from the war in 1946, Kittle migrated through the minor leagues for the next 25 years, both as a pitcher and manager.

Kittle was manager and general manager in Yakima from 1955-59 and helped save the Northwest League by arranging major-league affiliations for some of the its struggling teams. The Sporting News named him Minor League Executive of the Year in 1960.

He also managed winter teams for 17 years in Mexico, Venezuela, the Dominican Republic and Puerto Rico and said he was proud of helping to develop a number of players who went on to major league success.

One of those players, Whitey Herzog, later became manager of the St. Louis Cardinals and hired Kittle as his pitching coach in 1981. The next season, the Cardinals won the World Series.

He pitched in six decades, including throwing a perfect inning in an exhibition game with a Triple-A team in 1980 at the age of 63.

When his wife fell ill, he took a job closer to home as an organizational pitching instructor for the Seattle Mariners. Despite health problems, he had worked with the team's pitching coaches during the past year.

Born Feb. 19, 1917, in Los Angeles, Kittle had maintained a permanent home in the Yakima area since 1939 and always returned there during the offseason.