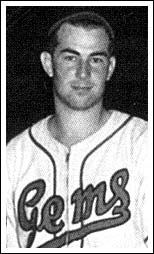 Len Breckner
Born : November 26, 1932
Died : November 27, 2016
Colonsay Monarchs
Saskatoon Gems/Commodores
Batted Right, Threw Left

"Colonsay just didn't have enough people all the time so I ended up at third, although I never did like that."
Even though he was a left-hander playing third base, Breckner attracted attention as a 16-year-old.
"Have seen a lot of good young ball players around Saskatoon and district this summer but none more impressive than 16-year-old Len Breckner, currently playing third base for the senior Colonsay Monarchs. Tall and graceful in movement, young Breckner fairly oozes with natural baseball ability. Right now he's a better fielder than hitter, but plays well enough as both hitter and fielder to perform with most senior clubs. Al Pendleton, a close diamond observer from Colonsay, figures Breckner for big things in the baseball world in about four years. (Saskatoon Star-Phoenix, July 18, 1949)
1949 Colonsay

1950 Colonsay

1952 Saskatoon

1955 Global

World Series

1957 Saskatoon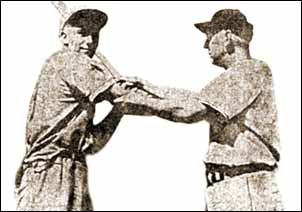 In the summer of 1951, Breckner, then 18, went to a tryout camp in Regina, sponsored by the Leader-Post, and was chosen by the Pittsburgh Pirates to attend spring camp in California.
July 27, 1951. Breckner (left) gets some pointers from Pittsburgh Pirate scout Don Lindeberg.
"Len Breckner, an 18-year-old first baseman from Colonsay, will be given a tryout next spring by Pittsburgh Pirates of the National Baseball league. The youngster was selected Friday from 100 boys at The Leader-Post's three-day baseball school which finished Saturday at Taylor Field.

The youngster will be given the opportunity to attend the Pirates' training camp at San Bernardino, Calif. He caught the eye of Pittsburgh scout Don Lindeberg, instructor at the school, who like his all-round hustle and willingness to learn.

Breckner, a left-hander, always batted right before he came to the school. Lindeberg made him bat lefthanded, gave him a few pointers and in no time at all he was belting the ball for sale hits in practice games.

Thus, a few hints from a qualified instructor has given an eager boy his big chance in baseball.

"If this lad keeps his desire to play baseball, the way is open for him to go all the way," Lindeberg said. "He will be under competent coaches who will give him all the attention in the world so long as he shows a willingness to absorb their teachings. How far he goes depends entirely upon himself." (Regina Leader-Post, July 28, 1951)
It was not to be. In spite of the headlines and the promise, the Pirates never did follow through:
"I went down there (to the Regina tryout camp) with another fellow, Jerry Montgomery from Melfort who was also supposed to be going. This fellow Don Lindberg said okay you go to San Bernardino, California in the spring time. We're going to send you money on the way down. That was in about August of 1951. I never heard from him again."
And, he soon returned to hitting from the right side.
"I batted lefthanded and he (Lindberg) said you'll never make it unless you learn to bat lefthanded. So I come back, playing with Colonsay, and I'm not hitting at all batting lefthanded. We're at Rosthern in a tournament. It's tied 1-1 and it's my turn to bat and the guys say, "Don't bat lefthanded, you're not hitting a thing." It was Roy Moldenhauer who said, "Len, go up righthanded." I did. I hit the ball out of the park and we win 2-1. I stayed righthanded."
In 1952 the big first sacker suited up with the Saskatoon Gems and played 46 league games (and who knows how many exhibitions and tournaments). While trying to balance work and ball, he would play with Saskatoon until 1959, albeit in just a handful of games some seasons.
"In the spring of 1953 we went down to California and I tried to get into Fresno State with Pete Beiden. But, I didn't get in as I didn't have enough education. But, Roy Taylor (at COS) told me after that, "I didn't want to interfere but you could have come to school at Visalia." I didn't know it at the time so I just stayed there and practiced with the guys for a month or so and came home. And, that could have changed my life I suppose."
So might have a trade. At least Len heard it first hand.
"In 1953, early in the year, the Gems weren't playing very well and I know Pete Beiden and Ralph (Mabee) were talking about trading me to Moose Jaw. I was driving Ralph's car back from North Battleford and they were sitting in the back seat trying to improve the team."
And, there were always a few surprises along the way. In 1954, Breckner, never known as a speedster, had two inside-the-park homers during a week in August (he hit .409 in 44 at bats for the baseball team while continuing to play softball for the Osler Monarchs). And, in 1955, teammates didn't discover until the final game of the playoffs that the club's second baseman couldn't bunt.
"1955, seventh game of the finals I come to bat. Two on base and Jim Ryan (the Edmonton manager) walked me to load the bases. Jose Valladares comes up and Ralph (Mabee, the Saskatoon manager) goes to him and says, "Mario Herrera (who was very fast) is on third base, just put the ball down, Mario scores and the game's over." Jose says, "I can't bunt." So he hit a smasher to second base, the second baseman threw it home and Mario just slid in and was out. And, we lost the game in the 13th inning."
Of course, in playing for nearly 20 years, there would be scrapbooks full of highlights (including a spot on the Canadian team at the 1955 Global World Series in Milwaukee). But, it was hard to top Breckner's performance over four weeks in the summer of 1957 in the tough Western Canada League.
He kicked off the streak with a 5 for 6 day on the 12th of July. A day later Breckner had six hits in a double-header. He added a double and a homer on the 15th. On July 19th he belted a grand slam. July 28th he did it again. July 30th, another homer. August 7th, a three-run homer. And, to top off the streak, the Gems held Len Breckner Night on August 13th. A capacity crowd of 3,500 crowded into Cairns Field to salute Len (then all of 24 years of age) and Chris, his bride of one day (it was reported years later that the haul was $474). And, he got to witness one of the more unusual runs of the season. In the 6th inning, opposing pitcher Ernie Nevers walked shortstop Jim Phillips and then made three wild pitches sending Phillips to second, third and, finally, across the plate.
1957 may have been his best season. Playing in a circuit with Ron Fairly, Len Tucker, Bob Herron, Larry Elliott, Cliff Pemberton, Bobby Cesar, Jose Tartabull, and Tom Haller and hitting against top flight pitching such as Dale Zeigler, Larry Miller, Ernie Nevers, Ralph Vold and Bennie Griggs, Breckner hit .316 with 58 RBI in 65 games.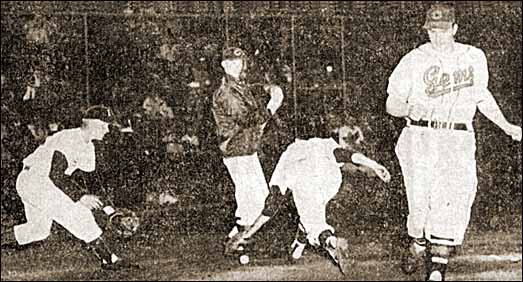 July 23, 1957. Breckner scores as the throw gets away from Edmonton catcher Tom Shollin. Saskatoon pitcher Charlie Beene is directing traffic while the Eskimo's Ralph Vold is backing up on the play.
He played just a half dozen games in the Western Canada League in '58 spending most of the season with Spero Leakos' Saskatoon Commodores (and played tournament ball with Kindersley). In 1959 he won the batting title in the Saskatoon and District League with a .405 mark and hit .328 with 3 homers in 17 games with Saskatoon in the Canadian-American League. His pay-for-play career ended August 29th, 1959.
"I slid into home, broke a bone in my ankle, it never did heal properly and that hampered my career for awhile. I remember the date so well because the night before on my daughter's first birthday, I'd hit two home runs."
Through the early 60s Breckner participated mainly in tournament ball suiting up with Kindersley, Rosetown, Colonsay, Unity and Neilburg. In 1966 and 1967 he was convinced to join the Saskatoon entry in the Northern Saskatchewan League (hitting .280 and .295 those last two seasons). He took his final swings in tournament play in 1968 with Colonsay.

April 25, 1990 The Star-Phoenix announced Breckner's election to the Saskatchewan Baseball Hall of Fame. The induction ceremony took place August 17th.
About ten years ago, Len retired after 20+ years with Rempel Brothers Construction in Saskatoon.
Len and Chris kept busy with 12 grandchildren from their four offspring (two boys, two girls) each of whom had families with two girls and a boy ! Len died November 27, 2016 a day after his 84th birthday.