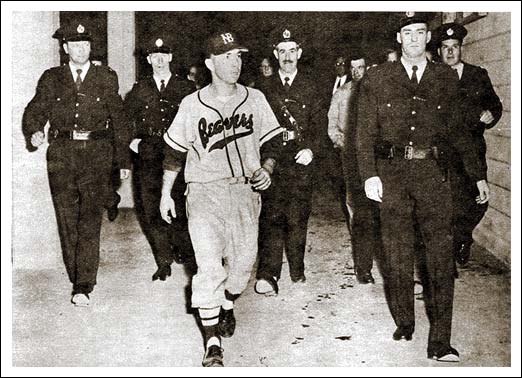 Johnny Ford
Ford arrived in Moose Jaw in 1953, along with sixteen other California kids, to get his first taste of the prairies (a snow storm greeted their first attempt to practice). Fifty-seven years later, he's still there.
Left - Johnny Ford, in 1957, being escorted out of Renfew Park in Edmonton and to a waiting paddy wagon. It was the infamous Renfrew Riot. (Edmonton Journal, June 13, 1957)
Johnny Ford married a local girl (the former Beverley Riddell of North Battleford) and settled down in Saskatoon.
The San Francisco born firebrand came to the league from the College of the Sequoias and a stint in the Marines. He played with Moose Jaw in 1953, Lloydminster in 1954, then North Battleford from 1955 through 1959. In the late sixties and early seventies, Ford suited up in the Southern Saskatchewan League with Swift Current.
Ford began his career as a third baseman and evolved into a superb utility player. He was a consistent hitter -- .312 in 1954, then .305, .295, .297, .329 and .321. His best power year came in 1957 when he belted 7 homers.
Ford twice went to the Global World Series (with Saskatoon in 1955 and North Battleford in 1956). He came out of retirement to suit up with Swift Current of the Southern Baseball League in 1969 and played until 1972. In 2003, Ford was inducted into the Saskatchewan Baseball Hall of Fame.
(Below - Ford lays down a bunt in Canada's 1956 opener against Japan. The catcher ius Minoru Miyahara and calling the balls and strikes is umpire Chief Meyer. The photo first appeared in the Milwaukee Journal)