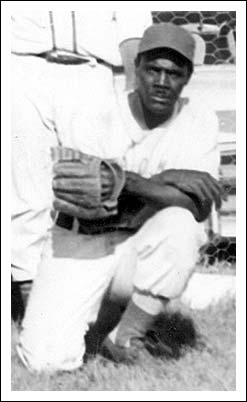 Hubert "Country" Glenn
Born: July 13, 1916, Lewisville, NC
Died: March 16, 2007, Hickory, NC
6'5", 200+, Batted Right, Threw Right
The big, right-handed pitcher came to Claresholm in 1951 and led the team to the Foothills League championship winning 17 games (in 21 decisions) and fanning 207 batters in 166 innings. He hit .535 with 17 doubles, 4 triples and 9 homers in just 99 at bats.
Game reports from the 1951 season
" ... Games throughout the summer were witnessed by large crowds not equalled since 1927 when Claresholm was a member of a semi-pro baseball league. The support for baseball this year is attributed to the larger seating accommodation on the grounds, the re-arrangement of the ball diamond, and the presentation of good ball.

Hubert Glenn, the American import did much for baseball in Claresholm during the past season. He was a good ball player, a gentleman, and he gave the ball fans a small sample of how the big leaguers work. Expenses of operating the club was high no doubt, but the club is said to have concluded the season on the right side of the ledger." (The Claresholm Local Press, October 4, 1951)
* Mid 1930's-1942 Taylorsville, Lewisville, N. C., Clemmons, Salisbury Yellow Jackets, R.J.R. Reynolds Tobacco Co.
* 1938-1942 Bishop Stateliners (coal mining team ), Brenham, Kentucky, (coal mining team),
Winston-Salem Pond Giants
* 1941-1943 Lenoir Indians (furniture company team)
* 1943-1945 Philadelphia Stars
* 1946 Brooklyn Brown Dodgers
* 1947 Philadelphia Stars
* 1948 New York Black Yankees
* 1949 Indianapolis Clowns
* 1950 San Francisco Cubs
* 1951-1954 Claresholm Meteors, (Alberta, Canada , Canadian Foothills Wheat Belt League,
(won League Championship two years)
* 1954 Carmanngay Eagles, (Canadian Foothills Wheat Belt League ), (won Carmangay Baseball Tournament )
"Syd Pollock, general manager of the famed Indianapolis Clowns of the Negro American League, announces signing of two veteran Philadelphia ball players who will be new faces with the Clowns this season.

Signed to Clowns' contracts were Hubert "Country" Glenn and Marion "Sugar" Cain.

Glenn is 29, born and still resides in Philly. A 201-pound righthander, he should prove a valuable addition to the Indianapolis hurling staff. He bats from the left side and is noted for his remarkable long distance hitting power. Glenn performed for the Philly Stars in 1944, the Brooklyn Brown Dodgers in 1945, and for the last three years he has played independent ball." (The Chicago Defender, Feb. 26, 1949)
* Birth date Information & team list from Negro League researcher Wayne Stivers.