Ralph Hubert Mabee
Born : 19 August, 1912, Stoughton, Saskatchewan
Died : 26 August, 1986, Calgary, Alberta

Player, Manager, General Manager

1920s – Winnipeg. MB
1925 - 30s - Benson, SK
1948- 1950 - Saskatoon Legion
1951 - Saskatoon 55s
1952 - 1957 - Saskatoon Gems
1960s -1980s Baseball Exec in Calgary (the city had a
minor league farm team for the Expos and Cardinals.
Ralph was on the Board of Directors and acted as a
scout through his long relationship with Jim Fanning of
the Expos. He also had a ladies' softball team, the
Rockets, when he owned Rocket Car Wash in Calgary)
Ralph Mabee nomination to Saskatchewan Baseball Hall of Fame, 2021.
And, a few additional supporting documents.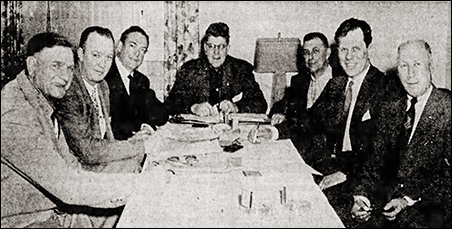 That's Mabee, second in from the right, with the other head men of the Western Canada League at an organizational meeting. L-R - Slim Thorpe, Lloydminster, Denny Evenson, Regina, John Ducey, Edmonton, league President George Vogan, Moose Jaw, Keith Erne, North Battleford, Mabee, Ken Doraty, Moose Jaw.
On Thursday August 29, 1957 it was "Ralph Mabee Night" at Cairns Field. Prior to the game, Mabee was presented with a watch and plaque from the directors of the Saskatoon Gems, and a gift from fans, in appreciation for his long service to baseball in Saskatoon.