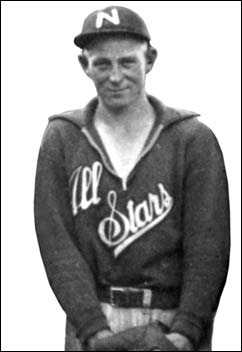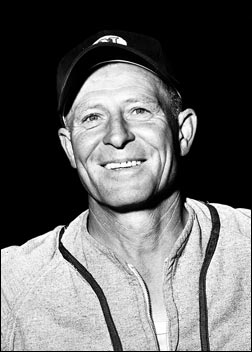 Pete Prediger
Shortstop/Catcher
Pete Prediger was Included in the original group Inducted into the Saskatchewan Baseball Hall of Fame in 1985.
The amazing Prediger was first noticed in 1932 playing junior ball in Edmonton (he had begun playing sandlot ball in Macklin, Saskatchewan, just across the Alberta border.
His long-time affiliation with Neilburg began in 1934 (left) when the young Pete (then a shortstop) suited up for the Neilburg All-Stars. He was still playing for them more than thirty years later!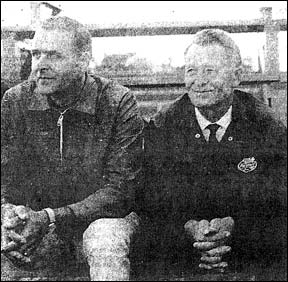 Prediger claimed to have played in the famous Saskatoon Exhibition Tournament for 33 consecutive years.
He was prepared to suit up for number 34 in 1969 with Neilburg in a game against Asquith, but his gear didn't arrive on time and Neilburg was eliminated from the tourney with a 7-4 defeat. That's Prediger at the right watching the game with former teammate Jim Grant.
Prediger was a major force in baseball and hockey as a player, coach and administrator. He was good enough in hockey to have played on one of the early Canadian squads to tour Europe in the mid-1930s.
In the early 1960's, he had such a long career that he had an opportunity to play in the Exhibition Tournament with his son, Ivan, also on the Neilburg squad.
Prediger was a strong offensive force throughout his career. In the statistics we've been able to find so far, Prediger was a steady .300+ hitter.
1949 - .367, 1950 - .333, 1951 - .354, 1952 - .385, 1960 - .345, 1962 - .364, 1963 - .301, 1964 - .311, 1965 - .326, and in 1966 when Prediger was 53 years old, he hit .314.
| | |
| --- | --- |
| 1932 - Edmonton Jr. | 1951 - North Battleford |
| 1933 - Macklin | 1952 - North Battleford/Saskatoon |
| 1934 - Neilburg | 1953 - Neilburg |
| 1935 - Neilburg | 1954 - Lloydminster |
| 1936 - Neilburg | 1955 - Neilburg/Lloydminster/Leipzig |
| 1937 - Neilburg | 1956 - Neilburg |
| 1938 - Neilburg/Moosomin | 1957 - Neilburg/North Battleford |
| 1939 - Neilburg | 1958 - Unity |
| 1940 - Neilburg | 1959 - Neilburg |
| 1941 - Neilburg | 1960 - Neilburg/North Battleford |
| 1942 - Technical School Aeronauts | 1961 - Neilburg |
| 1943 - Neilburg/Saskatoon Cubs/Delisle | 1962 - Neilburg |
| 1944 - Saskatoon Navy | 1963 - Neilburg/Kindersley |
| 1945 - Saskatoon Navy/Neilburg | 1964 - Neilburg |
| 1946 - Neilburg | 1965 - Neilburg |
| 1947 - Neilburg/North Battleford | 1966 - Neilburg |
| 1948 - Neilburg/North Battleford | 1967 - Neilburg |
| 1949 - Kamloops/North Battleford | 1968 - Neilburg |
| 1950 - Edmonton Dodgers/North Battleford | 1972 - COACH Saskatoon T-Birds |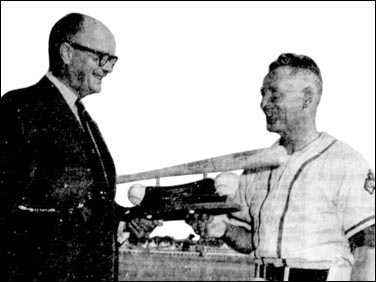 At the 1965 Saskatoon Exhibition Tournament, Prediger was presented with a special award noting his 32 consecutive years as a player at the event. Tom Evans of Sterling Distributors made the presentation.
Prediger had appeared at his initial Exhibition Tournament in 1934 with the Neilburg All-Stars and, over the years, had suited up with the home town All-Stars and Monarchs, Saskatoon, North Battleford, Unity, and Leipzig in the annual event.
July 17, 1969, John Henderson penned this piece on Prediger for the Saskatoon Star-Phoenix
Pete Prediger, who had his consecutive game streak in the Exhibition tournament snapped at 34 Tuesday night, and Satchel Paige have one thing in common. Nobody knows how old they are.

Paige is believed to be in his mid - 60's but Prediger feels 'Ole Satch' is 68 or 69. This is because Pete played against Paige twice in his lengthy career.

The first time was in 1934 when Pete played for Moosomin. The second time was 30 years later at Neilburg.

"Paige was quite fast in 1934," says Prediger, "but in 1964 you could count the seams on the ball."

Paige's all-star team beat Neilburg 7-1 but Pete hit a homer to account for his team's only run. However, the homer was off another pitcher, not Paige.

Paige's all-stars included Ira McKnight, who later played for the Saskatoon Commodores and North Battleford Beavers, and Sherman Cottingham, who also later performed with the Beavers.

Pete says he's not going to look up his age until he's ready for the old age pension but admits to being in his '50's'

What makes a man continue to play baseball at such an advanced age?

Pete replied, "I've always loved baseball, I would rather play ball than do anything else. I always did a lot of physical exercises and outside work which kept me in shape for ball."

The veteran campaigner says the the secret to baseball "is to handle the ball at least an hour every day. We practiced every day at Neilburg. As long as you don't lose your timing you can stay with it."

Pete was born in Macklin and played junior ball there. In 1932 or '33 he spent a year in Edmonton playing in a six-team junior league. John Ducey, who later managed Edmonton's entry in the Western Canada League, coached one of the Edmonton teams.

Pete went to Neilburg in 1934, the year of his first Exhibition tournament and played there until 1966. He spent five years with North Battleford Beavers from 1950-'55.

Pete started out as a shortstop, then played outfield, second base and finished up as a catcher.

"Catching was my favorite position because you're in the game all the time. You take a lot of beatings but shake them off pretty well," he said.

Pete was called up to Lloydminster Meridians for four games in 1956 as a replacement for the regular catcher. One game he fondly remembers was against Edmonton Eskimos in Lloydminster.

"We were tied 1-1 in the bottom of the ninth with two men on. I cam to bat and Ron Fairly, now with Montreal, told the rightfielder to come in. Their pitcher Kirby Payne threw me a curve and I hit it between Fairly and the rightfielder to drive in the winning run. They bought me the biggest steak in Lloydminster that night," he smiled.

Pete went to Edmonton for two games and to Saskatoon for one and then left the Meridians to return to his clothing store in Neilburg.

In one of the games in Edmonton Pete hit a double, triple and homer, his last home run in the Western Canada League.

Pete also played a little hockey in his day. He toured Europe with a Canadian all-star team in 1936-'37.

"We played 58 games that year and lost two and tied one. Kimberley Dynamiters, Canada's Allan Cup champions that year, beat us 2-1 and 4-2 and we tied them 1-1," he said.

Two of the members of the all-star team were Percy Dalton of the Saskatoon Nutana Juniors and Lorne Grey of the University of Saskatchewan. "Grey was a good hockey player. He's now president of Atomic Research for Canada," said Pete.

Prediger spent almost as much time on the ice as he did on the ball field, hanging up his skates in 1962. He started his career as a centre but finished it on defence. However, he continued to coach until 1966 when he and his family moved to Saskatoon.

Pete and his wife Freida have four children, a son, Ivan, and three daughters.

He has been a grandfather twice and has a grandson, Pete James, named after him.

Controversial Eddie Shore picked up Ivan from Seattle but Ivan walked out on him in Springfield and went to Des Moines of the International League.

He went to the Los Angeles Kings' training camp last fall but returned to Des Moines, where he also has a sales position, rather than go to Springfield.

Pete has had a number of thrills in his career, including 1961 when Neilburg won the Northern Saskatchewan Baseball League title, hitting a home run for Kamloops in a tournament in Lloydminster which broke a tie with Sceptre and he and the pitcher hitting homers as Kamloops defeated a Vancouver team in a tournament in Kamloops in 1947.

Winning the Exhibition tournament in 1961 with a young club, which included Ivan, was another highlight.

A day which he will always remember was when he and his wife were honored with a Pete Prediger Day in Unity in 1961. Pete received a rocking chair as one of the gifts.

Coaching Neilburg to the provincial junior baseball championship over Moose Jaw in 1959 was another thrill for Prediger.

Pete can't remember ever batting under .300 in his career. He was always in the top six hitters and batted .329 in his final year in baseball.

He is still interested in baseball and would still be playing if he had the time. However, he is looking for a coaching job with any Saskatoon team which is interested.

Any offers?