James E. Jimmy Wilkes (Seabiscuit)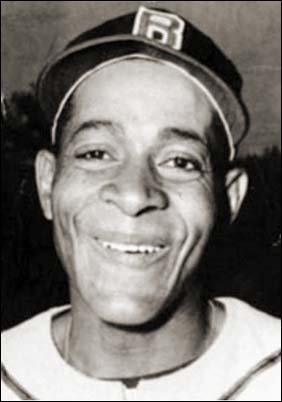 Batted: Both, Threw: Right
Height: 5' 8'', Weight: 160
Born: October 1, 1925, Philadelphia, Pennsylvania
Died: August 11, 2008, Brantford, ON

Centrefielder : Newark Eagles (1945-1948), Houston Eagles (1949-1950), minor leagues (1950-1952), Indianapolis Clowns (1952), Brantford (Ontario Intercounty League) Red Sox (1953-1963)
Wilkes was a key member of one of the last great Negro League teams, the Negro League champion Newark Eagles of 1946. He was the team's centrefielder and leadoff hitter.
His speed in the outfield and on the bases brought him the nickname "Seabiscuit" after the famous thoroughbred race horse of the era.
He played Negro league ball from 1945 to 1950 before entering organized baseball in the Brooklyn Dodger system.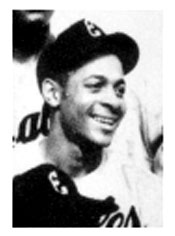 After two years he left to return to Negro league ball with the Indianapolis Clowns (playing out of Buffalo, New York). While on a barnstorming tour of Ontario, he caught the attention of the Intercounty League team in Brantford. He got a job with the city (where he worked for more than 30 years) and played for the local Red Sox for ten seasons before taking on an career as an umpire for another 23 years.
The Red Sox won the league title five times during his ten year tenure.
---
Thanks to Bob Elliott of the Toronto Sun for sending along several pieces the Sun had done over the years on Jimmy Wilkes.
---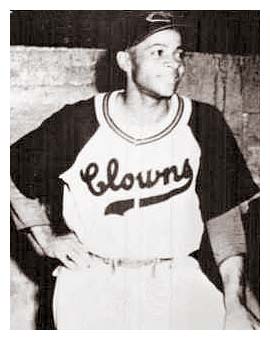 April 15, 1997
Jackie Robinson became the major leagues' first black player on this day in 1947 and, for Jimmy Wilkes of Brantford, the memories remain vivid. BY BOB ELLIOTT
Fifty years ago today, Jackie Robinson broke baseball's color barrier.
Players are wearing special patches on their sleeves to honor Robinson's memory. Yet while the establishment congratulates itself, it should remember how many years it kept the doors closed.
And Dodgers boss Branch Rickey didn't sign Robinson because Rickey was a great humanitarian. He signed him because Robinson made the Dodgers a better team.
How good was Robinson?
"Jackie was great, but he wasn't the best in our league," Jimmy Wilkes said yesterday from Brantford.
Wilkes played in centre field for the Newark Eagles against Robinson's K.C. Monarchs in the Negro Leagues.
"The main reason Rickey signed him was because Jackie had been to UCLA," Wilkes said. "He'd mingled with the white people. A lot of us wouldn't have taken the crap Jackie took.
"Rickey knew Jackie would be a gentleman. What was it Rickey told him? If they smack you on your right cheek, turn your left cheek. I couldn't have done it."
Baseball wasn't even Robinson's best sport. He was a two-time all-conference, football player, averaging 10-plus yards per carry his senior year, led the conference in scoring in basketball twice and was an all-American in track.
He was the right man to open the doors.
Wilkes, now 71, was signed by the Dodgers and spent 1951 at Elmira, N.Y., in the PONY league.
"It wasn't bad, but I knew how bad it had been for Jackie," Wilkes said. "I used to hate it when we went barnstorming to the south.
"We couldn't eat in restaurants, had to walk on the other side of the streets and use different water fountains."
Wilkes was one of the better centre- fielders in the Negro Leagues, playing for four seasons. In 1946, Newark beat Satchel Paige's Monarchs for the title.
"Being from Philadelphia I hadn't grown up with all that crap," Wilkes said. In the south, Wilkes said if he fouled a ball off his foot, fans would yell using the N-word.
"Call us black, or whatever, but that word would get everyone angry. What could you do? Say something and you'd get your head blowed off."
Robinson was hit a record seven times in the first half of the 1947 season. He dusted himself off, laced line drives and stole bases.
After an early slump, he hit .297, led the league in steals with 29, topped the Dodgers with 12 homers and helped Brooklyn reach the World Series. Many a baseball exec, who claimed blacks shouldn't be allowed to play because they couldn't, did an about face.
The grand and august The Sporting News, which had opposed allowing blacks in the majors, named Robinson rookie of the year.
"Jackie had it rough, from some of his own team, southerners," Wilkes said. "He went through hell for us, we went hell for those guys playing today. They're making all that money." Wilkes' high-water mark was $500 a month.
"We played for the love of the game, I don't care who the player is, not one player is worth the money they earn," Wilkes said. "Look at Pat Hentgen, he needs help to win. He didn't get it twice and he didn't win." Hentgen twice has left with the lead this season, only to watch the Jays lose.
At Newark, Wilkes played with Monte Irvin and Larry Doby, the first black to play in the AL. "Larry played second," Wilkes said. Wasn't Doby an outfielder?
"Not with the Eagles, not with me playing centre field. He learned by watching me," Wilkes said with a laugh. "I could move brother, they didn't call me Sea Biscuit for nothing. If I bunted a ball and it hopped twice, they might as well put the ball in their pocket."
After two years in the Dodgers' system, Wilkes returned to the Negro Leagues, with the Indianapolis Clowns.
They barnstormed through Ontario in 1953. The Brantford Red Sox got Wilkes a job with the city, driving a street sweeper in the summer.
"In the winter I'd plow snow, one guy I had a beef with, I cleaned the whole street, parked down the street and saw him come out in the morning to see all the snow in his drive," Wilkes said. "I cleaned it out later."
Wilkes played for the Red Sox from 1953 to '63, winning the Intercounty title five years. He umpired for 23 years until he retired in 1986.
He stays active by bowling and remembering Jackie Robinson.

---
April 20, 1997
WILKES HAS SEEN IT ALL BY BOB ELLIOTT
Jimmy Wilkes accomplished a lot playing in the Negro Leagues, in the Dodgers' organization and 10 seasons with Brantford Red Sox in the Inter-County League.
Yet his biggest contribution to baseball came one day as a member of the Indianapolis Clowns.
"One barnstorming trip in '52 we went into Buffalo," Wilkes, 71, was saying this week. Scout Dewey Griggs, who signed Wilkes asked if anybody there could play in the majors.
"That fellow sitting in the dugout," Wilkes said with a nod. "If he doesn't go to the majors, my name ain't Jimmy Wilkes."
The player was Hank Aaron, who hit more homers than anyone in baseball.
"When Griggs came to Brantford the next year, he brought me a dozen bats and every other year after that," Wilkes said. "I wouldn't take money, but I took Louisville Sluggers."
Wilkes played in the Dodgers' chain with the likes of Charlie Neal, Don Zimmer, Tommy Lasorda at Class-A Elmira (.281 average, zero homers and 14 RBIs) in 1950; at Class B-Lancaster (.231, two homers, 32 RBIs, 17 steals) and Elmira (.273, no homers, three RBIs) in 1951; and Class-C Great Falls (.235, no homers, six RBIs) in 1952.
A number of ex-Negro Leaguers came north, after the league folded. The best of the young went to the majors, while older players headed to semi-pro leagues.
A partial list, Negro League, followed by their Intercounty teams: Larry Cunningham (Houston, Galt and Hamilton); Ed Steele (Birmingham, Galt); Wilmer (The Great) Fields (Homestead Grays, Brantford); Shanty Clifford (Homestead, Galt and Brantford); Jeff Shelton (St. Louis and Galt) and Gentry (Geep) Jessup (Chicago, Galt).
Wilkes made the most lasting impression.
"They used to say Brantford could put its left-fielder five feet from the foul line, the right-fielder five feet from the other line and Jimmy Wilkes would cover the rest," Bob McKillop, a former Kitchener catcher, said. "He was the best ball-strike ump our league ever had."

---
August 4, 2001
Toronto Maple Leaf Baseball BY PAUL FERGUSON, TORONTO SUN
Never in the 83-year history of the Intercounty Major Baseball League has there been a team like the 2001 Toronto Maple Leafs. With a 29-3 record for a .906 winning percentage, the Leafs broke the winning percentage of .882 set by the 1961 Brantford Red Sox, who went 30-4..
Former Red Sox player Jimmy Wilkes, who played for the 1961 Brantford Red Sox team, thought the record would stand the test of time.
"I never thought I would see a team break our 1961 record, I was very surprised." said Wilkes, who resides in Brantford.
Before Wilkes came to Brantford in 1954 he played with and against Hall of Famers Satchel Paige, Josh Gibson, Hank Aaron and Jackie Robinson in the Negro Leagues.
Wilkes actually won the Negro League World Series in 1946 when his team beat Paige and the Kansas City Monarchs.
When it looked the Negro Leagues were going to fold as a result of Jackie Robinson breaking the major-league colour barrier in 1947, it was a no-brainer for Wilkes to come to Brantford where he could escape the racism he faced in the Deep South and still play semi-professional ball .
WON FIVE TITLES IN A ROW
Wilkes played in the Intercounty League for the Brantford Red Sox from 1953-63, winning five consecutive titles from 1959-63. He sees a lot of similarities between the teams he played for and this year's version of the Maple Leafs.
"We had ball players that knew what to do," Wilkes, 75, said. "All our manager had to do was make up the lineup and say let's play ball.
"The Leafs also have a powerhouse team this year. The Butler brothers made the difference. Jack Dominico (the Leafs' owner) is always going to bring up high-class players because he doesn't like to lose."
The Leafs also put together a good regular-season record in 2000 (23-12), but lost to Kitchener in the semi-finals. Perhaps for this reason, this year's team is playing down their achievement.
"The record didn't mean anything to me," said Leafs designated hitter Dana Duskocy. "Maybe it meant something to the guys who have played for Toronto for years but if we lose the championship, I don't give a crap about this record.
"If we win the championship then it will mean something."
After setting the winning-percentage record, the Leafs are confident heading into the playoffs and there should be no doubt who's going to win the championship this year, according to Wilkes.
"You can tell Dominico he has it sewed up this year and you can take that to the bank," he said.
---
Wilkes passed away August 11, 2008 in Brantford, Ontario his adopted home. The local paper, The Brantford Expositor, carried the following story.
Red Sox star loved city
Posted By TED BEARE, FOR THE EXPOSITOR

He came from Philadelphia in 1953 to play baseball, fell in love with Brantford, and spent the rest of his life here.
And just as Jimmy Wilkes embraced his adopted city, Brantfordians welcomed Jimmy with open arms.
A legend in his own time, Jimmy died Monday and left behind a ton of memories and a legion of friends and family, including his lovely wife, Donna.
While it was baseball that brought him to Brantford, Wilkes became as popular away from the field as he was patrolling centre field at Cockshutt Park.
People who were too young to have seen him play, or who weren't even born then, looked up to this fun-loving guy whose ear-to-ear smile seemed to be permanent and whose laughter was infectious.
When Wilkes was a city works employee, youngsters would rush out to the sidewalk whenever they heard his garbage truck or snowplow coming along the street, waving and shouting to him. They called him "Yogi Bear" and he was so impressed he had his automobile licence plate inscribed Yogi.
In later years he was a part-time driver for a local pharmacy, delivering medication to seniors. When they answered the doorbell they were always happy to see Jimmy standing there,
ready to talk and to listen. His positive attitude and friendly smile probably did more for their general health than the pills he was delivering.
One of his calls was to the mother of a sportswriter. When she opened the door,
Jimmy would say, "Hi, Momma." And then they would talk baseball, probably long enough to make Jimmy late for his next delivery.
After he left, she'd call her son and say: "Guess who was just here." It made her day.
On the field Wilkes entertained Brantford baseball fans from 1953 to '65 with his line drives, base-stealing and fielding. Who could forget seeing him race to the snowfence, leaping up and snaring a ball that was on its way over the barrier, then hanging on to it while he and the fence fell to the ground together?
He was the centre fielder for the Sox when they won a record five consecutive Intercounty championships, 1959- 63. After hanging up his glove, he became an umpire and was the most-sought- after arbiter on the Intercounty circuit. The players respected him and he respected them.
NEGRO LEAGUE PLAYER
Before coming to Brantford, Wilkes had played in the Negro Leagues where he played with and against such legendary stars as Jackie Robinson, Satchel Paige, Hank Aaron and Willie Mays. He could entertain a listener for hours with his stories of those days, which were special to him.
His favourite memories were of the 1946 Negro World Series, in which he helped the Newark Eagles upset the heavily-favoured Kansas City Monarchs, four games to three. The Monarchs had Paige, widely regarded as the best pitcher in baseball history.
Wilkes kept a scrapbook and would point to a box score of a game in that series, showing that he got two hits in four times at bat against Satch. Wilkes also saved the seventh game of the series with a spectacular catch of a line drive Buck O'Neill hit to left-centre.
One of the fastest runners in the sport, Wilkes twice led the Negro Leagues in stolen bases and his speed earned him the nickname "Seabiscuit," after the most popular race horse of its time. He flashed that same base-running magic at Cockshutt Park, but Brantford Red Sox catcher Shanty Clifford, who had played against Wilkes in the Negro Leagues, told an Expositor sportswriter: "If you think Jimmy's fast now, you should have seen him in his prime."
Wilkes seemed to take more pride in his defence than in his hitting or base-running. He was especially proud of a story which described a catch that Jimmy made in the deepest region of centre field in Yankee Stadium as one of the best that particular writer had ever seen.
Among his rivals was Willie Mays, often said to be the best centre fielder ever to play in the major leagues.
"If me and Willie were in the same outfield, they wouldn't need anybody else out there," Jimmy liked to say. "We'd have caught everything that came out there."
That may seem like boasting, but that wasn't Jimmy's style. It just came across as nothing more than a matter of fact. Like a good umpire, Jimmy simply called 'em the way he saw 'em.