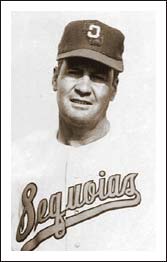 The beloved Roy Taylor took over the reins of the COS baseball program in 1951 and over 17 seasons compiled a 285-199-6 record.
His 1957 team captured the California Junior College title with many of those with a Western Canada connection in starring roles including Marvel Weekly, Jim Hansen, Jim Garrett, Dick Doepker, Buddy Burgess, and Ben Reniker.
In 2007, the 1957 team was saluted in a special 50th anniversary celebration see below)..
Taylor's efforts would win him a spot in the COS Hall of Fame and the California Community College Baseball Coaches' Association Hall of Fame and the admiration of players and fans in both the United States and Canada.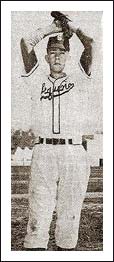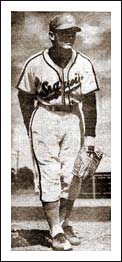 Coach Taylor (left) with right-handed pitcher John Carlson, and first baseman Bud Ellington from Taylor's first COS squad, in 1951. At the extreme right, pitcher Ben Reniker from the 1955 COS lineup.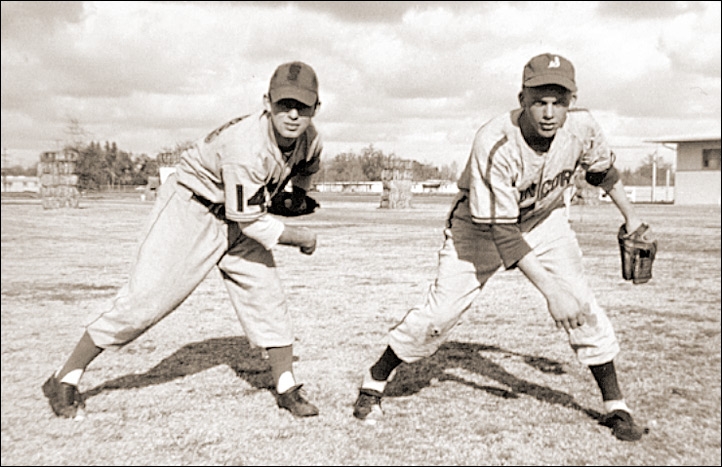 1952 spring practice on campus at COS. Steve Stavrianoudakis (left), Charlie Beene (right).
Photo courtesy Charlie Beene
58 years later, in the spring of 2010, Stavrianoudakis tracked down his old mentor, coach Taylor, at a care facility in Visalia.
Steve and his son Peter reported a marvelous visit with the Sequoias legend. There's a photo of the special day on one of the "News" pages.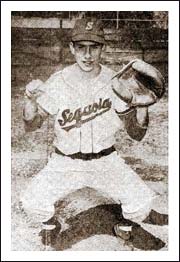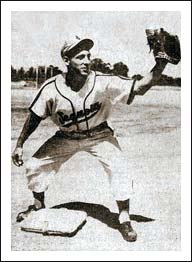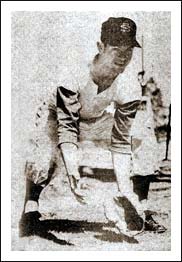 Above left - Steve Stavrianoudakis (left) (in a "borrowed" Saskatoon uniform), with Charlie Beene (centre) and Bob Garcia at spring practice 1952.(Photo courtesy of Charlie Beene)
2nd from left, catcher Jim Garrett (this photo & others here from Jim's scrapbook). Right - Rich Rubio.
Left - Infielder Bill Sheffield.
Below left - slugger Len Tucker (photo courtesy Neill Sanders), right-handed pitcher Jim Hansen, "JD" Jim Peterson, and Roy Arnold.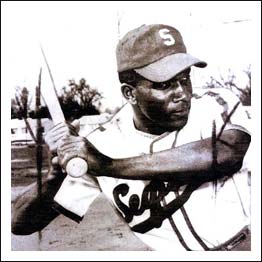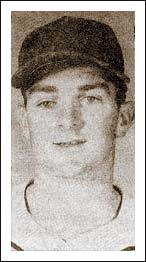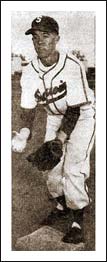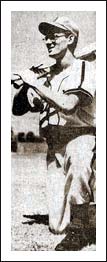 The 1954 Sequoias squad sent nearly a dozen players to suit up with teams on prairie fields in Western Canada. Top row (left to right) - Dave Kostenuk, Jim Hagemeister, Bob Holowaty, John Zeeben, Ruben Alvarez.
Bottom row - Rudy Garcia, Kirby Wyllie, Rich Rubio, Neil Fredrickson, Bill Findley. Surprisingly, four members of the mound staff were Canadians (Kostenuk, Hagemeister, Holowaty and Zeeben).









The BIG season for COS was 1957 when the team won the California state championship.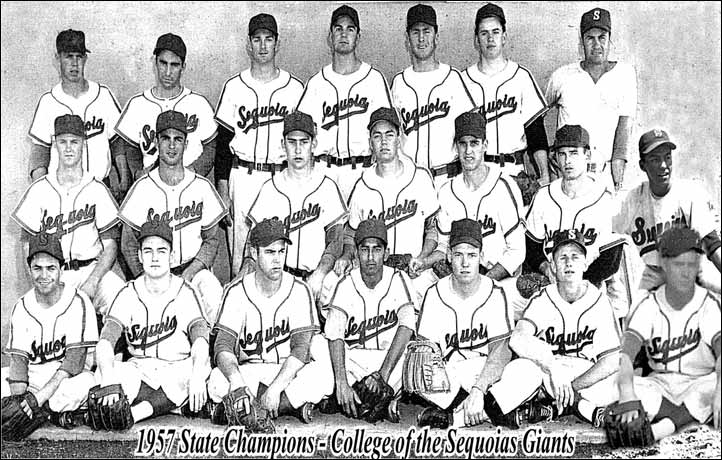 Back row (left to right) : Ernie Tressler, Frank Alves, Jim Hansen, Ted Hiltel, Bill Key, Mike Guy, Coach Roy Taylor. Middle row (left to right) : Buddy Burgess, Mel Silva, Jim Garrett, Marv Weekly, Dick Doepker, Glen McMillan, Joe Hernandez. Front row (left to right) : Babe Castillo, Paul Morrison, Bill Ryan, Joe Morillo, Thurman Zearley, Jim Chatham, Art Browning. Not pictured - Gene Graves, Ben Reniker, Mike Wlasichuk.
Roster : Jim Allen P, Frank Alves OF, Art Browning P, Buddy Burgess SS, Babe Castillo 2B, Dick Doepker P, Jim Garrett C, Mike Guy P, Jim Hansen P, Jose Hernandez INF, Ted Hiltel 1B, Bill Key OF, Glen McMillan OF, Joe Morillo P, Paul Morrison OF, Ben Reniker P, Bill Ryan 1B, Mel Silva 3B, Ernie Tressler C, Marv Weekly P, Thurman Zearley P
Leaders : Hitting - Buddy Burgess .326, 47 RBI, 12 home runs; Ted Hiltel .350, 40 RBI, Mel Silva .307, 47 RBI; Bill Key .305, 33 RBI
Pitching - Jim Hansen 9-3, 1.94 ERA, 101 innings; Marv Weekly 5-2, 2.24, 51 innings, Dick Doepker 5-0, 2.83, 41 innings.
Overall, COS went 23-13 in 36 games (including four exhibition games).
1957 Championship Season
(There's some missing information and, if you can help fill in some blanks, I would appreciate hearing from you.
)

Feb 22 : COS 3 Monterey JC 0
COS opened the season with a 3-0 win over Monterey Peninsula College in Visalia as Dick Doepker, Ben Reniker and Jim Hansen combined on a one-hitter and compiled 14 strikeouts. Bill Ryan led COS at the plate with three hits. Jim Garrett had a pair of doubles.
Feb 26 : COS 7 Bakersfield JC 1
Dick Doepker, Ben Reniker and Jim Hansen combined to limit Bakersfield to six hits as COS scored a 7-1 win in Visalia.
March 1 : LA Valley JC 5 COS 4
Los Angeles Valley College shaded COS 5-4 as the Giants made five costly errors.
March 4 : COS 6 Taft JC 1
Dick Doepker and Jim Hansen hooked up in a brilliant pitching performance to lead COS to a 6-1 decision over Taft in the opening conference game of the season. The two combined for 19 strikeouts. Doepker, who went the first six innings, fanned 12 and Hansen struck out another 7 in the final three innings.
March 5 : COS 6 Fresno St JV 5
A three-run triple by Frank Alves in the 8th inning gave COS a 6-5 win over Fresno State College Junior Varsity at the COS diamond.
March 9 : COS 18 Hancock JC 0
COS whipped Hancock 18-0 in the first game of a twin-bill in a contest called at the end of five innings. Dick Doepker and Marvel Weekly combined to hold Hancock to one hit while the Giants banged out 14. Buddy Burgess drove in seven runs and Mel Silva hit for the cycle for the Giants.
March 9 : COS 13 Hancock JC 3
COS pounded out 15 hits to trounce Hancock 13-3 in the second game of the double-header.
March 12 : COS 17 Fresno JC 6
COS roared back from a six-run, first inning deficit to score 17 unanswered runs and whip Fresno Junior College 17-6. The Rams drove COS mound ace Dick Doepker from the hill in the opening frame but were limited to three hits the rest of the way by Jim Hansen and Ben Reniker. Jerry Burcher took the loss. Buddy Burgess, Mel Silva and Bill Key each had four hits for COS. Frank Alves belted a homer for the Giants. Stan Busch had three of Fresno's ten hits. It was the fourth conference win for COS and gives them an 8-1 record overall.
Burcher, Keller and xxx
Doepker, Hansen (1), Reniker and Garrett
March 15 : UCLA 11 COS 3
UCLA scored four runs in the opening frame and went on to trounce COS 11-3 in an exhibition match at Westwood.
Reniker, Guy (3) and Garrett
Bolt, Exton (7) and Roberts, McKee (7)
March 19 : Porterville JC 2 COS 1
A brilliant pitching duel highlighted Porterville's 2-1, 10-inning win over COS. Mountie Bedford allowed just two hits and fanned 11 in taking the win while Jim Hansen gave up just three hits and struck out nine. The Pirates scored the winner on a sacrifice fly by Maynard Summers.
March 22 : Coalinga JC 3 COS 2
Leroy Gregory doubled in Larry Yogi with the winning run in the 9th as Coalinga beat COS 3-2. Dave Buss had a homer for the Falcons.
March 26 : Bakersfield JC 6 COS 3
March 29 : Reedley JC 12 COS 6
Reedley College had 10 hits and cashed in on 14 COS errors to whip the Giants 12-6 Friday. Buddy Burgess cracked a homer in the third to put COS ahead 3-2. In the eighth, the Giants rallied to pull within one, at 7-6, but Reedley hit pitcher Ben Reniker for five runs in the ninth for the win. L.H. McDaniels led the winners with five hits, one a homer.
Coalinga 4-1
Reedley 3-1
Fresno 3-2
COS 4-3
Porterville 4-2
Taft 1-6
Hancock 0-3
April 4 : Fresno State JV 11 COS 10
Fresno exploded for seven runs in the first inning then held on to top COS 11-10. Each team collected 14 hits. COS committed seven errors. Columbus Craig and Jim Maraccini led the Bullpups each with three hits. Buddy Burgess had a homer for the Giants while Jim Garrett chipped in with a double and a single.
Weekly, Zearly (1), Guy (9) and Garrett, Tressler (7)
Millhorn, Emery (7) and Hastings, Schmidt (6)
April 5 : COS 3 Taft JC 1
Ben Reniker tossed a four-hitter and fanned 18 to lead COS to 3-1 win over Taft JC in a CCJCA game in Visalia. The win broke a six-game losing streak for COS (5-3) and kept alive their chance for at least a tie for the league title. Buddy Burgess belted a two-run homer in the second inning and rapped a double in the fourth and scored on Frank Alves' single.
Scott and Diaz
Reniker and Garrett
?? Las Vegas Wranglers 8 COS 7 (Exhibition)
The Las Vegas Wranglers of the Arizona-Mexico League opened its spring training with an 8-7 win over COS. Buddy Burgess had a three-run homer for the Giants.
Reedley 4-1
Coalinga 6-2
COS 5-3
Fresno 3-3
Porterville 4-4
Hancock 3-5
Taft 0-7
April 9 : COS 5 Fresno JC 0
Dick Doepker allowed just two hits in pitching COS to a 5-0 win over Fresno JC. The win gave Roy Taylor's Giants a 6-3 record in the Central California Junior College Association. Reedley leads the loop with a 5-1 mark. Doepker gave up a single to Stan Busch in the third and another to Cloyce Keeney in the fifth. He fanned 10 and walked three. Bill Key and Mel Silva each had three hits for the winners.
Doepker and Garrett
Keller and Bertlesen
April 11 : (Azusa Tournament )
COS 10 SB 1
LACC 3 COS 0
April 12 : Visalia Redlegs 2 COS 1 (Exhibition)
?? COS 7 Las Vegas 6 (Exhibition)
COS scored four in the first and went on to down Las Vegas Wrangers (Arizona-Mexico League) 7-6. Jim Garrett's two-run homer in the fifth was the winning margin. Garret had three hits.
April 17 : COS 9 Antelope Valley 4
College of Sequoias downed Antelope Valley 9-4 in the opening round of the Bakersfield Tournament.
April 17 : COS 6 Coalinga 4
COS won a spot in the final of the Bakersfield Tournament with a 6-4 victory over Coalinga College.
April 19 : Fresno JV 14 COS 6
Fresno Rams took advantage of 14 hits and 9 walks to dump the Sequoias Giants 14-6 to capture the third annual Bakersfield College invitational baseball tournament. Clyde Reed, Stan Busch and Cloyce Keeney provided the offense for Fresno combining for nine hits and 10 runs. Reed collected three hits, including a triple and knocked in four. Busch hit three for four with a double and Keeney went three for five with a triple and double. Jerry Burcher went the route allowing 11 hits and eight walks.
Doepker, Zearley (3), Hansen (5), Guy (5), Morrillo (6) and Garrett
Burcher and Bartelsen
April 23 : COS 16 Porterville 2
Centrefielder Glen McMillan pounded two homers and a single to pace COS to a 16-2 win over Porterville. Buddy Burgess had a homer and two singles. COS erupted for nine runs in the fifth to salt away the victory. Jim Hansen held the Pirates to two hits over the first seven innings. Therman Zearley and Mike Guy finished up.
April 25 : Fresno JV 5 COS 3
The pitching of Paul Millhorn and the heavy hitting of Columbus Craig paced the Fresno State College Junior Varsity baseeball team to a 5-3 win over College of Sequoias. Millhorn allowed just five hits while registering 12 strikeouts. Craig poked a homer, triple and two doubles. For COS, a two-run homer by Buddy Burgess was the big blow.
Millhorn and Schmidt
Guy, Zearly (4), Browning (5) and Tressler
April 26 : COS 4 Coalinga JC 3
COS took a 4-0 lead then held on for a 4-3 win over Coalinga. Giants scored three in the fourth, two on Babe Castillo's single to break a scoreless game. Marvel Weekly and Jim Hansen combined on a six-hitter.
April 29 : Fresno State JV 5 COS 2
?? COS 9 Poplar Cardinals 2 (Exhibition)
May 4 : COS 15 Reedley JC 8
COS remained in the hunt for the CCJCA title with a 15-8 win over Reedley College. COS scored six in the first and coasted to the win. Jim Hansen tossed seven shutout innings before the Tigers erupted for seven in the 8th inning. Bud Silva led the Giants with four hits.

May 11 : COS 9 Coalinga 5
COS won the CCJCA title downing Coalinga 9-5 in a one-game playoff. Buddy Burgess belted a pair of two-run homers. Jim Hansen went the distance scattering nine hits for the win. COS plated the winning run in the 5th inning on a triple by Mal Silva, a walk and singles by Ted Hiltel, Phil Castillo and Hansen. Glen McMillan had a triple and two singles. It was the 18th win against 13 defeats for Sequoias which has a league record of 9-3.
Gregory, Lovewell (5) and Peek
Hansen and Garrett
May 21 : COS 7 Sierra 2
COS advanced to the semi-finals of California JC playoffs with a 7-2 win over Sierra College. Jim Hansen tossed a seven-hitter for the win. The right-hander fanned 13 and allowed just one base on balls. Jim Garrett led the offensive with a homer and two singles.
May 24 : COS 3 Modesto 0
Marvel Weekly threw a four-hit shutout as COS downed Modesto 3-0 in the first game of a best-of-three series for the Northern California Junior College title
Weekly (W) and Garrett
Holmquist (L) and Heath
May 25 : COS 7 Modesto 3
Jim Hansen's six-hitter led COS to a 7-3 win over Modesto Pirates. to win the series in two straight games.
May 30 : COS 4 San Diego 1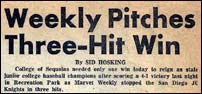 COS won the opening game of the final series with a 4-1 win over San Diego JC as Marvel Weekly tossed a three-hitter. The freshman from Exeter pitched hitless ball over the final six innings. Catcher Jim Garrett sparked the offense and performed brilliantly on defense as he picked two runners off first base and handled a pair of bunts flawlessly. The Giants had 14 hits off two San Diego hurlers.
Rico, Griffith (7) and Maxwell
Weekly and Garrett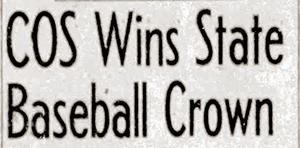 May 31 : COS 6 San Diego 5
COS won the Cal JC title with a 6-5 victory over SD College to take the best-of-three final in two straight games.
Jim Hansen went the distance to pick up his fourth straight playoff victory after finishing the regular season with a 6-3 mark.
Jim Garrett scored the winning run in the eighth after reaching on a walk and being driven home on Bill Ryan's single. Buddy Burgess belted his 12th homer for the Giants.
Collins, Sada (8) and Maxwell
Hansen and Garrett
Rams, Giants
Dominate Loop
All Star Nine
The state champion College of the Sequoias Giants of Visalia placed four men and Fresno three on the first team of the all Central California Junior College Association baseball team selected by the coaches of eight CCJCA schools.
Catcher Jim Garrett, pitcher Jim Hansen, second baseman Phil Castillo and shortstop Buddy Burgess are the choices from COS. Fresno has second baseman Augie Caldera, a tie with Castillo and Cloyce Keeney and Larry Keller, who tied for one outfield post.
The co-league champion Coalinga team had outfielder Larry Yogi and third baseman Raul Quezada. The other first team positions went to Maynard Sommers, Porterville, first base, and L.H. McDaniels, Reedley, outfield. (Fresno Bee, June 12, 1957)
---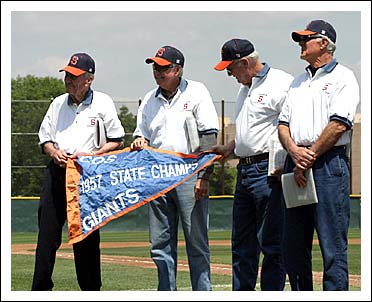 The 50th anniversary celebration of the College of Sequoias state championship team.
That's Roy Taylor, coach of the 1957 team, at the far left. Among the members of the '57 squad who played in Western Canada are Taylor, Jim Garrett, Dick Doepker (a Saskatchewan lad who settled in Visalia after his college and pro career), Jim Hansen, Marv Weekly, Ted Hiltel, Gene Graves, Ben Reniker and Buddy Burgess. At least a couple of papers carried stories on the reunion and celebration, Tulare Advance Register, Visalia Times-Delta, and Fresno Bee
50th ANNIVERSARY !
COS salutes its best in baseball
College's 1957 team marks the anniversary of school's only state crown in the sport.
By Nick Giannandrea / The Bee (Fresno)
04/20/07 04:59:08
The stories have become more grandiose with each passing year.
And 50 years have passed since College of the Sequoias won the only state baseball championship in school history, so it's not surprising the stories have evolved so much.
"Three-hundred-foot home runs have become 500," joked Dick Doepker, a standout pitcher in 1957 who went on to become an educator in Visalia.
Of the 20 surviving members from the 23-man team, 15 have gathered this week to celebrate the 50th anniversary of their historic accomplishment.
They played a round of golf and attended a dinner in their honor. And the festivities will be capped Saturday when they are honored before the Sequoias-Porterville game at 1 p.m.
"At the time it was certainly very important. We felt it was a good accomplishment," Doepker said. "But as the years went by and all these good COS teams didn't do what we did, it became more significant."
That season, COS battled Coalinga for the Valley Conference title before moving on to the Northern California playoffs. The Giants beat Sierra in the NorCal semifinals, topped Modesto in the NorCal finals and downed San Diego for the state championship.
"It was the greatest bunch of kids I ever coached," said Roy Taylor, who coached the 1957 Giants baseball team as part of a long career at the college as an administrator and coach of multiple sports. "It hadn't been done before or since. It was really just a great effort. None of those kids were really stars, but each one rose to the occasion."
That's exactly how Doepker remembered it.
"Tremendous total team effort," Doepker said. "If you looked at the headlines, it was different people at different times."
Many members of that team remained in the Visalia area.
Doepker, Jim Garrett, Ted Hiltel, Gene Graves, Jim Hansen and Bill Key went into education.
Joe Hernandez, Glenn McMillan, Ernie Tressler and Therman Zearley are retired businessmen.
Frank Alves is a rancher. Art Browning went into real estate. Mel Silva worked for the Edison company. Marv Weekly worked for Jostens. Mike Wlasichuk is a doctor. Joe Murillo worked in Tulare before retiring.
"There were so many people from the local area," Doepker said. "That to me is just an outstanding trait."
There were four players who didn't remain in the area -- Babe Castillo, William Guy, Paul Morrison and Ben Reniker. Three players -- Buddy Burgess, Bill Ryan and Jim Chatham -- are deceased.
---
Visalia Times-Delta
1957 revisited: COS' '57 team won school's only state title
By Damian Marquez
Staff writer
Originally published April 20, 2007
College of the Sequoias' 1957 state-championship baseball team will be honored before the start of a Central Valley Conference game between the Giants and the Porterville Pirates. The '57 squad was the only COS baseball team to win a state title.
We're all old now," said Jim Garrett, catcher for the 1957 team. "We try to get together while we're still alive. We get to see each other sometimes, but some of the guys we haven't seen since the last reunion."
The team last got together in 1997. The former teammates attended a baseball game and ate dinner at The Depot restaurant in Visalia.
Today, the team will play a round of golf at the Visalia Country Club followed by a return to The Depot. On Saturday after the game, the players plan to go to a sports bar, catch up and swap stories.
Roy Taylor was the team's coach in 1957.
"It was the most local team I had, and it was the best team I had," said Taylor, who won 285 games in 17 years as coach. "I always had kids from out of state, but it turns out that the local kids were the best team I ever had."
Longtime COS coach Bert Holt, who did not start his COS career until 1960 but is familiar with the 1957 team, says he is anxious to hear the old stories.
"As the years go by, the stories get better," Holt said. "If they hit .300 when they played, now it's .340 or .350."
Taylor and Holt both had their numbers retired by COS.
Dick Doepker was one of the '57 team's key pitchers, but he hurt his arm before the playoffs and didn't get a chance to pitch.
"Being a kid from Canada, I didn't know how to throw the curve properly," Doepker said. "I had a heck of a curve, but it wasn't the right way to do it and I paid the price."
He said pitchers Marv Weekley and Jim Hansen picked up the slack.
"They were the ones that won the playoff games in the end," Doepker said.
COS swept San Diego College in a best-of-three series to win the state championship. Hansen pitched a complete game and Garrett scored the game-winning run in the eighth inning on a Bill Ryan single, clinching the title.
Weekley pitched a three-hitter to win the first game of the series.
All but four members of the team are expected to attend the festivities. Three members — Jim Chatham, Buddy Burgess and Ryan — died, and Thurman Zearly had a previous family engagement.
Other surviving members of the 1957 team are: Ernie Tressler, Frank Alves, Ted Hiltel, Bill Key, Mike Guy, Mel Silva, Glen McMillan, Babe Castillo, Paul Morrison, Joe Murillo, Art Browning, Gene Graves, Joe Hernandez and Mike Wlasichuk.
---
2017
On April 20, 2017, Sequoias marked the 60th anniversary of its 1957 state championship with a special ceremony saluting the surviving members of the team. Left to right - Thurman Zearley, Bill Key, Ted Hiltel, Glen McMillan, Jim Garrett, Joe Hernandez, Marv Weekly, Art Browning, Paul Morrison and Frank Alves.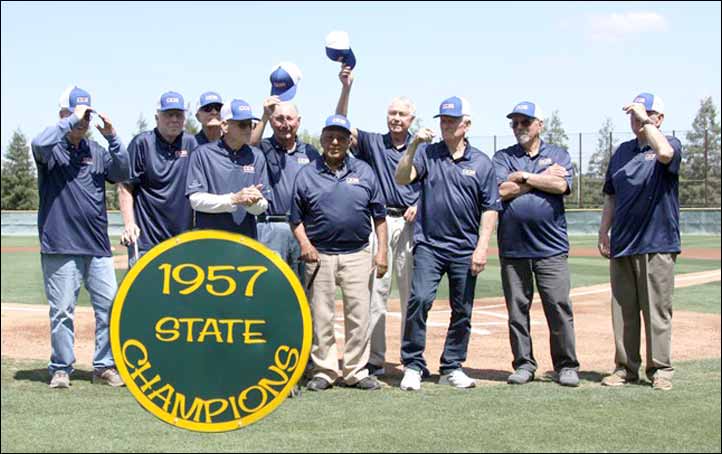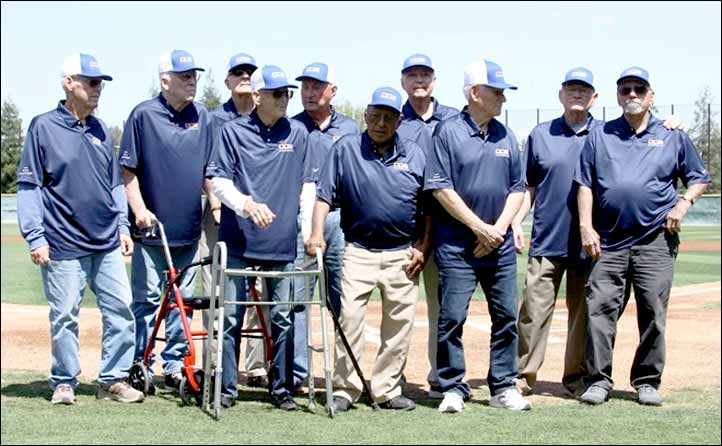 Left to right - Thurman Zearly, Bill Key, Ted Hiltel, Glen McMillan, Jim Garrett, Joe Hernandez, Marv Weekly, Art Browning, Paul Morrison and Frank Alves