1923 Vancouver, Lower Mainland, Fraser Valley
1923 BC Interior
1923 Vancouver Island
KOOTENAY-BOUNDARY AREA BASEBALL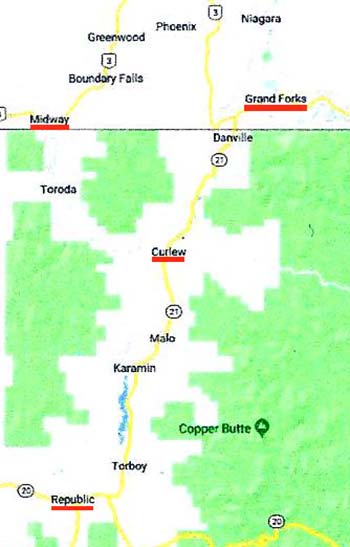 The south-central British Columbia municipalities of Grand Forks and Midway, 35 miles apart and connected by Highway #3, were part of a four-team senior baseball circuit organized in 1923 and known as the Boundary International Baseball League.
The other two entrants were the northeastern Washington state towns of Curlew and Republic, 21 miles apart. League play began on the final Sunday in April and continued through to late July. The Grand Forks Gazette provided adequate coverage for most games in this inaugural season. Come playoff time, Grand Forks ousted Midway in a sudden-death semi-final, setting up a best-of-three final series pitting first-place Curlew against Grand Forks to establish who would reign supreme as the kingpins of the opening campaign.

Curlew WA
Grand Forks
Midway
Republic WA
(Malo WA (between Curlew and Republic) was admitted to the BIBL in its second season - 1924)
BOUNDARY INTERNATIONAL BASEBALL LEAGUE
(April 29) Midway defeated Grand Forks and Curlew beat Republic. No final scores or batteries located.
(May 6) Republic 7 @ Grand Forks 10
Milton (L) and Pearce/Pierce
Hatton (W) and Atwood
(May 6) Curlew 5 @ Midway 3
Bellew (W) and B. Pace
Nicholas (L) and McMynn
(May 13) High schooler Marsh Hatton, slabman for Grand Forks, struck out 13 batters and allowed only four hits as the Canadian visitors crushed Republic 7 to 1.
Hatton (W) and Atwood
O'Connor (L) and Otis
(May 13) Hurler Bellew was invincible on the hill, tossing a four-hitter in leading hosting Curlew to a 9 to 1 thrashing of Midway. The Washington Creamery Towners blasted losing twirler D. Nicholas for 15 base blows.
D. Nicholas (L) and McMynn
Bellew (W) and B. Pace
(May 20) Grand Forks stopped Curlew's three-game winning streak, dumping the visitors 7 to 2. Winning flinger Marsh Hatton connected for a fourth-inning grand-slam home run to aid his effort on the bump.
Stenger (L), Llew and B. Pace
Hatton (W) and Atwood
(May 20) Midway whitewashed invading Republic 12 to 0 as winning flinger D. Nicholas stymied the Washingtonians on two hits.
xxx (L) and xxx
D. Nicholas (W) and xxx
Standings W L Pct.
Curlew 3 1 .750
Grand Forks 3 1 .750
Midway 2 2 .500
Republic 0 4 .000
(May 27) In a battle of Ferry County rivals, Curlew set down the homestanding Republic team 8 to 0. The Gold Miners were silenced by moundsman Bellew who limited them to just two bingles.
Bellew (W) and B. Pace
O'Connor (L) and Pearce/Pierce
(May 27) Grand Forks won for the fourth time in five starts, knocking off Boundary foe Midway 9 to 2 before a large crowd. Winning chucker Marsh Hatton allowed Midway only 4 hits. The Forkmen presented a balanced offensive attack with everyone in the lineup, with the exception of one player, getting at least one safety. Hatton of the victors and Midway outfielder Taylor both had a double and single.
D. Nicholas (L) and Brown
Hatton (W) and Atwood
(June 3) Republic dropped its seventh in a row, falling 9 to 2 to hosting Curlew.
O'Connor (L) and Pearce/Pierce
Bellew (W) and B. Pace
(June 3) Playing on their home lot, Midway defeated Grand Forks 5 to 2. Winning slabman D. Nicholas pitched a fine game, fanning ten, and was well supported defensively by his teammates while the visitors played raggedly behind Marsh Hatton. Middle pasture patrollers, Jackson of the Midway nine and Grand Forks' Bert McCannon, both stroked three hits for their respective squads.
Hatton (L) and Atwood
D. Nicholas (W) and Brown
(June 10) The Grand Forks @ Curlew game was called off on account of rain.
(June 10) Republic won its first game of the BIBL season, turning back visiting Midway 9 to 6. The Gold Miners had a season-high 13 hits in copping the triumph.
D. Nicholas (L) and Brown
Ownon (W) and Pearce/Pierce
(June 17) Hosting Grand Forks trounced Republic 13 to 1 as winning mound artist Marsh Hatton fanned 15 and yielded only five scattered hits. Hatton, shortstop Newbauer and flychaser Bert McCannon of the winners all ripped the horsehide for a brace of safeties.
O'Connor (L) and Pearce/Pierce
Hatton (W) and Atwood
(June 17) With winning pitcher D. Nicholas in fine form, Midway dropped the invading Curlew nine 7 to 3.
Bellew (L) and Pace
D. Nicholas (W) and Brown
(June 24) Republic, tail-enders in the BIBL, let a 5 to 0 lead slip away from them on their home turf and succumbed to Grand Forks 10 to 7, their eighth setback of the campaign. Outswatted by an 11 to 9 margin, the Forkmen completed their comeback with a five-spot in the eighth chapter. Jack Weir, in his initial mound assignment, went the route to secure the hillock decision. Outfielder Jenne singled three times for the victors while fellow flychaser Boerner of the Gold Miners nailed a triple and one-bagger.
Weir (W) and Atwood
Milton (L) and Pearce/Pierce
(June 24) Midway took a 10 to 9 decision from hosting Curlew in a game that required ten innings to produce a winner.
D. Nicholas (W) and Brown
Bellew, Stenger (L) and B. Pace
Standings W L Pct.
Grand Forks 6 2 .750
Curlew 5 3 .625
Midway 5 4 .556
Republic 1 8 .111
(July 1) Invading Curlew won over Grand Forks 15 to 3 in a loosely-played skirmish on Grand Forks' Columbia grounds. The Creamery Towners banged out 12 base blows in their decisive win. The game was tied 8 – 8 until the eighth panel when the Americans put up a four-spot and followed that up with a trio of counters in the ninth. Rumsay/Rumsey was the top dog with the baton for the Creamery Towners, cuffing three singles.
Rumsay/Rumsey, Bellew (W) and B. Pace
Hatton (W) and Atwood
(July 1) Midway, playing on their home turf, set back Republic 9 to 6 in a Dominion Day joust.
O'Connor (L) and Pearce/Pierce
D. Nicholas (W) and Brown
(July 8) Republic gave Curlew all it could handle before succumbing to the home team 10 to 9.
Milton (L) and Pierce/Pearce
Bellew (W) and Pace
(July 8) Grand Forks bested Midway 9 to 4 before a large home crowd, The win for the Forkmen kept them neck and neck with Curlew in the race for the BIBL pennant. Marsh Hatton, who tossed a four hitter to earn the mound victory, pitched his last game for Grand Forks before leaving to play in a league on the prairies. Hot corner custodian Cagnon ripped three one-baggers for the Forkmen.
D. Nicholas (L) and Brown
Hatton (W) and Atwood
(July 15) Curlew claimed at least a tie for top spot in the 1923 BIBL pennant race by hammering Republic 11 to 1.
Milton (L) and Pierce/Pearce
Bellew (W) and Pace
(July 15) Midway ended its BIBL schedule by defeating Grand Forks 7 to 2. The Forkmen, having lost pitchers Marsh Hatton to an Alberta team and Jack Weir to a Saskatchewan club, gave the pitching assignment to Ken Henderson who did well until the fourth panel when the Half-the-Distance Boys began to zero in on his offerings. Winning hurler D. Nicholas tossed a six-hitter in taking the mound verdict.
Henderson (L) and Atwood
D. Nicholas (W) and Brown
(July 22) In a make-up game resulting from a postponement on June 10, Curlew secured first place by doubling the visiting Grand Forks squad 20 to 10. There were 38 hits in this slugfest, 22 of them by the Creamery Towners. Grand Forks and Midway will now duke it out in a sudden-death semi-final game with the winner advancing to play Curlew in the championship finals.
Crowe, Leonard, Henderson and Atwood
Bellew (W) and Pace
Final Standings W L Pct.
Curlew 9 3 .750
Grand Forks 7 5 .583
Midway 7 5 .583
Republic 1 11 .083
PLAYOFFS
SUDDEN-DEATH SEMI-FINAL (Grand Forks @ Midway)
(July 29) Grand Forks advanced to the BIBL finals against Curlew by downing the hosting Midway nine 16 to 10. The Forkmen had a commanding 16 to 3 lead until the bottom of the ninth canto when the homesters struck for seven counters, but it was a case of too little, too late. Shortstop Atwood banged out a double and three singles for the winners. First sacker Haverty followed with a two-bagger and a brace of singles.
Henderson (W) and Gowans
D. Nicholas (L) and Brown
CHAMPIONSHIP FINALS (Grand Forks @ Curlew) Best-of-three series
(August 19) Coming through with base hits when bingles meant bacon, Grand Forks grabbed the opening game of the 1923 BIBL finals by knocking off pennant-winning Curlew 10 to 8. The Forkmen had a 10 to 9 edge in safeties with first baseman Haverty and catcher Gowans leading the way with three safe swats apiece. Ken Henderson picked up the hurling win although requiring relief assistance from southpaw Crowe in the ninth. Losing twirler Bellew whiffed eight while Henderson rang up four and Crowe one.
Bellew (L) and Brown
Henderson (W), Crowe (9) and Gowans
(August 26) Blowing a third-inning 6 to 0 lead, the Grand Forks baseballers fell 9 to 8 to the hosting Curlew nine. The win for the Creamery Towners tied the final BIBL series at a game each. Winning pitcher Stenger survived a horrible start and came on strong as the game progressed. The Washingtonians scored the winning counter in the bottom-of-the-eighth panel after Grand Forks had plated a deuce in the top-half of the round to knot the count at 8 – 8. Leading the 11-hit Curlew offense were shortstop Sombday, third sacker R. Pace and outfielders Brown and Burke who each clipped the orb for a pair of base knocks. Flychaser Bert McCannon of the vanquished nine also poked out two hits.
Henderson, Crowe (L) (7) and Gowans
Stenger (W) and W. Pace
(September 2) Grand Forks annexed the inaugural Boundary International Baseball League tiara by defeating the Curlew diamond pastimers 10 to 8 in the rubber match of their three-game playoff series. The Forkmen held a 15 to 12 margin in the offensively-charged finale. Top swatter in the contest was losing pitcher Stenger who ripped two triples and a double, all coming after he was derricked from the hill following one frame and moved to the keystone sack position. Catcher W. Gowans and initial sacker Haverty of the victors each stroked a trio of safeties with one of Gowans' raps falling in for two bases.
Stenger (L), Nelson (2) and W. Pace
Henderson (W), Crowe (8) and Gowans
---
NORTHERN OKANAGAN BASEBALL LEAGUE
A 12-game schedule was instituted for the 1923 Northern Okanagan Baseball League. Nothing more than a few, scattered final scores of games within this three-team league appeared in 1923 issues of the weekly Vernon News. Little was mentioned about the Vernon team other than they were having difficulty winning any games, so much so that the playing-manager Jack Burrows was replaced in his capacity as skipper of the squad in mid-July by Cliff Greyell. Burrows continued to be a key member of the playing corps as Greyell, the new pilot, injected some younger players into the line-up in an effort to invigorate the team's performance.
Enderby
Salmon Arm
Vernon
A FEW GAME RESULTS
(May 24) Salmon Arm 11 Enderby 10
(June 4) Salmon Arm 11 Vernon 6
(June 28) Enderby 18 Vernon 5
(August 2) Vernon 7 Enderby 5
Sparrow (L) and J. Jones
Wilson (W) and Ramsay
(August 16) Enderby 5 Vernon 4
---
WEST KOOTENAY & AREA BASEBALL
No known inter-city leagues existed within the West Kootenays in 1923 as competitive, exhibition tilts were the norm. Games were held on a regular basis and were almost exclusively played on Sundays and statutory holidays.
Nelson (population 5,300) and Trail (population 3,100) had both senior-level, intermediate and junior teams, the senior squads being drawn from players within their respective city leagues. Nelson's intermediate and senior pastimers played their exhibition games almost solely against Slocan Valley opposition while the Trail seniors tended to seek out diamond foes from northern Washington state border towns for their exhibition tussles. The two traditional senior rivals did, however, lock horns in a triad of late-season jousts.
Other than for a game or two played by a lone junior team, activity on the diamonds in Rossland (population 2,100) appears to have been in limbo during the 1923 campaign as the Rossland Miner was void of any baseball results.

Nelson, with a population of approximately 5,300, operated a four-team City League in 1923, the rosters of which were stocked by both senior and junior-age players. However, after the team rosters were published in the Nelson News, no game results nor standings ever appeared in print.

Athletics
Giants
Pirates
Tigers
Trail (population 3,100) and Tadanac (population 300) were separate but adjacent entities in 1923 but both were part of Trail's three-team early-season City Baseball League.
TEAMS
Gulch Giants
Tadanac
Trail City
(May 13) Slabman Dave Patton was steady as a rock as he hurled the Gulch Giants to a 9 to 3 triumph over the Trail City aggregation as the City League opened its 1923 season before a huge crowd. Patton pitched his usual effective game, striking out 13 batters and allowing only three hits. His mates gave him plenty of offensive support as leadoff swatter Cliff Morgan greeted losing twirler "Slim" Lean with a home run drive to left field and three runs crossed the pan in the opening stanza. A. B. Clark was called in to quell the fire and toed the rubber for the remainder of the contest. Although hit hard at times, Clark was able to punch out nine of the Gulchmen while surrendering a circuit-clout to flychaser A. Lauriente in the fifth.
D. Patton (W) and H. Lauriente
Lean (L), A.B. Clark (1) and Tyson
(May 20) Tadanac doubled Trail City 4 to 2 in City League action. The game was scoreless until the first half of the fourth when the City nine broke the ice with a pair of counters. Tadanac came back strong in the fifth, driving starter A. B. Clark from the bump while sending four runners across the dish.
Morrish (W) and Marshall
A.B. Clark (L), xxx (5) and Tyson
(May 27) Following a delay in which the eligibility of player Doug McDonald was hotly disputed, a hard-fought City League diamond battle ensued in which the Gulch Giants edged the Tadanac pastimers 7 to 6. It was an uphill climb for the Aristocrats who fell behind 6 to 0 early in the clash when the Gulch sluggers found the offerings of losing hurler Fred Morrish to their liking. The Tadanac playing-manager settled down thereafter and surrendered one more counter the rest of the way. Winning tosser Cy "Lefty" Gavrilik was given the hook in the fourth when the vanquished nine started a comeback attempt which fell just short. Cliff Morgan and W. "Mystery" DiPasquale nailed ground-rule doubles for the victors.
Gavrilik (W), Matovich (4) and H. Lauriente
Morrish (L) and Marshall
(June 10) Attired in their new uniforms, the Gulch Giants maintained their undefeated City League record by soundly beating the winless Trail City team 23 to 7. The Giants forced the City squad to use four chuckers in an attempt to stem the tide. A. Lauriente and Bill DiPasquale went yard with dingers for the Rossland Avenue gang while playing-manager Dick Drew slammed a round-tripper for the Downtowners.
Gavrilik (W) and H. Lauriente
Veitch (L), Bradshaw (5), A.B. Clark (6), Maze (7) and Maze, xxx (7)
Standings W L Pct
Gulch Giants 3 0 1.000
Tadanac 1 1 .500
Trail City 0 3 .000
(June 17) Sluggers from the Trail City squad stung the sphere for five seven-inning runs, earning the basement dwellers a 12 to 7 verdict over the fast-stepping Tadanac nine. Two slabsters from each contingent were utilized in the clash in which reliever W. Veitch picked up the win at the expense of Fred Morrish.
Drew, Veitch (W) (6) and Tyson
Morrish (L), G. Patton (7) and D. McDonald
(June 24) Tadanac knocked the Gulch Giants from the ranks of the undefeated in a listless battle featuring booted grounders, dropped flies, overthrows and some prize boners. The final score was 7 to 6 as the Giants were entirely off color afield and offered losing twirler "Lefty" Gavrilik some wretched support.
Gavrilik (L), A. Lauriente and H. Lauriente
P. Demidoff (W) and Marshall
---
WEST KOOTENAY INTER-CITY SENIOR & INTERMEDIATE BASEBALL
(May 24) Kaslo's snappy ball aggregation proved too much for the Nelson senior nine as they soundly trimmed the invaders 17 to 4 in a Victoria Day tilt. For the first three innings, the game was all that could be desired, both teams playing airtight ball. In the fourth, Nelson's balloon burst and Kaslo romped in with six well-earned runs. The eighth panel was even worse for the Nelsonites as their defense blew a tire and the hosts plated a nine-spot. Winning tosser Cockle did all the hurling for Kaslo while losing twirler Anthony Scanlan pitched into the eighth stanza before being derricked in favor of Young. Cockle registered a five-hitter and punched out a dozen while the Nelson tandem was lit up for 15 base blows. Big hitters for the winners were outer pasture guardian Goodwin with a double and a brace of singles as well as hot corner custodian Vallance who ripped a triple and two-bagger.
Scanlan (L), Young (8) and Bush, Brennan (4)
Cockle (W) and Garland
(June 3) A group of Trail senior ballplayers hit the road but failed to bring home the bacon when the hosting Northport WA nine stopped them in their tracks 7 to 2.
Clark (L), Gavrilik (7) and Marshall
xxx (W) and xxx
(July 2) A two-run eighth inning allowed the invaders from Kaslo to edge the hosting Nelson seniors 6 to 5 at a crowded Recreation grounds. Complete-game mound artist Cockle of the visitors breezed seven and yielded five safeties, two to third sacker Jim Notman, in recording the hillock triumph. Overall, the West Shore nine were the superior club and deserved the narrow victory. They accumulated nine base knocks and had three fewer fielding miscues than the Queen City squad. Trailing 5 to 4 in the top of the eighth panel, middle pasture patroller Harry Abbey doubled to open the frame for the ultimate winners, his third hit of the tussle. Catcher Wood followed with a one-out single to drive in Abbey with the tying marker. After stealing the keystone sack and moving to third on ground out by Vallance, Wood plated the winner on an infield error, Nelson's sixth of the contest. Aside from Abbey's triad of bingles, winning tosser Cockle also shared some of the offensive prowess displayed by the victors, drilling a pair of doubles.
Cockle (W) and Wood
Scanlan (L), Reid (8) and Brennan
(July 2) The Harrop diamond pastimers sprung a surprise and took the Nelson Intermediate Bearcats into camp 12 to 5 on the Harrop home turf. Action on the diamond was quick and well-executed for the most part. The Bearcats grabbed an early lead but the Outlet nine took over control of the contest in the fifth and never trailed thereafter.
Chapman (L) and Houston
L. Ogilvie (W) and Britton
(July 2) Bunching a bevy of base knocks in the sixth panel, the Slocan City diamondeers managed to plate a quartet of markers which was sufficient for a 5 to 3 decision over the pesky Appledale nine. Melville Long earned the hillock verdict over Robert Avis.
R. Avis (L) and G. Avis
Long (W) and Hufty
(July 4) At the fourth of July celebration at Northport WA, the Trail senior baseball team was nosed out 3 to 2 by their Washington hosts. A dropped pitched ball by Northport catcher Prouty in the first inning allowed Trail outfielder P. R. McDonald to race in from third base with the game's opening run. The Smeltermen picked up a second counter in the fourth panel when Dick Drew, who had walked, stole second, advanced to the hot corner on an out, managed to steal home. The hosts picked up their three tallies in the fifth canto on a run-scoring swat by S. Newton, an outfield bungle and a sharp hit over third base by Williams.
Gavrilik (L) and Marshall
Bjorklund/Burkland (W) and Prouty
(July 8) Slocan City's ball sluggers fell before the visiting Nelson seniors, coming out on the short end of a 9 to 6 verdict. The teams were deadlocked at 6 – 6 at the end of six innings and the score remained that way until the top-of-the-ninth spasm when the Nelsonites plated a three-spot to forge ahead for good. Winning heaver McDaniels whiffed 13 of the opposition while Mel Long, for Slocan City, punched out 10.
McDaniels (W) and Brennan
Long (L) and Hufty
(July 15) The pride of the Slocan Valley, the Slocan City senior balltossers, went down to defeat, a 16 to 8 thrashing, at the hands of the homestanding Nelson seniors before a fine turnout of fans at the Recreation grounds. A lacklustre performance defensively spelled doom for the Valley farmers. Both teams used two chuckers with the starters being the pitchers of record. Winning flinger Moddrell was also the leading swatter in the clash, spanking the horsehide for two doubles and a single.
R. Avis (L), Long (6) and G. Avis, Hufty (6)
Moddrell (W), Scanlan (5) and Brennan
(July 15) Nelson's Intermediate baseball team was trimmed 8 to 5 by their counterparts from Trail. The Smelter City gang clinched the game with a six-run outburst in the sixth canto. No other game details nor batteries published in the Nelson News.
(July 18) A crack Northport WA nine travelled to the Silver City and were stopped 6 to 1 by their hosts in a splendid exhibition of senior-level baseball. Cy "Lefty" Gavrilik yielded seven well-scattered hits and walked one in going the route on the bump for the Smokies, displaying excellent location with his pitches despite ringing up only two punchouts. His mates gobbled up everything headed their way, fourteen by fly outs and seven on ground outs plus a number of infield forceouts where a fielder's choice came into play. Losing chucker Hidorn was sharp in defeat, tossing a six-hitter while whiffing eleven. He also picked up a pair of singles, one of which was of the scratchy variety. Outfielder P. R. McDonald, with a brace of one-baggers, was the lone Trail swatsmith to accumulate plural hit totals.
Hidorn (L) and Prouty
Gavrilik (W) and McIntyre
(July 22) Nelson's Fairview Intermediates were victors over the Harrop nine 19 to 7 in a skirmish played on the diamond of the Outlet. No batteries and game details were published in the Nelson News.
(July 29) A free-hitting carnival was staged at Nelson's Recreation grounds, prior to the senior game, in which the Nelson Intermediates prevailed 20 to 17 over the invading Trail Intermediates. The combatants combined to smash the orb for 36 base hits. Further game details and batteries were not printed in the Nelson News.
(July 29) A barrage of base hits and numerous base thefts defined the Queen City-hosted match in which the Nelson seniors survived numerous threats to take an 8 to 6 victory over the Trail seniors. Thirty safe swats, 15 by each club, featured this slowly-played scuffle wherein the result was in doubt until the final stanza. Anthony Scanlan earned the pitching victory for the Lakesiders and, as well, picked up a couple of hits, a triple and a single. Flychaser Cliff Morgan had three base knocks for the Smelter City gang while third baseman W. "Mystery" DiPasquale delivered a triple and double.
Gavrilik (L) and McIntyre
Scanlan (W) and Brennan
(August 5) Nelson and Trail seniors resumed their diamond battle, this time duking it out on the home turf of the Silver City nine. When the dust had cleared, the Trailites came out on top, earning a 6 to 5 triumph over the Lakesiders in a snappy, exciting contest. Winning tosser Cy Gavrilik was steady throughout and worked well with his batterymate, Pete McIntyre. Flychaser Cliff Morgan, however, was the batting demon of the day with a home run, a double and a one-bagger. The visitors held a 3 to 0 lead before the Smeltermen put up a deuce on the scoreboard in the third panel to narrow the margin to one. Trail went ahead for keeps in the sixth spasm when they plated four counters on the strength of run-scoring two-baggers by Morgan and McIntyre, a fielder's choice and an infield squibbler off the bat of first baseman Howard.
Scanlan (L), McDaniels (6) and Brennan
Gavrilik (W) and McIntyre
(August 12) In a game in which all the scoring was done in the first two frames, the Trail senior baseballers came out on top of the invading Northport WA nine 7 to 1. The final score somewhat flatters the victors as Northport had their chances but a brace of Trail double plays snuffed out potential opportunities. The winners had a 9 to 6 edge in base knocks with shortpatcher Dick Drew leading the way with a double and single. Winning tosser Pete Demidoff walked one and hit a batter but came through with a dozen punchouts. Bjorklund, the tall slabster from the sand dunes of Northport, issued nary a free pass and had his out drop working well as evidenced by the eleven whiffs that he rang up in defeat. His batterymate, backstop Prouty, led the Washingtonians with the timber, stroking a pair of one-baggers while driving in his team's lone marker.
Demidoff (W) and H. Lauriente
Bjorklund (L) and Prouty
(August 19) The Bushranger of Orient WA nipped the hosting Smoke Eaters from Trail 2 to 1 in an exceedingly well-played fracas wherein the pitchers dominated. All three runs in the contest were of the unearned variety. Jimmy Spurgeon, diminutive portsider of the Washingtonians, dished up a variety of dips, spurs and angles that had the Silver City nine mystified for the most part. Stingy with the bingles, the southpaw slinger allowed only two hits, both one-baggers. He also rang up 8 strikeouts and fielded his position in style. Orient plated the winning tally in the eighth frame when Lee Goulie moved all the way around to the hot corner bag following a pair of Trail errors. Roy Dahl's single then drove him in with the deciding run.
J. Spurgeon (W) and xxx
Demidoff (L) and McIntyre
(August 26) Addy Scanlan struck out 14 Trail batters and fired a six-hitter in pitching the Nelson seniors to a 7 to 2 mastery of their visiting counterparts. The homesters came out of the gate with gusto, scoring in each of their first three times at bat to grab a six-run cushion while exiling starting and losing twirler "Lefty" Gavrilik to the showers in the process. Heavy hitting was absent from the clash, a couple of two-baggers being the limit, while errors, especially by the invaders, were numerous. Second baseman Stites and victorious heaver Addy Scanlan both spanked the sphere for a double and single to headline the winners' seven-hit offense.
Gavrilik (L), Demidoff (1) and Garland
Scanlan (W) and Brennan
(August 30) The Nelson seniors frittered away a 5 to 0 first-inning lead and fell mightily to the visiting diamond pastimers from Metaline Falls WA 17 to 9. The Washingtonians enjoyed a 10 to 9 margin in base hits but were aided immensely in their offensive production by an inept Nelson defense which was guilty of eleven blunders. Catcher Gay had a triple and single for the winners while losing flinger Stites doubled twice.
DeHuff, Welser (W) (1) and Gay
Stites (L), Scanlan (6) and Brennan
---
WEST KOOTENAY INTER-CITY JUNIOR BASEBALL
(May 19) The Trail Gulch Juniors and the Trail Navy League Juniors played to a 4 – 4 tie in the opening game of the junior league series.
Matovich and Hall
Alec/Alex Demidoff and Forrest
(May 20) The Rossland and Trail junior baseball teams hooked up in a friendly match in the Silver City which saw the hosting nine emerge as 8 to 3 winners.
Gallente (L) and Mickleson
L. DeMore (W) and Hall
(June 24) The Trail Gulch Juniors and the Trail Junior Moose squared off at Recreation Park and the Gulch balltossers came out on top by a score of 7 to 5.
(June 26) Facing an uphill battle after the Trail Navy League Juniors had plated nine counters in their first two turns at bat, the Trail Gulch Juniors stormed back to take a 16 to 10 decision from the Sailors, a triumph which earned them the pennant in the Trail junior circuit.
(July 1) The Nelson juniors scored a pair in the bottom-of-the-ninth frame and a singleton in the tenth to edge the visiting Trail junior Moose team 10 to 9 at the Recreation grounds. In the overtime session. a clutch two-out one-bagger up the middle by outfielder Alex Ionian drove in catcher H. Horswill with the winning tally.
Matovich, L. DeMore (L) and Miller
Carlson, Chapman (W) and Horswill
(July 15) Playing rings around the Nelson nine, the Trail junior baseball team won 14 to 4 over the visiting Lakesiders in their Sunday fixture. Lou DeMore, on the mound for the winners, fanned ten in capturing the hillock decision. The Trailites scored at least one run in every inning except the eighth.
Carlson (L) and xxx
L. DeMore (W) and xxx
(August 18) The Trail junior Moose, showing plenty of pep, trimmed the Salmo juniors 10 to 1.
---
EAST KOOTENAY BASEBALL LEAGUE
Cranbrook (participated in the first-half series only)
Fernie
Kimberly
Lumberton
Wycliffe
(May 6) Defending champion Fernie got off on the right road in defense of their championship when they defeated the Cranbrook nine 6 to 1. Slabman "Salty" Ault, Fernie's celebrated shutout pitcher, earned the mound victory.
(May 6) Kimberley knocked off Wycliffe 9 to 5 in the opening EKBL fixture for both teams. "Stiffy" Lewis started on the hill for Kimberley but was given the hook in the opening canto. "Dodger" Lewis took over at this point and went the rest of the way for the win, striking out 17 while allowing only three additional safeties. Crerar and Cosgriffe had two hits apiece for Kimberley with a double included in Crerar's total.
S. Lewis, D. Lewis (W) (1) and Clark
Pennington (L) and Rogers
(May 13) Fernie outclassed the hosting Wycliffe nine by a score of 9 to 1. Winning moundsman Ault yielded six safeties while fanning 14. Catcher Gordon McTeer tripled and singled for the winners while second baseman Bishop had a double and one-bagger.
Ault (W) and McTeer
Pennington (L) and Rogers
(May 13) Cranbrook broke into the win column at Lumberton by getting the best of the home team 11 to 5.
(May 20) Fernie met their first defeat in the EKBL when hosting Kimberley blanked them 3 to 0. "Dodger" Lewis, pitching for the victors, was invincible, allowing only four scattered hits while punching out 16 batter. His support was airtight and he was never in difficulty. Ault, for Fernie, pitched his usual steady game, allowing only seven hits while breezing seven.
Ault (L) and McTeer
D. Lewis (W) and F. Lewis
(May 20) Wycliffe clobbered Lumberton 9 to 1.
(May 24) Exhibition action on Victoria day saw the Troy MT baseballers edge past Fernie 4 to 3.
Lavery (W) and xxx
Ault (L) and McTeer
(May 24) Hosting Wycliffe defeated Cranbrook. Final score and game details unknown.
(May 27) Cranbrook got revenge for an earlier defeat on Victoria Day, doubling up on Wycliffe 6 to 3. A four-run second inning for the victors was the difference in this game.
(May 27) Lumberton sprang a surprise by defeating the redoubtable Kimberley team 5 to 4.
First-half series standings
Cranbrook 2-1 .667
Fernie 2-1 .667
Kimberley 2-1 .667
Lumberton 1-2 .333
Wycliffe 1-3 .250
(June 3) Kimberley trimmed Cranbrook 5 to 1 to move to the top rung of the EKBL.
(June 10) Cranbrook walloped Lumberton 11 to 2 in EKBL action.
Mitchell (W) and McHans
Diebolt (L) and Henderson
(June 10) Fernie doubled Wycliffe 8 to 4. Flychaser Ruschall had a perfect day at the dish for the Coal Miners, slapping out five hits in five attempts.
Ault (W) and McTeer
Pennington (L) and Rogers
(June 17) A classic pitcher's battle saw the Cranbrook nine squeeze past Fernie 2 to 1 to take possession of first place. A two-run double by Bamford drove in both counters for the Crow City diamondeers.
Ault (L) and McTeer
Mitchell (W) and xxx
(June 17) Wycliffe took on a new lease of life by dumping Kimberly 6 to 0 and, in the process, vacated the EKBL basement. Winning flinger Pennington held the heavy-hitting Kimberley squad to just five hits in taking the shutout win.
Pennington (W) and Rogers
xxx (L), Musser and Garland
First-half series standings
Cranbrook 4-2 .667
Fernie 3-2 .600
Kimberley 3-2 .600
Wycliffe 2-4 .333
Lumberton 1-3 .250
(June 24) The Cranbrook baseball team, in spite of having an excellent record, withdrew from the EKBL citing difficulty in locating jobs for players from outside the city as well as finding suitable local players.
(July 8) Lumberton's rejuvenated nine lost to Wycliffe 3 to 1 in the matinée game of a three-team, split-venue doubleheader and then knocked off hosting Kimberley 16 to 5 in the late event.
No further first-half series game results involving the remaining four entries were found although it was reported that the Fernie club ultimately emerged as the first-half winner.
SECOND-HALF SERIES (Cranbrook withdrew from EKBL and did not participate in the second-half series)
(July 15) In the first game of the second-half EKBL series, Lumberton beat the strong Wycliffe team 3 to 1. The game featured stellar pitching by Lumberton's "Scotty" Mitchell who threw a five-hitter and had 14 strikeouts. Mitchell also had two of his team's six hits off the slants of Wycliffe's "Lefty" Pennington.
(July 21) The Fernie Coal company whipped Kimberley 7-3 Saturday in the final game of the first half of the schedule as Salty Ault allowed just eight hits and no earned runs in a route-going effort. Catcher Gord McTeer slammed a homer and single to lead an 11-hit offense. Shand, the third baseman had a double and triple. With the win, Fernie won the first half championship and the right to play in a post-season playoff for the East Kootenay title and the Nelson News Cup. The game was a tie-breaker for the clubs which had tied for the lead in the first half of the schedule.
Ault (W) and McTeer
Garrity (L) and Murray
(July 22) Banging out 13 base hits, the Fernie aggregation of diamond pastimers took care of business at Wycliffe, taking down their hosts 5 to 2.
Ault (W) and McTeer
Pennington (L) and Rogers
(July 22) Lumberton kept pace with Fernie for the second-half EKBL honors by nosing out Kimberley 2 to 1.
(July 29) Kimberley and Wycliffe played to a 2 – 2 tie in an EKBL clash that was terminated after nine innings because of darkness. Wycliffe's Pennington was nicked for five safeties while Garrity, of Kimberley, yielded just three hits.
(July 29) Fernie took over sole possession of first place in the second-half series by disposing of their closest pursuers from Lumberton. Final score and game details unknown.
(August 5) Although outhit by an 8 to 6 margin, Fernie maintained its grip of the top rung in the EKBL's second-half series by dumping invading Wycliffe 7 to 3.
Pennington (L) and Rogers
Ault (W) and McTeer
(August 5) Kimberley defeated Lumberton 5 to 2. Winning pitcher Garrity rang up nine strikeouts while Lumberton's "Scotty" Mitchell fanned an even dozen.
Second-half series standings
Fernie 4-0 1.000
Lumberton 2-2 .500
Kimberley 1-2 .333
Wycliffe 0-3 .000
(August 12) Hosting Wycliffe finally broke into the win column in the second-half series by posting a 6 to 2 triumph over Lumberton. "Lefty" Pennington earned the hillock victory over "Scotty" Mitchell.
(August 12) In a free-hitting match at Kimberley, the Fernie baseballers tasted defeat for the first time in the second-half series when they went down to a 9 to 5 thumping at the hands of the hosts. Erratic fielding behind losing slabman Ault and the bunching of hits by Kimberley in the fifth and sixth innings spelled Fernie's downfall. The winners backed moundsman Garrity, who was hit freely, with an airtight defense.
(August 19) With the announcement that the Lumberton squad had numerous injury problems and would be forfeiting their final second-half league game to Fernie, the result of another final weekend contest between Wycliffe and Kimberley became meaningless in that it would not affect the first-place status garnered by Fernie. Such being the case, Fernie was declared as the overall 1923 EKBL champion on the basis of having won both sections of the schedule.
Final second-half series standings
Fernie 5-1 .833
Kimberley 3-2 .600
Lumberton 2-4 .333
Wycliffe 1-4 .200
POST-SEASON EXHIBITION GAME
(August 21) EKBL champion Fernie hosted an exhibition game in which a select group of players from the Crow's Nest Pass Baseball League, comprising Hillcrest, Coleman and Blairmore, provided the opposition. The game was one-sided as the homesters collected 18 hits in crushing the Pass team 12 to 0. The deliveries of winning pitcher Ault were a mystery to the visitors who only secured one scratch hit off him during the entire contest. Every Fernie player collected at least one safety as shortstop Wilson led the way with three bingles.
Mesher (L), Pruden and Clark
Ault (W) and McTeer