Regina Nationals, Prairie Champs
Amelia Earhart completed the first non-stop solo flight across the Atlantic Ocean by a woman.

The 20-month old son of world famous aviator Charles Lindbergh was kidnapped. Two-and-a-half months later, the child's corpse is discovered on the side of a nearby road.

The C.C.F. party, forerunner to the New Democratic Party of Canada, was formed in Calgary.

The 1932 World Series was a four-game sweep by the American League champions New York Yankees over the National League pennant-winning Chicago Cubs. By far its most noteworthy moment was Babe Ruth's "called shot" home run, in his 10th and last World Series.

Calgary, without organized baseball since 1927, saw a diamond revival with the formation of a four-team senior circuit.

The Cadomin Miners, behind the sharp six-hit pitching of Johnny Gerlitz, captured the 1932 senior baseball title for the northern half of Alberta with a decisive 11 – 3 conquest of the Edmonton South Side Arctics. The Miners, however, fell prey to the southern titlists from Nacmine, dropping the provincial finals in three straight games. Virgil Neis and Cliff Bogstie provided a solid one-two pitching punch for the victorious Athletics.

The Dokey-Tigers, first-half winners, and the Elks, second-half champions, locked horns in the finals of the Winnipeg Wesley Baseball League with the Bengals retaining their title with a four-game sweep of the Antlered Herd.

The Vancouver Athletic Club band of baseballers edged Arrow Transfer 2 – 1 to annex the Vancouver Senior Amateur League crown. V.A.C. heaver Joe Dailey won all four games for his club in the final series. The fan-favorite Asahis took the Terminal League laurels.
In late June, the Vancouver Sun reported that Reggie Yasui the catcher for the Asahis of the Vancouver Terminal League hadn't made an error in two years. And, that wasn't the best of his performance. He was the league's leading hitter.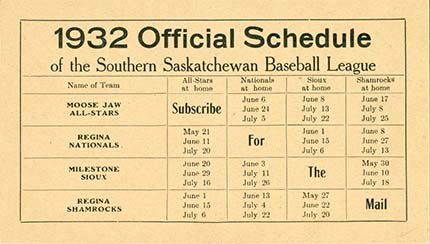 Behind the strong right arm of "Swainey" Swainson, Regina Nationals emerged as prairie senior baseball champions. Regina topped the Moose Jaw All-Stars for the Southern League pennant then went on to capture the league playoffs, Southern Saskatchewan title, and provincial championship before beating the Alberta representatives for the prairie crown.
Nationals won twelve straight playoff games. Swainson, who won four of five decisions during the regular season, won six straight playoff games to finish the summer with a 10-1 won, lost record.
Moose Jaw's Wilf Pennington was the league's mound workhorse appearing in 14 of the All-Stars' 17 games. He led the loop with seven wins.
Outfielder Bill Clayton of the Milestone Sioux won the batting crown with a .365 average.
---
[Schedule image from University Library, University of Saskatchewan, #91]