1945 Vancouver, Lower Mainland, Fraser Valley
1945 BC Interior
1945 Vancouver Island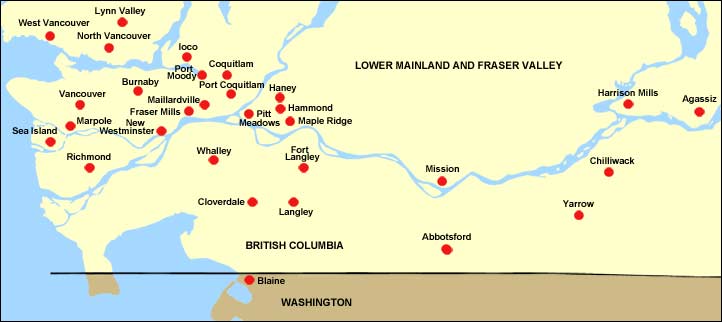 Vancouver City League

(May 25) Norvans broke a tie for second place with Arnold and Quigley downing A & Q 2 to 1 Friday night. Pills Purcello hurled shutout ball until the 8th inning in going the route for the winners. He allowed just five hits. Sandy Robertson also fired a five-hitter but five errors by his teammates proved decisive.
Purcello (W) and Charlton
Robertson (L) and McCarthy
(May 30) Vancouver Arrows moved into first place in the Vancouver Senior City League standings Wednesday by defeating Bellingham Bells 5 to 3. Al Moser scattered nine hits in picking up his first win of the season.
xxx and xxx
A.Moser (W) and xxx
(June 3) A five-run 8th inning carried Arnold and Quigley to a 6 to 3 victory over Bellingham Bells Sunday. Singles by Sandy Robertson and Ralph Stong, combined with five Bells' errors, helped produce the late inning explosion. Robertson tossed a six-hitter for the win besting Joe Faria who yielded just five hits but handed out five free passes. Ty Hofeditz smacked a homer for Bellingham in the fifth.
Robertson (W) and xxx
Faria (L) and xxx
(June 4) Ed Henry's Vancouver Arrows trounced Norvans 10-2 Tuesday night. Reg Wallis was both a mound and plate star going the distance for the pitching win while knocking out three of the Arrows' 11 hits. Wallis won his second straight while Pills Purcello took his first loss in four starts.
Wallis (W) and Henry
Purcello (L) and McNaughton
(June 9-10) Bellingham and Norvans divided a weekend series. After losing 7-4 Saturday, Norvans cashed in on the pitching and hitting of Ray Orteig Sunday for a 9 to 4 triumph. Orteig allowed but six hits and belted a triple and two singles as the shipyarders collected a dozen hits off Hugh Sooter and Jim McGhie. The Boston Red Sox farmhand rang up 13 strikeouts.
Orteig (W) and xxx
Sooter, McGhie and xxx
(June 11) Reg Clarkson slugged a homer and led a four-run splurge for the Arrows in the 8th inning in an 8 to 7 victory over Arnold and Quigley. The win moved the Arrows into second place behind the Bellingham Bells.
(June 13) In one of the season' best mound duels, the Vancouver Arrows topped Bellingham Bells 3 to 2 in 14 innings. Don Marshall singled to knock in the winning run. Leo Frison allowed nine hits in taking the win while Hal Arnason gave up ten.
Arnason (L) and xxx
Frison (W) and xxx
(June 16-17) Bellingham Bells maintained their hold on top spot in the Vancouver City League over the weekend taking both games form Arnold and Quigley, 6 to 3 on Saturday and 5 to 3 Sunday when Joe Faria notched his sixth win of the season. The Bells plated a pair in the seventh for the win to overtake Lefty Gervais. Bill Whitsell hurled the Bells to the Saturday win and helped at the dish with a second inning homer.
xxx and xxx
Whitsell (W) and xxx
Gervais (L) and xxx
Faria (W) and xxx
(June 18) Reg Wallis fired a six-hut shutout for his third straight victory Monday as the Arrows shaded Norvans 1-0. Pealo, who surrendered nine safeties took the loss.
Pealo (L) and McNaughton
Wallis (W) and Henry
(June 27) A four-run rally in the 7th inning broke up a 2-2 draw and carried Vancouver Norvans to a 6 to 2 victory over Bellingham Bells Wednesday. Pills Purcello chalked up his fifth win of the season with a nifty four-hit effort.
McGhie (L) and Padovan
Purcello (W) and McNaughton
(June 29) Sandy Robertson was the Arnold and Quigley star both on the mound and at the plate as they shutout the Arrows 5-0 Friday. Robertson held the Arrows to six hits in tossing the shutout while poking out three hits in four times at bat.
Crosato (L) and Henry
Robertson (W) and McCarthy
(July 6) A wild pitch by Lefty Gervais in the bottom of the ninth inning allowed the winning run to cross the plate as Arrows topped Arnold and Quigley 5-4. Jimmy Crosato went the route on the hill for the winners.
Gervais (L) and xxx
Crosato (W) and xxx
(July 8) Joe Faria, who had a perfect game in pro ball in the Pioneer League in 1942, blanked the Norvans 6 to 0 Sunday in notching his seventh triumph of the season in the Bells' victory. . He allowed just four hits and only one baserunner to make it as far as second base. Gene Holt, the Norvan's left-hander, had a shutout of his own until the sixth when a walk, error and three hits were good for four Bellingham runs.
Holt (L) and xxx
Faria (W) and xxx
(July 9) Vancouver Arrows consolidated their hold on first place Monday night by trouncing the tail-end Arnold and Quigley nine 8 to 2. Reg Wallis was the mound winner with a four-hitter.
xxx and xxx
Wallis (W) and xxx
(July 11) Jim McGhie held the first place Vancouver Arrows to four hits Wednesday as Bellingham edged the league-leaders 2 to 1. Jim Crosato allowed seven hits in taking the mound defeat.
McGhie (W) and Padovan
Crosato (L) and Henry
(July 15) Schoolboy Hal Arnason served up a six-hit effort Sunday in Bellingham to lead the Bells to a 4 to 1 win over Arnold and Quigley. Arnason, who collected a pair of singles to help the Bells' offense, was working on a two-hitter through seven innings.
xxx and xxx
Arnason (W) and xxx
(July 23) Last place Arnold and Quigley knocked the Arrows out of first place in the Vancouver City League standings Monday night by taking a 7 to 5 decision. A bases-loaded error by shortstop Lou Channell in the top of the ninth inning paved the way for three runs and the A & Q victory.
Dalton (W) and McCarthy
Montador, Waitman (9) and Bentley, Henry (4)
(July 26) Benny Galvin, with four errors on defense, doubled to score pitcher Sandy Robertson with the winning run as Arnold and Quigley topped Bellingham 5 to 4 in 11 innings. Robertson had reached with a single. The victory moved A & Q into a third place tie with the Norvans.
xxx and xxx
Robertson (W) and xxx
(August 3) It was a feverish nightmare for no less than six pitchers, three from each team, as the Arnold & Quigley nine survived a marathon slapfest to nip the Norvans 13 to 12. Catcher Joe McCarthy of the Quigs had three of their eleven base raps. Top swatter for the evening was outfielder Jack Fisher of the Shipyarders whose three base blows produced five runs. Teammate Tommy Kennedy delivered a grand-slam circuit-clout in the third stanza.
Torres, McNaughton (L) (4), Purcello (6) and McNaughton, Charlton (4), McNaughton (6)
Dalton, Gervais (W) (2), Robertson (7) and McCarthy
(August 4) The Bellingham Bells captured a walkoff victory over Arnold & Quigley, edging the Clothiers 4 to 3 in the Belltown. The hosts scored a bottom-of-the ninth counter to saddle fireball expert "Sandy" Robertson with the defeat.
Robertson (L) and McCarthy
Arnason (W) and Padovan
(August 4) The Arrows stayed ahead of the pack in the Vancouver City League standings, taking a 7 to 2 decision over the Norvans. Southpaw Reg Wallis recorded his eighth pitching victory of the season, six of which have come against the Shipyarders. He made only one mistake, serving up a herculean home run ball to Jud McNaughton which accounted for both Norvan counters. Pills Purcello lost his third game against eight victories. He was also lit up for a mammoth four-bagger, launched by the Arrows' Ed Henry.
Wallis (W) and Henry
Purcello (L) and McNaughton
(August 5) Swarthy Joe Faria handcuffed Arnold & Quigley 9 to 1 at Bellingham for his 11th mound victory of the campaign in a game in which the injury-packed Clothiers contributed five errors. Faria registered 14 strikeouts and allowed seven hits, one of them a massive homer by Coley Hall. First baseman Ty Hofeditz of the Bells had three hits.
Gervais (L), Holden and McCarthy, Tough
Faria (W) and Padovan
Standings W L Pct.
Arrows 16 11 .593
Bellingham 18 14 .563
Norvans 12 15 .444
Arnold & Quigley 11 17 .393
(August 6) The league-leading Arrows saw their position atop the circuit whittled down to a thin eight percentage points at Capilano Stadium when the Norvans erupted for three runs in the ninth inning for a 7 to 6 triumph. Jud McNaughton and Roy Dean smashed four-baggers for the Norvans, McNaughton's blast being one of three base blows he garnered. Swatting a round-tripper for the Arrows was outfielder Reg Clarkson who also picked up two singles. Infielder Alex MacDonald of the Transfermen also did well with the willow, slapping out three singles.
Torres (W) and McNaughton
Meister (L), Wallis (9) and Henry
(August 8) Bellingham's clanging Bells grabbed onto the top rung of the Vancouver senior circuit as they bounced the Arnold & Quigley ball tossers 11 to 8. Five of the Tuliptowners managed to manufacture three base hits. Pete Zender with two doubles and a single, Zane Hickok and Verne Hill each with a triple and a brace of singles as well as Jack Trouse and second baseman Nelson with three singles apiece were the major willow wielders. For the Quigs, Sandy Robertson put on a one-man show as he lit up the Bellingham pitching tandem for a home run, triple and single.
McGhie (W), Arnason (3) and Padovan
Dalton (L) and Tough
(August 10) Behind the scintillating flinging of Sandy Robertson, the cellar-dwelling Arnold & Quigley team edged up in the standings with a 5 to 2 victory over the Norvans. The tall righthander struck out nine, including the side in the seventh panel, scattered eleven hits and walked nary a batter until the ninth. The Clothiers jumped in front with a pair of opening-frame counters and never trailed. Top batsman for the victors was keystone guardian Tommy Kennedy who rocked losing heaver Pills Purcello for a triple and single. "Babe" Barberis had a triad of one-baggers for the Norvans while teammate Casey Jones walloped a two-run dinger in the fourth canto.
Purcello (L) and Warren
Robertson (W) and Tough
(August 11) A reinforced Norvans squad edged past the first-place Bellingham Bells 6 to 5. The Norvans got a break in the bottom-of-the-ninth inning when, with the score tied, Jack Fisher's towering pop up was muffed by losing pitcher Joe Faria. The ever-astute Fisher, hustling all the way was able to reach second base during the confusion and came around to plate the winner in walkoff fashion when Andy Clovechuk, who had a four-hit game, blasted a two-out single. The game was highlighted by three circuit clouts. Ty Hofeditz of the Bells hammered the first one in the top half of the opening frame, one of three hits he garnered during the game. Casey Jones of the Norvans replied with a three-run shot in the last half of the same panel. A third four-bagger was secured by Bellingham starting moundsman Dick Plank in the second stanza.
Plank, Faria (L) (7) and Padovan
Torres, Purcello (W) (2) and Warren
(August 12) The Bellingham Bells blanked the Arrows 3 to 0 to maintain their grip on the penthouse position in the Vancouver senior loop. Tossing a six-hitter and fanning seven, Joe Faria rebounded from a tough loss the previous evening, to whitewash the Transfermen. Bruce Thirsk of the Arrows, with a double and single, was the only player on either team to manufacture two hits.
Meister (L) and Henry
Faria (W) and Padovan
(August 13) The Arrows moved to within four percentage points of the top-mounted Bellingham Bells when they took a heavy slugfest 15 to 8 from Arnold & Quigley at Capilano Stadium. The two combatants combined for 29 base blows with the Transfer Crew accumulating 17 of them. Second baseman Warren Parkhurst picked up four of the Arrows' safeties, a triple and three singles. Ed Henry was next in offensive production with a three-hit output, a triple and two one-baggers, which drove in three runs while Ross Edy came through with a double plus a pair of singles.
Wallis (W) and Henry
Gervais (L), Dalton (9) and McCarthy
(August 15) It was a weird night at Capilano Stadium. Combining for eleven errors in a performance reminiscent of the Keystone Kops, the Arrows and Norvans proded their way through a nine-inning marathon before the Transfermen came out on top 15 to 14 to move back into top spot in the Senior League baseball standings. Eleven bases were stolen by the winners. The combined seven moundsmen used in the game walked a total 21 batters. As strange as it may sound, one of the five Arrow hurlers, Jimmy Crosato, got credit for the victory by pitching one-third of an inning during which he allowed three runs and five hits, to say nothing of being howitzered off the hillock. Don Marshall had a two-run homer for the victors. The Arrows' Bruce Thirsk and Andy Clovechuk of the Shipyarders led their respective teams at the dish with a trio of base raps each.
Montador, Meister (4), Crosato (W) (7), Condon (7), Parkhurst (9) and Henry
Torres, Purcello (L) (7) and Tinling
(August 18) Arnold & Quigley pounded losing heaver Leo Frison from the box in the opening frame, scoring five times en route to a 9 to 8 decision over the Arrows. It was the first mound win in several moons for "Lefty" Dalton of the Quigs who spun a nine-hitter, walked seven and fanned the same number. Sandy Robertson led the Clothiers ten-hit attack with three hits including a pair of two baggers. Teammate Tommy Kennedy also picked up a brace of doubles.
Dalton (W) and McCarthy
Frison (L), Montador (1) and Henry
(August 19) Joe Faria hurled four-hit ball to rack up his 13th win of the season Sunday as Bellingham whipped the Norvans 6 to 1 and moved into first place in the league standings. Faria drove in a pair of runs with a double and single. Norvans' only marker came in the first inning when Ken Charlton squeezed Andy Clovechuk across the plate with a perfect bunt after Clovechuk had opened the inning with a triple. Casey Jones had a three-bagger in the fourth but was left stranded.
Holt (L) and McNaughton
Feria (W) and Padovan
(August 20) Losing 8 to 5 to Arnold & Quigley, the Arrows saw their dream of finishing first in the Vancouver City League evaporate. In spite of yielding twelve hits, Sandy Robertson was able to minimize the damage and earned the mound win over Reg Wallis. Don Marshall lit him up for a two-run circuit-jack early in the game and Ross Edy was able to collect a triple and two singles off his slants. Wallis, with a ten-hitter, had the most difficulty with Tommy Kennedy who singled three times.
Wallis (L) and Henry
Robertson (W) and McCarthy
(August 22) The regular season drew to a close as Arnold & Quigley captured third place by convincingly knocking off the Norvans 15 to 4. Former big leaguer Marv Rickert took the mound decision as well as connecting for a home run and two singles. Norvanian Jackie Warren and Tommy Kennedy of the Clothiers both had three hits.
Purcello (L), Warren (4) and Warren, McNaughton (4)
Rickert (W) and McCarthy
Final standings W L Pct.
Bellingham 21 15 .583
Arrows 18 15 .545
Arnold & Quigley 15 19 .441
Norvans 14 19 .424
PLAYOFFS
Semi-finals (best-of-five series)
(August 24) With import hurler Ray Orteig setting a new seasonal record of 15 strikeouts and three Norvans poling home runs, the Shipyarders offered potent evidence that they are on the playoff warpath as they hammered the Arrows for a 12 to 2 victory in the opener of their semi-final series. Bruce Thirsk was the only Arrow batsman who had any success against the hard-throwing Orteig. Thirsk managed to single twice as Orteig tossed a five-hitter. In contrast, Leo Frison, twirling for the Transfer Crew, was slammed for 16 safeties including round-trippers by Casey Jones, Jud McNaughton and Ken Charlton. McNaughton wound up with four safeties while teammate Richy Eisler came through with a triad of base knocks.
Orteig (W) and Warren
Frison (L) and Henry
(August 25) Casey Jones, the portly playing manager of the Norvans captured the 1945 batting title edging Ross Edy of the Arrows by by points to win with a .360 average to .358 for Edy. Joe McCarthy of Arnold & Quigley was just another point back at .357. Pat Thomas of Arnold & Quigley was tops in runs batted in, with 27, as Jerry Waitman of the Arrows and Jud McNaughton of the Norvans were right behind, each with 25. Reg Clarkson of the Arrows had the most thefts, 23.
(August 26) The Bellingham Bells took a one-game lead in their semi-final playoff with Arnold & Quigley at Tuliptown when shortstop Verne Hill's two-run homer broke up a brilliant pitching duel between the Bells' Joe Faria and the Clothiers' Sandy Robertson, the homesters going on to win 3 to 1. Faria limited the Quigs to just three hits while Robertson tossed a five-hitter.
Robertson (L) and McCarthy
Faria (W) and Padovan
(August 27) Recent military dischargee Ernie Kershaw led the Arrows to a 10 to 1 swashbuckling of the Norvans in the second tussle in their series. The two combatants now have a win each. Pitching in a competitive situation for the first time in almost four years, Kershaw stymied the Norvans with his sizzling fastball, allowing them seven scattered bingles, including two each by Roy Dean and Fred Tinling. Reg Clarkson had four base knocks for the winners, all singles while teammate Don Marshall crushed a hanging curveball from losing twirler Pills Purcello for a two-run circuit-blast.
Kershaw (W) and Henry
Purcello (L), Orteig (7) and Warren
(August 29) Arnold and Quigley punched out 12 hits Wednesday to down Bellingham 8 to 3 to even the best-of-five series at a game apiece. Marv Rickert went the route, holding the visitors to eight hits, in registering the pitching win. "Sandy" Robertson smacked a triple and two singles for the winners, driving in three runs while "Butch" Faller of the Bells led his team with the stick, stroking three singles.
Plank (L) and Padovan
Rickert (W) and McCarthy
(August 31) Staving off a fierce closing rush, the Arnold & Quigley ball tossers barely eked out an 8 to 7 victory over the Bellingham Bells before a nail-biting packed house of 3,500 at Capilano Stadium. The victory gave the Clothiers a two games to one edge in the semi-final playoffs as Sandy Robertson defeated Joe Faria in their private pitching vendetta. Up until the eighth frame, the Quigs held a comfortable 8 to 2 lead but then the Bells counted a pair and, in the ninth, plated three more to come within a whisker of forcing overtime. Marv Rickert blasted a three-run homer and single for the winners and shortstop Al Kretchmar came though with a triple and single. Ty Hofeditz smacked three singles for the Bells while Pete Zender laced a double and single. Bellingham's Verne Hill launched a solo home run in the eighth when the Bells began to mount a threat.
Robertson (W) and McCarthy
Faria (L), Plank (7) and Padovan
(September 1) Reg Clakson of the Arrows led his club to a 5 to 4 triumph over the Norvans in the third battle of their semi-final series. The Transfermen now hold a two games to one lead. Before some 3,000 fans, Clarkson not only drove in the winning run with his third hit of the game but also saved the bacon for his team with a sensational catch during a ninth-inning Norvan rally. Both pitchers of record went the route, each yielding eleven safeties.
Purcello (L) and McNaughton
Wallis (W) and Henry
(September 4) The Norvans, riding the crest of Ray Orteig's blazing fastball, squared their semi-final showdown with the Arrows, edging the Transfermen 5 to 4. Orteig once again rang up 15 Arrow batters on whiffs while limiting them to six hits. The vanquished nine, after falling behind 5 to 0 after three frames, made things interesting by plating four counters over the course of the fourth, fifth and sixth cantos but were not able to mount much of a threat going into the stretch run. Outfielder Jud McNaughton was the leading Norvanian with the stick, slamming a double and two singles, good for three runs batted in. Ross Edy, also with a trio of singles, was top dog offensively for the Arrows.
Kershaw (L), Montador (4) and Henry
Orteig (W) and Warren
(September 8) Joe Faria pitched the Bellingham Bells into a fifth and final game against Arnold & Quigley, leading the Tuliptowners to an 8 to 1 win over the Clothiers in game four of their series before a capacity house of 3,500 at Capilano Stadium. Fanning a total of eleven, Faria's only mistake was a pitch launched by Quig's third sacker Pat Thomas for a solo homer. The Bells pasted losing twirler Marv Rickert's offerings for fourteen base blows, including three each by shortstop Johnny Penso and outfielder Jack Trouse. Bellingham's Ty Hofeditz had a two-run homer.
Faria (W) and Padovan
Rickert (L) and McCarthy
(September 11) Bellingham downed Arnold and Quigley 9 to 6 Tuesday in the fifth and deciding game of the their semi-final series. Bells now meet the Norvans in a best-of-five final series. Joe Faria again claimed the mound victory, scattering nine hits. Bellingham second baseman Verne Hill had a triple, double and single in four official times at bat. Teammate Gale Bishop picked up a triple and double while Jack Trouse drove in three counters with a pair of one-baggers. Hot corner custodian Pat Thomas had a trio of singles for the vanquished nine.
Robertson, Rickert (6) and McCarthy
Faria (W) and Padovan
(September 12) Norvans took the opening game in the final series downing Bellingham 9 to 3. Pills Purcello went the distance, yielding nine hits, for the pitching win. Leading the 12-hit Norvan's offensive thrust was shortstop Andy Clovechuk who doubled, singled twice and drove in a pair of runs. Ray Orteig blasted a solo round-tripper for the Shipyarders in the final frame.
Purcello (W) and McNaughton
Plank (L) and Padovan
(September 14) Vancouver Norvans cracked out 15 hits and got shutout pitching from Ray Orteig Friday to down Bellingham 9-0 and take a 2-0 game stranglehold on the final series. Orteig allowed just five hits and fanned 15. Jack Warren and Casey Jones hit successive home runs for the Norvans on consecutive pitches thrown by losing twirler Joe Faria in the sixth canto. Jones had a particularly good night at the dish, batting four-for-four and driving in three markers.
Faria (L) and Padovan
Orteig (W) and Warren
(September 15) Norvans won the Vancouver City baseball championship Saturday night beating Bellingham 8 to 3 to take the final series in three straight games. A crowd of 1,500 fans watched moundsman Pills Purcello pitch the home team to the victory. Purcello surrendered nine hits while Norvans collected 11 and took advantage of three Bellingham errors. Norvans' Ray Orteig fielded the left garden in star fashion and also poled a hefty triple to go along with a brace of one-baggers.
Purcello (W) and Warren
McGhie, Baker and Padovan