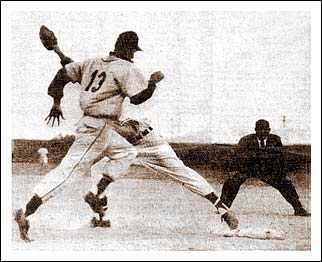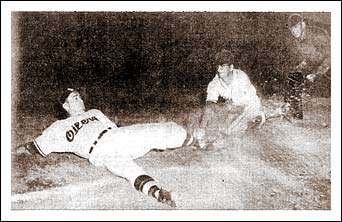 Left - It happened but fans just couldn't believe it. Bill Raehse was guilty of an error Sunday against Dickinson Packers. The smooth working first sacker had a throw from third baseman Fred Vaughn bounce off his mitt. Ev Johnson, Dickinson catcher, is shown about to cross first base. Base umpire Stan Papich is tensed, ready to give a decision on the play. The Oilers beat the Packers 11-1. (Williston Herald, July 11, 1955)
Right - Frank Roelandt of Williston is safe at third after bashing a two-run triple of the right field wall. Late with the tag is Minot third baseman Duke Bowman. Ed Claussen is the umpire. Roelandt had a big night -- a double, triple, sac fly good for four RBI. Oilers whipped the Mallards 16-7. (Williston Herald, 1955)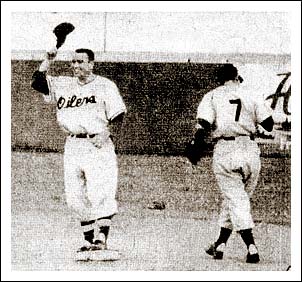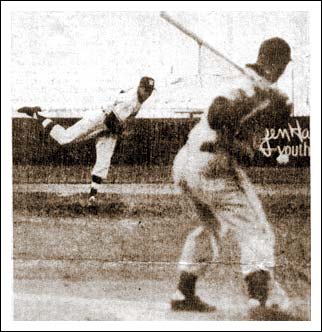 Left - Williston catcher Frank Roelandt tips his cap to heckling teammates after belting a double. #7 is Buddy Afremow, Dickinson shortstop. (Williston Herald, July 11, 1955)
Right - Don Lee of Williston fires to Ron Bowen, Dickinson. (Williston Herald, July 11, 1955)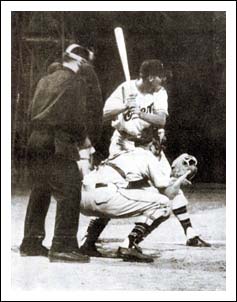 Left - An unidentified Williston Oiler hitter.
Right - Roy Weatherly, the former major leaguer, collected three hits on the final day of the regular season to shade Butch Davis, a two-time batting champion, for the hitting crown, .371 to .369. Weatherly had 111 hits, including 23 doubles, 4 triples, 21 home runs, and batted in 61. He established three ManDak records - homers, total bases and slugging.
Left - Thanks to Tom Mulcahy for digging out these '55 clippings. See the full Mulcahy story here. The Gonzaga star went on to pro ball, the priesthood and then to administration in MLB. Right - Thomas "Buddy" Afremow of the Dickinson Packers".