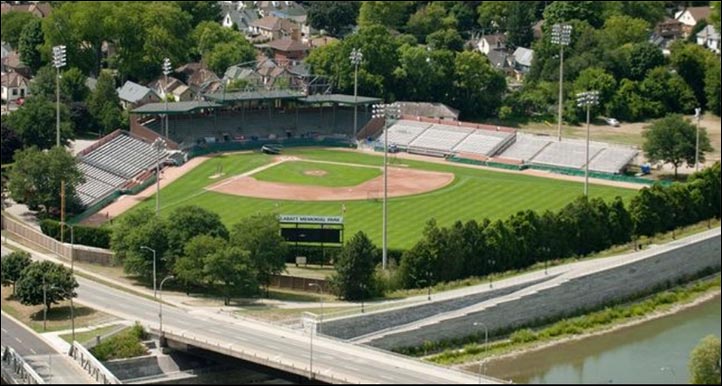 Beautiful Labatt Park in London, Ontario, Canada. Billed as the " is the oldest continuously operated ballpark in the world". (London Free Press file photo)
Paul Allen, such a help to our site in tracking down information on the Intercounty League of Southern Ontario, attended the inaugural London Majors Alumni reunion last weekend and has kind enough to send along a review and some photos of the event. Paul was a member of the Majors from the early 1960s through to the early 1970s.
Over 100 former London Majors, London Pontiacs, and London Avcos baseball players returned en masse to officially launch the London Major's Alumni Organization at Labatt Park on July 22, 2017.
To say the event was a success doesn't pay justice to the meaning of the word "success." It was more like a huge success with words like terrific, memorable, and awesome thrown around the Roy McKay Clubhouse as often as these players used to throw a baseball around the diamond.

Credit the main organizer Barry Boughner for putting into action earlier discussions with Scott Aldridge, Alex McKay, Wayne Fenlon, Jon Owen and Dave Byers to find a way to honour and remember London players who had either passed away or perhaps have long ago seen the baseball-playing days slip away, maybe even unnoticed.

Scott's father Norm Aldridge and Alex's father were important in London Major's franchise history and both sons knew how their fathers would want former London players to get together and renew friendships made on the baseball diamonds of the Intercounty Baseball League. A committee was formed and former players and long time supporters of the London teams joined to plan the 2017 reunion. Current Majors' ownership and management also encouraged the formation of the Alumni group.

London Majors' Alumni Stan Jones, Barry Moore, Jack Fairs, Bobbie Deakin, and Arden Eddie were all honored in front of former London players and many of their family on a rainy evening just prior to the current London Majors and Brantford Red Sox IBL game.

Front - Stan Jones.

Back row (left to right) - Barry Boughner, Randy Fuller, Larry Jones, Barry Moore, Jack Fairs, Bob Deakin, and Arden Eddie

Barry Boughner presented each with a London Majors' baseball jersey and a framed picture of Labatt Park.

Jones played for the 1943 London Army team who won Intercounty, Ontario, and National Canadian championships that year. Moore played on the 1945 Intercounty London Majors' championship team. Fairs was the catcher for the legendary 1948 London Majors team that won the Intercounty pennant, League Championship, Canadian Amateur Championship, and the North American baseball championship. Jones, Moore, and Fairs are all in their mid nineties.

Deakin was considered to be one of the best ever from London and played in the New York Yankee organization before injuries cut his career short. At age 16, Deakin played shortstop on the 1951 London Majors' Intercounty championship team.

Eddie with many and extensive Intercounty playing records, some of which are most games, most hits, and most walks, to name only a few, was also a long time owner of the team.

Memorabilia was on display in the Roy McKay Clubhouse at Labatt Park. The large silver trophy is from 1905 when it was presented to the winning baseball team in the Manufacturer's League by London, Ontario's former Mayor Adam Beck, who was later knighted by King George V of England for his outstanding service to Canada in developing publicly owned electric power. (Art Lierman photos).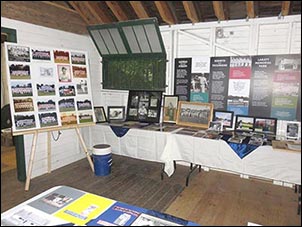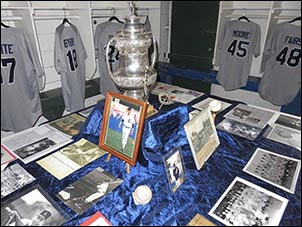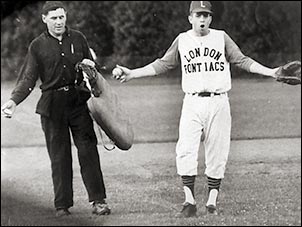 Among the dozens and dozens of photos which emerged, was one of our correspondent responding to being tossed from a game.
In this one, the home plate umpire make the trek to Allen's position in centre field to break the news. Allen, who had had some words with the first base umpire turns back to first to ask, "what for?".
At LondonFuse, a web site which "promotes art, lifestyle and culture in London" writer Angela McInnes offered her take on the reunion.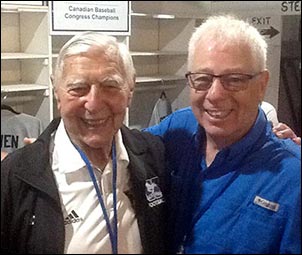 That's our Paul Allen on the right with long-time friend Jack Fairs, a legend in university sports in North America after a career of more than fifty years at the University of Western Ontario at London.
Fairs was the catcher on the 1948 London Majors which went on to win the Intercounty, Ontario and Canadian championships and topped it all upsetting a strong American club from Fort Wayne, Indiana, for the North American Baseball Congress championship. (In a previous season, Fairs was the catcher for Sal "The Barber" Maglie in a season with Welland, Ontario). Fairs was Paul's first Chatham, Ontario All-Star Minor Baseball Association instructor and coach. They've known each other since 1952.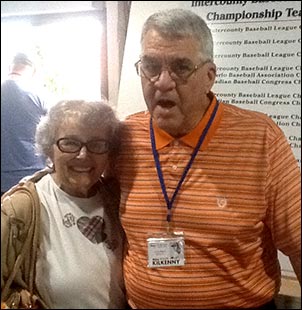 A key member of the 1975 championship team was pitcher Mike "Killer" Kilkenny who had played in the majors with Detroit, Oakland, San Diego and Cleveland. Kilkenny went 9-0 with an earned run average of 1.31.
(Right) - Mike and his wife were among those attending the inaugural reunion.
The Majors most notable alumni might be Fergie Jenkins, the lone Canadian major leaguer to win induction into both the Canadian Baseball Hall of Fame and Cooperstown (and a former teammate of Paul Allen in minor ball in Chatham). . After retiring from the majors, Jenkins joined the Intercounty club for a season in the early 1980s.
Denny McLain, the last major leaguer to win 30 games, also wore a Majors' jersey. McLain went 31-6 with the 1968 Detroit Tigers and played a dozen or so games, mainly in the infield, in the early 1970s.
Tom Burgess (below left) was one who advanced from the Intercounty team to the majors, winning stints with the St. Louis Cardinals and the Los Angeles Angels. And, one of the most beloved former Majors, Jack Fairs (below, right), as he looked in 1948 with the North American championship team.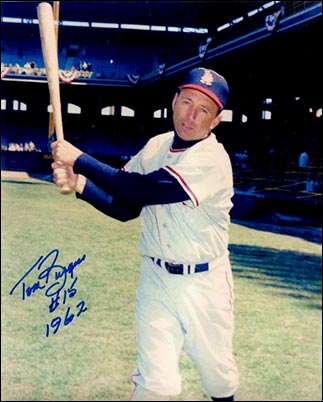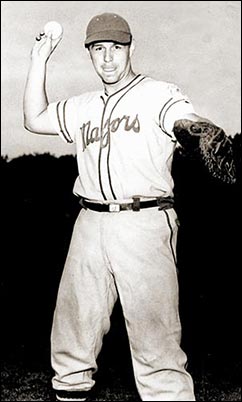 The string of victories by the London franchise in the Intercounty League goes back to 1943 when the London Army squad captured the Intercounty, Ontario and Canadian titles.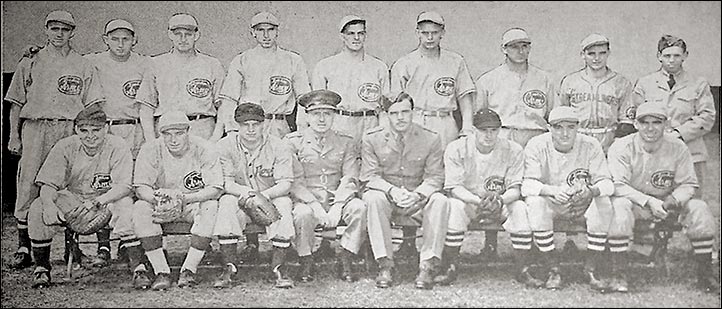 The National Baseball Congress appears to have printed the names in the wrong order in their 1944 publication. It's believed the correct order is as follows :
Standing (left to right) - Jack Lockington LF, Max Samuely P, Johnny Moyer P, Bob Hammond 1B, William Brinley P, Thomas White P, Fred "Polly" Hollowell RF, Urbin Morrison 2B, Garnett Queen 3B
Seated - Stanley "Tubby" Jones C, Augie Herchenratter 3B, Hank Biasatti 1B, C.H. "Chet" Smith MGR, Dunc McColl 1B, Charles Males CF, Art Herchenratter LF, D.M. "Dunc" Galbraith 2B/C. (Toronto Evening Telegram Photo). '
Others who played for the team - Jim Cipparone, Jada Dahmer,
Also, the 1943 team below.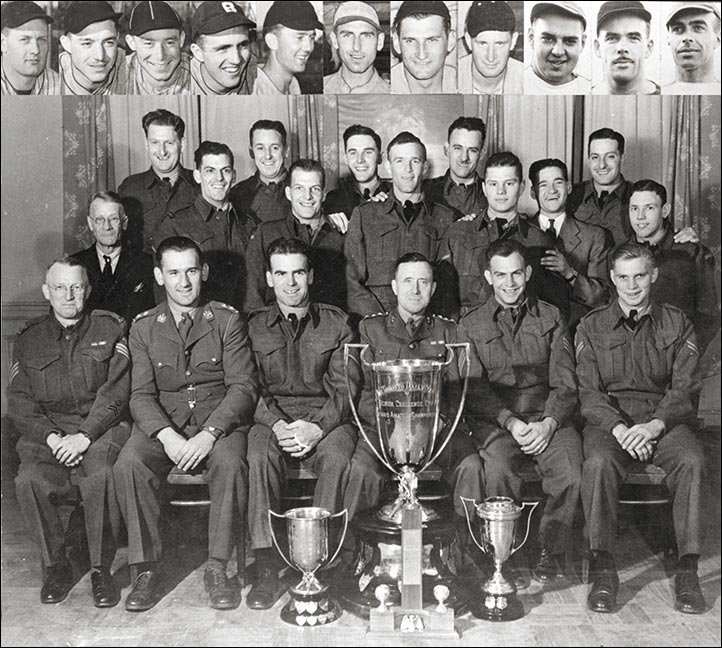 1943 London Army Team: IBL Champs, OBA Senior 'A' Champs and Canadian Baseball Congress Champions.
TOP ROW INSET PHOTOS (left to right) - Lefty Price, Art Herchenratter, Augie Herchenratter, Jack Lockington, Ossie Swift, Bob Hammond, Tom Anderson, Chuck Males, Catcher Stan (Tubby) Jones, Dunc McColl, Alex Galbraith.
SEATED IN MILITARY UNIFORMS (front row) - Bill Mann, Jada Dahmer, Dunc Galbraith, Manager Chet Smith, Buddy Huber, Pitcher Tommy White. (middle row): Gil Betzel, Bill Brinley, Wilf Dippel, Bob Philip, Hank Biasatti, Harry James, Garnett Queen.
(back row): John Moyer, Polly Hollowell, Don Hargreaves, Earl Groulx, Jimmy Cipparone.
[PHOTO: University of Windsor, Leddy Library]
And, just 74 later, at the 2017 London reunion, there's the family of Stanley "Tubby" Jones present for the recognition and celebration.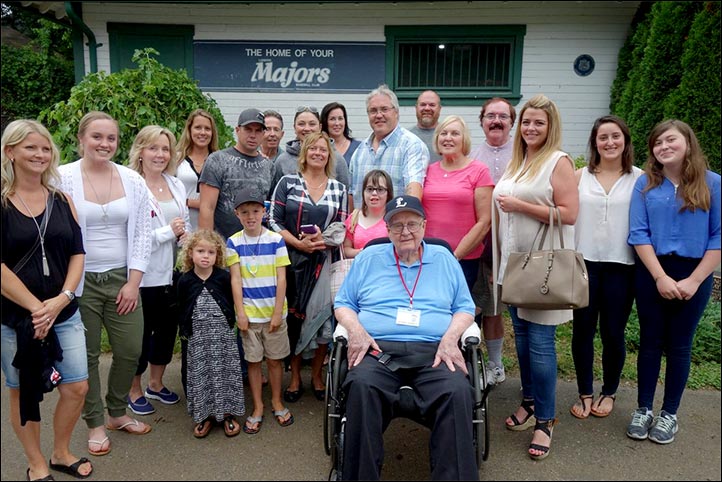 From left to right (back row): Denise Cremers, Dana Healey, Laura Healey, Joanna Cremers, BJ Cremers, Bill Healey, Cathy Jones, Jennifer Sauve, Susan West, Rob Healey, Mike West, Gale Healey, Larry Jones, Erin Pecore, Gabrielle Harley, Isabelle Dowling. From left to right (front row-kids): Portia Cremers, Jackson Cremers, Emma Healey and Stan Jones.
PHOTO by Angela McInnes, in front of the Roy McKay Clubhouse at Labatt Park.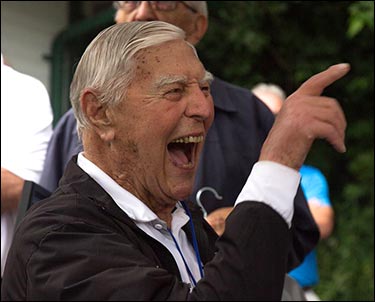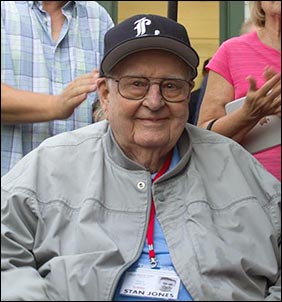 Above - Two grand men. Jack Fairs, 92, left and Stan Jones, 94, right. Enjoying memories and friendships. Jones, catcher with the 1943 London Army Team (winner of three prestigious championships) and Fairs,catcher with the legendary 1948 London Majors (winner of four prestigious championships).
Below - the present and the past (left to right) - London Majors' DH Cleveland (The Big Dawg) Brownlee (#35), former London Majors' Iron Man, all-star centerfielder-owner-manager Arden Eddie (#24), former Majors' all-star infielder (#7), former NHLer and Majors' Alumni Committee Chairperson Barry (Bougie) Boughner and former Majors' all-star infielder Bob Deakin (1951-1954) who signed a pro contract with the New York Yankees' organization on Dec. 15, 1954 at age 20.
Arden Eddie and Bob Deakin tossed out the first ceremonial pitches prior to the game with the Brantford Red Sox.
Photos by Kyle White, Whiteflash Photography. Majors' Aumni Day, Labatt Park, July 22, 2017.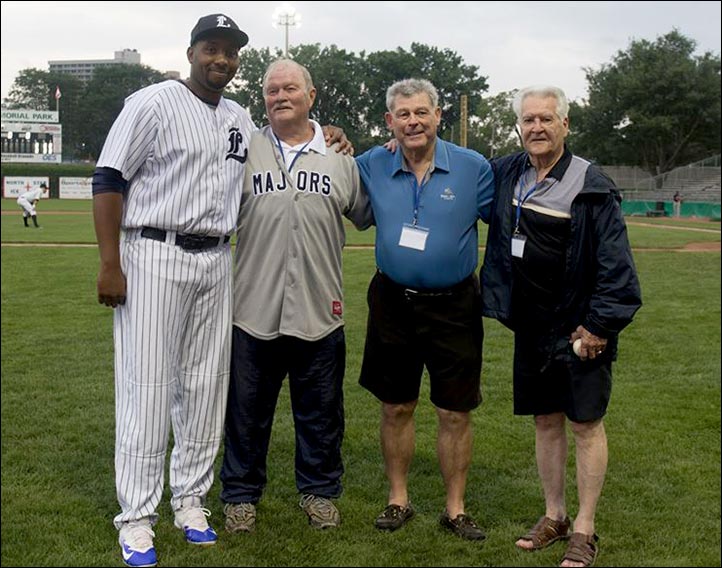 London 1925 London 1948, Games - North American Championship
London 1943 London 1956 London 1969
London 1944 London 1958 London 1975
And, in a gem of a little film (posted on YouTube), made nearly 70 years ago, future London Majors Roy McKay and Bob Deakin are seen playing catch at St. Peter's Seminary in London. They were likely around 16 or 17 at the time. The cinematographer was Roy's future brother-in-law, Victor Aziz Sr.