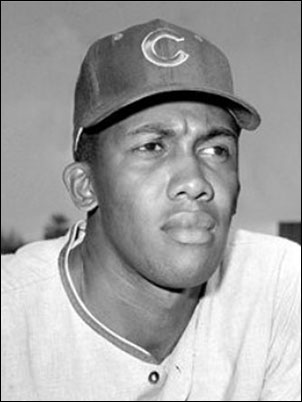 Ferguson Arthur "Fergie" Jenkins
Born : Dec 13, 1942, Chatham, ON
Right-hand pitcher
inducted into the National Hall of Fame in 1991
- Philadelphia Phillies (1965–1966)
- Chicago Cubs (1966–1973)
- Texas Rangers (1974–1975)
- Boston Red Sox (1976–1977)
- Texas Rangers (1978–1981)
- Chicago Cubs (1982–1983)
Won 284 games, career ERA 3.34
Cy Young winner, 1971
A 20-game winner, 7 times
No one was saying phenom in the beginning in Chatham, Ontario.
Jenkins, one of the youngest players on the team, had a modest start to his baseball career, as a part-time first baseman/outfielder with the 1956 Chatham Legion Bantam All-Stars which captured the provincial title.
Chatham friend and teammate Paul Allen recalls the young Jenkins :
" ... Fergie was surely not the star of the 1956 Bantam OBA champions ... he really didn't play much as we brought him up from Pee Wee All Stars as we went further into the OBA championship round. Dennis Roebuck and Larry Myers were the best two pitchers on our team and no doubt two of the best in Ontario at that time although Kitchener would argue that Court Heinbuch and Ron Denome were as good (but Chatham always beat Kitchener in those days (1956-60). Larry Myers was quite a pitcher.

Fergie really didn't start pitching on the all-star teams until 1958 at the end of the season and he was really nothing special in comparison to Myers and Roebuck. He of course surpassed all of us, later.

Roebuck and Myers paced our team in 1956. They were the pitching stars in 1957 and 1958 to help us win Midget OBA championships and it wasn't until late in the 58 season did Fergie do some pitching. He contributed in relief of Myers a couple of times and did go nine innings in a loss to Niagara Falls in September of '58 when Myers was hurt. Fergie also pitched a part of one inning in the championship game against Oshawa, also in 1958. Myers went a little wild so Fergie came in. Ferg got an out, and then Myers came back in to retire the side.

Dennis Roebuck was an absolutely domineerin g pitcher in this era for Chatham. He threw several no-hitters as a Bantam and Midget player and was also very strong as a Junior pitcher. In 1956, in the semi-finals of the OBA championship, he pitched both games of a doubleheader (7 innings) defeating Hamilton with a three hitter 4-2 in the first game and then came back after a 35 minute rest and threw a no hitter as Chatham eliminated Hamilton 9-0 and later went on to win the OBA championship against Belleville.

Roebuck and Myers were really good against the best competition in the area. In 1958, Myers threw a two hitter as we "Midgets" beat the Senior Mens' team 5-1 in the city of Chatham Ontario's city championship game. Our team was made up of 16-year-old players but with Myers pitching and striking out ten men, we won. In 1959, Myers beat Windsor Varsity Sports who played in the semi-pro Mic Mac league and in 1960 as a Junior, Roebuck threw a 2 hitter against Windsor AKO who played in the Class "D" Mic Mac semi-pro league in the Windsor/Detroit area and we beat them again.

In 1959, Fergie Jenkins lost a 4-3 game to the same Windsor AKO team giving up 9 hits. The Windsor winning pitcher was no one else but the soon to be great Whit Tucker of Ottawa Rough Rider football fame. Tucker gave up just four singles. Fergie was pitching more in 1959 and was getting as good as Roebuck and Myers.

So, Fergie "was" a late bloomer and a little younger than most of the guys on the teams I played on in Chatham. He started pitching in house league but as he grew he worked very hard in the off season with Gene Dziadura (left), a high school teacher.

Dziadura saw the potential in Ferguson Arthur Jenkins. He was a big guy who had a great work ethic, something that the more talented Roebuck did not have.

Myers was considered too small by major league scouts but Roebuck could have signed with almost a choice of teams -in particular, Pittsburgh, Detroit, Cleveland, and the Phillies were very interested in him. I used to see the Christmas cards that major league scouts sent Dennis.

Ferg signed with the Phillies in 1962 and the rest is history."
Jenkins says luck played a large part in his baseball success. During the 2006 reunion, he noted :
"I got very lucky and was fortunate to do something that was a little different. I excelled in baseball. You don't do it alone. You have those people that help you with it ... It's remarkable when you think of it, I didn't pitch until I was 15, 16 ... Jack Howe, who passed away a few years ago, had a sore arm. I volunteered to pitch and ended up making a career out of it. It's like they say. You've got to be in the right spot at the right time. I got lucky."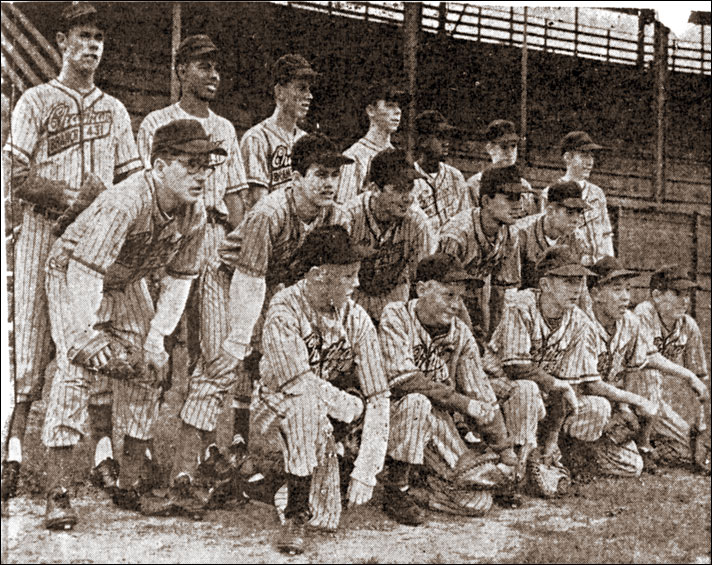 1956 Ontario Champion Chatham Legion Bantams. Front Row (left to right) Mac Cundle, John Slaughter, Bill Kane, Mel Wakabayashi, Glen Mills.
Middle Row (left to right) - Clare Ball, John Carter, Larry Myers, Sam Maruoka, Paul Allen.
Back Row (left to right) - Dennis Roebuck, Ed Robbins, Tim Glidden, Dick Carey, Ferguson Jenkins, Jim Baker, Ken Montague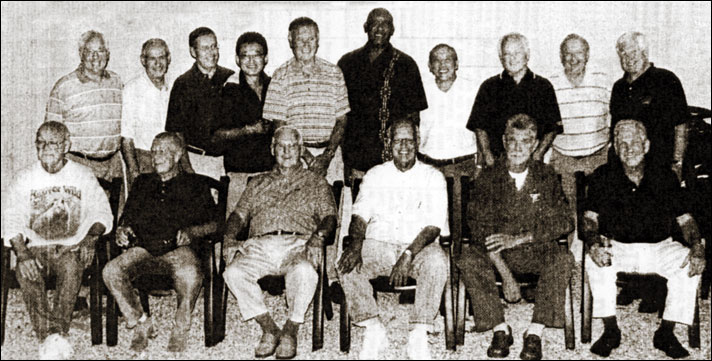 In 2006, members of that 1956 Chatham Legion, Branch 431, Bantam All-Stars met to mark the 50th anniversary of the 1956 Chatham Bantam team.
Front row (left to right) - Clare Ball, Larry Myers, coach Don Hinnegan, Ed Robbins, Dennis Roebuck and Tim Glidden.
Back row (left to right) - Paul Allen, Glen Mills, Ken Montague, Sam Maruoka, John Slaughter, Fergie Jenkins, Mel Wakabayashi, John Carter, Bill Kane, Jim Baker.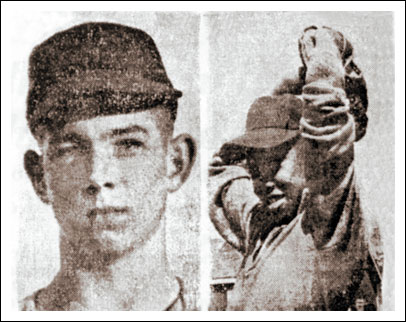 In following seasons, the core of the team moved on to play with the Moose Midget All-Stars, sponsored by the Moose Lodge in Chatham.
In 1957 and 1958 the club won provincial honours capturing the Ontario Midget championship.
Paul Allen (left) and Jenkins (right) again were teammates.
After winning the Midget championship in 1957, a strong Chatham squad went after a second consecutive title.
Jenkins began to see a little mound work, but was mainly a reserve with the squad.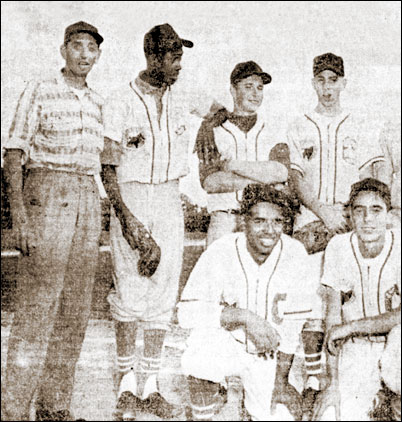 Back row (left to right) - Coach Joe Zimmer, Fergie Jenkins, Larry Myers, Paul Allen. Kneeling - Ed Robbins, Dick Carey.
Saturday, September 27th, 1958 the Chatham Midgets downed Oshawa 7-1 to make it two straight provincial championships Lefty Larry Myers and Jenkins combined to pitch the Chatham nine to the win.
The home squad erupted for six runs in the second inning on six hits and two Oshawa errors. With one out, Clare Ball reached on an error and came around to score on consecutive singles by Dick Carey and Ken Montague. Carey scored on a squeeze play and Mel Wakabayashi drove in Montague and Larry Kneebone with a double. Paul Allen singled in Wakabayashi and stole second, scoring on a double by Ed Robbins.
The Oshawa run came in the 7th as Dowe singled and later scored on a single by Lyons. The final Moose tally came in the bottom of the 7th as Myers walked, stole second, moved to third on a passed ball and scored on Carey's double to centre.
The visitors put a scare into the home team in the 8th as Myers lost control and walked Wightley, Wright and Reid to load the bases with nobody out. Coach Bruno Casanova brought into Jenkins, shifting Myers to the outfield. Jenkins took a comebacker from Dowe and threw to the plate to force Wightley for the first out. Myers and Jenkins again switched positions and the lefty got Suthard to bounce to the mound and Myers threw Wright out at the plate for the second out. Jenkins returned to the hill and got pinch-hitter Judd to pop up to end the threat.
The Midgets had edged Oshawa 7-6 in 10 innings the previous Saturday in the opening game.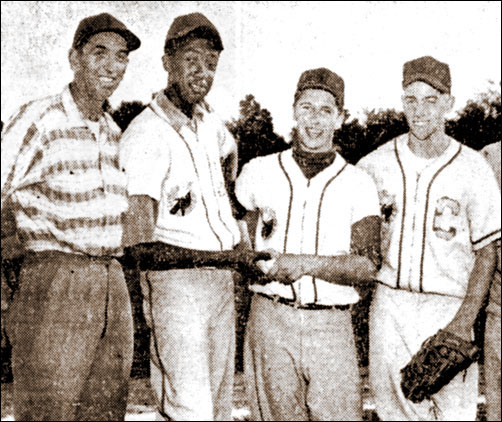 For the second straight year, the Chatham Moose Midgets had captured the OBA midget championship.
On Saturday, the Chatham squad downed Oshawa 7-1.
Left to right - Coach Joe Zimmer, Fergie Jenkins, Larry Myers and Paul Allen.
In October, the Midgets won their fourth major title of the season in notching a major upset win against the Senior Mens' Kent Finance Panthers to win the Chatham city championship and the J.C. Wanless trophy.
Earlier, the Moose Midgets had won the Essex-Kent, Western Counties and Ontario championships. Left-hander Larry Myers went the full seven innings allowing just two hits, including a homer by Earl Chase in the 6th. The winners had just three hits off Ray Reaume, but took advantage of five errors.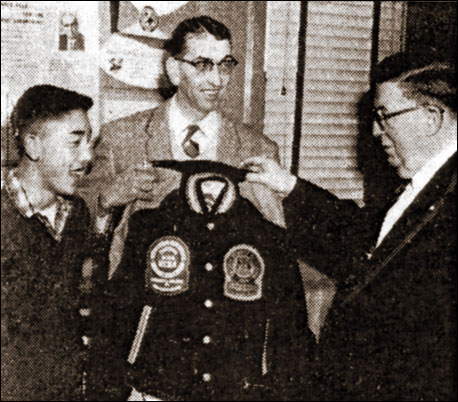 1958, CHAMPS GET JACKETS.
Alderman Earl Glover presents jackets to the Moose Midget "A" team which won the WCBA and the OBA baseball championships for the second consecutive year.
That's team captain Mel Wakabayashi, left, and coach Joe Zimmer, centre.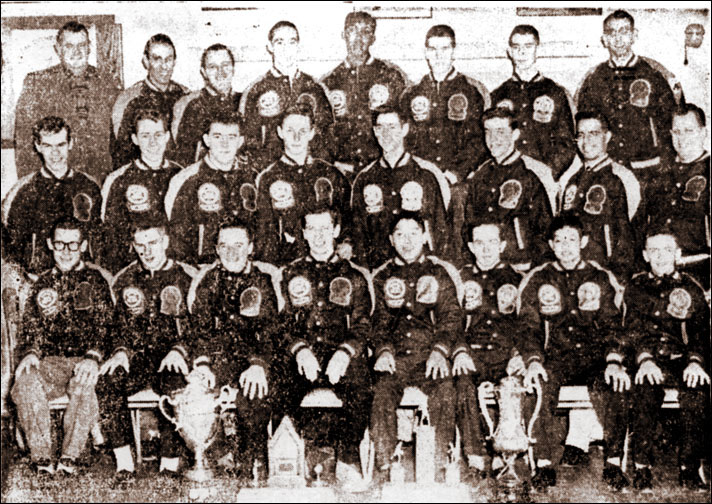 The Moose Midgets, OBA champions received jackets from their sponsor, the Moose Lodge. Front row (left to right) - Bob Swift, Jim Baker, Allan Simpson, Larry Myers, Mel Wakabayashi, Larry Kneebone, Bob Tsukayama & Larry Keenan. Middle row (left to right) - Don Mills, Ken Montague, Clare Ball, J. Howe, Ron Haddock, Brady Reaume, Ed Robbins and Don Baker. Back row (left to right) - Doug Allin, Bruno Casanova, Bernie Rivait, Dick Carey, Fergie Jenkins, Mike David, Paul Allen, Joe Zimmer.
In 1959, many moved up to the Chatham Knights of Columbus Juveniles and Jenkins became more of a force on the hill. In an exhibition game against Windsor AKO (a semi-pro team in the Windsor/Detroit area), Chatham dropped a 4-3 decision on an unearned run in the 8th inning. Jenkins went the distance allowing nine hits in taking the loss. Whit Tucker (who would have a future as a star in the Canadian Football League) had a complete game for Windsor holding Chatham to four hits. Paul Allen led Chatham with a pair of safeties.
In July, 1959, Jenkins, Wakabayashi, Allen, Myers and Larry Babcock went to Port Huron to attend a two-day clinic and tryout with Detroit Tigers. The Tigers missed out on a gem. Jenkins signed with the Phillies three years later.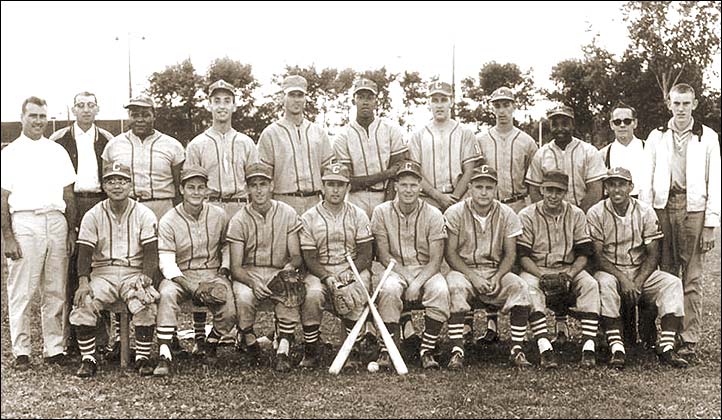 In 1961 Jenkins lined up with an Ontario-Michigan senior squad, the Kent-Asphalt Seniors. Back row - Pete Callingham, Joe Zimmer, Mel Cross, Ray Reaume, Dave Baldwin, Fergie Jenkins, Jim McFarlane, Ernie Miller, Charlie Cooper, Jack Reid, Skip Brooks. Front row - Don Wakabayashi, Bob Provost, Ron Haddock, Bob Wright, Lee Fox, George Montague, Larry Babcock, Bruno Casanova.
Even as a major league star, Jenkins maintained a strong attachment with his ol' home town.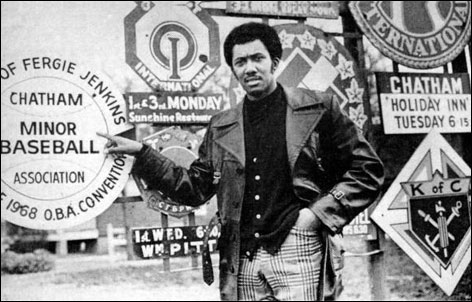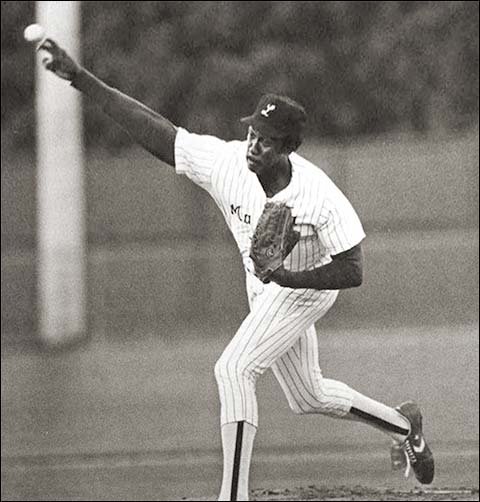 Fergie returned to Canada to finish out his lengthy baseball career pitching for the London Majors of the Intercounty League in 1984 and 1985.
Photo from Western Archives, London Free Press Collection.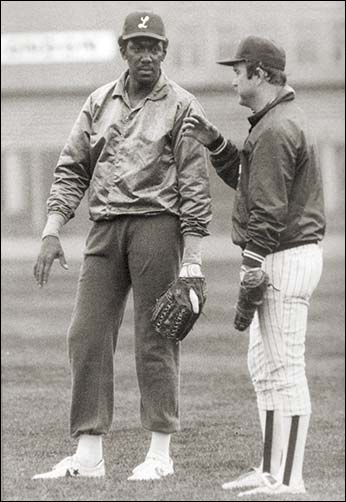 Right - Fergie Jenkins (who wore #31) with Eddie Arden (#24) (OF and co-owner of the London Majors) in right field at Labatt Park in London in 1984.

London Free Press photo.
Signed by the Philadelphia Phillies in 1962, Jenkins reached the majors in 1965 with the Phillies as a reliever.
Traded to the Chicago Cubs in 1966, he was given an opportunity as a starting pitcher, with a dozen starts his first season and a full-time role the next.
In 1967, Jenkins was spectacular with 20 wins, his initial selection as an All-Star, and a second place tie in the voting for the Cy Young Award. It was the first of six straight 20 win seasons.
In 1971 he became the first Canadian (and the first Chicago Cub) to win the Cy Young Award.
After moving on to Texas, Jenkins won 25 games (his career high) in 1974 and was awarded the Lou Marsh Trophy as Canada's top athlete.
In 1987, the big right-hander was inducted into the Canadian Baseball Hall of Fame, and in 1991 he became the first Canadian player to be inducted into the National Baseball Hall of Fame at Cooperstown.
---

Mel Wakabayashi went on to a sterling hockey career at the University of Michigan and in Japan.
The little (5'5", 150 lb) forward was an All-American. The university's publication, Michigan Today, carried a fascinating piece on Mel in 2002.
Among other things, they noted an incredible streak in hockey - seven consecutive seasons without a single penalty! Check out the Wakabayashi page.