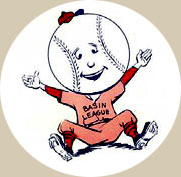 * Scroll to the bottom for Basin League Records.
In the summer of 2003, Darrell Shoemaker of the Rapid City Journal penned a series on the Basin League.
[Rapid City Journal sports cartoonist Vern Anthony would often lend his pen to the programs created for the Rapid City Chiefs and for the Basin League, like this happy fellow that adorned the cover of the 1972 official Basin League yearbook.]
This summer marks the 50th anniversary of the inception of the Basin League, a summer circuit that operated for 21 seasons. A dozen cities, including 11 communities in South Dakota, embraced the circuit and its mission at times during the league's run. This August also marks the 30th anniversary of the league's final season.
"It was a wonderful league for a feeder system for the majors and, as fans, you got the chance to see some great players," said John Quinn, son of the late Jim Quinn, a long-time official with the Rapid City Chiefs and Basin League. "It was a league where, as a player, you could retain your amateur status and for scouts to come and take a good look at you."
The league was established in 1953 with teams in Mitchell, Watertown, Winner, Chamberlain, Yankton, Huron, Pierre and Valentine, Neb. The circuit was called the Basin League to reflect the number of teams situated along the Missouri River Basin.
Pierre was the only franchise to complete all 21 seasons. Rapid City came into the league in 1957 after Chamberlain folded. Sturgis rejuvenated the league with its entry in 1961.
"I remember watching all the Basin League teams when they came through Rapid City," said Dave Collins, a 16-year major league veteran and currently a Colorado Rockies coach. "There were a lot of players that came through the League that ended up playing in the major leagues.
"It was a great brand of baseball and it had the great support from the different cities in South Dakota."
Organizers of the Basin League clubs have fond memories of the circuit.
"It was a good league," said Sturgis' Bob Regan. "People still talk about it thirty years after it ended. For a long time, it was the best summer league in the country."
Small towns, big stars
The league produced numerous stars, including three Hall of Famers in pitchers Bob Gibson (Chamberlain), Jim Palmer (Winner) and Don Sutton (Sioux Falls). Rapid City's stable of stars over the years included big Frank Howard, an outfielder that made heads turn from the Chiefs' home-opener in 1957 when he drove in five runs.
"It was one of the best things to ever happen to Sturgis and Rapid City," says Ernie Conway of Sturgis. "The people really enjoyed it. The league had a good run in Rapid City and Sturgis. I remember seeing guys like Jim Palmer and Frank Howard. It was just great to see these young players develop, see some of them go to the major leagues and see some good baseball."
MLB farm teams
When the league started in 1953, teams were comprised of college athletes and some minor leaguers. As the league grew, Basin League teams were assigned a 'parent' major league club with the Rapid City Chiefs assigned to the Los Angeles Dodgers and the Sturgis Titans assigned to the Boston Red Sox. The Pierre Cowboys were assigned to the Cleveland Indians.

"The Dodgers just loved Rapid City as Boston did us," said Morris Hallock of Sturgis. Hallock, along with Regan and the late Russ Molstad were instrumental in establishing the Titans franchise.

"The Red Sox told us they wanted every player to have a steak dinner once a day and they'd pay for it," Hallock said. "They sent down uniforms, two sets for home and one for travel. We must have had four or five catchers' mitts."
In Rapid City , a group of interested businessmen applied for the city's admission into the Western League in 1956. The application was turned down and the businessmen formed Black Hills Sports, Inc., a non-profit organization devoted to the promotion of amateur and semi-professional athletics in the Black Hills area.
Black Hills Sports, Inc., filed for admission into the Basin League and organizers were informed Rapid City would receive consideration when one of the founding teams dropped out of the league. Within months, the Chamberlain Chiefs withdrew and in January 1957, Rapid City was admitted.

Organizers such as Floyd Fitzgerald were faced with two challenges in 1957. Within five months, a baseball team had to be compiled and a field developed. An ad was placed in the 'Sporting News' and applications from 200 players were received. Former Basin League all-star catcher Guy Wellman, who played in the circuit in 1953 and 1954 and managed the Mitchell Kernels in the 1955 season, was tabbed as coach.

Developing a ballpark was a bigger challenge. Black Hills Sports received permission to build a stadium on city property at Sioux Park . Al Steinmetz chaired the Sioux Park Stadium Association and a fund drive produced $35,000. Combined with generous donations of time, equipment and materials from the business community, Sioux Park Stadium was completed by the spring of 1957.
Heading north

As the 1961 season approached, the league was in danger of folding. The circuit went from eight teams in 1957 to six teams in the 1960 season. When Mitchell ended its eight-year association in late 1960, the Basin League faced an uncertain future with only five teams.

Steinmetz approached Hallock and Sturgis officials about the possibility of a northern hills team. Hallock says Steinmetz was skeptical that Sturgis could field a team in time for the 1961 season.

"Al told me that Sturgis is a little town and thought that perhaps the northern hills could have a team, perhaps playing five games in Spearfish, five in Lead, five in Sturgis and so forth. I said to heck with that, we're not a northern hills team. He didn't think we could have a ball park ready in time and we showed him we could."

Hallock credits the work of Clarence Glover and Jim Dickson, two developers, and the Titan Missile crews from Ellsworth Air Force Base for helping to get the Titan Field ready for the 1961 season.

The Titan Field became known as Strong Field in 1967, dedicated to the memory and work of contractor Bob Strong. Strong's son Dean, now owner of Belle Fourche Livestock Exchange, came home on military furlough to help in the field's construction.

"We didn't have the money to go and scout talent," recalls Lloyd Keszler of Sturgis. "I took over for Bob Regan in player procurement. Fitzgerald would go to Arizona for spring training and watch teams and talk to players. We'd get on the phone to college coaches at Michigan State , University of Georgia and several other colleges to see what we could get."

Keszler says it took the Titans a season to realize they were asking college coaches the wrong questions. "That first year, we took coaches at their word on their own kids," said Keszler. "We stopped doing that after one year. All I'd get was a rosy picture."

Hallock credits the work of Pierre 's Gordon Stout for keeping Pierre in the Basin League for all 21 seasons. "Gordon deserves a lot of the credit for the success of the Basin League and especially the Pierre team," said Hallock. "He was in it from the inception. He was not only a devout fan, he helped the team financially, with hard work and support in every way."

Vern McKee, Pat Morrison and Parker Knox of Pierre also helped promote the Cowboys and served on the Basin League board of directors. R.M. 'Bus' Walseth of Pierre served as long-time commissioner of the league.

As the league entered its final season in 1973, Pierre officials turned duties of general manager of the Cowboys to a young, impressionable radio broadcaster, Jim Thompson.

"Someone called me and indicated they needed somebody to run the team," recalls Thompson, who followed the Basin League as a fan in Sturgis then went to Pierre to begin his broadcasting career after a stint in the Army.

Movers and shakers

In Rapid City, Steinmetz served as president of Black Hills Sports, Inc., from 1956-60 and was followed by Cal Ackerman in 1961, Bill Baumgartner in 1962, Milo Brekhus in 1963 and Neil Simpson in 1964.

Fitzgerald then took over the reigns of the organization in 1965 and continued until the league folded in 1973.

"There were a lot of good men involved," remembers attorney Tom Foye, who spent several years on the board of Black Hills Sports, Inc. "Al Steinmetz, Cal Ackerman, Floyd Fitzgerald, Neil Simpson and others, they were all successful business people dedicated to the Chiefs, dedicated to the Basin League and dedicated to baseball.

"They were incredibly busy people but as the saying goes, if you want to get something done, give it to a busy person."

Sioux Park Stadium now bears Fitzgerald's name as a tribute to his Basin League work and work with sports in the Rapid City community.

"Floyd was a good leader, able to keep things together and a good organizer," said Jan Laitos, who served on the Black Hills Sports, Inc., board with Fitzgerald. "He was all for the young people. He went all out."

Retired Rapid City attorney Homer Kandaras, another board member, agreed.

"He was a paint salesman and he loved baseball," said Kandaras. "The Fitzgeralds were all athletic. Floyd was passionate about baseball, the Rapid City Chiefs and the Basin League."

Kandaras and Fitzgerald were teammates on a successful Rapid City amateur league team in 1950. Floyd and his four brothers were part of the team. Hallock says that every team from Wall to the Homestake Gold Mine team in Lead had a Fitzgerald playing on it for many years.

Team support for the Chiefs was garnered within the community and fan bases were developed in the southern hills and Ellsworth Air Force Base.

"People from Ellsworth used to play in the Basin League and they enjoyed coming to the games and supporting the Rapid City team," said Laitos, who spent four years at Ellsworth Air Force Base before retiring in 1970.

"Back in the 1950's especially, it was the 'thing' to do," said Foye. "If you weren't seen at the Ball Park , then you weren't in the right place. Back then, the Basin League was the only major thing going on in the summer. People came out to the Ball Park ."

The same held true in Sturgis. "We had big crowds," said Hallock, recalling the Titans attracted Gov. Archie Gubbrud and over 4,000 people to the team's first game in 1961. He noted the work of Bernie Eveleth of Union Center for building support in rural areas, indicating people came from 150 miles to see the Titans.

"We had a ton of people from Union Center who would come in for the games and support was great in the rural areas," added Keszler.

Special promotions

Special promotions such as watermelon night and military appreciation night helped promote interest. Other promotions included cow-milking contests and exhibition contests featuring Basin Leaguers, residents and business sponsors between double-headers.

Early Chiefs programs contained ad sponsors from long-departed businesses such as the Harney Hotel, Zesto Drive Inn and Lehr Drug as well as mainstays still going strong after 50 years such as Black Hills Power and Light, Rosenbaum's Signs, Pete Lien & Sons, Wall Drug, Reptile Gardens and Rapid City Laundry and Dry Cleaners. Many of the yearly programs featured the artistic work of long-time Rapid City Journal sports cartoonist Vern Anthony.

The greatest benefactors of the Basin League were the youth of the two communities.

"One of the things the Basin League did was develop our kids baseball program," said Kandaras. "There was no children's baseball leagues in the 1940's. We didn't have a field for kids to play on."

That all changed as the league developed and received more support from the communities. Young people were attracted to the players and businesses helped sponsor clinics.

Retired South Dakota highway patrol official Terry Mayes recalls the impact the Basin League had on the state's youth.

"Growing up in Pierre , we lived about two blocks from the stadium. From the age of six or seven, I can recall going to see the Cowboys play," recalls Mayes. "My dad loved baseball. It was a big event to go to Basin League games and, back in the 1950's, it was great to see players who were either actively playing professional ball or coaching as well as some great college players."

Catch 22

Keszler says the Basin League's impact on development of youth baseball programs was very positive but did produce one drawback.

"Ultimately it hurt us," said Keszler. "Parents and families would be over watching their kids play baseball until dark and they were unable to get to the Basin League games some nights. We were trying to build a kids baseball program and ended up hurting our own attendance."

Keszler says players got approximately $500 for the summer and the pay was for 'odd jobs' the players did in the communities. Many of them worked for the city recreation departments cleaning up parks, swimming pools and baseball fields.

Bob Apodaca and Gary Morgan fondly remember their 'summer jobs' while playing in the Basin League.

"I really had a horseshoe over my head," said Apodaca, who played with the Chamberlain Mallards in the 1969 and 1970 seasons and who spent 30 of 33 professional seasons in the New York Mets organization. He is now the pitching coach for the Colorado Rockies. "I was recreation director in Chamberlain for two years. I played tennis in the morning, took a coffee break, then played softball. It was the best job I ever had."

Morgan, who played with the Chiefs and Mobridge Lakers in the early 1970's, agreed.

"Our job was cleaning up the ball park after the game," said Morgan, who now manages the Eden Prairie ( Minn. ) American Legion baseball program. "We'd sleep in, go to the park and work, or get up, head up into the Hills or go up the river and float down. What a life!"

Keszler said the Basin League even impacted players whose career in baseball wouldn't go far. He remembers getting contacted by the FBI about former Titan Pat Sullivan. He went on to become an agent with the Secret Service protecting presidents.

For many years, the Basin League was touted as the best summer college league in the country. Rivals included the Cape Cod League and a circuit in Alaska .

Hallock says the Basin League was preferred over the Cape Cod League by major league scouts, who made numerous trips to South Dakota each summer to review talent.

"The major league teams and the scouts loved the Basin League," said Hallock, who attended numerous major league meetings. "The majors loved South Dakota because their scouts could get off a plane, rent a car, go into the ball parks and watch the daily conduct of the guys. They couldn't do that in the heavily populated areas. The benefit of the Basin League to the pros was not finding the stars and heroes, but weeding out the liabilities."

As the Basin League entered the 1970's, support for the circuit began to wane. Major League teams put more emphasis on the player draft and more resources were devoted to development of players through the farm system.

Some blame the NCAA for placing restrictions on the league and players. "They were the ones that killed us," Keszler said of the NCAA. "They were the ones that closed it down. They'd come up here and say you can't pay as much as the Cape Cod League because of the standard of living was different.

"They wanted us to have a commissioner. So we got a commissioner. They wanted more and more and finally we couldn't live up to what all they wanted and demanded."

Cost of equipment and travel also took its toll on teams.

"The cost to travel became much higher with gas prices taking a considerable leap," said Mayes. "And the cost of bats was extremely high. A bat cost $20 which was extremely high back in those days and against a great breaking-ball pitcher, you could go through a few bats each game."

By the 1973 season, the league was down to Rapid City , Sturgis, Pierre and Chamberlain.
---
Part 2: Hills players filled Basin League lineups
Series by Darrell Shoemaker, Journal Sports Writer

RAPID CITY -- Tucked away among the few tattered yearbooks and scorecards that remain from the Basin League years and amid the stories of players who would become stars in the professional ranks, are a handful of listings and profiles of local baseball players who made the rosters of teams in the league.
Over a half-dozen local players played with the Rapid City Chiefs during the team's run in the Basin League from 1957 to 1973. These players included Dick Wiegand, Don Quayle, Clyde Millslagle, Warren Young, Lee Shepherd, Bill Ewing and Steve Mousel. In addition, Gary Grove, who grew up in Lead and went to college at Northern State was a member of the Sturgis Titans.

"I didn't play all that much and I didn't play all that well," recalls Millslagle, who performed with the 1968 Chiefs team and played a dozen games with the Sturgis Titans in the 1967 campaign. "I came away feeling that I had played in a league where they brought in the best kids from places like Florida, Arizona and California and realized that 'hey, I can play with these guys.'"

Shepherd, Mousel and Ewing were members of the Chiefs' final squad in 1973.

Shepherd says he was contacted by Floyd Fitzgerald, long-time president of Black Hills Sports, Inc.

"Floyd contacted me and he and my dad were good friends," recalls Shepherd. "My dad had kept him up to date on how well I was doing in college."

Shepherd was playing baseball for Yankton College at the time and looked forward to the opportunity to play in the Basin League.

"It was an experience just to meet other college kids," said Shepherd. "Little Yankton had 350 kids in it. It was fun to play with other college athletes and they came in here with great skills."

Hometown flavor

Mousel also grew up watching the Basin League in Rapid City . He was having a standout year on the mound for the South Dakota State Jackrabbits when Chiefs manager Jim Jones contacted him about his interest to play in the Basin League.

"I think the league was starting to fade and I think they were wanting to add some home-town flavor," said Mousel. "I had grown up with the Basin League in the 1960's, going to games with my dad who was a big fan.

Mousel says he suffered from an arm injury midway through the 1973 Basin League season.

"I was lucky if I was .500 in my pitching," he said. "The competition was very good. I got to rub elbows with some great players.

"They had a class about them. You knew some of them would make it to the next step."

Ewing was another player contacted by Chiefs' manager Jim Jones. As a college freshman, he was a little younger than his teammates.

"I had a real poor start the first half," recalled Ewing . "I wasn't used to that caliber of pitching. But about half-way through, I picked it up and had a lot more fun."

Ewing , who like Mousel and Shepherd grew up supporting the Chiefs and watching big Frank Howard, says the Basin League experience helped his individual career.

"Playing at the University of Wyoming , I think it helped a lot," said Ewing . "I came back after that season in the Basin League and hit .396.

"It was an honor to be on the Chiefs team. It taught me a lot and prepared me for Division One schools and to see good pitching. After playing in the Basin League, I don't think I saw a good pitcher after that in college."

Ewing played three years of minor league baseball in the California Angels organization, reaching the Triple-A level before an injury ended his dreams. He did continue to run into Basin League teammates and opponents during his travels.

Shepherd, who remembers having a good season with the Chiefs in 1973, said he recalls the thrills of attending clinics and getting autographs from Chiefs players growing up and then giving autographs to young fans when he wore the Chiefs uniform.

"I remember as a kid going to the clinics. It was a big thing to meet the players," said Shepherd.

"They were like all-stars to us. I remember trying to get my hands on a foul ball. Everyone wanted to get a foul ball and keep it.

"And I remember as a player signing autographs for kids. It was awesome. It was a chance to give something back to what (the Chiefs) had gave me."

Mousel says his Basin League experience helped him extract some revenge from a former coach.

"The year before I played in the Basin League, I was in the Illinois League and I didn't do so well," recalls Mousel. "My coach wanted to know what kind of baseball we played in South Dakota .

"After my year with the Chiefs, in 1974, SDSU wins the NCC and fate can be kind. We ended up going to Missouri and playing in the regional championship against that coach. We beat his team 17-4 and I got to show him what South Dakota baseball is all about."

Heading home early

Millslagle said that he only played a dozen games for the Titans in 1967 and that many Basin Leaguers returned home early to play in amateur leagues.

"If you stayed with the team, then you couldn't play in the amateur baseball tournaments," said Millslagle, a long-time teacher and coach in the Rapid City School District who now teaches at Oelrichs.

"That's the way it was with a lot of the kids. They went back to their home state early.

"It was a very positive experience in the Basin League. The town of Rapid City , it's such a great baseball town. I remember going to Chiefs games and the stadium would be packed with 5-6,000 people."

Millslagle says there's a reason most Basin Leaguers had positive experiences.

"It's a tribute to South Dakota . We're a friendly state and we truly love baseball," said Millslagle. " South Dakota is a baseball state. They loved the Basin League. It's sad that we don't have it anymore."

Other area players

Other players from the Black Hills that played for Basin League teams included Carroll Hardy of Sturgis. Hardy played for the Pierre Cowboys in 1953 in the Basin League and would become a rare two-sport athlete, playing professional football and baseball in the 1950's. Hardy is best remembered as the only player to ever pinch-hit for Hall of Famer Ted Williams. Williams had fouled a pitch off his foot and the 'Splended Splinter' was unable to continue the plate appearance and Hardy was given the pinch-hit appearance.

Dick Wiegand played the 1957 and 1958 seasons for the Chiefs, compiling an impressive 14-7 overall record as a pitcher, including a win in the Chiefs franchise home opener, a 12-7 victory over Valentine. He also pitched the Chiefs to the Basin League pennant that year, defeating Valentine in two post-season meetings.

Wiegand had graduated from Kearney State Teachers College in Nebraska in 1958. He played for Pueblo of the Western League and was in the Los Angeles Dodgers farm system prior to playing with the Chiefs. He held the Chiefs' record for most wins in a season (9) until Dave Gourieux' 10-win total in 1968.

Don Quayle holds the record for playing nine Basin League seasons. A former kicker and baseball standout at Michigan State , Quayle became a home town favorite and a Basin League regular. He taught at Rapid City High School and by the late 1960's had obtained his doctorate and was serving as athletic director at Riverton ( Wyo. ) Community College. He set marks for most games played, most RBIs, most runs and home runs for the Chiefs.

Quayle played for the Pierre Cowboys before joining the Chiefs. He also managed the Sturgis Titans. Quayle was one of five Chiefs posting .300-plus batting averages in the 1957 season.

Warren Young played for the Chiefs in 1969. A native of North Dakota , Young played for Rapid City American Legion Post 22 in the 1968 summer. He was a catcher and outfielder for the Chiefs in the 1969 campaign.

Car accident

As the Sturgis Titans were getting established in the Basin League, fortunes took a turn when a car accident on a road trip to Pierre resulted in a handful of injuries to the players.

The Titans called on the talents of local men to fill out the roster for a brief period of time. These local men included long-time grocery store owner Nick Hobernicht and Jim Cooley, among others.

Gary Grove played two seasons for the Sturgis Titans. The native of Lead played college baseball at Northern State and worked at Homestake Gold Mine while pitching for the Titans in the 1972 and 1973 seasons.

BASIN LEAGUE'S MAJOR LEAGUERS

* RAPID CITY CHIEFS (29): Joe Moock (Expos, Mets), Chet Bergalowski (Braves), Charlie Shoemaker (A's), Tom Belcher (Mets), Bart Shirley (Dodgers), Dave Baldwin (Senators, Brewers), Nick Willhite (Dodgers, Senators, Angels), Jim Fairey (Dodgers, Expos), Dick Billings (Senators, Rangers), Frank Howard (Dodgers, Senators, Rangers), Jim McAndrew (Mets), Jim Johnson (Giants), Rich Hacker (Expos), Danny Thompson (Twins), Gary Neibauer (Braves), Stan Bahnsen (Yankees, White Sox), Steve Renko (Mets, Expos), Dennis Musgraves (Mets), Ted Bashore (Braves), Rick Kester (Braves), Gary Holman (Senators), Lou Camilli (Indians), Kal Segrist (Yankees, Orioles), Gary Moore (Dodgers), Bill Bethea (Twins), Gary Wheelock (Angels, Mariners), Sam Ewing (White Sox, Blue Jays), Pat Osburn (Reds, Brewers), Joe Lutz (St. Louis Browns).

* STURGIS TITANS (25): Frank Baker (Yankees), Luke Walker (Pirates), Jimy Williams (Cardinals, Expos, manager with Red Sox, Astros), Dick Selma (Mets, Padres, Cubs, Phillies), Dick Joyce (A's), Ted Sizemore (Cardinals), Dave Campbell (Tigers, Padres), Bob Reed (Tigers), Stu Locklin (Indians), Jim French (Senators), John Sevcik (Twins), Shaun Fitzmaurice (Mets), Rob Snow (Red Sox), Bob Wiswell (Braves), Larry Bearnarth (Mets, coach with Rockies), Nick Leyva (coach with Blue Jays), Gary Allenson (Red Sox), Dan Quisenberry (Royals), Willie Norwood (Twins), Mike Proly (White Sox), Gene Ammann ((Brewers), Bob Baird (Senators), Glenn Redman (Giants), Rusty Gerhardt (Padres), Ben Hines (Dodgers)

* PIERRE COWBOYS (24): Sammy Ellis (Reds, Angels, White Sox), Del Unser (Senators, Indians), Bill Dillman (Orioles, Cards, Expos), Cecil Robison (Red Sox), Bill Scripture (Orioles), Ken Tatum (Angels, Red Sox), Woody Woodward (Braves, Reds), Jim Howarth (Giants), Tom Brown (Senators), Dave Lemards (White Sox), Ken Sjotkiewicz (Tigers), Joe Bosworth (A's), John Lowenstein (Indians), John Herrenstein (Tigers, Braves, Phillies), Steve Boros (Tigers, Reds), Bill Roman (Tigers), John Demerit (Braves), John Edwards (Reds, Cards, Astros), Carroll Hardy (Indians, Red Sox, Colts, Twins), Bob Castiglione (Braves, Twins), Graig Anderson (Cards, Mets), Mike Caldwell (Padres), Matt Galante (coach with Astros, Mets), Mike Cubbage (Rangers, coach with Red Sox)

* WINNER PHEASANTS (15): Jim Palmer (Orioles), Mickey Van De Hey (White Sox), Ed Spiezio (Cards, Padres), Merv Rettenmund (Orioles), Pat Locanto (Royals), Pete Craig (Senators), Bill Faul (Tigers, Cubs), Carl Morton (Expos), Dick Bertell (Cubs, Giants), Bobby Floyd (Orioles, Royals), Jim Lonborg (Red Sox, White Sox), John Noreiga (Reds), Dick Seminoff (Indians), Gary Gentry (Mets), Jim Burton (Red Sox).

* WATERTOWN LAKE SOX (10): Dick Howser (A's, Indians, Yankees, manager with Royals), Howie Bedell (Braves), Purnal Goldy (Tigers), Dick Radatz (Red Sox, Tigers, Expos, Indians, Cubs), Bill Davis (Indians, Padres), Kermit Wahl (Reds, A's), Eddie Watt (Orioles), Don Wallace (Angels), Ronald Cox (Cards, Pirates), Cal Emery (Phillies).

* VALENTINE HEARTS (9): Lou Marone (Pirates), Paul Splittorf (Royals), Chuck Dobson (A's), Alan Closter (Yankees), Joe Keough (Royals), Bill Zepp (Twins, Tigers), Scott Reid (Phillies), Duffy Dyer (Mets), Ken Suarez (A's, Indians, Rangers)
[Editors note : Dave Robinson of Valentine missing from the list]

* MITCHELL KERNELS (6): Dick Green (A's), Jim O'Toole (Reds, White Sox), Dave Giusti (Pirates, Cards, Astros), Eddie Fisher (Orioles, Angels, 3 others), Doug Clemons (Cubs, Phillies), Don Schwall (Red Sox, Braves, Pirates).

* HURON JIMS (4): Fritz Fisher (Tigers), Mike Joyce (White Sox, Mets), Jerry Adair (Orioles, White Sox), Frank Kreutzer (Senators).

* SIOUX FALLS PACKERS (4): Don Sutton (Dodgers), Clyde Wright (Angels), Alan Schmelz (Mets), Jon Warden (Royals)

* CHAMBERLAIN MALLARDS (2): John Stearns (Mets), Bob Apodaca (Mets).

* MOBRIDGE LAKERS (2): Gene Hiser (Cubs), Ron Cash (Tigers)

* CHAMBERLAIN CHIEFS (1): Bob Gibson (Cardinals).

* YANKTON TERRYS (1): Ed Hobaugh (Senators)

* HURON ELKS (1): Bobby Klaus (Mets)

BASIN LEAGUE'S TOP PERFORMERS

* World Series winners: Jim Palmer (Winner), Eddie Watt ( Watertown ) and Merv Rettenmund (Winner) helped Baltimore to the World Series title in 1970. Luke Walker (Sturgis) and Dave Giusti (Mitchell) were members of the Pittsburgh Pirates team that won the 1971 World Series, defeating Palmer and his former Basin League teammates in seven games.

Bob Gibson (Chamberlain Chiefs) was the MVP of the 1964 and 1967 World Series with the St. Louis Cardinals. Gibson won three games in the 1967 classic against the Red Sox and Jim Longborg (Winner). Lonborg won two games in the series but Gibson defeated Lonborg in the deciding final game.

Frank Howard ( Rapid City ) helped lead the Los Angeles Dodgers to the 1963 title.

Dick Green (Mitchell), a long-time Rapid City businessman, was a standout second baseman on the Oakland Athletics clubs that won three consecutive World Series titles in the 1970s. Other World Series winners with Basin League ties included Dan Quisenberry (Sturgis/KC Royals 1985), John Lowenstein (Pierre/Orioles 1983) and Del Unser (Pierre/Phillies 1980).

* Hall of Fame enshrinees: The Basin League produced three Hall of Famers in Palmer (Winner Pheasants, Baltimore Orioles), Bob Gibson (Chamberlain Chiefs, St. Louis Cardinals) and Don Sutton (Sioux Falls Packers, Los Angeles Dodgers). All three were World Series champions with their respective clubs.

* MVP: Gibson won MVP honors in 1968 for the St. Louis Cardinals, with a 22-9 record and 1.12 ERA.

* Cy Young winners: Jim Lonborg (Valentine) won the Cy Young award for the AL in 1967 with a 22-9 record and 3.16 ERA. Jim Palmer (Winner) won Cy Young awards in 1973 (22-9, 2.40 ERA), 1975 (23-11, 2.09 ERA) and 1976 (22-13, 2.51 ERA). Bob Gibson won the 1970 NL Cy Young award (23-7, 3.12 ERA).

* Rookie of the Year: Stan Bahnsen spent only a week in a Rapid City Chiefs uniform in 1965. He signed with the Yankees and was named American League Rookie of the Year in 1968, posting a 17-12 mark and 2.05 ERA for the Yankees that season. Don Schwall (Mitchell) was the American League Rookie of the Year for the Red Sox in 1961 (15-7, 3.22 ERA) and Ted Sizemore (Sturgis) took National League Rookie of the Year honors in 1969 as a member of the Los Angeles Dodgers (.271 average).

* All-Star performers: Several Basin League players performed in the midsummer classic, including Dick Howser ('61, Watertown), Jerry Adair ('61, Huron), Jim Palmer (Winner, '70-72, 75, 77, 78, Orioles), Jim Lonborg (Winner, '67, Red Sox), Dave Giusti (Mitchell, '73, Pirates), Don Schwall (Mitchell, '61, Red Sox), Eddie Fisher (Mitchell, '65, White Sox), Don Sutton (Sioux Falls, '72, 73, 75, 77, Dodgers), Frank Howard (Rapid City, '68-71, Senators), Dan Quisenberry (Sturgis, '82-84, Royals), Bob Gibson (Chamberlain Chiefs, '62, 65-70, 72, Cards), John Edwards (Pierre, '63-65, Reds).

Others included Jim O'Toole (Chamberlain Chiefs, '63, Reds) and John Stearns (Chamberlain Mallards, '77, 79, 80, 82, Mets). The 1977 classic pitted former Basin Leaguers Sutton against Palmer with Sutton picking up the win and Palmer the loss in a 7-5 win by the National League. Howard homered in the 1969 contest.

* Managers/coaches: The Basin League produced several future major league managers, including Dick Howser ( Watertown , Kansas City Royals), Jimy Williams (Sturgis, Boston Red Sox, current Houston Astros skipper) and Matt Galante (Pierre, Houston ). Coaches included long-time Tommy Lasorda assistant Ron Perranoski (Watertown, Dodgers), Larry Bearnarth (Sturgis, Colorado Rockies), Nick Leyva (Sturgis, Toronto Blue Jays), Bob Apodaca (Chamberlain, N.Y. Mets, currently with Rockies), John Stearns (Chamberlain, N.Y. Mets), Frank Howard (Rapid City, N.Y. Mets), Merv Rettenmund (Winner, Atlanta), Mike Cubbage (Pierre, currently with Boston), and Galante (currently with Mets), Ben Hines (Sturgis/L.A. Dodgers).

* Famous pinch-hitter: Carroll Hardy, a native of Sturgis, played for Pierre in the Basin League in 1953. He would become a two-sport professional athlete, playing in the NFL and major league baseball at the same time. Hardy is remembered for being the only player to pinch-hit for the "Splendid Splinter" Ted Williams, after Williams fouled a pitch off his foot and was unable to complete the appearance.

* Hard-luck award: Jim Burton (Winner) played two seasons with the Boston Red Sox and is remembered for giving up the winning hit to the Red's Joe Morgan in the 1975 World Series.

* Homer Howard: Most anyone with a recollection to the 1950's and the Basin League recalls the hard-hitting prowess of big Frank Howard of the Rapid City Chiefs. Howard would enjoy a 17-year career with the Dodgers, Senators, Tigers and Rangers and hit 382 home runs in his career to go with 1,119 RBIs. His 44 dingers in 1968 won him the major league home run title that season.

* Stars in other sports: Phil Jackson, who pitched for the Mobridge Lakers in 1966, went on to a great career with the champion New York Knicks of the NBA and as a world champion coach with the Chicago Bulls and Los Angeles Lakers; Carroll Hardy (Pierre) in the NFL, Tom Brown (Pierre) who won fame as a defensive halfback for the champion Green Bay Packers, Pat Richter (Watertown) who had a great career with the Washington Redskins, and Don Alley (Rapid City) who played with the Baltimore Colts.

Bobby Bryant (Pierre) was 6-2 with the Cowboys before becoming a long-time regular in the defensive backfield with the Minnesota Vikings and Jay Arnette (Rapid City), who hit .317 for the Chiefs in 1959 and .320 with them in 1960, was a member of the USA Olympic basketball team in 1960. He played in the NBA with the Cincinnati Royals.
---
Final part: Opportunity knocked; not everyone answered
Series by Darrell Shoemaker, Journal Sports Writer

RAPID CITY -- The Basin League operated for 21 seasons and impacted the careers, for better or worse, of hundreds of athletes. Over 130 athletes with Basin League credentials either played with or coached major league teams.
Many players utilized the experience of the Basin League to polish skills and talents to ultimately climb the professional ladder to the majors. Some players advanced through the farm system only to come up short of reaching their dreams. And some athletes' careers would end on Basin League diamonds, never knowing what it was like to play in 'The Big Show.'

The Journal talked with several players, some with major league credentials, about their Basin League experiences, including three former players from the summer league whose paths took different turns.

For Rapid City's Dick Green, who grew up in Yankton in the 1950's and played with the Mitchell Kernels of the Basin League in 1959, the summer circuit was a stepping stone to future World Series greatness with the Oakland Athletics.

Tommy Cason spent three seasons with the Sturgis Titans. The Georgia product polished his baseball talents and his golf skills while playing in the Key City . He would ultimately grace the same minor league outfield as Jim Rice and Fred Lynn before injuries forced his career to end.

Gary Grove, who grew up in Lead and worked at Homestake Gold Mine while playing two seasons for the Titans in the Basin League, would have two opportunities to bring his life-long dream of playing pro baseball to reality. He played it safe and allowed both opportunities to slide by.

Dick Green

"I did all right," Dick Green recalls of his 1959 season with the Mitchell Kernels. His season was spent mainly at shortstop. "I was really raw. I made a few errors and I didn't hit very well, as I recall."

Green received a call from Kernels manager Joe Lutz, who had managed the Chiefs in the 1958 season.

"He called me and wanted me to try out for Mitchell," said Green. "So I tried out and provided a little home-town flavor."

Green was a standout second baseman for the Oakland A's, but he spent most of his career growing up, in the Basin League and the minor leagues playing shortstop and third base.

"It wasn't until my last year in the minors that I was moved to second base," said Green.

Green said his Basin League experiences, both as a fan and player, impacted his career.

"I think it did. It was an eye-opener for me," said Green. "I always went to the games growing up in Yankton. I'd go see the Yankton Terrys play.

"I went to high school in Mitchell and followed the Kernels. So when I played in 1959, I played in front of the home-town fans, which was kind of neat."

Green would unite with Basin League opponent Chuck Dobson on the successful A's teams and would play against several former Basin League teammates and opponents.

Green says he recalls coming out to Rapid City and playing the Chiefs. "They had great teams but I also remember the guy behind the visitor's dugout, Dr. Spain . I'm not sure what kind of doctor he was, but he was a heckler. He'd heckle us all game long, especially Joe Lutz, our manager who had also managed the Chiefs.

"After the games, I remember Joe going over and talking with him and Floyd Fitzgerald."

Green said he enjoyed his Basin League experiences.

"I was very fortunate and lucky to have played in the Basin League," said Green. "When I played, teams got to put up to three major leaguers on their teams. I remember getting to watch some great players growing up and playing against some great players.

"I remember Frank Howard and Dayton Todd and others. It was a great experience."

Tom Cason

Tom Cason was a standout Basin League player for the Sturgis Titans and was one of the few players to play for three seasons, 1968-70.

"I was a small player," recalls Cason, now a golf pro in Georgia . "I was 5-feet-9 and 160 pounds so I had to prove myself that I was a good enough player.

"The Basin League was the league to play in during the summer time."

Cason was a student at South Georgia Junior College when he was drafted by the Kansas City Royals. He talked with his coach who recommended the Basin League.

"I grew up in Brunswick , Ga. And I'd never been to South Dakota , but I was glad I did," said Cason. "It was a fun experience."

Cason said the Basin League competition was top-notch.

"Everyone out there was considered a professional prospect," said Cason. "The caliber of baseball was very good and I learned how to travel and play a lot of games.

"We'd go to Winner and to Pierre and we'd play five, six even seven games a week."

In the little off time he did have, Cason and other Basin League players were expected to work in the community. Many players worked with the recreation departments in their host cities.

"We'd work on the ball field, work in the parks program," recalls Cason. "It certainly was not hard."

Cason also found time to play golf, enjoying time on the Boulder Canyon golf course. The hobby would turn into a career choice after injuries sidelined his baseball career.

"I spent four years in the Red Sox minor league system," said Cason. "At one time, I was in the same outfield as Jim Rice and Fred Lynn. That experience helped me become a golf pro."

It was a knee injury with the Winston-Salem Red Sox that would shorten his baseball career.

Cason said the Titans were a close-knit group and players forged friendships with host families.

"With the club, we got to know each other real well," said Cason. "And the host families, they were great to be with and they were fans of yours. It was like you were a member of their family."

He remembers staying with Madge Jorgenson, who operated a beauty shop on Lazelle Street . He also remembers staying with Gene Hammond and that many players stayed at an old convent.

Cason remembers playing against the likes of Bill and John Stearns and Bob Apodaca at Chamberlain and Jim Burton at Winner, all future major league stars. He says Sam Ewing of the Rapid City Chiefs, "was the best hitter I ever saw."

And Cason remembered the young fans.

"I'll never forget the kids at those Basin League games. I'd go out early and socialize with them," said Cason. "I'd play catch with them. I have a lot of fond memories of the fans and the Basin League."

Cason also remembers the generosity of Sturgis supporters. He recalls Virgil Britton allowing him to use golf clubs to play at Boulder Canyon Country Club and when Cason was named most valuable player, his trophy was lost in transport back home. LaVerne Mitchell, local bank president, made sure the MVP trophy was replaced.

Cason is now a golf pro at Jekyll Island , Ga.

Gary Grove

Gary Grove couldn't pack much more into his days as a member of the Sturgis Titans in 1971 and 1972. The Lead native was working at Homestake Gold Mine to pay for his college at Northern State College in Aberdeen .

"I worked in the mine every summer to earn money for college," recalled Grove. "I worked an eight-hour shift in the mine, five days a week.

"I'd come up from the depths of the mine, hit the top, shower and head home and grab a sandwich. I'd then zoom down to Sturgis to play ball."

Grove says the Homestake Mining Company was very supportive of his playing ball.

"They were good to me to give me time off to play road games in Pierre, Mobridge and Chamberlain," Grove said. "It was their role in helping with the community support for the league."

Grove says playing in the Basin League proved challenging.

"My first summer playing was really tough. I found myself having to bear down every time," said Grove. "The hitting was good, the pitching was good and there was a high caliber of players in the league.

"The second year, I had to do the same thing. The pitchers were there to pitch, the batters were there to bat. The schedule was a challenge and there were times we'd go for a doubleheader in Chamberlain on a Friday night and then play a third game on Saturday.

"But I didn't mind it at all."

Grove grew up watching the Titans and remembers scrounging for foul balls. He also remembers the youngsters as a player.

"One neat memory at Sturgis were the several little kids who would want my autograph," he said. "Today, you see players who do not take the time but I always thought that was a big part of it and they looked upon us as big players and role models, so I didn't hesitate and gave them an autograph."

Grove would play two seasons with the Titans, then embarked on a teaching career.

Grove looks back on his Basin League experience fondly and recalls two opportunities that came knocking that almost landed him into the major leagues.

The first opportunity came at the suggestion of Titans coach Ben Hines.

"I was playing during my sophomore and junior years in college," said Grove. "I was asked to go to California to coach Ben's club. He offered to give me a scholarship to play out there.

"It was overwhelming. But I was satisfied where I was and had friends established at Northern State . I just didn't really know what could happen."

Hines was a successful college and Basin League coach and would spend several years coaching in the Los Angeles Dodgers organization. Grove wonders what might have been had he accepted Hines' invitation.

Grove would get a second opportunity to climb the ladder to stardom, years after his experiences with the Basin League. His old Lead high school coach, Jim Phillips, had kept tabs on Grove, who was playing amateur baseball in East River and had just signed a teaching contract with the Salem School District

"I went up to a tryout camp in Mitchell, I walked in and they asked me if I was Gary Grove. I said 'yes' and they told me I didn't have to try out," recalled Grove.

"They told me 'we've been watching you throughout your career'. They called me on a Friday evening and told me I had 36 hours to report, that there was a plane ticket waiting for me in Sioux Falls and they'd ship me right to the Big Show."

Grove said the Reds were looking for a middle reliever and liked Grove's confidence with the curve ball and his ability to get strikeouts. Like he did years earlier, Grove played it safe and passed on the offer.

"I had already signed a teaching contract and they told me that if I got down there and the Reds find somebody younger with my pitch, they'd go with them," says Grove.

"I was overwhelmed. I was coming from a small town and after going to a small college and competing in the SDIC, you didn't find many athletes playing pro ball with the exception of Dave Collins at that time.. I was on my own, I didn't have anybody to guide me. There were no agents back then."

So Grove turned the Reds down. "I never did it. I turned it down and I still regret it," he says.

Grove doesn't regret his Basin League days.

"I always appreciated the Basin League. It was a big part of my life for two years," said Grove. "To have the Basin League on your credentials was an asset."

Grove has been officiating basketball games for 27 years and is a regular around the Black Hills during boys and girls basketball season. He taught for a dozen years, including 10 in South Dakota . Since 1984 he has worked for Pope and Talbot, Inc.

Other recollections

* Larry Bearnarth (Sturgis Titans, New York Mets player, former coach with Colorado Rockies)

"Those were some of the best years in my life. That was the time that I realized that baseball was what I wanted to be in.

"When I was there it was the first year for Sturgis in the Basin League (1961). We were a bunch of kids away from home for a couple of months and the people welcomed us with open arms. They were special people."

* Dave Campbell (Sturgis Titans, Tigers, Padres, Cardinals, Astros, now ESPN baseball analyst)

"I remember the old Basin League. There were a lot of good players in the league, Jim Palmer for one. When he pitched, the sun set behind the outfield fence. We didn't see the ball for the first three or four innings.

"Jimy Williams (former Red Sox and current Astros manager) was our shortstop. I roomed with Bobby Braeger and we had twins on our team, John and Jim Sevcik (Minnesota Twins). They were a lot of fun. My parents came out that summer and we did the tourist thing. I remember Mount Rushmore and the Hills very well.

"It was a fun summer and I had a pretty good year. I had so few good years, so the good ones like my time in the Basin League do stand out."

* Nick Leyva (Sturgis Titans; former manager, Philadelphia Phillies; former coach with World Series champion Toronto Blue Jays)

"I enjoyed it there. It was the first time I was away from home. You learned a lot and you grew up a lot . It was a great experience. I remember I led the league in home runs that year and matched the number of Frank Howard. Anytime you're put in the same category as big Frank Howard, that's really something.

"I remember we couldn't get paid unless we worked. We worked for Parks and Recreation, picking up trash, mowing fields. We had to find a job and find a place to live. We met a lot of friendly people. I remember going to Deadwood and Mt. Rushmore . It was a beautiful place and a great experience."

* Bob Apodaca (Chamberlain Mallards, New York Mets player, former coach with Mets now pitching coach for Colorado Rockies)

"I came from Los Angeles and I was experiencing small towns for the first time in my life. It was fun. People were friendly, had wholesome values, it was a great experience. It was the best competition I had experienced. It really prepared me for my senior year in school and for professional baseball.

"Those were great years I spent in Chamberlain. I was on the same team as the Stearns brothers, John and Bill. I faced college all-Americans and it got me used to playing a professional schedule of games.

"I stayed with a wonderful family. They fed you, gave you the keys to their car. There were a lot of wholesome values. I'm not saying that as teenagers we didn't get into our share of mischief, but life in the small town and the friendliness and the terrific people really had an impact on me.

"We all traveled by car. So we were close and kind of a tight group. It was really a fun time and contributed to me making it and having the success I did in college and then in minor league baseball and eventually in my professional years.

"It taught me so much. Like how to live on your own, how to manage a budget and how to play so many games in a season. Those were great years."

* Gary Morgan (Rapid City Chiefs, Mobridge Lakers, minor league player, now American Legion coach in Eden Prairie, Minn.)

"My best memories as a player was in Rapid City . I'm not just blowing smoke. I loved playing in Rapid City . It's a great baseball town. At that time, the Basin League was considered the second best league in the country to play in. Anchorage had the best league and the Cape Cod League was third. Cape Cod is now the best league to play in during the summer.

"There was a lot of community support from all over the towns in the league, but especially so in Rapid City . It was a very, very competitive league. There were a lot of professional ball players and Major Leaguers to come out of the Basin League. We had John Stearns, Mike Cubbage, Mike Caldwell and others when I played. I either played with them or against them.

"It was a rewarding experience. I'm 54 years old and a smile comes to my face just thinking about that summer in Rapid City . I wouldn't trade that time for anything."

BASIN LEAGUE SPECIAL MEMORIES

Some of the league's more colorful stories as told by former players and organizers:

* TORNADO SPADE: Steve Mousel pitched for the Rapid City Chiefs in 1973. Together with Lee Shepherd and Bill Ewing, they brought a definite local flavor to the Chiefs team that season. Mousel recalls a trip to Pierre on Highway 14 as players became concerned about a tornado that could be seen in the distance.

"We see this tornado on the north side of the road. We had guys from California and Texas with us. They wondered what they were supposed to do if the tornado got closer. I told them, 'I only hope these rental cars have a tornado spade in the trunk.' I told them that everyone in South Dakota has a tornado spade in their trunk."

"They asked what you do with a tornado spade. I told them we'd have to pull over, get the spade out of the trunk, dig and then lie down in the ditch. I told them they were specially-made shovels that dig deep and fast. To this day, I think there are guys in California and Texas who believe in tornado spades!"

* CLOSE CALL : Shepherd recalls a near-serious accident on a team trip to Chamberlain. "We had a rental and on our way to Chamberlain we had a flat tire," he recalled. "We all jumped out and fixed it, then 10 miles out of Chamberlain we rolled the car. Luckily nobody got hurt although the coach (manager Jim Jones) did need stitches. I remember I caught that game against Chamberlain and got a double and the coach was in the hospital."

Recalls Mousel of the accident, "Everybody was rolling around at 70 miles per hour. All I remember is I looked up and saw Shepherd's big rear end in my face. I told somebody to open the door in a hurry because I didn't want to be staring at Shepherd's big rear end."

* HOMER HOWARD: The lasting memories of Basin League action for Homer Kandaras, who served on the Chiefs' board of directors, involved big Frank Howard.

"When I was in the Army in Japan in 1956, Frank Howard came out with an Ohio baseball team and he was the biggest guy I'd ever seen. The next year, he comes out and played here in Rapid City .

"He hit a ball so hard, he hit it over the high light poles. I mean it, he hit it over the lights.

And he could hit grounders so fast that a fielder couldn't get there in time. He was a great hitter."

* CUT THE BAIT: Dick Green grew up in Yankton watching the Basin League and then played in the circuit in 1959 with the Mitchell Kernels. He recalls a late-night trip with teammates. "I remember Dave Clemons, myself and Dave Giusti, a right-handed pitcher, after a night game, going back to our place. I remember putting together some real stinky stuff that we would use for catfish bait. We went to the River that night, caught catfish, got home about day break and got ready to play another game."

* SCOREKEEPER'S CALL: John Quinn, son of long-time Chiefs and Basin League director Jim Quinn, recalls the day in 1962 when he had a hand in the Chiefs' first no-hitter, fired by John Ozbun.

"I was working part-time at the Journal then and the Journal correspondent at the game was always the official scorer," Quinn recalls. "In the seventh inning, I realize that our pitcher was hurling a no-hit game. In the eighth, the batter hits a low line drive and our fielder lunges at it. Henry Baker the announcer looks over at me and says 'what's the call'. I said 'it's an error because it hit the glove'. The pitcher ended with our first no-hitter. Baker told me I may want to leave the park quickly in case the hitter came looking for me.

* ANOTHER INFLUENTIAL CALL : Long-time radio broadcaster Jim Thompson admits he was young and impressionable when he took over general manager duties of the Pierre Cowboys in 1973. Near the end of the season, the Cowboys second baseman Frank Judge needed one hit to tie John Stearns record for consecutive games with a hit.

"We're playing Rapid City and the last time up, our guy hits it to second base and the ball went by the fielder. I called it an error and the streak was over.

"After the game, the second baseman for Rapid City tells me, 'I think he deserves a hit.' He told me that the ball hit some grass and took an odd bounce away. The fielder came up to me and he had nothing to gain, so I changed it to a hit."

Thompson says the Pierre hitter didn't get the chance to break the record because the team refused to play without pay the final game at Chamberlain. The Chiefs' Keith Bridges broke Stearns' mark in the Basin League's final game.

* CHECK THE UNIFORM: Thompson recalls the final season that a Pierre lady had a box of old uniforms worn by the Cowboys. Thompson said he went through the uniforms, which he hoped to resell to obtain funds to keep the team operating in Pierre .

"The last uniform in the box had the name 'Indians' across the front. Apparently these were Cleveland Indians jerseys that the club had sent down years before for the Cowboys to wear. On the back of this uniform was the name 'Hegan.' It was the uniform worn by Jim Hegan who caught every one of Bob Feller's no-hitters."

Thompson sold the other uniforms and kept the biggest collectible in the box.

* STICKS AND STONES: Morris Hallock, long-time Basin League supporter who helped get the Sturgis Titans franchise operating, recalls the time they had problems finding a coach and then when they got one, couldn't wait to get rid of him.

"Sturgis needed a manager, so we ended up calling the Cape Cod League," recalls Hallock. "They told us there was a guy in Maine . They said they didn't know him but he had good credentials. And the Red Sox endorsed him. The guy comes in to Sturgis and he's insufferable. He goes to the Rotary Club and sounds off. He hates the community, he hates the Basin League and the players. So we called a meeting and the board decided to terminate the contract. I brought the guy in and told him he was fired. Of course, I had to go back to the same Rotary Club and ask the armchair admirals and ask them 'who wants to manage the Titans?'"

* TAKE THE KEYS: Tom Cason played three seasons for the Sturgis Titans (1969-71) and remembers what happened to a car they bought.

"I remember when Ron Ellis, who played with Rapid City and Sturgis for a couple of years, Jim Timmons and myself, we bought a car, a used 1956 Buick. We ended up with two flats at the same time. We went to get some help and when we got back, someone had pushed the car down a ravine. We ended up giving the keys to a state patrolman and I told him, 'If you want it, you can have it.'"

* RUB OUT THE KINKS: Lloyd Keszler, a former Titans official, recalls when manager Tom Petroff counseled pitcher Robin Flake, who was having problems adjusting between college and Basin League action.

"He was something like 14-0 or 14-1 in college," Keszler said of the pitcher. "He comes out here and gets pounded. He's then scared to pitch and comes up with a sore arm. Petrof said he could fix that.

"He told him to start rubbing his fingers, then go up the arm and go to work on the shoulders and over the neck. He then had him go down his legs and the foot. Petrof told his pitcher that the problem was now out of his foot and not in his head."
---
Basin League series like a 'Field of Dreams' stroll
Column by Darrell Shoemaker, Journal Sports Writer

RAPID CITY -- Paging through old programs, conducting interviews and doing research for the three-part series on the Basin League that ran earlier this week was truly a 'Field of Dreams' experience.
As organizers, players and fans recalled favorite memories of the summer circuit that operated for 21 seasons, predominantly in South Dakota , I found myself fondly recalling my own special childhood memories of the Basin League.

Growing up in Sturgis, I was a big fan of the League and especially the Titans. Like many kids, I waited along the third base line to get an autograph and prayed I could get my hands on a foul ball. I remember my dad playing in an old-timers exhibition with the Titans between games of a doubleheader.

I recall sitting at the bank where my mother worked as players picked up checks for their summer odd-jobs. An autographed deposit slip of Jim Liukkonen resides along a page of autographed signatures in a Basin League yearbook.

I remember when Rick Ingalls and Jim Beal of the Titans came over to our house for dinner. I still can't believe I asked them to play catch after dinner, and they obliged!

Most of all, I remember going to Titans games with my dad. Together with my uncle, we'd spend some fun times watching the games. My dad and uncle spent more time talking with co-workers and family friends. My uncle captivated me with stories of sneaking in to old Comiskey Park in Chicago to watch his beloved White Sox.

I remember playing catch with my dad in the street and trying out my best Dan Quisenberry-like submariner, only to send the offering into Bob Parson's car window. Like "Field of Dreams," what I wouldn't give to play catch with my dad again.

The Basin League, touted as one of the top producers of major league talent, began 50 years ago this summer. Most of the teams were dotted along the Missouri River Basin , hence the name Basin League for the circuit. Rapid City joined the league in 1957 and Sturgis in 1961. This is also the 30th anniversary of the league's final season.

It took about a month to put all of the information together for the series. It was exciting paging through old yearbooks and programs and perusing player profiles and statistics, many of them compiled by the late Jim Quinn. I checked other sources to find out how well former Basin Leaguers fared in the big leagues.

I listened intently to players and organizers alike who spun colorful stories, many of them involving big Frank Howard. Others told tales involving road trips. Some talked about the Herculean efforts to get ball parks built, finding talent and keeping fans coming to the games. Dick Green impressed me with his recollections of his Basin League season in 1959. Gary Grove broke my heart when he shared that he decided not to open the door when opportunity knocked from the Reds. Jim Thompson captivated me with his stories of the final days of the League in Pierre .

It was exciting to talk with former players, many of them who advanced from the Basin League into the major leagues, and with organizers who helped develop the Rapid City Chiefs and Sturgis Titans. Like the images of the players emerging from the 'Field of Dreams' corn stalks, these players and organizers seemed genuinely happy to share old stories and experiences.

This past week, I've talked with a number of people who had their own recollections of the League. I'm surprised at how universally positive and fresh those memories remain in the minds of players, organizers and fans, some of them who served as host families to players.

"We had four stay with us over a couple seasons. They were just real good kids," said Ralph Iverson of Sturgis. "They were just like the family. And we'd go out and watch them play.

"A whole bunch of them would come over to our place. They'd hang out with the family and they were just a real nice bunch of kids."

When a group of Sturgis and Rapid City organizers got together with former players recently for pictures for the Journal series, I thought the calendar tipped back 30-plus years. They started reeling off names of coaches and players, game situations and statistics. It was evident the Basin League was a big part of their lives.

I got a few raves when I pulled out my genuine Sturgis Titans bat for the photos. It's one of two Titans bats I own. The other one is an old Dan Clark broken-bat special. Clark played some minor league ball after his days with the Titans and I got the bat when I accompanied the team as a bat boy for a road game in Rapid City . Clark 's bat, along with some baseballs with faded autographs and programs are some of my most prized possessions.

I appreciated hearing the colorful stories from organizers and players about their experiences in the league. The communities got behind their ball teams and volunteers rolled up their sleeves and moved tons of earth to build Fitzgerald Stadium and Strong Field. Donations of equipment and materials were surpassed only by contributions of time, effort, money and sweat to get and keep the Basin League alive for 21 seasons.

In compiling recollections from former major league athletes who played in the Basin League, I was struck by how easily these stars recalled their days in the summer circuit. They were young, many away from home for the very first time. Without hesitation, they recalled the 'odd jobs' they performed and the names of families they stayed with for the summer. They easily threw out names of former coaches, teammates and opposing pitchers.

The true testament to the lasting legacy of the league is not only in how many great superstars the circuit produced - from Hall of Famers and Cy Young Award winners to all-stars and World Series champions - but in the impact the League had on development of youth baseball programs in Rapid City and Sturgis and the wonderful memories that still linger in the minds of the fans.

From broken bats and faded autographs to favorite memories of players and times spent with friends and family watching great baseball, the Basin League provided many great and wonderful memories for everyone involved.

Happy 50th Anniversary to the Basin League and to all the players, coaches, organizers, sponsors, volunteers and supporters who helped make the league thrive for 21 glorious seasons!
---
" ... Perhaps the high spot of Yankton baseball activity came in the years immediately following the second world war. A semipro team known as the Terrys (short for the Territorials in honor of the Mother City's days as the capital of the Dakota Territory) was formed, after a great deal of success with having an amateur team in the old State League. Using talented major league-bound college stars, an eight-team league in South Dakota and Nebraska played brilliant baseball, and the baseball park situated on the banks of the Missouri River was often host to crowds of up to 3,000 fans. The practice of mixing the youngsters on the way up and some old pros going the other way became distasteful to the NCAA, and the Basin League was doomed after about ten good, entertaining years. Amateur baseball, however, flourished, with local talent like Cliff Hicks, Frannie Horacek, Hal Anderson, Red Loecker, and others with marked ability, bringing state championships to Yankton on several occassions." (The Yankton Daily Press & Dakotan, September 14, 1999)
---
1953 Final W L GB Manager
Winner Pheasants 11 5 Ray Fletcher
Pierre Cowboys 10 6 1.0 John Thiel
Valentine Hearts 7 9 4.0 Don Kellogg
Mitchell Kernels 7 9 4.0 Guy Wellman
Chamberlain Chiefs 5 11 6.0 Wayne Hauschild/Fred Leeney
Winner captured the title beating Mitchell in the finals
1954 Final W L GB Manager
Huron Elks 27 15 Maynard "Mo" Weber
Watertown Lake Sox 25 17 2.0 Chuck Nelson/Gene Smith
Mitchell Kernels 24 17 2.5 Guy Wellman
Valentine Hearts 22 19 4.5 Jack Baer
Yankton Terrys 21 21 6.0 Joe Marges
Pierre Cowboys 18 24 9.0 Russell "Sox" Walseth/Bud Younger
Winner Pheasants 17 23 9.0 Mickey Livingston/Wendall Hall/Paul Distefano
Chamberlain Chiefs 11 29 15.0 Lee "Ike" Eilbracht/Bob Mitchell
Huron Elks captured the league title.
1955 Final W L GB Manager
Huron 27 15 Hank Ertman
Yankton 25 17 2.0 Marv Olson
Valentine 23 19 4.0 Jack Baer
Watertown 23 19 4.0 Kermit Wahl
Winner 19 23 8.0 Lou Lucas
Pierre 18 24 9.0 Bud Younger
Chamberlain 17 25 10.0 Russell Bauer
Mitchell 16 26 11.0 Guy Wellman
Yankton defeated Valentine in the playoffs to win the league title.
1956 Final W L GB Manager
Watertown 29 12 Kermit Wahl
Valentine 27 15 2.5 Nick Adzick
Mitchell 26 16 3.5 Jack Baer
Yankton 23 19 6.5 Marv Olson
Winner 19 22 10.0 Jim Ranson
Pierre 16 24 12.5 John Maher/
Chamberlain 12 28 16.5 Mickey O'Neil
Huron 12 28 16.5 Hank Ertman
Watertown downed Valentine in the playoffs for the Basin title.
1957 Final W L GB Manager (Incomplete)
Rapid City Chiefs 28 13 Guy Wellman
Mitchell Kernels 28 13 Joe Lutz
Watertown LakeSox 23 18 5.0 Kermit Wahl
Huron Elks 20 20 7.5 Connie Juelke
Yankton Terrys 19 22 9.0 Paul Tretiak
Winner Pheasants 16 24 11.5 Al Ware
Pierre Cowboys 14 26 13.5 Paul Pryor
Valentine Hearts 14 27 14.0 Nick Adzick
Sunday : Mitchell at Winner, Pierre at Watertown,
Valentine at Yankton, Rapid City at Huron.
Rapid City beat Mitchell in the playoff final for the league crown.
1958 Final W L W L Manager
1st Half 2nd Half* (Incomplete)
Valentine 15-09 Pierre 15- 6 Fred Brenzel
R City 14-09 R City 11-10 Guy Wellman
Huron 13-10 Mitchell 11-11 Joe Lutz
Yankton 13-11 Valentine 11-11 Billy Wells
Watertown 10-13 Huron 10-12 Don Scarborough
Mitchell 9-15 Yankton 9-12 Nick Adzick
Pierre 8-15 Watertown 9-14 Hank Ertman
Pierre won the playoff final over Valentine for the Basin title.
1959 Final W L GB Manager
Rapid City 27 21 Tom Snow
Pierre 26 22 1.0 Art Hoch
Huron 24 24 3.0 Jack Tarr
Watertown 23 25 4.0 Ken Staples
Yankton 23 25 4.0 Harry Wise
Valentine 23 25 4.0
Mitchell 22 26 5.0 Joe Lutz
Pierre Chiefs won the league title in the playoffs.
1960 Final W L GB Manager
Rapid City 35 11 Al Kohorst
Watertown 25 20 9.5 Joe Lutz
Pierre 22 21 11.5 Art Hoch
Huron 20 24 14.0 Harry Lloyd
Mitchell 20 24 14.0 Hal Holland
Valentine 11 33 23.0 John Turk
Pierre won the league crown defeating Watertown in the playoff final.
1961 Final W L GB Manager (Incomplete)
Watertown 32 16 Joe Lutz
Rapid City 24 24 8.0 Al Kohorst
Huron 22 26 10.0 Don Lund
Pierre 22 26 10.0 Art Hoch
Sturgis 22 26 10.0 Rich Hergenrader
Winner 22 26 10.0 Mo Bendedick
Saturday : Watertown at Pierre, Winner at Huron, Rapid City at Sturgis
Sunday : Winner at Pierre, Watertown at Huron, Rapid City at Sturgis
Pierre defeated Rapid City in the playoff final for its 4th straight championship.
1962 Final W L GB Manager
Pierre 34 15 Jack Stallings
Winner 27 19 5.5 Harry Wise
Watertown 24 24 9.5 Tom Hamilton
Huron 22 24 10.5 Glenn Gostick
Sturgis 19 30 15.0 Stu Locklin
Rapid City 18 32 16.5 Al Kohorst
Pierre again won the Basin title for the 5th consecutive year defeating Huron in the final.
1963 Final W L GB Manager
Winner 30 18 Harry Wise
Valentine 29 19 1.0 Floyd Temple
Pierre 25 23 5.0 Jack Stallings
Sturgis 19 29 11.0 Bill Wilhelm/Don Quayle
Rapid City 17 31 13.0 Kal Segrist
Valentine Hearts downed Sturgis in the playoffs to win the Basin championship.
1964 Final W L GB Manager
Sturgis 31 19 Tom Petroff
Pierre 27 23 4.0 Jack Stallings
Sioux Falls 26 24 5.0 Joe Justice
Valentine 25 25 6.0 Tim Wilson
Rapid City 21 28 9.5 Eddie Lyons
Winner 19 30 11.5 Dixie Walker Jr.
Sioux Falls defeated Valentine in the playoffs to win the Basin League championship.
1965 Final W L GB Manager
Rapid City Chiefs 30 19 Floyd Temple
Pierre Cowboys 29 21 1.5 Jack Stallings
Winner Pheasants 26 24 4.5 Harry Wise
Sturgis Titans 24 26 6.5 Don Quayle
Valentine Hearts 23 27 7.5 Jim Railey
Sioux-F Packers 17 32 13.0 Joe Justice
Pierre downed Sturgis in the playoff final to capture the Basin championship.
1966 Final W L GB Manager
Pierre Cowboys 31 13 Jack Stallings
Winner Pheasants 28 16 3.0 Harry Wise
Rapid City Chiefs 24 19 6.5 Floyd Temple
Mobridge Lakers 19 25 12.0 Buzzy Keller
Valentine Hearts 15 29 16.0 Jim Railey
Sturgis Titans 14 29 16.5 Don Quayle
No playoffs.
1967 Final W L GB Manager
Rapid City 31 19 Joe Lutz
Pierre 27 23 4.0 Jack Stallings
Valentine 25 25 6.0 Terry Schlessler
Winner 24 26 7.0 Harry Wise
Sturgis 22 28 9.0 Jim Railey
Mobridge 21 29 10.0 Buzz Keller

Pierre Cowboys won its seventh Basin League title downing Valentine 8-1 in the
championship game. Geoff Zahn held the Hearts to four-hits in going the distance
for the win. Jim Howarth drove in three runs with a homer and triple. In
semi-final action, Valentine topped Rapid City12-7 and Pierre blanked Winner 2-0.
1968 Final W L GB Manager
Sturgis 29 20 Tom Petroff
Chamberlain 26 22 2.5 Terry Schlessler
Rapid City 26 23 3.0 Don Edwards
Pierre 23 27 6.5 Jack Stallings
Mobridge 22 27 7.0 Vern McKee
Winner 21 28 8.0 Harry Wise

Chamberlain Mallards got a three-hitter from Craig Schell and downed Rapid City 3-0 to
capture the Basin League playoff title. Schell, who fanned 11, collected two of the
five hits for the Mallards. He led off the 8th with a triple and scored the eventual
winning run on a single by Glen Schawel. Chamberlain made the finals with a 5-4 win
over Pierre while the Chiefs knocked off the regular season champs from Sturgis.
1969 Final W L GB Manager
Rapid City 27 23 Don Edwards
Sturgis 26 24 1.0 Tom Petroff
Winner 25 25 2.0 Dick Honig
Chamberlain 24 26 3.0 Terry Schlessler
Mobridge 24 26 3.0 Vern McKee
Pierre 24 26 3.0 Jack Stallings

No playoffs.
1970 Final W L GB Manager
Chamberlain 27 21 Terry Schlessler
Rapid City 27 21 Gary Adams
Mobridge 23 25 4.0 Del Youngblood
Pierre 23 25 4.0 Jack Stallings
Sturgis 20 28 7.0 Larry Cochell
No playoffs.
1971 Final W L GB Manager
Chamberlain 32 16 Terry Schlessler
Sturgis 28 20 4.0 Ben Hines
Mobridge 27 20 4.5 Del Youngblood
Pierre 16 31 15.5 Bob Beattie
Rapid City 16 32 16.0 Gary Adams
No playoffs.
1972 Final W L GB Manager
Mobridge 26 22 Del Youngblood
Chamberlain 25 23 1.0 Terry Schlessler
Pierre 25 23 1.0 Bob Beattie
Rapid City 23 25 3.0 Gary Adams
Sturgis 22 26 4.0 Ben Hines
No playoffs.
1973 Final W L GB Manager
Sturgis 29 19 Ben Hines
Pierre 26 22 3.0 Del Youngblood
Rapid City 22 26 7.0 Jim Jones
Chamberlain 19 29 10.0 Claire Rierson
No playoffs.

---
BASIN LEAGUE RECORDS
(Some records reflect may only the period from 1960 on).
| | | | | | | | | |
| --- | --- | --- | --- | --- | --- | --- | --- | --- |
| | Hitting | | | | Pitching | | | |
| | Batting Average | | | | Earned Run Average | | | |
| | Jim Ranson, Valentine, 1958 | | .418 | | Harry Wise, Yankton, 1955 | | 0.89 | |
| | | | | | Bob Cuellar, Chamberlain, 1971 | | 1.27 | |
| | | | | | | | | |
| | Most hits | | | | Most Wins | | | |
| | Keith Bridges, Rapid City, 1973 | | 78 | | Harry Wise, Yankton, 1955 | | 12 (12-2) | |
| | Shaun Fitzmaurice, Sturgis, 1964 | | 77 | | Bob Cuellar, Chamberlain, 1971 | | 11 (11-1) | |
| | | | | | Jim Burton, Winner, 1969 | | 11 (11-3) | |
| | | | | | | | | |
| | Runs | | | | Won / Lost Percentage | | | |
| | Ray Weed, Mitchell, 1960 | | 58 | | Barry Sbragia, Mobridge, 1970 | | 8-0 | |
| | | | | | | | | |
| | Doubles | | | | Strikeouts (season) | | | |
| | Keith Bridges, Rapid City, 1973 | | 21 | | Jim Burton, Winner, 1969 | | 174 | |
| | Ted Bashore, Rapid City, 1965 | | 20 | | | | | |
| | | | | | | | | |
| | Triples | | | | Strikeouts (game) | | | |
| | Shaun Fitzmaurice, Sturgis, 1964 | | 10 | | George Dugan, Sioux Falls, 1964, 9 IP | | 19 | |
| | | | | | Al Closter, Valentine, 1964, 18 IP | | 24 | |
| | | | | | Scott Morton, Pierre, 1965, 16 1/3 IP | | 25 | |
| | Home Runs | | | | Innings | | | |
| | Hal Holland, Mitchell, 1960 | | 24 | | Dave Carey, Mobridge, 1968 | | 129 | |
| | Merv Rettenmund, Winner, 1964 | | 15 | | | | | |
| | Joe Lutz, Mitchell, 1959 | | 15 | | | | | |
| | | | | | Misc | | | |
| | Runs batted in | | | | Most runs (game) | | | |
| | Bill Bright, Mobridge, 1969 | | 69 | | Sioux Falls, 1964 | | 35 | |
| | | | | | | | | |
| | Total bases | | | | Winning streak | | | |
| | Shaun Fitzmaurice, Sturgis, 1964 | | 143 | | Pierre, 1962 | | 12 | |
| | | | | | | | | |
| | Stolen bases (season) | | | | Longest game | | | |
| | John Shaw, Pierre, 1969 | | 35 | | Pierre 5, Sioux Falls 3, 1965 | | 24 | |
| | | | | | | | | |
| | Stolen bases (game) | | | | | | | |
| | Tom Brown, Pierre, 1962 | | 5 | | | | | |
| | | | | | | | | |
| | Consecutive games with hits | | | | | | | |
| | John Stearns, Chamberlain, 1972 | | 21 | | | | | |
| | Shaun Fitzmaurice, Sturgis, 1964 | | 19 | | | | | |
| | Carroll Lilly, Pierre, 1971 | | 19 | | | | | |
| | | | | | | | | |