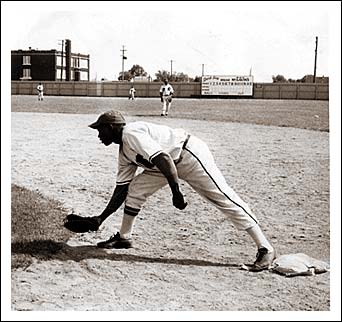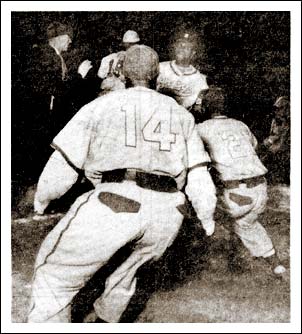 Left - Curly Haas, Elmwood Giants' manager argues with umpire Jack Carrigan over a call in the '49 playoffs. Giants' Cy Snead looks on.
Above left - Amando Vasquez, who pitched as well as holding down first base, was known in his first season, 1948, as Bus Quinn.
Above right - What a final! In the seventh and deciding game of the final playoff, Brandon shaded Elmwood 2-1 in 15 innings to capture the league title.
Rafe Cabrera, facing the camera, is shown crossing home plate with the winning run. Umpire Jack Carrigan is at the left while teammates rush to greet Cabrera.
Above left -
Zoonie
McLean
Day
in Minot. Right - Still a teenager,
Gerry MacKay
takes his cuts for Brandon.
Below left - - Armando Vasquez makes the stretch for the out. Below right - Three stalwarts of the 1949 Brandon Greys. Rafe Cabrera (left), Gerry MacKay (centre), Ramon Rodriguez (right).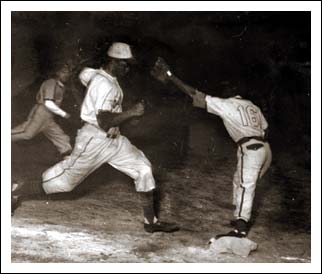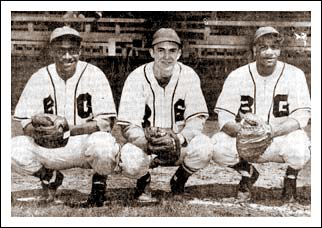 Below - Game action at Kinsmen Memorial Stadium in Brandon.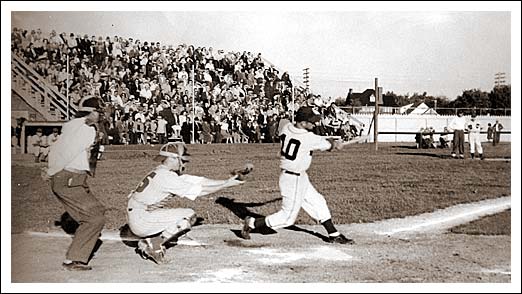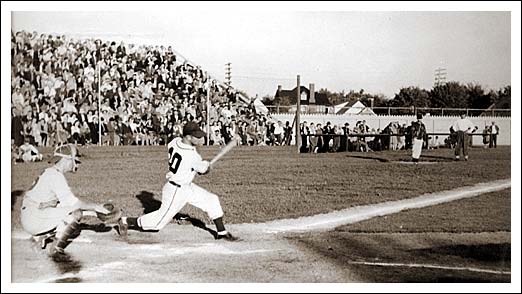 (Photos courtesy of Lil Lowe) SNAPSHOTS Page Two >>