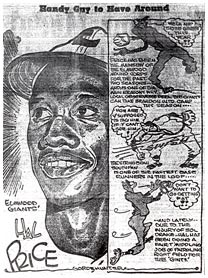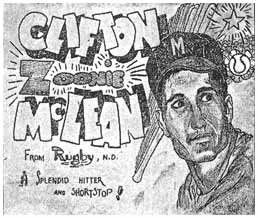 Newspapers made good use of sketches in their coverage of the local baseball personalities.
Left is a Winnipeg Tribune feature on Elmwood pitcher Hal Price.
Ar right is one of Minot's Zoonie McLean is from the Minot Daily News.
Below - The Minot Ballpark, August 14, 1949 (on Zoonie McLean Day).
"Beginning in 1947 the Minot Park Board began upgrading the Municipal Ballpark by raising money to install a roof on the grandstand as shown above. Dr. V. A Corbett, president of the board, also campaigned for field lights and advertising billboards. The twenty billboards were to block the "free" view of people that watched the games from their automobiles from high ground beyond the outfield fence. The first lighted night game under ten 80 foot light towers was played May 5, 1949 between the Minot Rox and Minot Oscars. Plumbing was also added for the locker rooms and after the 1949 season, Darius Ritchey, superintendent of Minot parks oversaw addition of 150 cubic yards of black soil and 50,000 square feet of sod. The sod was taken from Lincoln Park in northwest Minot. Home plate was relocated further out from the grandstand so that it was viewable from the broadcast booth on the roof. This shortened the leftfield fence from 368 to 333 feet." Bill Guenthner, Minot Mallards 1950 -1957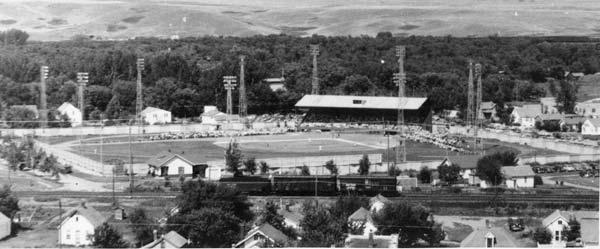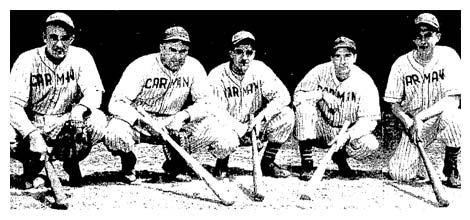 Carman infield in 1949
(Left to right) - catcher Almer McKerlie, first baseman Jim McFadden (of Detroit Red Wings hockey game), shortstop Clint McKerlie, second baseman Lin Bend, pitcher Don Reid. (Winnipeg Free Press)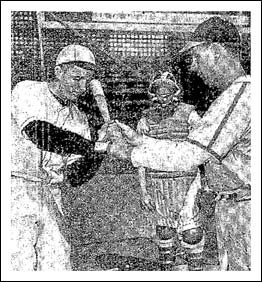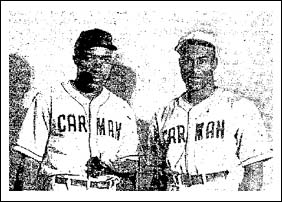 Left - At the St. Louis Cardinal baseball camp, Joe Monahan (right) shows Almer McKerlie, Carman catcher, how to properly grip the bat. Ernie Woods of Elm Creek looks on.
Right - Pitcher Lillord Cobb (left) and shortstop Sonny Andrews were the stars as Carman downed Brandon 4-3 in a semi-final playoff game. Cobb fired a two-hitter. Andrews belted a two-run homer.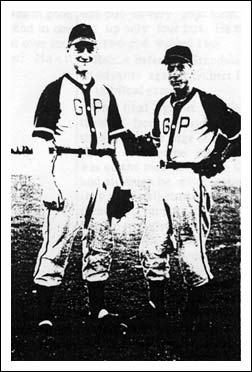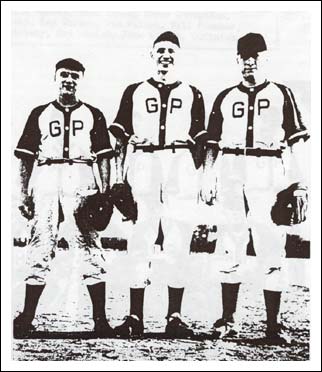 Left - Vic Franczak and Rico Lysecki, Gilbert Plains, 1949 Right - Left to right: Bill Murray SS, Frank Howelko CF, Roy Minish P of Gilbert Plains, 1949 (Images courtesy of Bill Murray)