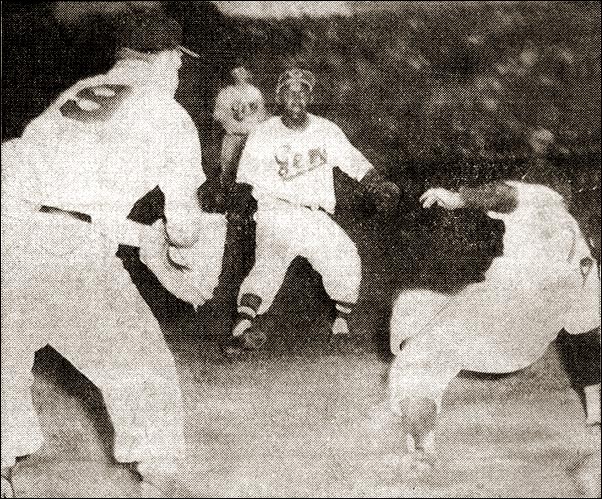 Ron Fairly of Edmonton, caught in a rundown, tagged out at third by Cliff Pemberton while Saskatoon 2B baseman Sherwood Brewer looks on. (Edmonton Journal, June 18, 1957)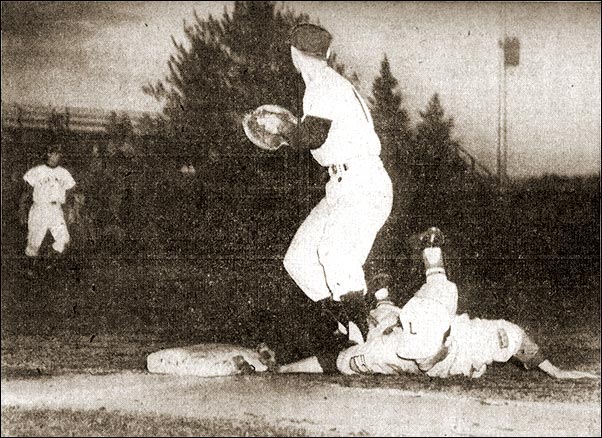 Lloydminster's Dave Moriarty is out at first on a brilliant pickoff play by Edmonton's Dale Zeigler. Ken Guffey, the Esks' first baseman, applied the tag. (Edmonton Journal, June 22, 1957)
Ken Guffey, the Edmonton hero in this game as the first sacker hammered a two-run triple and then came around to score himself as Eskimos won 3-2 over North Battleford. The Beavers third baseman is Curtis Tate. (Edmonton Journal, August 17, 1957)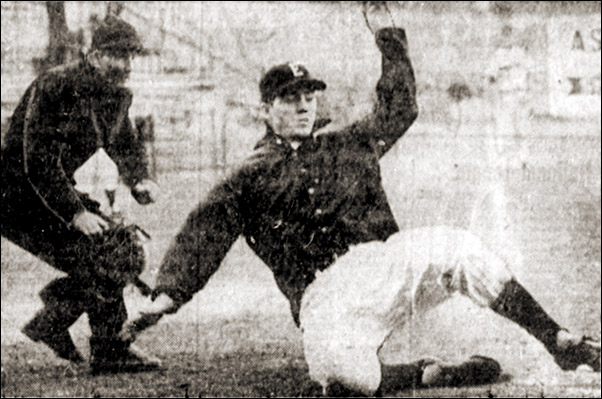 Dale Zeigler, Esks' classy lefthander, is seen sliding home with the trying run in the last of the ninth Sunday to send the contest with Regina Braves into an extra inning, which Edmonton won 4-3. Zeigler had opened the frame with his second hit of the day, then moved around on a sacrifice and Mike Castanon's single. The umpire is Johnny Lupul. (Edmonton Journal, July 2, 1957)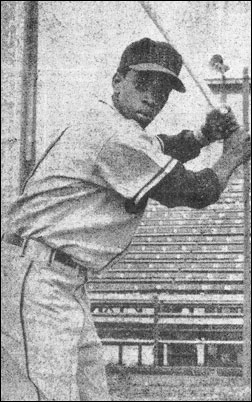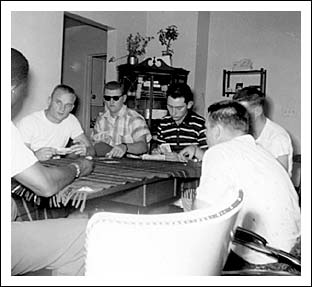 Left - 18-year-old Cuban
Jose Tartabull
lined up with the Regina Braves. Tarabull would later advance to the major leagues for a nine-year career with Kansas City, Boston and Oakland.
Right - The never-ending Saskatoon Gems' card game. Len Tucker (extreme left), Darrell Read, Lew Hobson, Jim Garrett, John McCartney, Harold Key. (Photo courtesy of Charlie Beene)
Below left - Earlier, Tartabull (right) had played with the Davidson, Saskatchewan, Cardinals along with fellow Cubans Roberto Bouza (left) and Jose Rodriguez.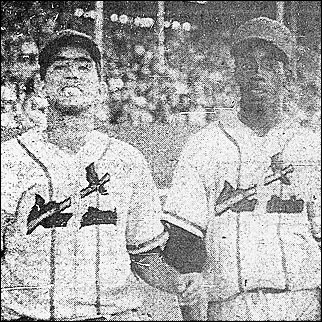 Recruitment certainly has changed over the years. Right -- a letter from the Moose Jaw owner, Scotty Kwan, informs Jim Garrett the club would like him to return for another season. No mention of a signing bonus or a cottage at the lake! Left -- letter from new manager Floyd Temple (Kansas U. coach) warns that a lack a hustle means goodbye.
(Click on the letters for a larger version)

One of the reasons players turned their back on pro ball was the relatively low pay scale in the lower minor leagues. The contract (at left) at $225 per month was for the Class C, California League in 1957. The semi-pro salaries were generally higher, sometimes much higher. Another of the WCBL players was offered a Triple-A contract in 1962 for $500 a month.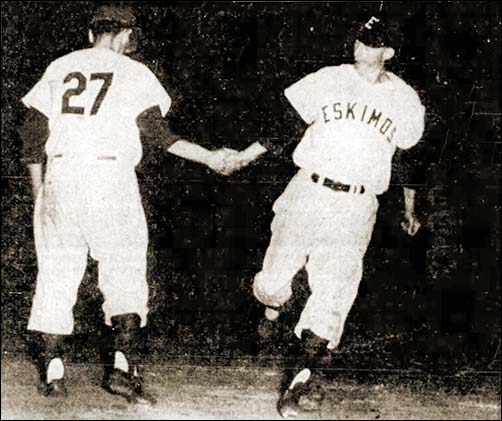 Eskimos' Joe Riney, whom the Edmontonians obtained from Lewiston of the Northwestern League last month, belted his first homer with this club over the right field barrier in the ninth inning of a 12-2 victory over the league-leading Mallards.
Riney, who is credited with a .330 batting mark in the latest release of statistics, has been installed in centre field since Ron Fairly returned to Southern Cal.
Edmonton Journal, August 10, 1957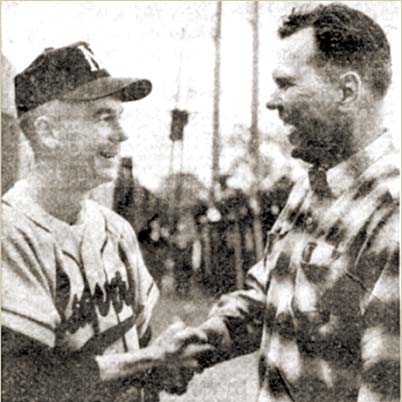 Left - Two prairie ball veterans wish each other well in kicking off a new season. North Battleford Beavers playing manager Emile Franics (left) and Ralph Mabee the manager of the Saskatoon Gems.
Below - An annual treat for ball fans on the prairies - the Lacombe, Alberta, baseball tournament. The general managers of two of the Western Canada League teams were on hand along with members of the Lacombe Lions Club to help kickoff the eighth annual event. Left to right - Eli Scraba, Bill Douglas, West Jackson, John Ducey of the Edmonton Eskimos, Colin Dalzell and Ralph Mabee of the Saskatoon Gems.