Gene Graves of the Saskatoon Gems (by way of College of the Sequoias at Visalia, CA) delighted a home crowd of 1,200 fans as he pitched a no-hitter as the Gems beat Moose Jaw 2-1. Graves faced 30 batters, fanning seven and issuing four bases on balls. The Mallards scored their lone run on a walk, error, and sacrifice fly. (Saskatoon Star Phoenix, August 7, 1958)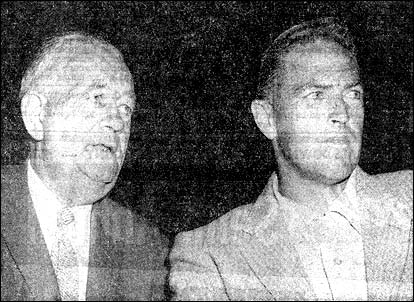 Left - Advertisement in the Saskatoon Star-Phoenix advertising a game against Williston. Gates open at four o'clock for the eight o'clock contest.
Right - Lloyd Christopher (right), a scout for the Kansas City Athletics sits in on the Edmonton-Saskatoon series with league president Chuck Henderson. (Edmonton Journal, July 26, 1958)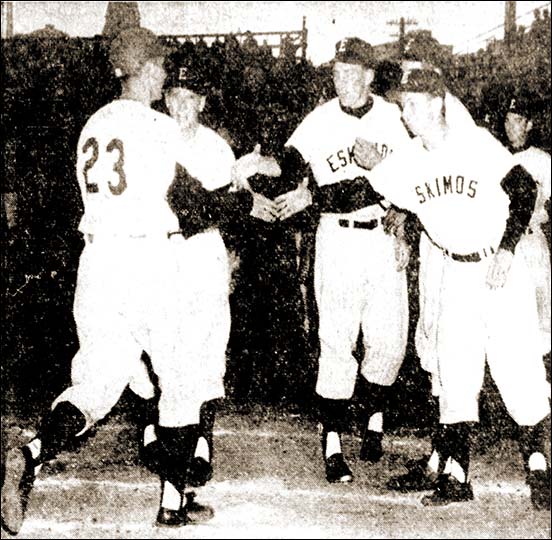 Edmonton's new right fielder Tom Satriano (#23) receives a home plate welcome after belting a round tripper.
The greeting party included Wayne Tucker, Art Schirmer, Pat Gillick and Don Biasotti.
(Edmonton Journal, July 2, 1958)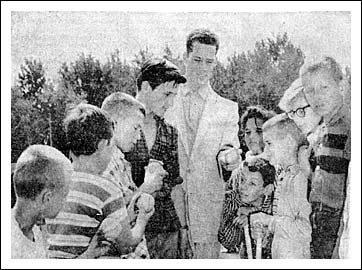 Right - Edmonton pitcher
Bruce
Gardner
with some pointers for the kids at Boysdale Camp.
Manager Wayne Tucker and several of the players had dinner with the kids and held a baseball camp. (Edmonton Journal, July 29, 1958)
Left below - Ralph Vold (middle), winner of the playoff opener, prepares to hand the ball over to Bruce Gardner (left), starter for game two.
Roger Tomlinson, the batting star of the Edmonton win (3-4, 2 RBI) looks on. (Edmonton Journal, August 13, 1958)
Right below - The Regina Braves brought in Roland Jones from Texas. He would become one of the league's most competitive pitchers in a Western Canada career which would stretch over six years with Regina, Edmonton, Saskatoon and Moose Jaw.
Jones had been a star at the University of Texas before a stint in pro ball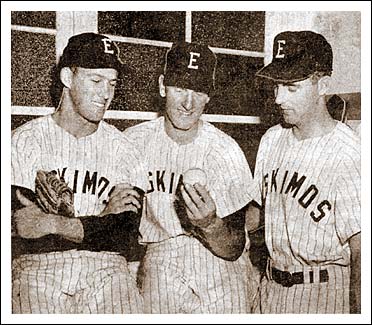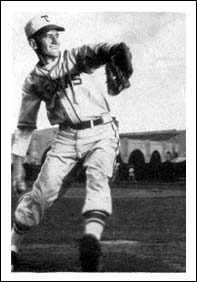 1958 Western Canada Snapshots Page Three >>>