The college connection, especially with California schools, was strong throughout the short history of the Western Canada League and Fresno State University was the leading contributor.
So many FSU products played on Western diamonds (more than 80 identified so far) it's a wonder we didn't call the prairies San Joaquin North.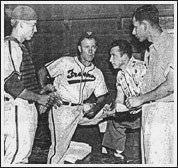 Pete Beiden, a legend in college coaching ranks, got his first taste of the prairies with the barnstorming California Mohawks of 1949 and 1950. At Fresno, he never had a losing season in coaching the Bulldogs from 1948 to 1966, and 1968-69. Overall, he had 601 wins and just 268 losses. In 1972, he was inducted into the Hall of Fame by the American Baseball Coaches Association.
Beiden was a regular on the prairies, first with the touring Mohawks, then Medicine Hat , Saskatoon and parts of four summers in Regina. He died in March, 2000 at age 92. In 2002 a statue of Beiden was unveiled at the Fresno stadium which bears his name. (Above right - Pete Beiden, at Fresno State in 1952 with catcher Bob Bennett and sports writers Sid Hosking and Bruce Farris) (Fresno Bee, March 20, 2000)

Roy Taylor, a former Fresno star and Beiden partner on the barnstorming California Mohawks, took over the baseball program at the College of the Sequoias in Visalia and sent more than 40 of his COS players to suit up with teams on the prairies.
Taylor spent nine summers in Western Canada as playing-coach in Kamsack, Saskatoon and Moose Jaw.

Bob Bennett was among the Beiden's 1952 contingent to play in Western Canada and he returned the following year to catch for Taylor's Kamsack team. He suited up with Saskatoon in 1954 and made a brief return in 1959.
Bennett was Beiden's successor at Fresno and, in 1992, followed his mentor into the Coaches Hall of Fame. He stepped down after the 2002 season as one of only seven coaches in NCAA history to reach 1,300 wins and closed out an outstanding career with 26 consecutive winning seasons. In his 34 years with the club, Bennett compiled a 1,302-759-4 record. His record included 17 conference championships, 21 NCAA Tournament berths, 32 All-Americans, nine first-round draft picks and two College World Series appearances.
Bennett, coach of Team USA in 1986, was a catcher on the Fresno State teams from 1952-1955. In February, 2000 Bennett received one of college baseball's most prestigious honours -- the Lefty Gomez Award. Not bad. An all-star catcher (he set a school record for fielding percentage by a catcher in 1953 when he went errorless in 224 total chances) and a Hall of Fame coach!
Below, and on the pages which follow, Fresno State players who spent some time with teams on the Canadian prairies. Clicking some of the photos will bring up a larger (and sometimes different) photo of the player.
Don Abbott
Calgary 1950


Jake Abbott
Cal Mohawks 1949-1950

Dave Abel
Moose Jaw 1955

Jack Altman
Vulcan 1954-1955
Granum 1955



Ned Andreoni
Moose Jaw 1967-1973


Terry Banderas
Lethbridge 1961

Don Barnett
Cal Mohawks 1949-1950

Fred Bartels
Cal Mohawks 1950
M-Hat Mohawks 1951
Regina 1952

Mountie Bedford
Regina 1955
Lethbridge 1959

Pete Beiden
Cal Mohawks 1949-1950
Medicine Hat 1951
Regina 1952
Saskatoon 1953
Regina 1955-1956-1957

Bob Bennett
Regina 1952
Kamsack 1953
Saskatoon 1954, 1959

Dave Biggers
Lethbridge 1959

Don Birkle
Vulcan 1956
Medicine Hat/Saskatoon 1958

Larry Bolger
California Mohawks 1950
Medicine Hat 1951
Regina 1952



Terry Buck
Melville 1968-69-70
Swift Current 1972-73

Dick Bugg
Vulcan 1955

Jerry Burcher
Vulcan 1955-1956
MH/Picture Butte 1957
Lethbridge 1961
Unity 1963-1964

Stan Busch
Lethbridge 1959-1960-1961

Mark Cameron
Regina 1956

Suge Carter
Regina 1955
Regina 1957
Moose Jaw 1958


Bill Clevenger
Regina 1952

Truman Clevenger
Cal Mohawks 1950?
Regina 1950, 1952

Chuck Dailey
Vulcan 1957


Jerry Daniele
Lethbridge 1963

Dick Doepker
Moose Jaw 1956
Saskatoon 1958

Bob Doig
Saskatoon 1953-1954

Bert Dollar
Edmonton 1958

Bob Donkersley
California Mohawks 1950
Pat Doyle
Edmonton 1964


FSU Page 2 >>>