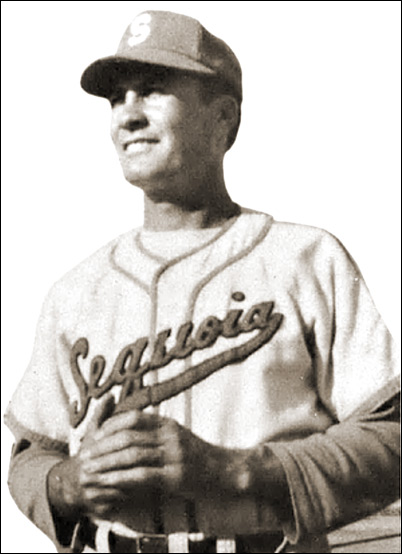 Roy Deward Taylor
Born : May 14, 1919, Petersburg,Texas
Died : December 1, 2011, Visalia, CA

Batted Right, Threw Right
Fresno State University
Coach Sequoias Jr. College 1951-1967
California Mohawks 1950
Saskatoon 55s 1951
Kamsack Cyclones 1952-53-54
Moose Jaw Mallards 1955-56
Visalia Redlegs 1957
Saskatoon Commodores 1958-59

Roy Taylor was a pioneer on the prairies.
Not with a plow in the wheat fields, but with college kids on baseball diamonds.
After four years in military service in the Second World War (stationed in the Aluetian Islands), Taylor finished his university education at Fresno State and became a college baseball coach, taking over the reins at the College of Sequoias in 1950.
Sixty years ago, Taylor and Pete Beiden led a group of college players on a barnstorming tour of the West. The team, the California Mohawks, would set the stage for an influx of American college stars to suit up in Canada and subsequently the recruitment of Canadians to play in California. Taylor was instrumental in both.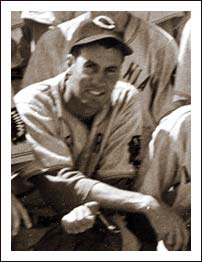 As coach at College of the Sequoias in Visalia, California (and with a long-time friendship with Pete Beiden the coach at Fresno State) Taylor was in a key position to bring players to Canada and to scout Canadian talent for the California schools.  
He made quite an impression on the Saskatchewan city:
"... Roy Taylor, playing coach of the Saskatoon 55s, left Sunday for his home in Visalia, Calif., to get back to his position as athletic director at the College of the Sequoias ... Taylor gave Saskatoon the best ball club it has had in some time -- the last five years at any rate -- and proved himself an all-round good fellow and fine citizen. He will be welcome back here any time and so will be the good type of athletes he brought with him this year -- Bob Garcia, Charlie Beene, Jack Hannah and Steve Stavrianoudakis." (Saskatoon Star-Phoenix, August 14, 1951)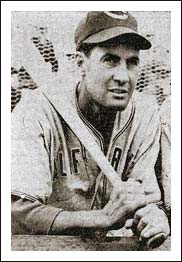 Taylor spent nine summers playing and managing on prairie diamonds. After the Mohawks tour in 1950, Taylor became playing-manager of the Saskatoon 55s of the Northern Saskatchewan League and he followed up with three years at the helm of the Kamsack Cyclones (his 1954 Kamsack club won 40 of 46 exhibition and tournament games. Moose Jaw Times-Herald, June 10, 1955).
In 1955 he joined Moose Jaw as playing manager and returned in 1956. Taylor finally had a summer at home in 1957 working in the front office for the hometown Visalia Redlegs. But, it was back to the prairies in 1958 and 1959 with Saskatoon.
While his teams did well, he rarely saw a playoff game as he would have to return to Visalia in mid-August to begin preparations for football season at Sequoias. In later years at the college, Taylor was also the golf coach. "It was so much easier than baseball," said Taylor, "you only had to keep your eye out for one guy, not a field of them."
His keen eye for talent resulted in new experiences for many young Canadian ballplayers who got a chance to hone their skills at Taylor's program at COS. Often the discoveries were quite accidental.
"The (Kamsack) Cyclones were playing in Saskatoon, at a tournament I think," said Taylor "and when we got out to Cairns field to unpack our stuff a Junior Legion game was underway."
"This tall kid stuck out something like 21." With that evidence, Taylor decided, "I have to have this guy."
Later that day there was a knock on Taylor's hotel room door. A man Taylor had met previously said he had someone Taylor should meet. "I hope his name is Doepker," said Taylor. It was. They worked out a deal that night for Anaheim's Dick Doepker to play at COS. He'd star there for a couple of seasons and move into pro ball after a stint in the Western Canada League. He'd later become a celebrated educator in Visalia.
Above - Taylor , in 1954, with two of his Canadian recruits, Bob Holowaty (left) and Dave Kostenuk.
"The 55s may not be the classiest among ball clubs in the province, but they're shaping up nicely under the guidance of playing-coach Roy Taylor and there's a spirit in the team that bids well to carry it on to more victories. Taylor ... had become a popular figure here in Saskatoon with players and fans alike. He has a wealth of baseball knowledge and apparently knows how to pass it along to his men." (Saskatoon Star-Phoenix, August 23, 1951)
In 1952 Taylor was recruited to head up the Kamsack Cyclones. Again, he made his mark:
"This season of 1952 has been the Cyclones most successful year by a wide margin. It is gratifying that the season has brought so many victories and that it has been as successful as it has financially. However, without either of these two points to lend their weight, the season would have been a success.

This is so because of the fact that the Cyclones have played baseball as it should be played -- not only with skill, but in the tradition of sportsmanship, and with a distinctive air on the field and off which has merited them wide approbation.

With no thought of attempting to detract from the worthy contributions of many persons, this newspaper does not hesitate to single out manager Roy Taylor for a large measure of credit. He deserves a warm 'hats off' gesture." (Kamsack Times, 1952)

Taylor might have said "you ain't seen nothing yet". In 1954 he brought great joy to the Saskatchewan community with a victory in the province's most prestigious tournament, the annual gathering at Indian Head. With 19-year-old Ted Ellis on the hill, the Cyclones beat North Battleford 4-1 to take top prize of $1,100. The Saskatoon Star Phoenix reported the victory as Kamsack's 30th win in 32 games. (Saskatoon Star Phoenix, July 16, 1954)
"Taylor, the sagacious, mild-mannered Moose Jaw mentor ... established an enviable reputation in his three years in Kamsack." (Moose Jaw Times-Herald, June 14, 1955)

Not just a respected leader, Taylor was also a fan favourite. Near the end of the 1955 season, Moose Jaw held a night for the skipper. (Moose Jaw Times-Herald, August 23, 1955)
---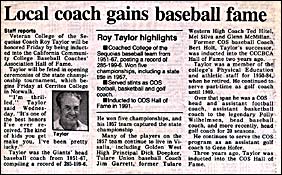 (In 1994, Taylor made the Coaches' Hall of Fame)

Veteran College of the Sequoias Coach Roy Taylor will be honored Friday by being inducted into the California Community College Baseball Coaches' Association Hall of Fame.
Taylor will be feted in opening ceremonies of the state championship tournament, which begins Friday at Cerritos College in Norwalk.
"I'm thrilled," Taylor said Wednesday. "It's one of the best honors I've ever received. The kind of kids you get make you, I've been pretty lucky."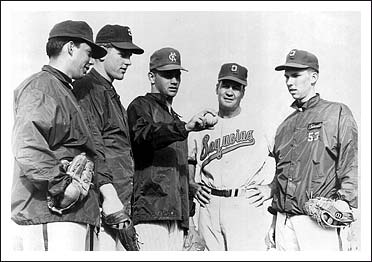 Taylor was the Giants' head baseball coach from 1951-67, compiling a record of 285-199-6. He won five championships, and his 1957 team captured the state championship.
Right - Coach Taylor with four unidentified members of his mound staff at Sequoias.
Many of the players on the 1957 team continue to live in Visalia, including Golden West High School Principal Dick Doepker, Tulare Union baseball coach Jim Garrett, former Tulare Western High School Coach Ted Hitel, Mel Silva and Glenn McMillan.
Former COS baseball Coach Bert Holt, Taylor's successor, was inducted into the CCCBCA Hall of Fame two years ago.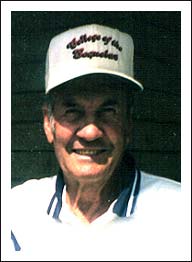 Taylor was a member of the college's Physical Education and athletic staff for 1950-84, when he retired. He continued to serve part-time as golf coach until 1989.
Over than span he was a COS head and assistant football coach, assistant basketball coach to the legendary Polly Wilhelmsen, head baseball coach, and more recently, head golf coach for 20 seasons.
He continues to serve the COS program as an assistant golf coach to Gene Hofer.
Three years ago, Taylor was inducted into the COS Hall of Fame.
---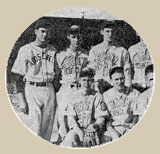 Taylor, a star player in baseball, basketball and football, was a letterman at Fresno State in 1946-47 (a short stop and pitcher, Taylor won All-Conference honours in 1946). He coached all three sports at Kerman High School for three years until his appointment to coach at COS in 1950.
Taylor (far left) with members of his American Legion team in 1948. The club won the Fresno district title with a perfect, 14-0 record. Don Barnett and Jake Abbott, later to be college stars, were key members of the pitching staff.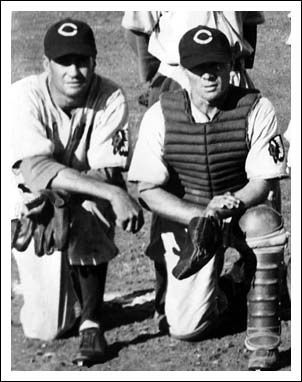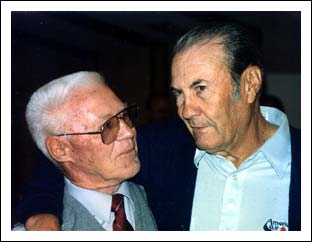 Left - Roy Taylor (left) and Pete Beiden (right) with
the California Mohawks, 1950.
Above - Taylor (right) and his old mentor in 1990 at Beiden's 80th birthday party.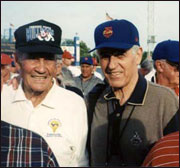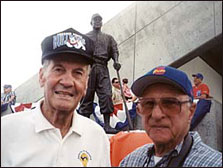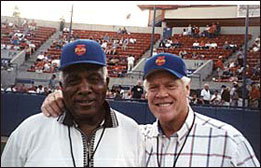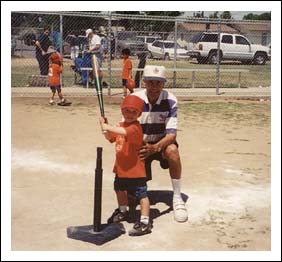 Summer, 2002. Above left - Taylor with Dick Doepker at the unveiling of the Pete Beiden statue outside the Fresno ballpark -- Beiden Field.
Above middle - with long time teammate and friend & Art Shahzade.
Above right - Another pair of Roy's boys. Len Tucker (left) suited up at Sequoias and followed Roy to Kamsack in 1952. Jack Hannah (right) pitched for Roy at Saskatoon in 1951.
Left - Always, the coach. Roy with his great grandson Dakota Rhea with some T-Ball tips.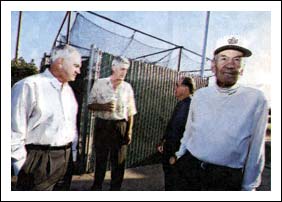 Photo right - From left, Dennis Williams, short stop; Dick Doepker, pitcher; Michael Wlasichuk, an all-position player; and Roy Taylor, past coach of the College of Sequoias baseball team
Taylor was saluted, in an article in the Fresno Bee in October, 2003, for his role in mentoring his young athletes. See below.

COS coach inspires Canadian players to stay in Visalia after the season's over
Legendary baseball coach Roy Taylor has impacted the lives of countless athletes over the past half century or so. For three Canadian baseball players, he did more than bring them success on the diamond.
He brought them home.
Taylor, 84, has coached everything from football to golf in a career spanning five decades, 10 presidents and two countries.
As a player-coach in the Western Canada League in the 1950s and early 1960s, Taylor recruited talented young men to play for his team at the College of the Sequoias.
Among them were Canadian players Dick Doepker, Dennis Williams and Michael Wlasichuk, all of whom still live in Visalia. After several seasons of baseball in Visalia, they didn't want to leave.
"It's such a clean city," Wlasichuk says. "The people are personable. I feel like Visalia is home, always will."
They are all grateful to Taylor for bringing them here.
"All three of those guys are just outstanding people,: Taylor says. "I feel like they're my kids."
The feeling is mutual.
"I always had the sense that he was my second father," says Wlasichuk, now a doctor specializing in occupational medicine.
"He's a real gem of a guy," says Williams, chairman and chief executive officer of the Buckman Mitchell Group. "We love him to death."
Although Taylor has a special ability to forge winners on the field, his players say that was not his main concern.
"Roy stood for helping people and acting as a proper role model," says Doepker, a counselor at Chapman University and longtime principal of Golden West High School. "He didn't judge success by the win column; he judged success by how we did in life."
Accordingly, Taylor is thrilled that Doepker, Williams and Wlasichuk made Visalia their home.
"I've been fortunate to run into some real good kids," Taylor says. "Somebody told me, 'You really brought these guys along.' But they had the talent and the drive. Anybody could've brought them along."
The smell of wet grass is almost as strong inside Taylor's house as it is on his front lawn. Whether it comes from the open window or is borne of the myriad memories he so lucidly recalls is hard to tell.
Taylor points to a plaque of of which he is particularly proud. It was presented to him by Fresno State, where he initially attended in 1939, to commemorate his contribution as an educator and coach after leaving school. Taylor's recruits say he was most interested in good people, not necessarily the best players.
"It's very unusual," Wlasichuk says, "but that's typical Roy. He's just giving, and he doesn't forget a person."
Much like the one at his Visalia residence, the door to Taylor's heart is always open. Taylor once promised a military buddy that he'd look after his mother if anything every happened to him. When that friend died in World War II, Taylor made good.
"I didn't want to let him down," Taylor says, "so I took her in."
He's done the same with some of his baseball recruits over the years while they settled into a new environment. A list of Taylor's accomplishments could fill a page. He has been inducted into the California Community College Baseball Coaches' Association Hall of Fame, as well as the COS Hall of Fame.
Dubbed "Mr. COS," Taylor led his team to a state championship in 1957. He coached baseball at COS for 17 seasons. At one point he even served as athletic director there, a position he fancied none too much.
"I loved those sports," Taylor says, "but I hated the office. I got out of there as soon as I could."
That was just fine with his players. Wlasichuk's years of schooling and successful practice are far removed from the Canadian garage he worked in when he first met Taylor.
"I feel like my whole life is dedicated to Roy," he says, "for his insistence that I do something with my life."
---
Visalia Times-Delta, December 5, 2011
Roy Taylor peacefully passed from this earthly life of 92 years to his anticipated Eternal Home on December l, 2011.
Roy was born to Martha and George Thomas Taylor on May 14, 1919 in Petersburg, Texas. He was the 2nd youngest of seven children. His family left Texas by Wagon train to New Mexico and eventually settled in Raymond California, where Roy went to school, often riding a mule or walking to school. Roy's mother was blind when Roy was born, and she saw him for the first time when he was 18 after her cataracts were removed.
Roy Graduated from Raymond High School, and went to Fresno State a couple of years, then was drafted to the army. He was stationed in Kodiak, Alaska during WWII. During his Army years, Roy met Hattie Elizabeth Rhodes, his wife for 63 years. She preceded him in death in 2008. After discharged from military, he completed his degree at Fresno State where he lettered in three sports; baseball, basketball and football. He then taught at Kerman High School for 2 yrs. Roy moved his family to Visalia in 1950 where he taught and coached at College of the Sequoias. He coached football for l5 years, baseball from 1951 to 1967, basketball for 5 yrs, and golf from 1970 to 1989.
Roy was inducted into the California Community College Baseball Hall of Fame as well as COS Hall of Fame. He led the COS 1957 Baseball team to State Championships in 1957. Roy was player/coach during summers for Western Canadian League, 1950s and early 60's.
Roy stood for helping people and acted as a role model. He did not judge success by the "win" column, but he put the emphasis on how life is lived. Roy loved sports, however his first love was serving God. He was a long time member and Elder at Visalia Church of Christ where he taught many about Jesus and was friend to all ages. He always had candy in his pocket for little ones. He was known to take the little ones on his golf cart for rides at church functions. Sometimes the poor cart could hardly move due to the load. He had a special heart for visiting the sick and shut ins, and tending to spiritual needs of hundreds. His home was always open to all. He often quoted the phrase "People don't care how much you know until they know how much you care" Roy loved his family. He spent countless hours with his children, grandchildren, fishing, watching sports, and a lot of quality time at the cabin he and Hattie had at Shaver Lake. If the fish were biting he was known to fish even when the snow started to come down.
Roy was preceded in death by his mother, Martha, father, George Thomas, his Brothers, Dee, John Chuck, Joe, Jimmy, and his sister Bessie Seals and grandson Jonathan Taylor. His surviving family include his son, Jim Taylor of Los Osos, daughter Marty Scott and husband Wayne of Visalia, grandchildren Dr Denise Taylor- McDougal and husband Neal of Los Osos, Ericka Scott of Burlington Vt, Debbie and Tom Crass of Visalia, and Brandon and Angela Scott of Justin Texas. His great- grandchildren include Nico, Luca, Dakota, Jerett, Kacee and Logan.
Roy had love to share for all walks of people. His positive attitude and his devoted sense of "mission" will continue in all those he passed on such quality characteristics by the way he lived his life. He gave us all strong shoulders to stand on. We will miss him, but know he is in a great place with God and with those who have gone on before him.