News
August 1, 2011 - Keith Wilson
Recently, I exchange several emails with Keith Wilson in Oceanside, California. Keith and Larry "Peanuts" Hatchard were former Mallards "clubhouse boys" for the 1958 Minot Mallards of the Northern League. They also played baseball for the Minot American Legion Team. Here is a "fuzzy memory" note from Keith:
Hello Bill,

The players on the 1958 team were some really nice guys. I remember that Ken Landenberger could really hit them out of the ballpark during batting practice. John Skorupsky made his home in Minot and was a very nice guy. A lot of the ballplayers had good looking girlfriends.

Julius Grant claimed to be the brother of Mudcat Grant. In the clubhouse, the pitchers usually talked about their hitting skills even though they were usually pretty bad at the plate. Sugar (Cain) was the best hitter among all the pitchers I can remember. Ron Anastasio was assigned to another team and died in an auto accident on the way to the new team. Larry Tomlinson was a truck driver in the off season.

I'll always remember on the last day of the season, Chuck Hiller told all the players to be sure and pay the clubhouse boys before they left. What a thoughtful gesture. Chuck Hiller hit a grand slam in the 1962 World Series playing for the Giants. Mike De la Hoz could not speak a word of English. It took quite an effort when he asked me to get some chewing gum for him.

I had forgotten all about (Minot Athlete) Gary Leslie aka "Horse" suiting up with the team. He was quite a gymnast as well.

My vote for the best pitcher to play at the ballpark was Dave McNally playing for the Billings, MT Legion team. He was probably 17 at the time and threw a no hitter against a good Minot Legion team. Only one player,Tracy Randall, was able to hit the ball and that was a foul ball. Keith
1958 Minot Mallards (Northern League)
Larry "Peanuts" Hatchard and Keith Wilson - first row 4th and 5th. Herb Parker (first row - 1st), Ken Landenberger (first row - 2nd), Eli Anderson (first row - 5th), Chuck Hiller - (first row - last). Mike De La Hoz (3rd row 1st),  Gary Leslie (3rd row last)
---
June 21, 2011
Thank you Dave Lehner of Minot for sending me this photo of the Keg Restaurant. I have had many requests for a photo of this favorite hangout located next to the ballpark.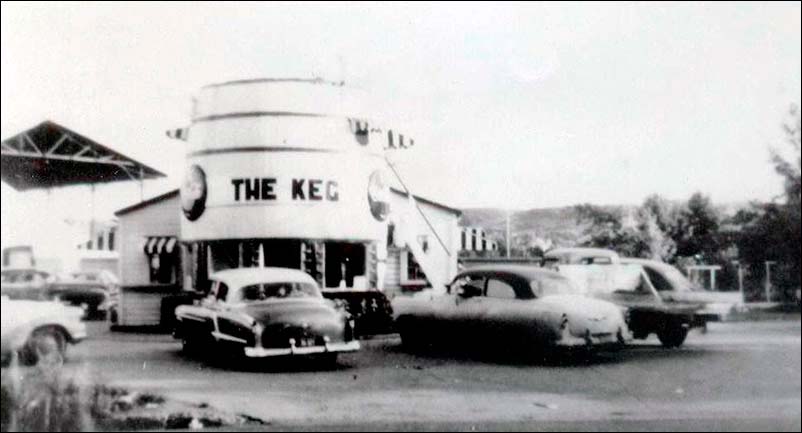 June 7, 2011: Jim Schimke of  Desert Hot Springs, California sent me this nice note after he checked out the Minot Mallards website:
Very recently my brother, Ron Schimke, who lives in Minot sent me your Minot Mallard Web Site, and I must say it was perhaps the most exciting E-Mail I'd received in many years. Thank you and congratulations on a job well done.

First a little about me. I am now 70, growing up on a farm near Butte, North Dakota. Sports was a giant part of my life with the Mallards being a giant part of it. From the time I was a small child, my parents used to tell me all I talked about was sports and being a sportscaster like my two hero's, Jim Addelson, and Russ Smith. From a child on, I made up games and broadcast them in my mind using the Mallard players as my imaginary players while doing baseball, and the likes of Henry Milke, Jim Rice, Jim Glasso, when doing basketball. I used to do the play by play of these games, out loud, while riding on a tractor, out in the field, for hours. Following a stint in the US Army, I fulfilled my dream, and for 50 years did what I always dreamed of, doing play by play on the radio, finishing my career with over 3,000 play by play broadcasts. And, while representing the state of Minnesota as its "Sportscaster of the Year" in the mid 70's, attended the North Dakota Sportscasters Association meetings in Devils Lake, where I met and got to know both Russ Smith and Jim Addelson. Later, when Jim was at KXJB TV in Fargo, I became Sports Director at KVOX in Moorhead and got to know Jim very well. Russ worked for KLPM in Minot for many years, and I managed KPLM for many years in Palm Springs California, where I am retired, and still reside.

As I think about "my hero's" many names come to mind. Joe Massaro, Quincey Barbe, Zoonie McLean, Sugar Cain, Wally Jako, Duke and Eddie Bowman, Don Corcoran, Yogi Giammaco, and others. Always remember the first pitch Neil Lettau threw as a Mallard, sailed over the catchers head, high onto the screen. I remember a great comeback when the Mallards were down by like 5 runs in the bottom of the 9th and came back to win it on an Eddy Bowman opposite field single. Wow, I can still get excited just thinking about it. At least a couple of times per year, my Mom & Dad would take my brother and I to a game, trekking the 50 miles to Minot, where we always ended the day with a Root beer at "The Keg".

I remember the "Hamms Bear", all during a period of time when "The Minot Mallards were helping a young man, grow up.

Thank you for your work.
Jim Schimke
---
June 4, 2011 - Here is a nice story written by Carroll Rasch and posted on the Minot High School Class of 1961 Reunion website. Carroll is a grown-up Minot kid that has contributed several very well written "fuzzy memories" about the Minot Mallards and more generally about growing up in Minot. This story was written about his classmate, Maylon Kruger, who died in January 2000 in Mesquite, Nevada. Thank you Carroll for these very entertaining memories.
Fred and Maylon Kruger

It is really sad to see that Maylon is gone now too.  There are not many of the Manor Park baseball team left.  We were sponsored by Northern States Power: Fred Kruger, Maylon Kruger, Eddie Ziebarth, Norman Erickson, "Butch" Jacobson, Gary Jacobson, Charlie Van Grinsven, and me along with Westlie Ehlke and Paul Heinrich and sometimes John Hecker.  Excellent pitching was imported from 4th Avenue with Bill Cain and from the West Side: George Sharkey.  Have I left anyone out?  Ron Larson was always around but a year older and, at that age, distantly adult.

Maylon and Fred were brothers and powerfully supportive of each other and protective of Eddie.  Many of us worked at the Minot Municipal Auditorium for Charles Stenerson over the years.  We used to call Maylon and Fred "The Everly Brothers."  I am not sure who gave them that nickname but it was either Gary Jacobson or Charlie Van Grinsven.  They were at the fore in giving us all horrendous and funny and occasionally very politically incorrect nick names.("Freddie Fire Eyes," "Charlie With the Glasses," "Toomie," and some unrepeatable... )  It was the era of nick names.  Some were hated and most were funny with a sliver of truth. We all came to outgrow them.

"Pulling Funnies..."  imitating parrots, squawking at the mothers in the neighborhood who kept and eye on us because of our unpredictability, endless and energetic combat and rough and tumble sports in which we made up our own rules to assure that there were enough to play.  Football became "kick back" so that four our eight could participate.  "Work Up" rules allowed three to play baseball and, the game expanded as additional people showed up and were folded in.  It was a tough neighborhood but it was unforgettable and fun and always on the edge of legality.  My individualistic contrariness was not appreciated... and often I was "disciplined" by Fred and Gary for my stand-off-ish-ness.   "Charlie with the Glasses" was also a kind of individualist who was aloof and on his own agenda (romance, cars, Oldsmobile V8 engines and transmissions)... Maylon and Fred were powerful forces for neighborhood conformity.. and I was often on their list of reluctant participants who needed to be brought into line (chuckle).  The Auditorium and the State Fair and the Minot Mallards were a huge part of our lives as were the Great Northern Railroad tracks and locomotives, Roosevelt Park, the Erickson skating rink each winter, Kick the Can, a particularly violent kind of hockey in which we flattened a beer can into a puck and sought to injure... The annual flood danger, fishing in the Souris below the Valker dam, endlessly watching the Hobos, bindle stiffs, transients camped across the river in the "hobo jungle...."  Rootless men seeking a new life somewhere and using the rails to find a life for themselves and possibly contact their abandoned families... We used to hope they would... Speculating about "The Passer-by" who would emerge around midnight and haunt the neighborhood dressed in a sheepskin coat even in August...The endless amusement of watching the Kenneth I Knutson construction company guys with their deliciously obscene humor that kept third graders giggling.. The amazingly accurate sex education lessons given by Gary and Fred... We grew up to realize that they had not steered us wrong....  chuckle.  The slowly vanishing Fink Motor Park cabins.. a way of life fading.. the paddocks decaying... our baseball field being overrun by new Capp Homes and housing... The US Marine style barracks slowly vanishing... and the granaries converted to housing that was quickly made to meet the huge housing shortage right after WWII... "King John" Ziebarth making a home for Fred and Maylon... nephews I think... There was no place in the neighborhood we would rather have been... except for the front steps of the Jacobson home or "putting on a show" in their garage in the back yard... Molly Gamp in a hula skirt singing "Blue Moon... I saw you standing alone... "   A couple of abandoned cars behind the Ziebarth home at the edge of "The Woods" ... with those wonderful velour seats that were so pre WWII... Those cars became like club houses.. where we talked endlessly and explored "Mad Magazine" and the earliest editions of "Playboy" and I first read "Payton Place"... with the "good parts" dog eared to make them easy to find.  All of this in the near back area behind Fred and Maylon's home. ("De-Pants-ing" was another activity... grabbing someone and forcing off their pants under the First Avenue and 18th street light.. holding him as the others ran from door to door.. ringing door bells and pointing out the semi naked person and then dissolving into laughter.. being grabbed once myself and putting up one hell of a fight until I wound up and kicked Fred in the crotch...Everybody dropped their grip on me for I had done something that was was equal to messing up Fonzie's hair.. I had kicked the Godfather of the neighborhood gang in the balls... I turned and took off for home... running at a sprint but hearing Fred's long legged gait gaining on me... I reached my doorknob and porch of safety but felt his hand on my shirt as he pulled me off onto my own lawn and beat the crap out of me to my uncontrolled delight.. laughing as each punch landed and Fred.. glowering over me: "Rasch...If I can't have children someday I am coming back to find you and beat the hell out of you.... Many years later.. married and older.. maybe in the late 60s or early 70s.. by accident.. we all passed each other on 3rd avenue and maybe 16th Street.. we screeched to a halt.. maybe five cars.. stopped at all angles on the street.. blocking traffic as we all recognized each other and laughed and shot the breeze the way we had so long before... before driver's licenses and wives and kids... grinning from back seats as introductions came around... and looking into Fred's car and seeing his lovely wife and clearly noting the kids in the back seat... I guess I had not prevented his becoming a father. I remembered... Fred may not have.  I grinned.) ... flirting with death with the rafts and flotsam duck boats that swam into the trees and were caught during high water in the spring... The Minot Police driving the road in "The Woods" along the river bank to find our rafts and destroy them.. the old, abandoned river beds refilling at high water to become dangerous "sloughs" which we were warned against but always sought out... the baby in the suitcase.. Ted K. murdering his children and himself and Fred and Maylon having marked him early as a man with a moral rigidity that was beyond normal behavior... and that we should give him wide berth... The panel trucks.. finishing cleaning up after "Holiday on Ice" or the Harlem Globe Trotters or even Ray Charles.. and piling into their panel truck for a run up to Big Boy for their amazing pizza burgers at midnight or even later...  stuffing friends into the trunk and under our feet to go to the Outdoor theater... eight in the car and buying four tickets... or "Buck Night" and peeking into the cars of couples practicing becoming lovers... or hiding in the deep cover of "The Woods" to spy on other couples who had come to practice love making parked deep in the trees... None of this can be recalled without remembering Maylon and Fred... their unique walk.. rising up on their toes a little at the end of each stride... a walk we all adopted slightly due to continually walking on the gleaming waxed floors of the Minot Municipal Auditorium and the halls and gymnasium of the National Guard Armory next door... which we also learned to wash and wax with the large machines.. and learning to handle the huge buffers that made the floors gleam..   I miss knowing Maylon and Fred and Gary esp are gone.  They were the Captains of our own very special Manor Park Mafia... We shared growing up on the biggest target in the USA in the deepest hours of the Cold War.... Fonzie was a piker.. Maylon and Fred and the rest of us were the real thing.  My circle of friends grew as we entered junior high and high school to include Jack and Gene and the aristocrats of Washington Elementary who we began to meet in the halls of Minot High... but, Fred and Maylon... and Gary Jacobson and, of course, Norman Erickson, were the first friends.


I miss them.  ... hours of playing catch with baseballs and discussing girls as thoughts of them took over more and more of our lives...

Carroll Rasch

(or: "Mr. Clean," "Mad Scientist," "Mad Russian")  They always thought we might have constructed a bomb shelter in our basement and believed it to the end... or pretended that they did.  We did not have a bomb shelter... but, it was fun to imagine we did.)
---
April 11, 2011:  Matt Bowman, son of Mallards second baseman Ed Bowman, contacted me to let me know that his uncle, Duke Bowman, died this morning in Greensboro, NC. I was nine years old in 1952 when Duke Bowman became the regular third baseman for the Mallards. He played six seasons for the Mallards. He was one of the best players in the league and a favorite player in Minot. He was known for his hard line drives to centerfield and was highly admired by the kids of Minot for his rocket arm throws from third to first base that curved 2 - 3 feet. Duke always excelled in the Mallards playoff games. In 1953 Duke had his brother Ed rush to Minot on opening day to play second base replacing John Kennedy who was a "no show" that decided to play on a "farm team". John Kennedy progressed to be the first black player for the Philadelphia Phillies. Later Walt Bowman joined the team for a few games.[ See more information in the "Biographies Section".]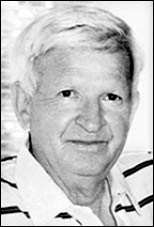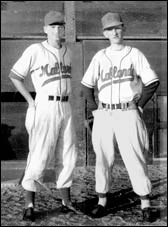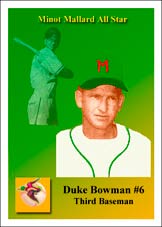 ---
January 2011 Update: I received a note from a boyhood friend - Rick Corbett. Rick's father was Dr. Victor Corbett, longtime Minot dentist and President of the Minot Park Board in the early days of the Minot Mallards. The Ballpark is now named after Dr. Corbett in recognition of the many contributions he made to it's development. Dr. Corbett sponsored addition of the grandstand roof, the addition of field lighting and several other major improvements. Rick was also the nephew (by marriage) of Darius Ritchey the Minot Park Superintendent at that time. My friend Rick is now better known as Dr. Victor A. Corbett, a prominent Twin Cities (Minnesota) physician.
Rick and I attended grades 1 - 12 together and shared many of the same school activities. We also worked together at the Minot swimming pools for 10 years during high school and college.
Rick has some memories of the Minot Mallards and an autographed baseball. We're hoping to get together in Minot this summer so I can learn more about the Mallards from him.
---
Thanksgiving 2010 update:  On Thanksgiving day I came across the new Minot High School Class of 1961 reunion website at www.minot61.com . I graduated from Bishop Ryan High School in Minot the same year and had many friends at Minot High School. LDee Cramer agreed that I could be a "guest member" of the class and so I have access to the information posted on the website. Warren Olson sent me some of his "fuzzy memories of the Minot Mallards:
1. The two players that stand out in my mind were Sugar Cain and Don Corcoran. I remember being dazzled by Cain's pitching and base running, and Don's prowess at the plate and his several inside-the-park home runs and triples. Also, that he was short and stocky and when base-running, his legs were a blur.

2. I was also a knot-hole gang member and played in whatever we had in Minot that passed for Little League in that era. My dad was the manager of the Minot Farmers Union Oil Co. and sponsored one of the teams. I was the smallest and youngest player on the team and was talked into leaning or walking into pitches several times to get on base. On one of those occasions I was picked off second base via a hidden ball trick... an embarrassment I never forgot!

3. My mom and dad were great fans of the Mallards and my mother was something of a fanatic, doing box scores for every batter of every inning, for possibly 1/2 of the Mallards' home games.

4. I also remember the Keg near the ball field where we'd sometimes be treated to Root Beer Floats if the Mallards won. When you and I were in 5th grades in different schools, we moved next door (529 3rd St, SE) to Corcoran's house. Don was likely long gone from home by then but I remember he had a lovely sister our age. Also,I remember a Mickey Corcoran (Don's brother?) who was an excellent young pianist that mesmerized me when we were in piano recitals together. Perhaps you went to school with one or both of them at Ryan.

Warren Olson
---
Please contact me if you have memories or other information about the 1950's Minot Mallards. It's been a while since I have heard from anyone and I'm hopeful to get some new "fuzzy memories", scorebooks, newspaper clippings or anything else you might have. My current e-mail address is bguenthner@verizon.net.
---
The Minot Mallards website was six years old on July 4th 2011.  I have enjoyed the many contacts with new information and "fuzzy memories" of the Minot Mallards baseball teams.
I hope you enjoy the website and that you will contact me at bguenthner@verizon.net if you have any questions or new information. I'd love to hear from you.
If you're here for just a quick look the most popular pages are the player cards and the memories of some "grown-up Minot kids" and former players.
---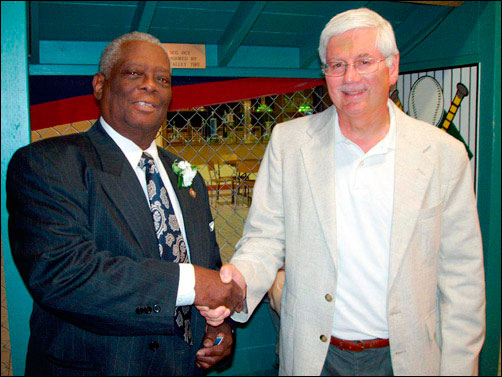 Bill Guenthner and former Minot Mallards pitcher Dirk Gibbons
June 3, 2006, Morden, Manitoba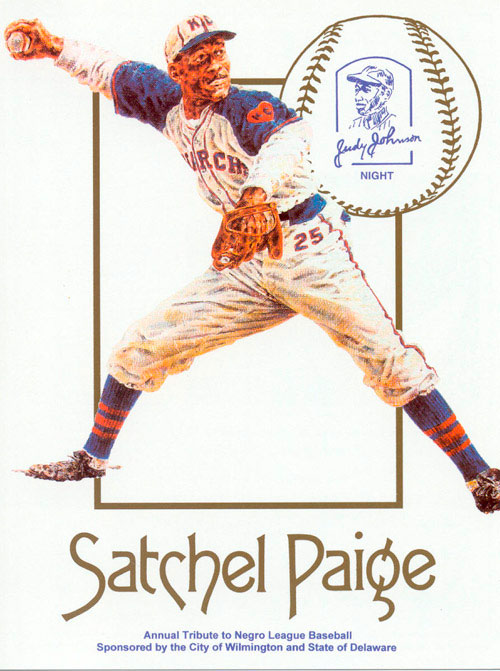 This Satchel Paige card is the latest of a series of 15 cards that have been given out on annual Judy Johnson nights (this year on August 15, 2010) at the Wilmington Blue Rocks game, Judy Johnson Field, Wilmington, Delaware. The entire collection can be found on the Images 7 page.
---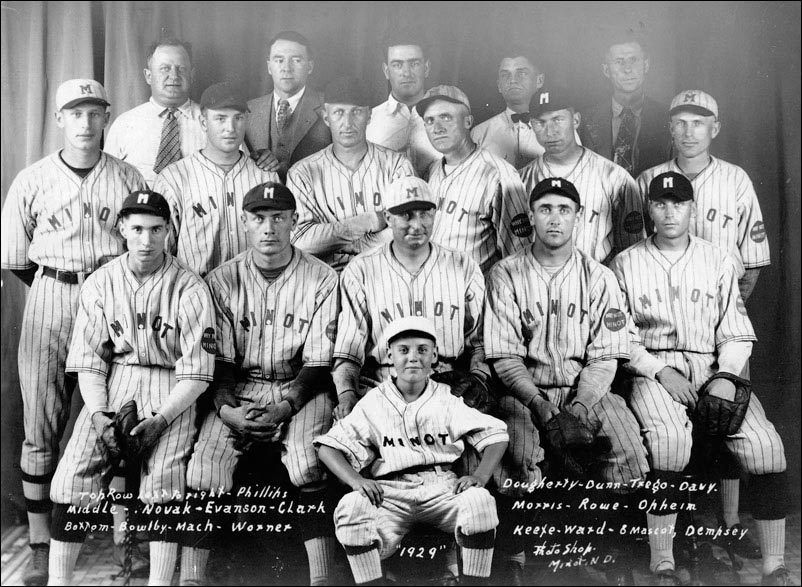 The above photo - Minot, 1929 -was sent to me by Armand Peterson, a baseball researcher from Minnesota, co-author of Town Ball: The Glory Days of Minnesota Amateur Baseball